Providing a Platform for Terror
If we really want to take an effective stand against extremism, we should not obsess over the extremists; rather, we should tackle those who facilitate, empower and legitimize extremism. The worst culprits are particular British Members of Parliament – elected officials whom we employ to safeguard our liberties and democratic rights but who betray these duties in favor of promoting the work of terror advocates. We have given terror and its apologists a platform, while we deny truth, reason and accountability a voice.
In late November, Labour MP Jeremy Corbyn will be hosting an event organised by the Palestine Solidarity Campaign in the British House of Commons with Mousa Abu Maria, an activist for the proscribed terrorist organisation Palestinian Islamic Jihad (PIJ). Abu Maria will be speaking as part of a panel discussion – the conclusion to an anti-Israel lobbying day held by the Palestine Solidarity Campaign (PSC). The PSC is the leading anti-Israel organisation in Britain, whose members are accused by human rights activists of practising Holocaust denial and supporting terrorist groups such as Hamas.
Abu Maria spent several years in prison in Israel for his membership in the PIJ and for throwing Molotov cocktails. In 2003, he was released as part of a prisoner exchange. Five years later, he was placed in administrative detention, once again because of his connections to the PIJ. His appeals to the Israeli High Court of Justice were rejected.
Although Abu Maria claims he is no longer involved with the PIJ, as recently as May 2012 he has been photographed standing next to PIJ member Khader Adnan while holding a poster which declared support for Palestinian Islamic Jihad terrorists Bilal Diab and Thaer Halahleh.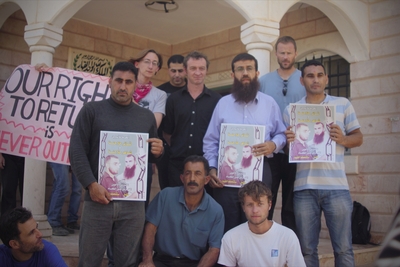 Mousa Abu Maria (far-right) standing next to PIJ member Khader Adnan while holding a poster declaring support for Palestinian Islamic Jihad terrorists Bilal Diab and Thaer Halahleh.
Abu Maria's organisation, the Palestine Solidarity Project (PSP), also took part in a demonstration in Nabi Saleh in April 2012, in which they displayed posters in support of a number of violent terrorists.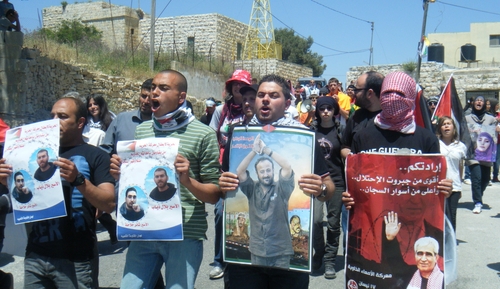 On the posters in the photo below, right to left: Ahmad Sa'adat of the PFLP, Marwan Barghouti of the al-Aqsa Martyrs' Brigades (he is serving 5 life sentences for murder) as well as Bilal Diab and Tha'er Halahleh of Palestinian Islamic Jihad.
This is not the first time that Corbyn has provided a platform for individuals linked to terrorism. In the past, he has played host to, inter alia, the Palestine Return Centre, a British lobbying group which openly supports Hamas; and Djab Abou Jahjah of the Arab European League, an organisation which has published anti-Semitic cartoons and voiced support for Samir Kuntar, the terrorist who beat a small Israeli girl to death on the beaches of the Israeli coastal town of Nahariya.
Corbyn has described Israel's Operation Cast Lead, the last major conflict with Hamas in 2009, as a "military ethnic cleansing of the area". Regarding the recent Israeli Operation Pillar of Defense - which worked to destroy Hamas rocket stockpiles after over 700 missiles were fired at Israeli civilians since the beginning of 2012 - Corbyn has noted: "There is no limit to the hatred and persecution emanating from Israel toward these people [the Palestinians]."
Last year, Corbyn invited the Islamist hate preacher Raed Saleh to speak in Parliament. Saleh is a leading supporter of Hamas, and is known for his anti-Semitic and homophobic views. He has claimed that 4000 Jews skipped work at the World Trade Centre on 9/11 and that those who killed the "Martyr, Sheikh Osama Bin Laden" had "sold their consciences to Satan, and that the honour killings of girls is acceptable. One of Saleh's poems includes the lines:
You Jews are criminal bombers of mosques,
Slaughterers of pregnant women and babies.
Robbers and germs in all times,
The Creator sentenced you to be loser monkeys,
Victory belongs to Muslims, from the Nile to the Euphrates.
Saleh is best known for his frequent invocation of the 'blood libel' -- an ancient anti-Semitic claim that Jews kill children to use their blood to make bread at Passover. Even a British court concluded that Saleh's comments were hateful of Jews.
Despite the evidence of Saleh's animosity to Jews, Corbyn has continued to demonstrate support for him. Most alarmingly, in response to the uproar at the prospect of Saleh's appearance in the House of Commons, Corbyn has backed calls by Saleh's lawyer for an inquiry into supposed Jewish influence within the Conservative Party, falsely accused of organising the opposition to Saleh's visit.
Corbyn enjoys being described as an "anti-fascist". By invoking the language of human rights, Corbyn has managed to escape the condemnation he so rightly deserves. As a Member of Parliament and as a veteran of the Labour Party, Corbyn's support for people such as Abu Maria helps to legitimize the very existence of pro-terror groups.
It is little surprise that now, over a year later, Corbyn is once again providing a platform to a terror activist at the heart of the British establishment. Alongside Abu Maria, Corbyn's fellow panellists include Baroness Jenny Tonge, who was forced out of the Liberal Democrat Party after she stated: "Beware Israel. Israel is not going to be there forever in its present form. One day, the United States of America will get sick of giving £70bn a year to Israel to support what I call America's aircraft carrier in the Middle East – that is Israel. One day, the American people are going to say to the Israel lobby in the USA: enough is enough. Israel will lose support and then they will reap what they have sown."
Furthermore, echoing a Hezbollah blood libel conspiracy claim, Tonge has previously suggested that Israeli medical teams were harvesting the organs of children in Haiti.
In 2009, Corbyn announced, during an address at a rally by the far-Left group Stop the War Coalition, that he was proud to be hosting an event in Parliament with "our friends from Hezbollah". Hezbollah, like Hamas, is listed by the USA and Israel as a terrorist organisation. Its attacks have murdered Jews all around the World, from the bombing of a Jewish culture centre in Argentina to the suicide bombing of a bus full of Israeli tourists in Bulgaria. In 2006, Hezbollah terrorists crossed over the border from Lebanon into Israel and attacked an Israeli army patrol -- sparking a war in which thousands died. Hassan Nasrallah, the Hezbollah leader, has condemned the idea of peace with Israel and has said, "If they (Jews) all gather in Israel, it will save us the trouble of going after them worldwide". According to Jeremy Corbyn, however, Hezbollah is working to "bring about long term peace and social justice and political justice in the whole region".
There is an important difference between tolerating extremism and empowering it. The former permits persons such as Abu Maria to argue on behalf of his ideology at privately organised events. Empowering extremism is quite different and unreservedly self-destructive – by providing pro-terror activists a platform in the House of Commons, we sanitize their work and legitimize their message.
Alarmingly, Corbyn is just one example. The empowerment of extremism is a cross-party sickness. Last month, Jane Ellison, a Conservative MP, hosted a meeting in Parliament for the 'Save Shaker Aamer' campaign. Shaker Aamer is the last British resident held in Guantanamo Bay. The Save Shaker Aamer campaign and the organisations that support it, however, do not fight to preserve habeas corpus, but rather they defend Aamer's support for the Taliban. During her involvement with this issue, Ellison has been happy to share platforms with pro-Taliban groups such as CagePrisoners and Hamas supporters such as Yvonne Ridley.
A cursory search of British media archives reveals hundreds of editorials, opinion pieces and polls debating whether to give far-right groups a platform – most concluding they should not. And yet of the Islamists and terror activists who support terrorism against Jews, the execution of homosexuals and the stoning of adulterous women, the media has published almost nothing.
Indeed, the small amount of coverage that does exist has even been sympathetic. Mahmoud Abu Rideh, for example, a Saudi Arabian national who was detained by British authorities in 2001 and placed under a control order in 2005, worked closely with the hook-handed hate-preacher, Abu Hamza, and was accused of fundraising for and distributing funds to al Qaeda groups. In spite of this, Amnesty International and CagePrisoners campaigned on his behalf – both groups implying he was the innocent victim of a conspiracy.
Further, the Guardian and the Independent – two of Britain's largest broadsheet newspapers – ran puff pieces that painted Abu Rideh as a persecuted refugee who just wanted a peaceful life, and featured photographs of Abu Rideh's children looking despondent. And yet in 2010, Abu Rideh was killed in Afghanistan while fighting alongside the Taliban.
Both Corbyn and Abu Maria have adopted the title of human rights activists; the latter claiming he is "committed to the non-violent struggle for freedom and equality for all". It is possible to understand who a person is by examining what sort of company he keeps: Corbyn's support for Hamas and Hezbollah, and Abu Maria's involvement with the PIJ reveal that their putative commitment to human rights is nothing more than a façade – one that hides a far more sinister support for ideological forces with a sworn aversion to peace.
Despite the calls by Jewish groups for Abu Maria to be denied entry to the UK, it seems unlikely that the British Government will act. The continuing invitations by MPs such as Corbyn for pro-terror demagogues to speak in the British House of Commons is fast becoming the norm – voices of a hijacked humanitarian narrative promote extremism and hatred unchallenged by politicians, media and human rights organisations. We have given terror and its apologists a platform, while we deny truth, reason and accountability a voice.
Related Topics: United Kingdom | Samuel Westrop receive the latest by email: subscribe to the free gatestone institute mailing list
Reader comments on this item
Comment on this item
Subscribe To Mailing List
Tweets by @GatestoneInst
Latest Articles
by Khaled Abu Toameh
To understand what drives a young Palestinian to carry out such a deadly attack, one needs to look at the statements of Palestinian Authority leaders during the past few weeks.
The anti-Israel campaign of incitement reached its peak with Abbas's speech at the UN a few weeks ago, when he accused Israel of waging a "war of genocide" in the Gaza Strip. Abbas made no reference to Hamas's crimes against both Israelis and Palestinians.
Whatever his motives, it is clear that the man who carried out the most recent attack, was influenced by the messages that Abbas and the Palestinian Authority leadership have been sending their people.
by Richard Kemp
Would General Allen -- or any other general today -- recommend contracting out his country's defenses if it were his country at stake? Of course not.
The Iranian regime remains dedicated to undermining and ultimately destroying the State of Israel. The Islamic State also has Israel in its sights and would certainly use the West Bank as a point from which to attack, if it were open to them.
There can be no two-state solution and no sovereign Palestinian Arab state west of the Jordan, however desirable those things might be. The stark military reality is that Israel cannot withdraw its forces from the West Bank.
Fatah leaders ally themselves with the terrorists of Hamas, and, like Hamas, they continue to reject the every existence of the State of Israel.
If Western leaders actually want to help, they should use all diplomatic and economic means to make it clear to the Palestinians that they will never achieve an independent and sovereign state while they remain set on the destruction of the State of Israel.
by Louis René Beres
The Palestine Liberation Organization [PLO], forerunner of today's Palestinian Authority, was founded in 1964, three years before Israel came into the unintended control of the West Bank and Gaza. What therefore was the PLO planning to "liberate"?
Why does no one expect the Palestinians to cease all deliberate and random violence against Israeli civilians before being considered for admission to statehood?
On June 30, 1922, a joint resolution of both Houses of Congress of the United States endorsed a "Mandate for Palestine," confirming the right of Jews to settle anywhere they chose between the Jordan River and the Mediterranean Sea. This is the core American legacy of support for a Jewish State that President Obama now somehow fails to recall.
A sovereign state of Palestine, as identified by the Arabs -- a Muslim land occupied by "Palestinian" Arabs -- has never existed; not before 1948, and not before 1967. From the start, it was, and continues to be, the Arab states -- not Israel -- that became the core impediment to Palestinian sovereignty.
by Timon Dias
It looks as if this new law is meant to serve as a severe roadblock to parties that would like to dismantle the EU in a democratic and peaceful way from within.
A rather dull semantic trick pro-EU figures usually apply, is calling their opponents "anti-Europe."
Most Shared
Most Viewed