Last month, Keith Ellison's name disappeared from a list of speakers at one of the largest conferences in the Muslim calendar. The annual event, which took place in Baltimore from April 14-16, was organized by the Islamic Circle of North America (ICNA) and the Muslim American Society (MAS).
In December 2016, Ellison also withdrew from the convention's sister-conference, the "MAS-ICNA conference," after reports about extreme clerics sharing the stage.
April's conference was no different. Speakers included Siraj Wahhaj, an imam who addresses Muslim events across the country every week, and is a former advisory board member of the Council on American Islamic Relations. Wahhaj has preached:
"I don't believe any of you are homosexual. This is a disease of this society. ... you know what the punishment is, if a man is found with another man? The Prophet Mohammad said the one who does it and the one to whom it is done to, kill them both."
Elsewhere, Wahhaj cites the death penalty for adultery, advocates chopping off the hands of thieves, and tells Muslims:
"Take not into your intimacy those outside of your race. They will not fail to corrupt you. Don't you know our children are surrounded by kafirs [disbelievers]. I'm telling you, making the hearts of our children corrupt, dirty, foul."
Other listed speakers included Abdul Nasir Jangda, who advocates sex-slavery and gives husbands permission to rape their wives; Suleiman Hani, who claims that "Freedom of speech is a facade" used to stifle "objective discussion" of the "Holocaust and Jews"; Mohammad Elshinawy, who claims that women who fail to wear the hijab will contract breast cancer; and Yasir Qadhi, whose violent homophobia was recently the subject of an investigative report by The Times.
Such extremism is not confined to the speakers. The organizing bodies, MAS and ICNA, are not ordinary Muslim organizations, but Islamist groups with long-standing ties to extremism at home and abroad. Senior MAS-ICNA official Ahmed Taha, the organizer of the December conference, is a strident anti-Semite. He published a text on social media that states, "O Muslim, O servant of God. There is a Jew behind me, come kill him."
MAS was founded in 1993 by operatives of the Muslim Brotherhood, while ICNA has identified itself as an American front for Jamaat-e-Islami (JI), a South Asian Islamist group that Bangladeshi officials have linked to terrorism. One of the other listed speakers at the ICNA-MAS conference was, in fact, Yusuf Islahi, a member of the Central Advisory Council of the Indian branch of Jamaat-e-Islami. According to the academic Irfan Ahmad, Islahi claims that Jews were behind the 9/11 attacks, as part of a conspiracy to defame Islam.
As America finds itself increasingly exposed to the homegrown Islamist terror that has, in recent years, increasingly gripped Western Europe, politicians and law enforcement are starting to ask how Muslim communities have come to be represented by such extremist groups.
Part of the answer lies in the make-up of Islam. Sunni Islam has no organized clergy. There is no equivalent of a Pope. Instead, Islam is divided into dozens of fractious political and religious sects, which no single person or organization can represent. But Islamists, forming inherently political movements, insist to policy-makers and the media that Islam is homogenous and that their Islamist organizations speak on behalf of all Muslims, despite their clear lack of any mandate.
Non-Muslims either do not know any better, or else are seeking votes. Neither reason helps anyone but the extremists. Politicians and journalists -- by speaking at Islamist conferences, or treating the Muslim community as a homogenous bloc represented by self-appointed groups such as MAS or ICNA -- actually serve to legitimize extremist Islamist leadership.
Ellison made a sensible choice to not attend the ICNA-MAS conference. It is a decision that can only help his political ambitions. Allegations of anti-Semitism made against Ellison during the DNC chairmanship race, whether warranted or not, would likely not be put to bed by standing on a stage next to such preachers.
By withdrawing from the ICNA-MAS conference, as DNC vice-chairman, Ellison also avoided lasting harm to the Democratic Party. This is progress. Now it falls to national and state governments to stop working with Islamists, and to support genuinely moderate Muslims instead.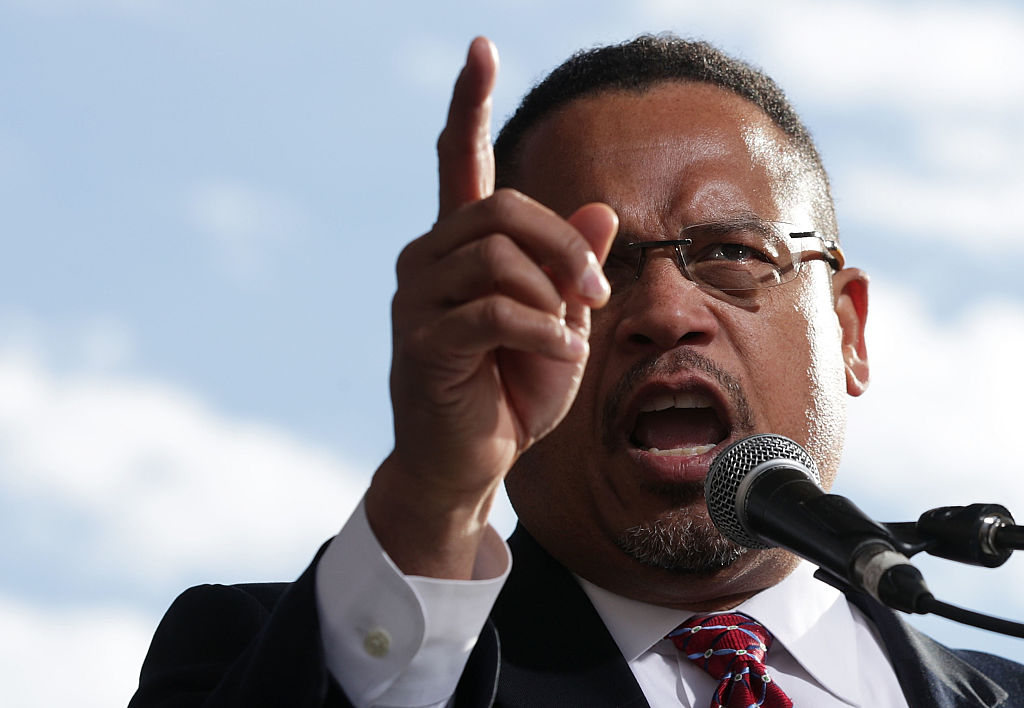 DNC vice-chairman Keith Ellison's name disappeared from a list of speakers at one of the largest conferences in the Muslim calendar, after reports about extreme clerics sharing the stage. (Image source: Alex Wong/Getty Images)
Samuel Westrop is the Director of Islamist Watch, a project of the Middle East Forum.