"Occupied Territories": What About Cyprus, Kashmir, Tibet?
Translations of this item:
This latest decision tells us nothing about Israel or the West Bank. But it tells us what we need to know about the EU.
What about Cyprus? That is just one of the questions that Israelis and Europeans should be pondering now that the European Union has again decided that it should dictate Israeli border and security policy.
Last week the European Union issued a ban on funding of, or cooperation with, any Israeli institutions that are shown to operate in what it calls the "occupied territories" – meaning the West Bank, or Judea and Samaria. Never mind that -- as Palestinian groups have already admitted -- the ban will affect Palestinians as much as Israelis. In its perpetual rush to find new double-standards to enforce, the EU has rushed straight in, regardless.
As one senior Palestinian Authority official said on the announcement of the news, many Palestinians in Ramallah and elsewhere will be just as affected by the EU's decision as their Israeli neighbors. The senior PA official was quoted saying:
"For our part, we approached a number of [European] Union officials, in the [Palestinian] Authority and also in Israel, to try and prevent the decision or at least to keep it unofficial," said the official, who declined to give his name. "It's not just Israeli companies that are going to be hit economically, it's also going to be disastrous economically and socially for the Palestinian community."
Well what are a few Palestinians to the EU's persistent drive to isolate the Jewish state? Tolerable collateral damage, surely?
But what about Cyprus? After all, there are many countries in the world with border disputes. There is at least one major one on China's borders [Tibet]. And there is the rather famous one which borders Pakistan [Kashmir]. Border disputes are hardly unusual. Similar stories abound all over the world, such as the unresolved dispute involving Morocco over the status of the Western Sahara. Yet all these countries are ones with which the EU has full, if not fawning, diplomatic and trade relations.
Of course, what makes the EU's latest double-standard even more delicious is that the occupied island of Cyprus is actually a member of the EU. As such, shouldn't it surely command the most detailed and persistent attention from the international body?
Yet this is not so. The northern part of Cyprus has been illegally annexed for the last four decades by Turkey. It is not as though Turkey shares a border with the island. Nor does it have -- as Israel has with the West Bank -- any legitimate historical, political or other territorial claims on the northern part of the island. There is no security reason for Turkey to sustain its occupation, as there is an obvious need for Israel to have defensible borders that do not permit terrorists from the West Bank to fire rockets into Israel, as do its friends in post-disengagement Gaza or southern Lebanon.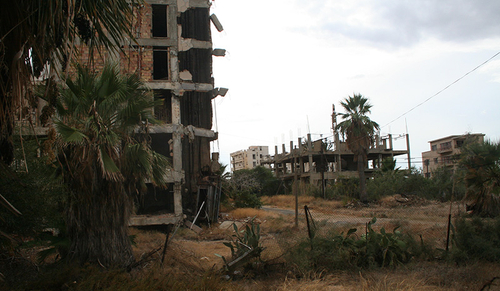 The crumbling buildings of the Varosha district of Famagusta, Cyprus, photographed in 2009. The area lies within Turkish-controlled northern Cyprus. The inhabitants fled during the 1974 Turkish invasion and the district has been abandoned since then. (Source: WikiMedia Commons)
But unlike Israel and the West Bank, the Turkish invasion of Cyprus is not even a disputed matter. It was certainly not some understandable territorial gain made after aggressive war waged by Greece. It was outright theft -- an annexation: state terrorism. The entire international community recognizes it as such. Yet in 2013 not only is Turkey not an enemy of the EU, and not only is it a country which enjoys complete diplomatic and trade relations with the EU, it is a country which many leading members and officials of the EU actually want to promote into a full member-state of the EU.
Into the fifth decade of Turkish occupation of Cyprus, there is still no serious dictating by the EU to Turkey over what it must do about northern Cyprus. Turkey does not find itself under even the most remote international pressure finally to disengage from its illegal occupation of the northern part of Cyprus. And that is because for some inexplicable reason the EU does not consider it imperative that Turkey should disengage from the illegal occupation of an EU member state. It does not consider that the future of any region depends on this action. Yet it does persist, even now, with its view that it can dictate to Israel about its borders. And that it can have a constructive role in doing so. Of all the fallacies of the EU, that is surely the topmost.
The EU does not only have a wrong-headed view of Israel's past, it has a wholly misguided view of its future.
Today Israel is at the very bottom of the list of countries of concern, even in its own neighborhood, let alone the wider world, with nearly 100,000 dead in Syria and Egypt going through a counter-counter revolution, and with the Sunni-Shiite conflict looking likely to reach one of its intermittent boiling points as the Shiite armies of Hezbollah clash with the Sunni-armed opposition in Syria. Amid all this, the issue of where Jews should or should not live inside their historical homeland is a matter of the lowest international import.
Yet the EU -- which always likes to think of itself as such a forward-looking organization -- is once again showing itself to be stuck in a wrong-headed and bigoted past. It is not Israel which is the problem in the Middle East. Today Israel is, in fact, about the only non-problem in the region.
Yet it is this country's sovereignty upon which the EU decides time and time again that it can intrude. This latest decision tells us nothing about Israel or the West Bank. But it tells us what we need to know about the EU.
Related Topics: Israel | Douglas Murray receive the latest by email: subscribe to the free gatestone institute mailing list
Reader comments on this item
Comment on this item
Subscribe To Mailing List
Tweets by @GatestoneInst
Latest Articles
by Khaled Abu Toameh
"Armed robbery in broad daylight." — Palestinians, after Hamas "seized" $750,000 from Gaza bank.
Fatah accused Hamas of "squandering" $700 million of financial aid earmarked for the Palestinian victims of war. Fatah wants to ensure that the millions of dollars intended for the Gaza Strip will pass through its hands and not end up in Hamas's bank accounts. Relying on Fatah in this regard is like asking a cat to guard the milk.
The head of the Palestinian Authority's Anti-Corruption Commission revealed that his group has retrieved $70 million of public funds fund embezzled by Palestinian officials. Arab and Western donors need to make sure that their money does not end up (once again) in the wrong hands. Without a proper mechanism of accountability and transparency, hundreds of millions of dollars are likely to find their way into the bank accounts of both Hamas and Fatah leaders.
by Mudar Zahran
"If Hamas does not like you for any reason all they have to do now is say you are a Mossad agent and kill you." — A., a Fatah member in Gaza.
"Hamas wanted us butchered so it could win the media war against Israel showing our dead children on TV and then get money from Qatar." — T., former Hamas Ministry officer.
"They would fire rockets and then run away quickly, leaving us to face Israeli bombs for what they did." — D., Gazan journalist.
"Hamas imposed a curfew: anyone walking out in the street was shot. That way people had to stay in their homes, even if they were about to get bombed. Hamas held the whole Gazan population as a human shield." — K., graduate student
"The Israeli army allows supplies to come in and Hamas steals them. It seems even the Israelis care for us more than Hamas." — E., first-aid volunteer.
"We are under Hamas occupation, and if you ask most of us, we would rather be under Israeli occupation… We miss the days when we were able to work inside Israel and make good money. We miss the security and calm Israel provided when it was here." — S., graduate of an American university, former Hamas sympathizer.
by Ben Cohen
Now, with the Islamic State's self-proclaimed caliphate having captured key oil wells in the Middle East this year, foreign oil has become an even more lethal financial weapon-of-choice for those seeking to destroy democracy and further escalate the War on Terror.
That President Barack Obama failed even to mention oil as a critical factor in the war against IS during his speech to the nation on September 10, is an omission both revealing and dangerous in terms of how his administration wants to depict the stakes involved in this latest confrontation with the jihadis.
by Lawrence A. Franklin
One Pakistani recruiter of child suicide bombers describes these children as "tools provided by God."
Another Muslim cleric in a madrassa [Islamic boys' school] describes child suicide bombers as "a gift from Allah that we have an unlimited number willing to be sacrificed to teach Americans a lesson."
Using children as suicide bombers will stop when... they stop "condoning the killing of innocents."
by Denis MacEoin
"No religion condones the killing of innocents." — U.S. President Barack Obama, September 10, 2014.
"Islam is a religion of peace." — U.K. Prime Minister David Cameron, September 13, 2014.
"There is a place for violence in Islam. There is a place for jihad in Islam." — U.K. Imam Anjem Choudary, CBN News, April 5, 2010.
Regrettably it is impossible to re-interpret the Qur'an in a "moderate" manner. The most famous modern interpretation by Sayyid Qutb (d. 1966), the Muslim Brotherhood ideologue, leads the reader again and again into political territory, where jihad is at the root of action.
If they deviated from the true faith -- as we are seeing in the Islamic State today -- "backsliders," like pagans, were to be fought until they either accepted Islam or were killed.
In India alone, between 60 and 80 million Hindus may have been put to death by Muslim armies between the years 1000-1525.
Most Shared
Most Viewed