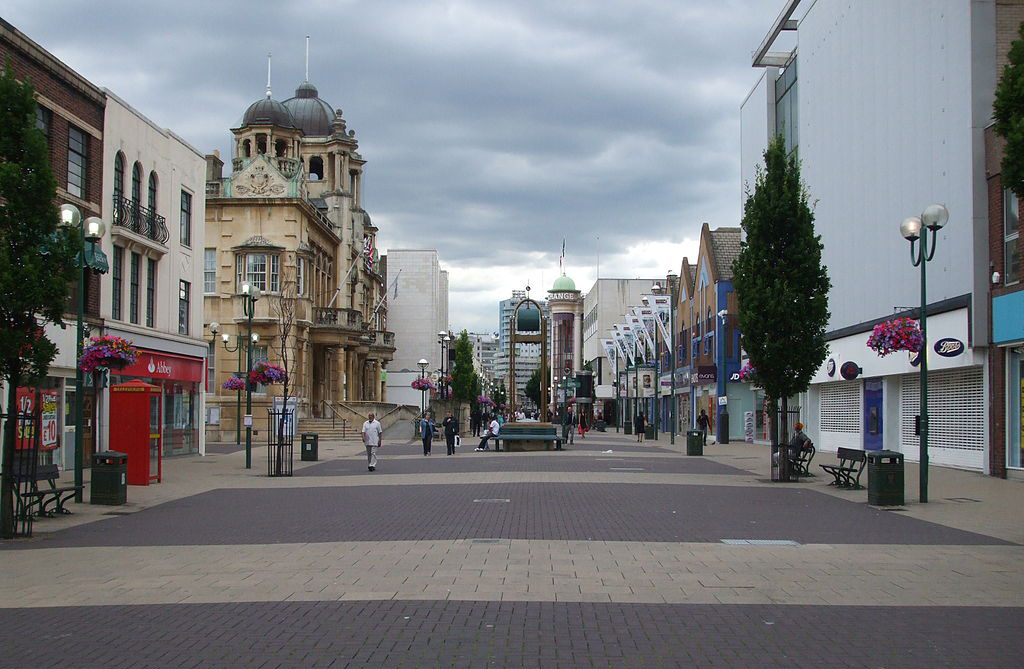 Bashir Chaudhry, chairman of the Muslim Community Centre in Ilford, England, recently hosted an exhibition on Muslims who helped to save Jews from the Nazis in Albania during WWII. Pictured: High Road in Ilford. (Image source: Sunil060902/Wikimedia Commons)
Remember the Holocaust exhibition in London that couldn't be staged last month -- the exhibition at Golders Green about Muslims who helped to save Jews from the Nazis in Albania during the Second World War? The small exhibition appeared clearly intended for two reasons. First to try to build trust between a new local mosque and the large Jewish community in Golders Green, and second, to remind Muslims in Britain that hostility towards Jews is an ancient and modern evil. The intentions behind the exhibition seemed good.
Not everyone, however, in Britain's Muslim communities approved. The radical Islamist website "5Pillars" said that there was a problem about the exhibit. They said that it had originated from Yad Vashem, a memorial and research institute. Of course, Yad Vashem just so happens to be in Israel -- and any contact with the state of Israel is absolutely verboten to many Islamists, such as those at "5 Pillars" (who of course would deny many accusations of anti-Semitism). So, "5 Pillars" denounced the Muslims and others who were supportive of the Holocaust exhibition being shown in Golders Green. They said that Muslims and non-Muslims who thought the Holocaust exhibition should go ahead were "Zionists." Then, in a demonstration of the sway that such Islamist groups seem to have in their own communities, the exhibition was promptly cancelled.
There is a whole book to be written about how the Muslim communities in countries such as Britain are so vulnerable to the extremists in their communities -- why groups that are often small in number can set the weather of the whole community and by extension, a significant portion of the national weather. In any event, the saga had a follow-on that is equally telling.
After the news emerged that the exhibition had been cancelled, local Jewish leaders expressed their sadness that such a situation should have come about. A confidence-building exercise had become downgraded into a confidence-draining one. Then, all at once, a Muslim activist, Fiyaz Mughal, from a group called Faith Matters, apparently decided it was wrong that an exhibition about the Holocaust should become un-showable in a mosque. So, he and others searched around for a Muslim venue to host the exhibition and it finally took place later in the month. There has been some coverage of this development in the Jewish communal newspapers, but little wider notice. The episode deserves wider notice.
In advance of the event, the venue at which the exhibition was to be shown was kept secret. Presumably, this concealment was to prevent a repeat of the successful campaign against the Golders Green mosque. The mosque that agreed to hold the secret event was in Ilford; the chairman of the Muslim Community Centre at the mosque, Bashir Chaudhry, said the exhibition was an "eye-opener" and added that he would encourage other people to see it. Despite having reportedly had emails and phone calls objecting to the exhibition once news began to get out, Mr Chaudhry said that showing it was "the right thing to do."
The event, which took place on a Sunday, was attended by around 70 people, including a number of "interfaith" leaders, a representative of the Israeli embassy in London and by Sara Khan, the "Extremism Commissioner" appointed by the Prime Minister in the wake of the string of terror attacks which struck Britain in 2017. Local press reported all of this as a signal of "defiance." Fiyaz Mughal, the representative of Faith Matters who had been partly responsible for the successful transplant of the event to Ilford, told the UK's Jewish Chronicle that he believed this was the first time such an exhibition had been shown at a mosque in Britain and that the event was "significant". "It sends a clear signal," he added, "to anti-Semites and extremists that education on the Holocaust will not be stopped, particularly when we want Muslims to engage with it."
Of course, it is a good thing that in the end, the exhibition was able to go ahead. Those who organised it and re-arranged it, especially at such short notice, should indeed be praised. Amid the small amount of jubilation that the event was able to take place at all, there was no rumination on the deeper and disturbing trend.
We are often told in Britain -- as elsewhere in Europe -- that there are specific "integration" problems that we may suffer, but that by and large everyone in our country wishes to get along and does get along. We hear much talk of "British values" and that officials from government and civil society should stand firm against those who would subvert these values. We have interfaith groups, government bodies and any number of people paid by government to address "integration" and "cohesion". By and large, the political and commentator class says that things are going pretty well in Britain -- that our minority communities are as British as anyone else and that anyone who says otherwise or even worries about the whole issue in any way is some variety of "phobe".
Yet, an event like this -- an awkward, embarrassing but ultimately remedied event -- is looked on as indicative of... really very little. National papers pay little attention and no one thinks of making anything like a fuss. A story such as this should provide the strongest possible alarm bells to government and civil society. If, in 2019, any Muslim organization wants to commemorate the bravery of some Muslims in the Holocaust, this has to be staged secretly, covertly, and in fear of some violent or non-violent backlash? What was proposed at Golders Green and then took place at Ilford was not a full overview of the Holocaust. It was not an overview of the suffering of the Jewish people in the middle of the last century. It was a focus on one tiny, relatively minor aspect of that catastrophe -- an aspect that should cause pride rather than fury and anger among any decent Muslim or non-Muslim.
In Britain, in 2019, government and non-government figures still feel they must flit around, letting no one know of their movements to commemorate an aspect of the Holocaust. They manage to have a commemoration of the Holocaust in secret. And they think this is a victory.
Douglas Murray, British author, commentator and public affairs analyst, is based in London, England. His latest book, an international best-seller, is "The Strange Death of Europe: Immigration, Identity, Islam."