Want Israeli-Palestinian Peace?
How can any public support a peace agreement with the "sons of monkeys and pigs"?
In Israel, even those who are afraid that the Israelis and the Palestinians may leave the negotiating table are hopeful. Talks may begin. The Palestinians waived their preconditions, which included the 1967 borders and halting construction in the territories, but will obtain the release of dangerous prisoners. Israel's Prime Minster, Binyamin Netanyahu, however, was categorical: before the start of true talks, as we've seen time and time again, the strategy has too often been "take the money (or the prisoners) and run." So long as there are no terrorist attacks, the hint of optimism in the air will continue. Negotiations, however, make sense only under one condition: Stop the Hate.
An agreement can be found for everything -- the territories, Jerusalem -- but not if the steady stream of fanatic hatred against the Jews continues. It forms the cornerstone of the Palestinian culture and effectively the raison d'être and the political nexus in the Islamic world. How can any public support a peace agreement with -- as the Jews are often described -- the offspring of "monkeys and pigs"? In Egypt, the only matter the supporters of former President Mohamed Morsi and Egypt's military-backed interim leader, Adly Mansour, have in common is the belief that the other side is part of a Jewish plot. The same is true of Syria's President, Bashar Assad and the rebels trying to bring down his regime.
A few random examples of antisemitic hatred among Palestinians include: on July 5, on public TV, two sisters recite a poem: "You who killed the pious prophets of Allah... sons of Zion, the most evil among creatures, barbaric monkeys, wretched pigs." Another child explains that "Jerusalem, which is pious, vomits at the impurity of the Jews." On March 7, the newspaper, Al Hayat Al Jadid, features an editorial which stated 9/11 was a Western lie and was actually a plot by the Jews and Freemasons. The editorial went on to say that if Hitler were alive, it would be an honor. On July 3, the Palestinian Authorities honored terrorist Ahmad Abu Sukkar with a military funeral; in 1975, he killed 15 innocent people and wounded 60 with a refrigerator filled with explosives. On May 31, a mother on television praised her son, who had blown himself up: "I received the news of his death with a happy heart." Another mother, of suicide terrorist, Wafa Idris, wrote to her dead daughter on Facebook about the big funeral with Palestinian flags and all the tributes.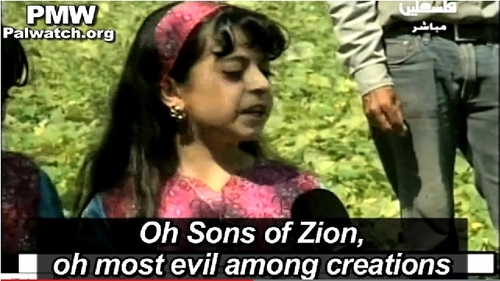 An image captured from a July 3, 2013 broadcast of official Palestinian Authority public television, with translation added. (Source: Palestinian Media Watch)
Palestinian Authority President Mahmoud Abbas himself, responding to Hamas, which in 2012, accused him of no longer wanting an "armed resistance" [terrorism], confirmed that he considered suicide bombing a valid tool. The governor of Ramallah, Laila Ghanam, accused the Israelis of "handing out drugs to kill our youth." Holocaust denial is commonplace among Palestinians, and the old antisemitic propaganda book Protocols of the Elders of Zion is still popular. Children grow up thinking, as a little one said on TV, that the "blood-thirsty Jews are condemned to humiliation and suffering." Television in Gaza broadcast a ten-year-old girl who wanted to die a martyr, and among many others, a video: "Dear Allah, strike the Jews and their friends, the Christians, and their supporters, the communists and their backers... get them all and do not leave anyone out."
Are people serious about wanting peace? This would be a great moment for Europe to help. But so long as the the Palestinians continue to be incited, their leaders will think that his people do not want peace -- and with good reason.
Fiamma Nirenstein, journalist and author, former Vice-President of the Committee on Foreign Affairs of the Italian Chamber of Deputies, and member of the Italian delegation at the Council of Europe.
This article was originally published in Italian in slightly different form in Il Giornale; English translation copyrighted by the Gatestone Institute.
Related Topics: Israel, Palestinian Authority | Fiamma Nirenstein receive the latest by email: subscribe to the free gatestone institute mailing list
Reader comments on this item
Comment on this item
Subscribe To Mailing List
Tweets by @GatestoneInst
Latest Articles
by Douglas Murray
If Ayaan Hirsi Ali is not qualified to speak about Islam, then who is? The answer is that the only figure they might accept is someone who does not make any criticisms of Islam.
Her criticisms are often raw because they are true. Able to do nothing about the truth, they try to silence the truth-teller.
by Nir Boms and Shayan Arya
Acknowledging the new ISIS danger while ignoring Iran's role in fomenting sectarian conflict in Syria and Iraq is not only shortsighted but dangerous. ISIS is not about to acquire nuclear capability, at least yet. Iran is.
If ISIS, a 25,000-strong militia, poses a serious threat, how can one disregard the 550,000-strong military of the soon-to-be nuclear Iranian regime?
The International Atomic Energy Agency issued a confidential report, which states that "little progress is being made," and that the Iran has implemented only three out of five nuclear transparency steps to which it had committed to completing before August 25. Does the West actually no longer view a nuclear Iran as a pressing threat?
by Burak Bekdil
"Why are you running away, you sperm of Israel?" — President Recep Tayyip Erdogan, to a Muslim protestor.
"Being a sperm of Israel in Turkey means... to get used to living on hate speech, insults and curses every day; held accountable for every act of the Israeli government although you may never even have stepped foot in Israel; treated as a 'foreigner' in the country where you were born, served in the military and you pay taxes." — Vedat Haymi Behar, digital marketing solutions coordinator, in Radikal.
by Malcolm Lowe
The losers are declaring war on all who disagree with them. They have adopted Salmond's attempts to pit one part of the population against another: not just young against old, but manual workers against the middle classes, city slum dwellers against country people, men against women, any section of the population that preferred Yes against another section that did the opposite.
The foolish devotion of Labour councilors to Palestinian militancy paved the way for nationalist mania.
Most Shared
Most Viewed