Want Israeli-Palestinian Peace?
How can any public support a peace agreement with the "sons of monkeys and pigs"?
In Israel, even those who are afraid that the Israelis and the Palestinians may leave the negotiating table are hopeful. Talks may begin. The Palestinians waived their preconditions, which included the 1967 borders and halting construction in the territories, but will obtain the release of dangerous prisoners. Israel's Prime Minster, Binyamin Netanyahu, however, was categorical: before the start of true talks, as we've seen time and time again, the strategy has too often been "take the money (or the prisoners) and run." So long as there are no terrorist attacks, the hint of optimism in the air will continue. Negotiations, however, make sense only under one condition: Stop the Hate.
An agreement can be found for everything -- the territories, Jerusalem -- but not if the steady stream of fanatic hatred against the Jews continues. It forms the cornerstone of the Palestinian culture and effectively the raison d'être and the political nexus in the Islamic world. How can any public support a peace agreement with -- as the Jews are often described -- the offspring of "monkeys and pigs"? In Egypt, the only matter the supporters of former President Mohamed Morsi and Egypt's military-backed interim leader, Adly Mansour, have in common is the belief that the other side is part of a Jewish plot. The same is true of Syria's President, Bashar Assad and the rebels trying to bring down his regime.
A few random examples of antisemitic hatred among Palestinians include: on July 5, on public TV, two sisters recite a poem: "You who killed the pious prophets of Allah... sons of Zion, the most evil among creatures, barbaric monkeys, wretched pigs." Another child explains that "Jerusalem, which is pious, vomits at the impurity of the Jews." On March 7, the newspaper, Al Hayat Al Jadid, features an editorial which stated 9/11 was a Western lie and was actually a plot by the Jews and Freemasons. The editorial went on to say that if Hitler were alive, it would be an honor. On July 3, the Palestinian Authorities honored terrorist Ahmad Abu Sukkar with a military funeral; in 1975, he killed 15 innocent people and wounded 60 with a refrigerator filled with explosives. On May 31, a mother on television praised her son, who had blown himself up: "I received the news of his death with a happy heart." Another mother, of suicide terrorist, Wafa Idris, wrote to her dead daughter on Facebook about the big funeral with Palestinian flags and all the tributes.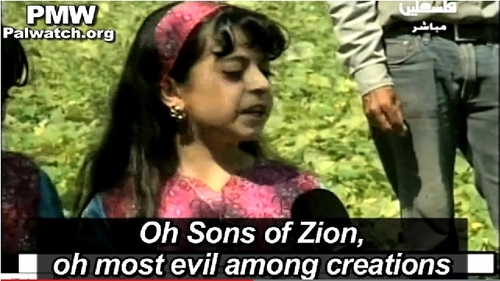 An image captured from a July 3, 2013 broadcast of official Palestinian Authority public television, with translation added. (Source: Palestinian Media Watch)
Palestinian Authority President Mahmoud Abbas himself, responding to Hamas, which in 2012, accused him of no longer wanting an "armed resistance" [terrorism], confirmed that he considered suicide bombing a valid tool. The governor of Ramallah, Laila Ghanam, accused the Israelis of "handing out drugs to kill our youth." Holocaust denial is commonplace among Palestinians, and the old antisemitic propaganda book Protocols of the Elders of Zion is still popular. Children grow up thinking, as a little one said on TV, that the "blood-thirsty Jews are condemned to humiliation and suffering." Television in Gaza broadcast a ten-year-old girl who wanted to die a martyr, and among many others, a video: "Dear Allah, strike the Jews and their friends, the Christians, and their supporters, the communists and their backers... get them all and do not leave anyone out."
Are people serious about wanting peace? This would be a great moment for Europe to help. But so long as the the Palestinians continue to be incited, their leaders will think that his people do not want peace -- and with good reason.
Fiamma Nirenstein, journalist and author, former Vice-President of the Committee on Foreign Affairs of the Italian Chamber of Deputies, and member of the Italian delegation at the Council of Europe.
This article was originally published in Italian in slightly different form in Il Giornale; English translation copyrighted by the Gatestone Institute.
Related Topics: Israel, Palestinian Authority | Fiamma Nirenstein receive the latest by email: subscribe to the free gatestone institute mailing list
Reader comments on this item
Comment on this item
Subscribe To Mailing List
Tweets by @GatestoneInst
Latest Articles
by Soeren Kern
"My son and I love life with the beheaders." — British jihadist Sally Jones.
Mujahidah Bint Usama published pictures of herself on Twitter holding a severed head while wearing a white doctor's jacket; alongside it, the message: "Dream job, a terrorist doc."
British female jihadists are now in charge of guarding as many as 3,000 non-Muslim Iraqi women and girls held captive as sex slaves.
"The British women are some of the most zealous in imposing the IS laws in the region. I believe that's why at least four of them have been chosen to join the women police force." — British terrorism analyst Melanie Smith.
by Khaled Abu Toameh
"Armed robbery in broad daylight." — Palestinians, after Hamas "seized" $750,000 from Gaza bank.
Fatah accused Hamas of "squandering" $700 million of financial aid earmarked for the Palestinian victims of war. Fatah wants to ensure that the millions of dollars intended for the Gaza Strip will pass through its hands and not end up in Hamas's bank accounts. Relying on Fatah in this regard is like asking a cat to guard the milk.
The head of the Palestinian Authority's Anti-Corruption Commission revealed that his group has retrieved $70 million of public funds fund embezzled by Palestinian officials. Arab and Western donors need to make sure that their money does not end up (once again) in the wrong hands. Without a proper mechanism of accountability and transparency, hundreds of millions of dollars are likely to find their way into the bank accounts of both Hamas and Fatah leaders.
by Mudar Zahran
"If Hamas does not like you for any reason all they have to do now is say you are a Mossad agent and kill you." — A., a Fatah member in Gaza.
"Hamas wanted us butchered so it could win the media war against Israel showing our dead children on TV and then get money from Qatar." — T., former Hamas Ministry officer.
"They would fire rockets and then run away quickly, leaving us to face Israeli bombs for what they did." — D., Gazan journalist.
"Hamas imposed a curfew: anyone walking out in the street was shot. That way people had to stay in their homes, even if they were about to get bombed. Hamas held the whole Gazan population as a human shield." — K., graduate student
"The Israeli army allows supplies to come in and Hamas steals them. It seems even the Israelis care for us more than Hamas." — E., first-aid volunteer.
"We are under Hamas occupation, and if you ask most of us, we would rather be under Israeli occupation… We miss the days when we were able to work inside Israel and make good money. We miss the security and calm Israel provided when it was here." — S., graduate of an American university, former Hamas sympathizer.
by Ben Cohen
Now, with the Islamic State's self-proclaimed caliphate having captured key oil wells in the Middle East this year, foreign oil has become an even more lethal financial weapon-of-choice for those seeking to destroy democracy and further escalate the War on Terror.
That President Barack Obama failed even to mention oil as a critical factor in the war against IS during his speech to the nation on September 10, is an omission both revealing and dangerous in terms of how his administration wants to depict the stakes involved in this latest confrontation with the jihadis.
by Lawrence A. Franklin
One Pakistani recruiter of child suicide bombers describes these children as "tools provided by God."
Another Muslim cleric in a madrassa [Islamic boys' school] describes child suicide bombers as "a gift from Allah that we have an unlimited number willing to be sacrificed to teach Americans a lesson."
Using children as suicide bombers will stop when... they stop "condoning the killing of innocents."
Most Shared
Most Viewed