Want Israeli-Palestinian Peace?
How can any public support a peace agreement with the "sons of monkeys and pigs"?
In Israel, even those who are afraid that the Israelis and the Palestinians may leave the negotiating table are hopeful. Talks may begin. The Palestinians waived their preconditions, which included the 1967 borders and halting construction in the territories, but will obtain the release of dangerous prisoners. Israel's Prime Minster, Binyamin Netanyahu, however, was categorical: before the start of true talks, as we've seen time and time again, the strategy has too often been "take the money (or the prisoners) and run." So long as there are no terrorist attacks, the hint of optimism in the air will continue. Negotiations, however, make sense only under one condition: Stop the Hate.
An agreement can be found for everything -- the territories, Jerusalem -- but not if the steady stream of fanatic hatred against the Jews continues. It forms the cornerstone of the Palestinian culture and effectively the raison d'être and the political nexus in the Islamic world. How can any public support a peace agreement with -- as the Jews are often described -- the offspring of "monkeys and pigs"? In Egypt, the only matter the supporters of former President Mohamed Morsi and Egypt's military-backed interim leader, Adly Mansour, have in common is the belief that the other side is part of a Jewish plot. The same is true of Syria's President, Bashar Assad and the rebels trying to bring down his regime.
A few random examples of antisemitic hatred among Palestinians include: on July 5, on public TV, two sisters recite a poem: "You who killed the pious prophets of Allah... sons of Zion, the most evil among creatures, barbaric monkeys, wretched pigs." Another child explains that "Jerusalem, which is pious, vomits at the impurity of the Jews." On March 7, the newspaper, Al Hayat Al Jadid, features an editorial which stated 9/11 was a Western lie and was actually a plot by the Jews and Freemasons. The editorial went on to say that if Hitler were alive, it would be an honor. On July 3, the Palestinian Authorities honored terrorist Ahmad Abu Sukkar with a military funeral; in 1975, he killed 15 innocent people and wounded 60 with a refrigerator filled with explosives. On May 31, a mother on television praised her son, who had blown himself up: "I received the news of his death with a happy heart." Another mother, of suicide terrorist, Wafa Idris, wrote to her dead daughter on Facebook about the big funeral with Palestinian flags and all the tributes.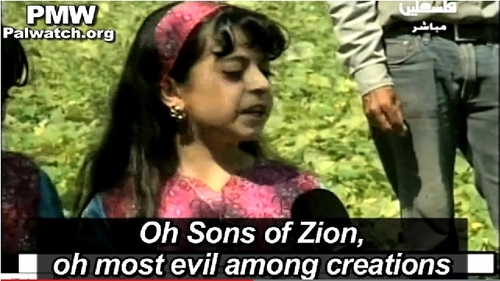 An image captured from a July 3, 2013 broadcast of official Palestinian Authority public television, with translation added. (Source: Palestinian Media Watch)
Palestinian Authority President Mahmoud Abbas himself, responding to Hamas, which in 2012, accused him of no longer wanting an "armed resistance" [terrorism], confirmed that he considered suicide bombing a valid tool. The governor of Ramallah, Laila Ghanam, accused the Israelis of "handing out drugs to kill our youth." Holocaust denial is commonplace among Palestinians, and the old antisemitic propaganda book Protocols of the Elders of Zion is still popular. Children grow up thinking, as a little one said on TV, that the "blood-thirsty Jews are condemned to humiliation and suffering." Television in Gaza broadcast a ten-year-old girl who wanted to die a martyr, and among many others, a video: "Dear Allah, strike the Jews and their friends, the Christians, and their supporters, the communists and their backers... get them all and do not leave anyone out."
Are people serious about wanting peace? This would be a great moment for Europe to help. But so long as the the Palestinians continue to be incited, their leaders will think that his people do not want peace -- and with good reason.
Fiamma Nirenstein, journalist and author, former Vice-President of the Committee on Foreign Affairs of the Italian Chamber of Deputies, and member of the Italian delegation at the Council of Europe.
This article was originally published in Italian in slightly different form in Il Giornale; English translation copyrighted by the Gatestone Institute.
Related Topics: Israel, Palestinian Authority | Fiamma Nirenstein receive the latest by email: subscribe to the free gatestone institute mailing list
Reader comments on this item
Comment on this item
Subscribe To Mailing List
Tweets by @GatestoneInst
Subscribe To Mailing List
Latest Articles
by Soeren Kern
Hamas would likely resort to violence to thwart any attempts to disarm the group. It is therefore highly unlikely the Europeans would confront Hamas in any meaningful way.
Spanish intelligence agents met secretly with Hezbollah operatives, who agreed to provide "escorts" to protect Spanish UNIFIL patrols. The quid pro quo was that Spanish troops would look the other way while Hezbollah was allowed to rearm for its next war with Israel. Hezbollah's message to Spain was: mind your own business.
If the European experience with Hezbollah in Lebanon is any indication, not only will Hamas not be disarmed, it will be rearmed as European monitors look on and do nothing.
What is clear is that European leaders have never been committed to honoring either the letter or the spirit of UN Resolutions 1559, 1680 and 1701, all of which were aimed at preventing Hezbollah from rearming.
by Debalina Ghoshal
According to former Bush administration official Stephen Rademaker, for the United States to respond to Russian violations of the treaty by pulling out of it would be "welcome in Moscow," which is "wrestling with the question of how they terminate [the treaty]" and thus, the United States should not make it easier for the Russians to leave.
by Guy Millière
Belgian security services have estimated that the number of European jihadists in Syria may be over 4000.
European leaders have directed their nastiest comments against the Jewish state, none of them has asked why Palestinian organizations in Gaza put their stockpiles of weapons in hospitals, homes, schools and mosques, or their command and control centers at the bottom of large apartment buildings or underneath hospitals. None of them has even said that Hamas is a terrorist organization despite its genocidal charter.
The majority of them are wedded to the idea of redistribution. Their policies are anti-growth, do not afford people any economic opportunity, and are what caused these economic crises in Europe in the first place. The United States seems to be following these thoroughly failed policies as well.
"Europe could not stay the same with a different population in it." — Christopher Caldwell, Reflections on the Revolution in Europe.
by Raymond Ibrahim
"I abducted your girls. I will sell them on the market, by Allah... There is a market for selling humans. Allah says I should sell." — Abubakar Shekau, leader of Boko Haram.
Hillary Clinton repeatedly refused to designate Boko Haram a terrorist organization.
In Malaysia -- regularly portrayed in the West as a moderate Muslim nation -- any attempt to promote religions other than Islam is illegal.
"The reason they want to kill me is very clear -- it is because of being a convert to Christianity." — Hassan Muwanguzi, Uganda.
by Dexter Van Zile
Rev. Hanna Massad does not mention that perhaps Hamas actually wants the blockade to end so it can bring in more weapons and cement to build attack-tunnels so it can "finish the job."
Hamas does not just admit to using human shields, it brags about using human shields. Why does Massad have to inject an air of uncertainty about Hamas's use of human shields when no such uncertainty exists?
The problem is that any self-respecting journalist would confront Massad with a follow-up question about Hamas's ideology and violence, but not the folks at Christianity Today.
Most Shared
Most Viewed