Hamas Threatens Egypt, Israel And Palestinian Authority
Translations of this item:
If the leaders of Hamas believe that the Egyptians are determined to undermine or topple their regime, they will not hesitate to initiate a new military confrontation against Israel. Hamas would never dare to initiate one against the Egyptian army. It is easier to fire rockets at Israel.
As Egypt steps up security restrictions along its border with the Gaza Strip, Hamas and some Palestinian terror groups have been holding "military parades" in a bid to show that they are prepared for war.
The parades, which saw hundreds of heavily armed militiamen march through the streets, are mainly intended to send a message of warning to Egypt's new rulers against any attempt to launch a military offensive inside the Gaza Strip.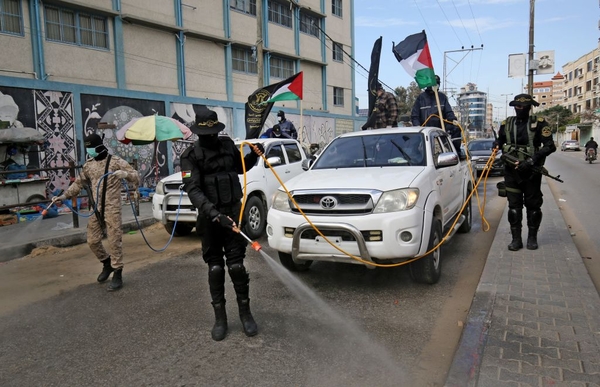 A Hamas military parade.
Some Hamas leaders are convinced that the Egyptians are preparing to launch a military strike against the Gaza Strip under the pretext of combatting terror in Sinai.
However, the show of force by Hamas and its allies is also designed to send a warning message to Israel and the Palestinian Authority.
Hamas believes that Israel and the Palestinian Authority are directly involved in an Egyptian-led scheme to overthrow their regime and bring Mahmoud Abbas's forces back to the Gaza Strip.
The parades are also intended to send a warning message to Abbas as to what awaits him and his loyalists if they dare enter the Gaza Strip with the help of Israel and Egypt.
Given Hamas's growing isolation in the aftermath of the downfall of the Muslim Brotherhood regime in Cairo and the Egyptian authorities' severe and unprecedented restrictions along the border, there is no underestimating the threats coming out of the Gaza Strip.
If the leaders of Hamas believe that the Egyptians are determined to undermine or topple their regime, they will not hesitate to initiate a new military confrontation with Israel.
In public, Hamas leaders and members say that the "military parades" are aimed at sending a warning message to Israel, and not Egypt.
But in private, several Hamas leaders and spokesmen admit that the biggest and most immediate threat to their regime is coming from Egypt.
The Egyptian authorities see the threats as being directed first and foremost toward Egypt.
This explains why Egypt's Foreign Minister Nabil Fahmy this week deemed it necessary to warn Hamas of a "harsh response" if it threatened his country's national security. Fahmy said the response would include "military and security choices."
Days before the warning, hundreds of gunmen belonging to Hamas's armed wing, Izaddin al-Kassam, staged a provocative march near the border with Egypt, carrying photos of deposed Egyptian president Mohamed Morsi and chanting slogans against the "military coup" in Cairo.
In yet another sign of mounting tensions between the two sides, Egyptian border guards stationed along the border with the Gaza Strip have been hurling abuse and threats at Hamas policemen and Palestinian farmers, Palestinians living in the area said this week.
Palestinian fishermen have also fallen victim to the standoff between Hamas and the Egyptian authorities.
Last week, five fishermen were each sentenced by an Egyptian military court to one year in prison for fishing in Egyptian territorial waters.
Earlier, Egyptian naval forces detained and severely beat other fishermen for approaching Egypt's territorial waters.
Despite the show of force, Hamas would never dare to initiate a military confrontation against the Egyptian army. Hamas will find it easier to fire rockets at Israel than launch terror attacks against the Egyptians.
Hamas is fully aware that such a confrontation would spark a harsh response from the Egyptians -- one that would surely lead to the collapse of its regime. Previous confrontations between Hamas and the Israel Defense Forces would then look like children's games compared to a clash with the Egyptian or any other Arab army.
That is why Israel needs to be prepared for the possibility of another war with Hamas and its allies in the Gaza Strip.
Related Topics: Egypt, Israel, Palestinian Authority | Khaled Abu Toameh receive the latest by email: subscribe to the free gatestone institute mailing list
Reader comments on this item
Comment on this item
Subscribe To Mailing List
Tweets by @GatestoneInst
Latest Articles
by Douglas Murray
If Ayaan Hirsi Ali is not qualified to speak about Islam, then who is? The answer is that the only figure they might accept is someone who does not make any criticisms of Islam.
Her criticisms are often raw because they are true. Able to do nothing about the truth, they try to silence the truth-teller.
by Nir Boms and Shayan Arya
Acknowledging the new ISIS danger while ignoring Iran's role in fomenting sectarian conflict in Syria and Iraq is not only shortsighted but dangerous. ISIS is not about to acquire nuclear capability, at least yet. Iran is.
If ISIS, a 25,000-strong militia, poses a serious threat, how can one disregard the 550,000-strong military of the soon-to-be nuclear Iranian regime?
The International Atomic Energy Agency issued a confidential report, which states that "little progress is being made," and that the Iran has implemented only three out of five nuclear transparency steps to which it had committed to completing before August 25. Does the West actually no longer view a nuclear Iran as a pressing threat?
by Burak Bekdil
"Why are you running away, you sperm of Israel?" — President Recep Tayyip Erdogan, to a Muslim protestor.
"Being a sperm of Israel in Turkey means... to get used to living on hate speech, insults and curses every day; held accountable for every act of the Israeli government although you may never even have stepped foot in Israel; treated as a 'foreigner' in the country where you were born, served in the military and you pay taxes." — Vedat Haymi Behar, digital marketing solutions coordinator, in Radikal.
by Malcolm Lowe
The losers are declaring war on all who disagree with them. They have adopted Salmond's attempts to pit one part of the population against another: not just young against old, but manual workers against the middle classes, city slum dwellers against country people, men against women, any section of the population that preferred Yes against another section that did the opposite.
The foolish devotion of Labour councilors to Palestinian militancy paved the way for nationalist mania.
Most Shared
Most Viewed