Hamas Threatens Egypt, Israel And Palestinian Authority
Translations of this item:
If the leaders of Hamas believe that the Egyptians are determined to undermine or topple their regime, they will not hesitate to initiate a new military confrontation against Israel. Hamas would never dare to initiate one against the Egyptian army. It is easier to fire rockets at Israel.
As Egypt steps up security restrictions along its border with the Gaza Strip, Hamas and some Palestinian terror groups have been holding "military parades" in a bid to show that they are prepared for war.
The parades, which saw hundreds of heavily armed militiamen march through the streets, are mainly intended to send a message of warning to Egypt's new rulers against any attempt to launch a military offensive inside the Gaza Strip.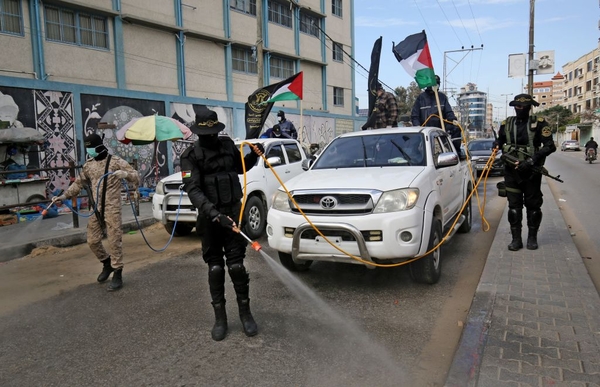 A Hamas military parade.
Some Hamas leaders are convinced that the Egyptians are preparing to launch a military strike against the Gaza Strip under the pretext of combatting terror in Sinai.
However, the show of force by Hamas and its allies is also designed to send a warning message to Israel and the Palestinian Authority.
Hamas believes that Israel and the Palestinian Authority are directly involved in an Egyptian-led scheme to overthrow their regime and bring Mahmoud Abbas's forces back to the Gaza Strip.
The parades are also intended to send a warning message to Abbas as to what awaits him and his loyalists if they dare enter the Gaza Strip with the help of Israel and Egypt.
Given Hamas's growing isolation in the aftermath of the downfall of the Muslim Brotherhood regime in Cairo and the Egyptian authorities' severe and unprecedented restrictions along the border, there is no underestimating the threats coming out of the Gaza Strip.
If the leaders of Hamas believe that the Egyptians are determined to undermine or topple their regime, they will not hesitate to initiate a new military confrontation with Israel.
In public, Hamas leaders and members say that the "military parades" are aimed at sending a warning message to Israel, and not Egypt.
But in private, several Hamas leaders and spokesmen admit that the biggest and most immediate threat to their regime is coming from Egypt.
The Egyptian authorities see the threats as being directed first and foremost toward Egypt.
This explains why Egypt's Foreign Minister Nabil Fahmy this week deemed it necessary to warn Hamas of a "harsh response" if it threatened his country's national security. Fahmy said the response would include "military and security choices."
Days before the warning, hundreds of gunmen belonging to Hamas's armed wing, Izaddin al-Kassam, staged a provocative march near the border with Egypt, carrying photos of deposed Egyptian president Mohamed Morsi and chanting slogans against the "military coup" in Cairo.
In yet another sign of mounting tensions between the two sides, Egyptian border guards stationed along the border with the Gaza Strip have been hurling abuse and threats at Hamas policemen and Palestinian farmers, Palestinians living in the area said this week.
Palestinian fishermen have also fallen victim to the standoff between Hamas and the Egyptian authorities.
Last week, five fishermen were each sentenced by an Egyptian military court to one year in prison for fishing in Egyptian territorial waters.
Earlier, Egyptian naval forces detained and severely beat other fishermen for approaching Egypt's territorial waters.
Despite the show of force, Hamas would never dare to initiate a military confrontation against the Egyptian army. Hamas will find it easier to fire rockets at Israel than launch terror attacks against the Egyptians.
Hamas is fully aware that such a confrontation would spark a harsh response from the Egyptians -- one that would surely lead to the collapse of its regime. Previous confrontations between Hamas and the Israel Defense Forces would then look like children's games compared to a clash with the Egyptian or any other Arab army.
That is why Israel needs to be prepared for the possibility of another war with Hamas and its allies in the Gaza Strip.
Related Topics: Egypt, Israel, Palestinian Authority | Khaled Abu Toameh receive the latest by email: subscribe to the free gatestone institute mailing list
Reader comments on this item
Comment on this item
Subscribe To Mailing List
Tweets by @GatestoneInst
Subscribe To Mailing List
Latest Articles
by Pierre Rehov
For terrorists, the death of innocent children is irrelevant. In a society that promotes martyrdom as the ultimate sign of success, the death of innocent children can sometimes even be seen as a public relations blessing.
In every action, intent is paramount. There should never be a moral equivalence painted between the deliberate killing of civilians, and a retaliation that tragically leads to casualties among civilians.
There is, however, one small difference: in the Middle East, reporters are threatened, except in Israel. Their choice becomes a simple one: promote the Palestinian point of view or stop working in the West Bank. Keep the eye of the camera dirty or lose your job. This show should not go on.
by Khaled Abu Toameh
Since 1948, the Arab countries and government have been paying mostly lip service to the Palestinians.
"They have money and oil, but don't care about the Palestinians, even though we are Arabs and Muslims like them. What a Saudi or Qatari sheikh spends in one night in London, Paris or Las Vegas could solve the problem of tens of thousands of Palestinians." — Palestinian human rights activist.
"Some Arabs were hoping that Israel would rid them of Hamas." — Ashraf Salameh, Gaza City.
"Some of the Arab regimes are interested in getting rid of the resistance in order to remove the burden of the Palestinian cause, which threatens the stability of their regimes." — Mustafa al-Sawwaf, Palestinian political analyst.
"Most Arabs are busy these days with bloody battles waged by their leaders, who are struggling to survive. These battles are raging in Yemen, Syria, Iraq, Egypt, Libya and the Palestinian Authority." — Mohammed al-Musafer, columnist.
"The Arab leaders don't know what they want from the Gaza Strip. They don't even know what they want from Israel." — Yusef Rizka, Hamas official.
by Soeren Kern
European elites, who take pride in viewing the EU as a "postmodern" superpower, have long argued that military hard-power is illegitimate in the 21st century. Unfortunately for Europe, Russia (along with China and Iran) has not embraced the EU's fantastical soft-power worldview, in which "climate change" is now said to pose the greatest threat to European security.
For its part, the European Commission, the EU's administrative branch, which never misses an opportunity to boycott institutions in Israel, has issued only a standard statement on the shooting down of MH17 in Ukraine, which reads: "The European Union will continue to follow this issue very closely."
The EU has made only half-hearted attempts to develop alternatives to its dependency on Russian oil and gas.
by Shoshana Bryen
Proportionality in international law is not about equality of death or civilian suffering, or even about [equality of] firepower. Proportionality weighs the necessity of a military action against suffering that the action might cause to enemy civilians in the vicinity.
"Under international humanitarian law and the Rome Statute, the death of civilians during an armed conflict, no matter how grave and regrettable does not constitute a war crime.... even when it is known that some civilian deaths or injuries will occur. A crime occurs if there is an intentional attack directed against civilians (principle of distinction) or an attack is launched on a military objective in the knowledge that the incidental civilian injuries would be clearly excessive in relation to the anticipated military advantage (principle of proportionality)." — Luis Moreno-Ocampo, Chief Prosecutor, International Criminal Court.
"The greater the military advantage anticipated, the larger the amount of collateral damage -- often civilian casualties -- which will be "justified" and "necessary." — Dr. Françoise Hampton, University of Essex, UK.
by Irfan Al-Alawi
"Abu Bakr Al-Baghdadi" is Abu Du'a, a follower of the late Osama Bin Laden. By adding the name "Al-Qurayshi" in his current alias, he is also seeking to affirm descent from Muhammad.
The allegation of theological sovereignty over all Sunnis extends to Indonesia and Morocco. The idea that the borders between Syria and Iraq will be dissolved by the new "caliphate" defies all Islamic theology and history. As the Qur'an states, "Allah "made the nations and tribes different." (49:13) Syria and Iraq have been distinct for millennia.
The "Islamic State" seeks to obliterate these diverse identities by expelling or killing all Shias and Sunni Sufis. And it does not invoke the Ottoman caliphate in its propaganda, demonstrating decisively the fake nature of the "Islamic State."
A caliphate is obsolete and the "Islamic State" is totalitarian. All Sunnis need to repudiate them soundly, even by force of arms.
Most Shared
Most Viewed