PLO: Battle for Succession Has Begun
Translations of this item:
There is no shortage of figures who consider themselves appropriate candidates to serve as deputy president -- including Marwan Barghouti, jailed for five life sentences for his role in terror attacks.
Over the past few months, a succession battle has been quietly raging in the Palestinian Authority [PA].
This behind-the-scenes battle is continuing even as the PA leadership conducts secret peace talks with Israel.
In fact, the U.S.-sponsored peace negotiations have served as a catalyst for increased calls by senior PLO and Fatah officials to start planning for the day after Mahmoud Abbas's departure from the scene.
Like his predecessor Yasser Arafat, the 78-year-old Abbas has been running the PA in an autocratic fashion since his election as president in January 2005.
And like Arafat, Abbas has since managed to keep many of his critics silent by providing them with funds, luxurious offices and vehicles, secretaries, bodyguards and assistants.
Many senior members of the PLO and Fatah, for example, each receive from Abbas tens of thousands of dollars every month to enable them to cover the costs of office rentals and vehicles, as well as salaries for their secretaries and henchmen.
Still, the funds have not been able to buy Abbas 100% quiet.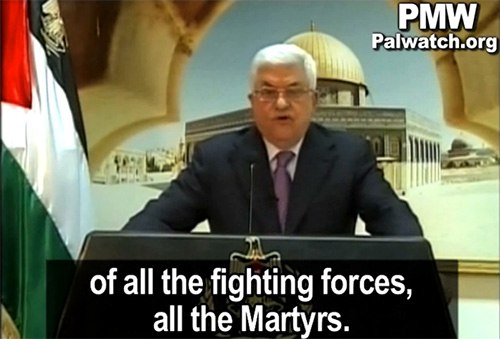 Palestinian Authority President Mahmoud Abbas speaks on PA TV, Jan. 4, 2013. (Image credit: Palestinian Media Watch)
His controversial decision to resume peace talks with Israel several weeks ago has prompted a number of Palestinians to talk about the need for Abbas to end his autocratic rule.
It is worth noting that Abbas decided to return to the negotiating table with Israel shortly after most members of the PLO Executive Committee voted against the move.
Since then, Abbas has been facing increased calls to appoint a deputy president of the Palestinian Authority as a way of limiting his powers.
At a recent meeting of the Fatah Central Committee, one official, Tawfik Tirawi, did not hesitate to bring up the subject in the presence of Abbas.
Tirawi, a former security commander in the West Bank, proposed that Abbas appoint jailed Fatah leader Marwan Barghouti as deputy president. Barghouti is serving a five life-term prison sentence for his role in terror attacks against Israelis during the second intifada.
Fatah officials said that Abbas did not comment on the idea.
Palestinian sources said that there is no shortage of figures who consider themselves appropriate candidates to serve as deputy president.
They include: Jibril Rajoub, a former security commander, Mohammed Shtayyeh, a former minister and member of the Palestinian negotiating team with Israel, Saeb Erekat, the chief PLO negotiator and Nabil Sha'ath, a former PA foreign minister.
Those who want Abbas to appoint a deputy are actually telling the PA president that they are fed up with his continued refusal to share powers or consult with others about crucial matters such as the peace talks with Israel.
Abbas's critics often complain that he is keeping most PLO and Fatah officials in the dark regarding the ongoing peace talks.
There are only three Palestinians who know what is really happening inside the closed room where the talks are taking place: Abbas, Erekat and Shtayyeh.
Abbas has justified his refusal to brief PLO and Fatah officials on the content of the negotiations by saying that the U.S. Administration has prohibited the Palestinians and Israelis from talking in public about the issue.
But the peace talks with Israel are only one of the things criticized by Abbas's opponents.
Several PLO and Fatah officials have recently been talking about the need for "leadership change." They maintain that it is time for the Palestinians to start thinking of replacing Abbas's old-guard regime with young and fresh leaders.
However, as of now Abbas, whose term in office expired back in January 2009, has shown no sign that he is willing to accept the principle of power-sharing. The battle for succession is therefore likely to intensify in the coming weeks and months, casting a shadow not only over his regime, but also the peace talks with Israel.
Related Topics: Palestinian Authority | Khaled Abu Toameh receive the latest by email: subscribe to the free gatestone institute mailing list
Reader comments on this item
Comment on this item
Subscribe To Mailing List
Tweets by @GatestoneInst
Subscribe To Mailing List
Latest Articles
by Pierre Rehov
For terrorists, the death of innocent children is irrelevant. In a society that promotes martyrdom as the ultimate sign of success, the death of innocent children can sometimes even be seen as a public relations blessing.
In every action, intent is paramount. There should never be a moral equivalence painted between the deliberate killing of civilians, and a retaliation that tragically leads to casualties among civilians.
There is, however, one small difference: in the Middle East, reporters are threatened, except in Israel. Their choice becomes a simple one: promote the Palestinian point of view or stop working in the West Bank. Keep the eye of the camera dirty or lose your job. This show should not go on.
by Khaled Abu Toameh
Since 1948, the Arab countries and government have been paying mostly lip service to the Palestinians.
"They have money and oil, but don't care about the Palestinians, even though we are Arabs and Muslims like them. What a Saudi or Qatari sheikh spends in one night in London, Paris or Las Vegas could solve the problem of tens of thousands of Palestinians." — Palestinian human rights activist.
"Some Arabs were hoping that Israel would rid them of Hamas." — Ashraf Salameh, Gaza City.
"Some of the Arab regimes are interested in getting rid of the resistance in order to remove the burden of the Palestinian cause, which threatens the stability of their regimes." — Mustafa al-Sawwaf, Palestinian political analyst.
"Most Arabs are busy these days with bloody battles waged by their leaders, who are struggling to survive. These battles are raging in Yemen, Syria, Iraq, Egypt, Libya and the Palestinian Authority." — Mohammed al-Musafer, columnist.
"The Arab leaders don't know what they want from the Gaza Strip. They don't even know what they want from Israel." — Yusef Rizka, Hamas official.
by Soeren Kern
European elites, who take pride in viewing the EU as a "postmodern" superpower, have long argued that military hard-power is illegitimate in the 21st century. Unfortunately for Europe, Russia (along with China and Iran) has not embraced the EU's fantastical soft-power worldview, in which "climate change" is now said to pose the greatest threat to European security.
For its part, the European Commission, the EU's administrative branch, which never misses an opportunity to boycott institutions in Israel, has issued only a standard statement on the shooting down of MH17 in Ukraine, which reads: "The European Union will continue to follow this issue very closely."
The EU has made only half-hearted attempts to develop alternatives to its dependency on Russian oil and gas.
by Shoshana Bryen
Proportionality in international law is not about equality of death or civilian suffering, or even about [equality of] firepower. Proportionality weighs the necessity of a military action against suffering that the action might cause to enemy civilians in the vicinity.
"Under international humanitarian law and the Rome Statute, the death of civilians during an armed conflict, no matter how grave and regrettable does not constitute a war crime.... even when it is known that some civilian deaths or injuries will occur. A crime occurs if there is an intentional attack directed against civilians (principle of distinction) or an attack is launched on a military objective in the knowledge that the incidental civilian injuries would be clearly excessive in relation to the anticipated military advantage (principle of proportionality)." — Luis Moreno-Ocampo, Chief Prosecutor, International Criminal Court.
"The greater the military advantage anticipated, the larger the amount of collateral damage -- often civilian casualties -- which will be "justified" and "necessary." — Dr. Françoise Hampton, University of Essex, UK.
Most Shared
Most Viewed