PLO: Battle for Succession Has Begun
There is no shortage of figures who consider themselves appropriate candidates to serve as deputy president -- including Marwan Barghouti, jailed for five life sentences for his role in terror attacks.
Over the past few months, a succession battle has been quietly raging in the Palestinian Authority [PA].
This behind-the-scenes battle is continuing even as the PA leadership conducts secret peace talks with Israel.
In fact, the U.S.-sponsored peace negotiations have served as a catalyst for increased calls by senior PLO and Fatah officials to start planning for the day after Mahmoud Abbas's departure from the scene.
Like his predecessor Yasser Arafat, the 78-year-old Abbas has been running the PA in an autocratic fashion since his election as president in January 2005.
And like Arafat, Abbas has since managed to keep many of his critics silent by providing them with funds, luxurious offices and vehicles, secretaries, bodyguards and assistants.
Many senior members of the PLO and Fatah, for example, each receive from Abbas tens of thousands of dollars every month to enable them to cover the costs of office rentals and vehicles, as well as salaries for their secretaries and henchmen.
Still, the funds have not been able to buy Abbas 100% quiet.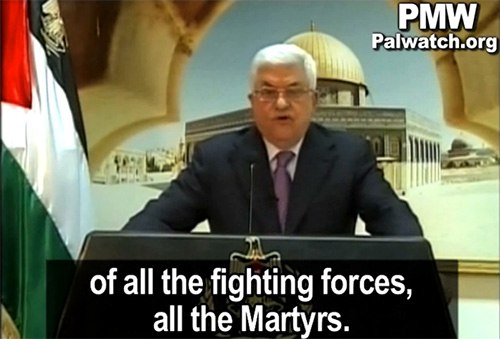 Palestinian Authority President Mahmoud Abbas speaks on PA TV, Jan. 4, 2013. (Image credit: Palestinian Media Watch)
His controversial decision to resume peace talks with Israel several weeks ago has prompted a number of Palestinians to talk about the need for Abbas to end his autocratic rule.
It is worth noting that Abbas decided to return to the negotiating table with Israel shortly after most members of the PLO Executive Committee voted against the move.
Since then, Abbas has been facing increased calls to appoint a deputy president of the Palestinian Authority as a way of limiting his powers.
At a recent meeting of the Fatah Central Committee, one official, Tawfik Tirawi, did not hesitate to bring up the subject in the presence of Abbas.
Tirawi, a former security commander in the West Bank, proposed that Abbas appoint jailed Fatah leader Marwan Barghouti as deputy president. Barghouti is serving a five life-term prison sentence for his role in terror attacks against Israelis during the second intifada.
Fatah officials said that Abbas did not comment on the idea.
Palestinian sources said that there is no shortage of figures who consider themselves appropriate candidates to serve as deputy president.
They include: Jibril Rajoub, a former security commander, Mohammed Shtayyeh, a former minister and member of the Palestinian negotiating team with Israel, Saeb Erekat, the chief PLO negotiator and Nabil Sha'ath, a former PA foreign minister.
Those who want Abbas to appoint a deputy are actually telling the PA president that they are fed up with his continued refusal to share powers or consult with others about crucial matters such as the peace talks with Israel.
Abbas's critics often complain that he is keeping most PLO and Fatah officials in the dark regarding the ongoing peace talks.
There are only three Palestinians who know what is really happening inside the closed room where the talks are taking place: Abbas, Erekat and Shtayyeh.
Abbas has justified his refusal to brief PLO and Fatah officials on the content of the negotiations by saying that the U.S. Administration has prohibited the Palestinians and Israelis from talking in public about the issue.
But the peace talks with Israel are only one of the things criticized by Abbas's opponents.
Several PLO and Fatah officials have recently been talking about the need for "leadership change." They maintain that it is time for the Palestinians to start thinking of replacing Abbas's old-guard regime with young and fresh leaders.
However, as of now Abbas, whose term in office expired back in January 2009, has shown no sign that he is willing to accept the principle of power-sharing. The battle for succession is therefore likely to intensify in the coming weeks and months, casting a shadow not only over his regime, but also the peace talks with Israel.
Related Topics: Khaled Abu Toameh receive the latest by email: subscribe to the free gatestone institute mailing list
Reader comments on this item
Comment on this item
Tweets by @GatestoneInst
Subscribe To Mailing List
Latest Articles
by Samuel Westrop
In the West, the Arabization of Muslim communities has occurred with government assistance, which, through imposed policies of multiculturalism in the name of diversity, has effected the destruction of South Asian culture.
by Soeren Kern
The problem of Islam in public schools has been allowed to snowball to vast proportions... not hundreds but thousands of British schools have come under the influence of Muslim radicals.
Bains was also instructed to stop teaching citizenship classes because they were deemed to be "un-Islamic," and to introduce Islamic studies into the curriculum, even though Saltley is a non-faith school.
Schools should not be allowed to become "silos of segregation." — Nick Clegg, Deputy Prime Minister
by Peter Martino
Europe's biggest failure vis-à-vis Turkey is another example of its unwillingness to face unwelcome truths: that whenever Islamists go into politics, they never turn out to be moderates.
EU leaders are now, belatedly, coming to realize that Erdogan is not their friend.
by Timon Dias
"Both materially, and in essence, sovereignty unconditionally and always belongs to Allah." — Recep Tayyip Erdogan, Prime Minister, Turkey.
What is surprising is that so many Western politicians, including EU-minded ones, apparently still ignore what the consequences could be of such an ideology. Do they really assume it could never happen to them?
by Gordon G. Chang
The second thing we get wrong about China is that it is safe to ignore periodic Chinese threats to incinerate our cities and wage war on us. They employ salami-slicing tactics, as with Scarborough Shoal... so that they do not invite retaliation.
If we cannot say these things clearly and publicly, the Chinese will think we are afraid of them. If they think we are afraid of them, they will act accordingly.
Chinese leaders do not distrust us because they have insufficient contact with us. They distrust us because they see themselves as protectors of an ideology threatened by free societies.
Most Shared
Most Viewed