PLO: Battle for Succession Has Begun
Translations of this item:
There is no shortage of figures who consider themselves appropriate candidates to serve as deputy president -- including Marwan Barghouti, jailed for five life sentences for his role in terror attacks.
Over the past few months, a succession battle has been quietly raging in the Palestinian Authority [PA].
This behind-the-scenes battle is continuing even as the PA leadership conducts secret peace talks with Israel.
In fact, the U.S.-sponsored peace negotiations have served as a catalyst for increased calls by senior PLO and Fatah officials to start planning for the day after Mahmoud Abbas's departure from the scene.
Like his predecessor Yasser Arafat, the 78-year-old Abbas has been running the PA in an autocratic fashion since his election as president in January 2005.
And like Arafat, Abbas has since managed to keep many of his critics silent by providing them with funds, luxurious offices and vehicles, secretaries, bodyguards and assistants.
Many senior members of the PLO and Fatah, for example, each receive from Abbas tens of thousands of dollars every month to enable them to cover the costs of office rentals and vehicles, as well as salaries for their secretaries and henchmen.
Still, the funds have not been able to buy Abbas 100% quiet.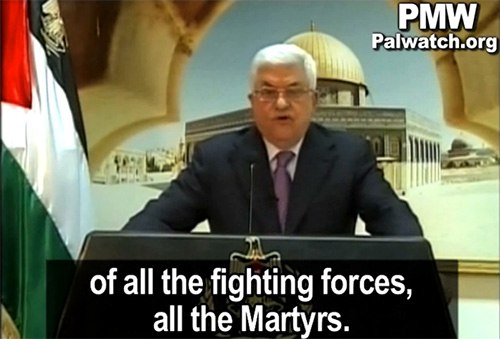 Palestinian Authority President Mahmoud Abbas speaks on PA TV, Jan. 4, 2013. (Image credit: Palestinian Media Watch)
His controversial decision to resume peace talks with Israel several weeks ago has prompted a number of Palestinians to talk about the need for Abbas to end his autocratic rule.
It is worth noting that Abbas decided to return to the negotiating table with Israel shortly after most members of the PLO Executive Committee voted against the move.
Since then, Abbas has been facing increased calls to appoint a deputy president of the Palestinian Authority as a way of limiting his powers.
At a recent meeting of the Fatah Central Committee, one official, Tawfik Tirawi, did not hesitate to bring up the subject in the presence of Abbas.
Tirawi, a former security commander in the West Bank, proposed that Abbas appoint jailed Fatah leader Marwan Barghouti as deputy president. Barghouti is serving a five life-term prison sentence for his role in terror attacks against Israelis during the second intifada.
Fatah officials said that Abbas did not comment on the idea.
Palestinian sources said that there is no shortage of figures who consider themselves appropriate candidates to serve as deputy president.
They include: Jibril Rajoub, a former security commander, Mohammed Shtayyeh, a former minister and member of the Palestinian negotiating team with Israel, Saeb Erekat, the chief PLO negotiator and Nabil Sha'ath, a former PA foreign minister.
Those who want Abbas to appoint a deputy are actually telling the PA president that they are fed up with his continued refusal to share powers or consult with others about crucial matters such as the peace talks with Israel.
Abbas's critics often complain that he is keeping most PLO and Fatah officials in the dark regarding the ongoing peace talks.
There are only three Palestinians who know what is really happening inside the closed room where the talks are taking place: Abbas, Erekat and Shtayyeh.
Abbas has justified his refusal to brief PLO and Fatah officials on the content of the negotiations by saying that the U.S. Administration has prohibited the Palestinians and Israelis from talking in public about the issue.
But the peace talks with Israel are only one of the things criticized by Abbas's opponents.
Several PLO and Fatah officials have recently been talking about the need for "leadership change." They maintain that it is time for the Palestinians to start thinking of replacing Abbas's old-guard regime with young and fresh leaders.
However, as of now Abbas, whose term in office expired back in January 2009, has shown no sign that he is willing to accept the principle of power-sharing. The battle for succession is therefore likely to intensify in the coming weeks and months, casting a shadow not only over his regime, but also the peace talks with Israel.
Related Topics: Palestinian Authority | Khaled Abu Toameh receive the latest by email: subscribe to the free gatestone institute mailing list
Reader comments on this item
Comment on this item
Subscribe To Mailing List
Tweets by @GatestoneInst
Latest Articles
by Khaled Abu Toameh
The "Arab Spring" did not erupt as a result of the Israeli-Palestinian conflict. Rather, it was the outcome of decades of tyranny and corruption in the Arab world. The Tunisians, Egyptians, Libyans and Yemenis who removed their dictators from power did not do so because of the lack of a "two-state solution." This is the last thing they had in mind.
The thousands of Muslims who are volunteering to join the Islamic State [IS] are not doing so because they are frustrated with the lack of progress in the Israeli-Palestinian peace talks.
The only solution the Islamic State believes in is a Sunni Islamic Caliphate where the surviving non-Muslims who are not massacred would be subject to sharia law.
What Kerry perhaps does not know is that the Islamic State is not interested in the Israeli-Palestinian conflict at all. Unlike Kerry, Sunni scholars fully understand that the Islamic State has more to do with Islam and terrorism than with any other conflict.
by Steven J. Rosen
Palestinian officials have generally been silent about security cooperation with Israel. They are loath to acknowledge how important it is for the survival of the Palestinian Authority [PA], and fear that critics, especially Hamas, will consider it "collaboration with the enemy."
"You smuggle weapons, explosives and cash to the West Bank, not for the fight with Israel, but for a coup against the Palestinian Authority. The Israeli intelligence chief visited me two weeks ago and told me about the [Hamas] group they arrested that was planning for a coup... We have a national unity government and you are thinking about a coup against me." — Mahmoud Abbas, PA President, to Khaled Mashaal, Hamas leader.
According to Israeli Defense Minister Moshe Ya'alon, if the IDF leaves the West Bank, Hamas will take over, and other terrorists groups such as the Islamic Jihad, Al-Qaeda and Islamic State would operate there.
In recent months, Abbas has been making a series of threats against Israel. If Abbas becomes another Arafat, it could be the Israeli side that loses interest in security cooperation.
by Burak Bekdil
It was the Islamists who, since they came to power in the 2000s, have reaped the biggest political gains from the "Palestine-fetish."
But the Turkish rhetoric on "solidarity" with our Palestinian brothers often seems askew to how solidarity should be.
by Raheel Raza
One blogger writes that Malala hates Pakistan's military. I believe it is the other way around.
I would so like to see the day when Malala is welcomed back in Pakistan, with the whole country cheering.
by Francesco Sisci
Democratic evolution in China was being seriously considered. The failures of U.S. support for democracy in Afghanistan, Iraq, Egypt and Libya gave new food for thought to those opposed to democracy. Lastly, the United States did not strongly oppose the anti-democratic coup d'état that overthrew a democratically elected government in Thailand.
On the other hand, Russia -- dominated by Vladimir Putin, a new autocrat determined to stifle democracy in Russia -- provided a new model.
The whole of Eastern Europe and most of Latin America, formerly in the clutches of dictatorships, are now efficient democracies. This seems to indicate that while democracy cannot be parachuted into a country, there is a broader, longer-term global trend toward democracy and that its growth depends on local conditions.
As economic development needed careful planning, political reforms need even greater planning. The question remains: is China preparing for these political reforms?
Most Shared
Most Viewed