PLO: Battle for Succession Has Begun
Translations of this item:
There is no shortage of figures who consider themselves appropriate candidates to serve as deputy president -- including Marwan Barghouti, jailed for five life sentences for his role in terror attacks.
Over the past few months, a succession battle has been quietly raging in the Palestinian Authority [PA].
This behind-the-scenes battle is continuing even as the PA leadership conducts secret peace talks with Israel.
In fact, the U.S.-sponsored peace negotiations have served as a catalyst for increased calls by senior PLO and Fatah officials to start planning for the day after Mahmoud Abbas's departure from the scene.
Like his predecessor Yasser Arafat, the 78-year-old Abbas has been running the PA in an autocratic fashion since his election as president in January 2005.
And like Arafat, Abbas has since managed to keep many of his critics silent by providing them with funds, luxurious offices and vehicles, secretaries, bodyguards and assistants.
Many senior members of the PLO and Fatah, for example, each receive from Abbas tens of thousands of dollars every month to enable them to cover the costs of office rentals and vehicles, as well as salaries for their secretaries and henchmen.
Still, the funds have not been able to buy Abbas 100% quiet.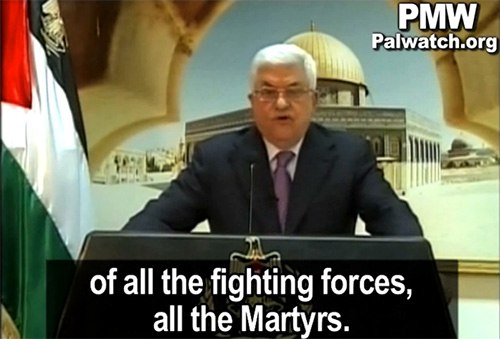 Palestinian Authority President Mahmoud Abbas speaks on PA TV, Jan. 4, 2013. (Image credit: Palestinian Media Watch)
His controversial decision to resume peace talks with Israel several weeks ago has prompted a number of Palestinians to talk about the need for Abbas to end his autocratic rule.
It is worth noting that Abbas decided to return to the negotiating table with Israel shortly after most members of the PLO Executive Committee voted against the move.
Since then, Abbas has been facing increased calls to appoint a deputy president of the Palestinian Authority as a way of limiting his powers.
At a recent meeting of the Fatah Central Committee, one official, Tawfik Tirawi, did not hesitate to bring up the subject in the presence of Abbas.
Tirawi, a former security commander in the West Bank, proposed that Abbas appoint jailed Fatah leader Marwan Barghouti as deputy president. Barghouti is serving a five life-term prison sentence for his role in terror attacks against Israelis during the second intifada.
Fatah officials said that Abbas did not comment on the idea.
Palestinian sources said that there is no shortage of figures who consider themselves appropriate candidates to serve as deputy president.
They include: Jibril Rajoub, a former security commander, Mohammed Shtayyeh, a former minister and member of the Palestinian negotiating team with Israel, Saeb Erekat, the chief PLO negotiator and Nabil Sha'ath, a former PA foreign minister.
Those who want Abbas to appoint a deputy are actually telling the PA president that they are fed up with his continued refusal to share powers or consult with others about crucial matters such as the peace talks with Israel.
Abbas's critics often complain that he is keeping most PLO and Fatah officials in the dark regarding the ongoing peace talks.
There are only three Palestinians who know what is really happening inside the closed room where the talks are taking place: Abbas, Erekat and Shtayyeh.
Abbas has justified his refusal to brief PLO and Fatah officials on the content of the negotiations by saying that the U.S. Administration has prohibited the Palestinians and Israelis from talking in public about the issue.
But the peace talks with Israel are only one of the things criticized by Abbas's opponents.
Several PLO and Fatah officials have recently been talking about the need for "leadership change." They maintain that it is time for the Palestinians to start thinking of replacing Abbas's old-guard regime with young and fresh leaders.
However, as of now Abbas, whose term in office expired back in January 2009, has shown no sign that he is willing to accept the principle of power-sharing. The battle for succession is therefore likely to intensify in the coming weeks and months, casting a shadow not only over his regime, but also the peace talks with Israel.
Related Topics: Palestinian Authority | Khaled Abu Toameh receive the latest by email: subscribe to the free gatestone institute mailing list
Reader comments on this item
Comment on this item
Subscribe To Mailing List
Tweets by @GatestoneInst
Latest Articles
by Louis René Beres
Jihadi violence serves not only to advance the terrorist's delusion of immortality, but also to add, however perversely, an apparent and desperately needed erotic satisfaction, using religion as the justification.
Persuasive promises of immortality -- the desperate hope to live forever -- underlie virtually all major religions.
Washington and Jerusalem should finally address what needs to be done in addition to military remediation -- reinforcing efforts to convince these terrorists that their expected martyrdom is ultimately just an elaborate fiction.
by Gill Gillespie and Shabnam Assadollahi
The aim of the current Iranian regime is clearly to acquire a nuclear weapons capability and to retain as much territory in Iraq as possible under Shia Islamist rule, whatever the human cost. Those aims are also the reason Iran's regime is now trying to intervene in Iraq.
Iran will doubtless be demanding that any cooperation with the West be compensated for by "concessions" permitting its nuclear weapons program.
Involving Iran in Iraq at this point will merely alienate any Sunni allies whose assistance is much needed to defeat IS.
Many people inside Iran have alerted the U.S. Administration for over two years about other industrial facilities being secretly built in Iran and not declared to the International Atomic Energy. So far, all intelligence from within Iran has been wilfully ignored by the Obama Administration.
by Burak Bekdil
The Turkish government "frankly worked" with the al-Nusrah Front, the al-Qaeda affiliate in Syria, along with other terrorist groups.
The Financial Task Force, an international body setting the standards for combating terrorist financing, ruled that Turkey should remain in its "gray list."
While NATO wishes to reinforce its outreach to democracies such as Australia and Japan, Turkey is trying to forge wider partnerships with the Arab world, Russia, China, Central Asia, China, Africa and -- and with a bunch of terrorist organizations, including Hamas, Muslim Brotherhood, Ahrar al-Sham and the al-Nusrah Front.
Being NATO's only Muslim member was fine. Being NATO's only Islamist member ideologically attached to the Muslim Brotherhood is quite another thing.
by Samuel Westrop
British politicians seem to be trapped in an endless debate over how to curb both violent and non-violent extremism within the Muslim community.
A truly useful measure might be to end the provision of state funding and legitimacy to terror-linked extremist charities.
by Soeren Kern
"My son and I love life with the beheaders." — British jihadist Sally Jones.
Mujahidah Bint Usama published pictures of herself on Twitter holding a severed head while wearing a white doctor's jacket; alongside it, the message: "Dream job, a terrorist doc."
British female jihadists are now in charge of guarding as many as 3,000 non-Muslim Iraqi women and girls held captive as sex slaves.
"The British women are some of the most zealous in imposing the IS laws in the region. I believe that's why at least four of them have been chosen to join the women police force." — British terrorism analyst Melanie Smith.
Most Shared
Most Viewed