Abbas's "Diplomatic Intifada" Against Israel
Translations of this item:
The Palestinian Authority fears that the EU, under pressure from the Americans, may delay imposing restrictions out of fear that the move could harm the peace talks.

Abbas is also seeking to pave the way for the potential failure of the peace talks by holding Israel responsible; sending the message that Israel prefers settlement construction to peace with the Palestinians.
As the US-sponsored peace talks continue, the Palestinian Authority has launched a worldwide campaign to promote sanctions against settlements in the West Bank and Jewish neighborhoods of east Jerusalem.
The latest campaign is mainly aimed at persuading the European Union [EU] to activate its new "guidelines" that call for imposing sanctions on any Israeli institution or organization that operates over the pre-1967 lines, namely east Jerusalem, the West Bank, Gaza Strip and Golan Heights.
The EU regulations are expected to go into effect on the first of January, 2014.
But the Palestinian Authority fears that the EU, under pressure from the Americans, may delay imposing the restrictions out of fear that the move could harm the peace talks.
That is why Palestinian Authority President Mahmoud Abbas last week visited a number of EU countries in a bid to convince their leaders not to delay implementation of their anti-settlement "guidelines."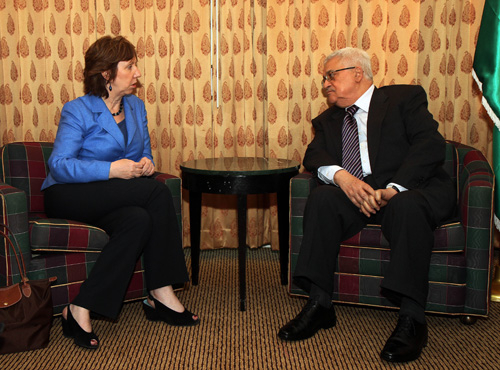 Catherine Ashton (L), the EU 's foreign affairs representative, meets with PA President Mahmoud Abbas (R). (Image source: European Union)
During a press conference in Brussels with the President of the European Council, Herman Van Rompuy, Abbas called on international firms that do business with settlements to stop "violating international law."
Abbas's EU tour coincided with reports that the Palestinian Authority leadership has prepared a "blacklist" of 500 international companies that have business ties with settlements. The Palestinian Authority is threatening to take legal action against these companies.
So while the Palestinian Authority is conducting peace talks with Israel, its leaders are busy waging a fierce campaign in the international arena against settlements .
Yet what Palestinian Authority President Mahmoud Abbas is not telling the European leaders is that he himself agreed three months ago to drop his demand for a full cessation of settlement construction as a precondition for returning to the negotiating table.
For four years, Abbas refused to resume peace talks with Israel unless the Israeli government agreed to a full cessation of settlement construction. He eventually abandoned this demand after coming under heavy pressure from U.S. Secretary of State John Kerry.
What Abbas is also not telling world leaders is that he and his predecessor, Yasser Arafat, had negotiated with Israel for more than 14 years while construction in the settlements was continuing. Back then, the issue of the settlements did not seem to bother Abbas and Arafat.
According to Palestinian sources, Abbas even agreed to continued settlement construction in return for the release of Palestinians from Israeli prisons.
Facing growing criticism from Palestinians over his agreement to resume the peace talks with Israel unconditionally, Abbas is now trying to recruit the Europeans to exert pressure on Israel regarding the settlements.
His latest anti-settlement campaign is aimed at appeasing his Palestinian critics who accuse Abbas of capitulating to American pressure to drop his demand for a settlement freeze.
By placing the issue of settlements at the top of his list of priorities, Abbas is also seeking to pave the way for holding Israel fully responsible for the potential failure of the peace talks. The goal of his anti-settlement campaign is to send a message to the world that Israel prefers settlement construction to peace with the Palestinians.
Abbas failed to get a promise from the Americans that settlement construction would stop during the peace talks. Now he is hoping that the Europeans will step in to give him what the U.S. was unable to provide.
Some Palestinians have described Abbas's new campaign as a "diplomatic intifada" against Israel in the international community. They say that the move is the first in series of steps that the Palestinian Authority intends to take in the coming weeks and months to rally the world against Israel.
The next steps the Palestinian Authority is planning include seeking full membership in the United Nations General Assembly and other international agencies and conventions, especially the International Criminal Court. The Palestinian Authority says it has prepared a list of dozens of Israelis that it hopes to prosecute as "war criminals."
The anti-settlement drive should be seen in the context of the Palestinian Authority's massive efforts to isolate Israel in the international arena. Palestinian Authority leaders are hoping that international pressure will force Israel to its knees and prompt it to accept all of Abbas's demands, first and foremost a withdrawal to the pre-1967 lines.
With such an intifada raging against Israel, it is hard to see how the peace talks could ever result in an agreement between Israelis and Palestinians. Abbas obviously does not believe that the talks will produce an agreement. That is why his strategy these days is, with the help of the international community, to try to impose a solution on Israel.
Related Topics: Israel, Palestinian Authority | Khaled Abu Toameh receive the latest by email: subscribe to the free gatestone institute mailing list
Reader comments on this item
Comment on this item
Subscribe To Mailing List
Tweets by @GatestoneInst
Latest Articles
by Ben Cohen
Now, with the Islamic State's self-proclaimed caliphate having captured key oil wells in the Middle East this year, foreign oil has become an even more lethal financial weapon-of-choice for those seeking to destroy democracy and further escalate the War on Terror.
That President Barack Obama failed even to mention oil as a critical factor in the war against IS during his speech to the nation on September 10, is an omission both revealing and dangerous in terms of how his administration wants to depict the stakes involved in this latest confrontation with the jihadis.
by Lawrence A. Franklin
One Pakistani recruiter of child suicide bombers describes these children as "tools provided by God."
Another Muslim cleric in a madrassa [Islamic boys' school] describes child suicide bombers as "a gift from Allah that we have an unlimited number willing to be sacrificed to teach Americans a lesson."
Using children as suicide bombers will stop when... they stop "condoning the killing of innocents."
by Denis MacEoin
"No religion condones the killing of innocents." — U.S. President Barack Obama, September 10, 2014.
"Islam is a religion of peace." — U.K. Prime Minister David Cameron, September 13, 2014.
"There is a place for violence in Islam. There is a place for jihad in Islam." — U.K. Imam Anjem Choudary, CBN News, April 5, 2010.
Regrettably it is impossible to re-interpret the Qur'an in a "moderate" manner. The most famous modern interpretation by Sayyid Qutb (d. 1966), the Muslim Brotherhood ideologue, leads the reader again and again into political territory, where jihad is at the root of action.
If they deviated from the true faith -- as we are seeing in the Islamic State today -- "backsliders," like pagans, were to be fought until they either accepted Islam or were killed.
In India alone, between 60 and 80 million Hindus may have been put to death by Muslim armies between the years 1000-1525.
by Yaakov Lappin
Hamas's long-term ambitions are indistinguishable from those of Islamic State and al-Qaeda.
Hamas will now focus on its next goal -- trying to strengthen its presence in the West Bank and eventually toppling the Palestinian Authority from power there, just as it did in Gaza. If Israel were to withdraw from the West Bank, Hamas would certainly find such a goal easier to accomplish.
Nothing keeps the flames of jihad alight, and Hamas's popularity secure, like frequent wars.
Most Shared
Most Viewed