Abbas's "Diplomatic Intifada" Against Israel
The Palestinian Authority fears that the EU, under pressure from the Americans, may delay imposing restrictions out of fear that the move could harm the peace talks.

Abbas is also seeking to pave the way for the potential failure of the peace talks by holding Israel responsible; sending the message that Israel prefers settlement construction to peace with the Palestinians.
As the US-sponsored peace talks continue, the Palestinian Authority has launched a worldwide campaign to promote sanctions against settlements in the West Bank and Jewish neighborhoods of east Jerusalem.
The latest campaign is mainly aimed at persuading the European Union [EU] to activate its new "guidelines" that call for imposing sanctions on any Israeli institution or organization that operates over the pre-1967 lines, namely east Jerusalem, the West Bank, Gaza Strip and Golan Heights.
The EU regulations are expected to go into effect on the first of January, 2014.
But the Palestinian Authority fears that the EU, under pressure from the Americans, may delay imposing the restrictions out of fear that the move could harm the peace talks.
That is why Palestinian Authority President Mahmoud Abbas last week visited a number of EU countries in a bid to convince their leaders not to delay implementation of their anti-settlement "guidelines."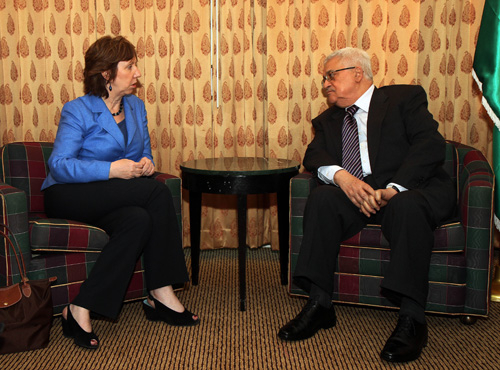 Catherine Ashton (L), the EU 's foreign affairs representative, meets with PA President Mahmoud Abbas (R). (Image source: European Union)
During a press conference in Brussels with the President of the European Council, Herman Van Rompuy, Abbas called on international firms that do business with settlements to stop "violating international law."
Abbas's EU tour coincided with reports that the Palestinian Authority leadership has prepared a "blacklist" of 500 international companies that have business ties with settlements. The Palestinian Authority is threatening to take legal action against these companies.
So while the Palestinian Authority is conducting peace talks with Israel, its leaders are busy waging a fierce campaign in the international arena against settlements .
Yet what Palestinian Authority President Mahmoud Abbas is not telling the European leaders is that he himself agreed three months ago to drop his demand for a full cessation of settlement construction as a precondition for returning to the negotiating table.
For four years, Abbas refused to resume peace talks with Israel unless the Israeli government agreed to a full cessation of settlement construction. He eventually abandoned this demand after coming under heavy pressure from U.S. Secretary of State John Kerry.
What Abbas is also not telling world leaders is that he and his predecessor, Yasser Arafat, had negotiated with Israel for more than 14 years while construction in the settlements was continuing. Back then, the issue of the settlements did not seem to bother Abbas and Arafat.
According to Palestinian sources, Abbas even agreed to continued settlement construction in return for the release of Palestinians from Israeli prisons.
Facing growing criticism from Palestinians over his agreement to resume the peace talks with Israel unconditionally, Abbas is now trying to recruit the Europeans to exert pressure on Israel regarding the settlements.
His latest anti-settlement campaign is aimed at appeasing his Palestinian critics who accuse Abbas of capitulating to American pressure to drop his demand for a settlement freeze.
By placing the issue of settlements at the top of his list of priorities, Abbas is also seeking to pave the way for holding Israel fully responsible for the potential failure of the peace talks. The goal of his anti-settlement campaign is to send a message to the world that Israel prefers settlement construction to peace with the Palestinians.
Abbas failed to get a promise from the Americans that settlement construction would stop during the peace talks. Now he is hoping that the Europeans will step in to give him what the U.S. was unable to provide.
Some Palestinians have described Abbas's new campaign as a "diplomatic intifada" against Israel in the international community. They say that the move is the first in series of steps that the Palestinian Authority intends to take in the coming weeks and months to rally the world against Israel.
The next steps the Palestinian Authority is planning include seeking full membership in the United Nations General Assembly and other international agencies and conventions, especially the International Criminal Court. The Palestinian Authority says it has prepared a list of dozens of Israelis that it hopes to prosecute as "war criminals."
The anti-settlement drive should be seen in the context of the Palestinian Authority's massive efforts to isolate Israel in the international arena. Palestinian Authority leaders are hoping that international pressure will force Israel to its knees and prompt it to accept all of Abbas's demands, first and foremost a withdrawal to the pre-1967 lines.
With such an intifada raging against Israel, it is hard to see how the peace talks could ever result in an agreement between Israelis and Palestinians. Abbas obviously does not believe that the talks will produce an agreement. That is why his strategy these days is, with the help of the international community, to try to impose a solution on Israel.
Related Topics: Israel | Khaled Abu Toameh receive the latest by email: subscribe to the free gatestone institute mailing list
Reader comments on this item
Comment on this item
Tweets by @GatestoneInst
Subscribe To Mailing List
Latest Articles
by Samuel Westrop
In the West, the Arabization of Muslim communities has occurred with government assistance, which, through imposed policies of multiculturalism in the name of diversity, has effected the destruction of South Asian culture.
by Soeren Kern
The problem of Islam in public schools has been allowed to snowball to vast proportions... not hundreds but thousands of British schools have come under the influence of Muslim radicals.
Bains was also instructed to stop teaching citizenship classes because they were deemed to be "un-Islamic," and to introduce Islamic studies into the curriculum, even though Saltley is a non-faith school.
Schools should not be allowed to become "silos of segregation." — Nick Clegg, Deputy Prime Minister
by Peter Martino
Europe's biggest failure vis-à-vis Turkey is another example of its unwillingness to face unwelcome truths: that whenever Islamists go into politics, they never turn out to be moderates.
EU leaders are now, belatedly, coming to realize that Erdogan is not their friend.
by Timon Dias
"Both materially, and in essence, sovereignty unconditionally and always belongs to Allah." — Recep Tayyip Erdogan, Prime Minister, Turkey.
What is surprising is that so many Western politicians, including EU-minded ones, apparently still ignore what the consequences could be of such an ideology. Do they really assume it could never happen to them?
by Gordon G. Chang
The second thing we get wrong about China is that it is safe to ignore periodic Chinese threats to incinerate our cities and wage war on us. They employ salami-slicing tactics, as with Scarborough Shoal... so that they do not invite retaliation.
If we cannot say these things clearly and publicly, the Chinese will think we are afraid of them. If they think we are afraid of them, they will act accordingly.
Chinese leaders do not distrust us because they have insufficient contact with us. They distrust us because they see themselves as protectors of an ideology threatened by free societies.
Most Shared
Most Viewed