UK Politicians Collaborate with Muslim Brotherhood Islamists?
Speakers at the upcoming Global Peace and Unity conference can be categorized as follows: 65% are anti-Semitic, misogynist, homophobic and pro-terror preachers, 20% are public servants offering political legitimacy and moral credibility to the other speakers, while the remaining 15% could perhaps claim to be part of the conference's "project dedicated to creating a more harmonious world."

"Peace and unity...thanks be to Allah...a fantastic thing." — Simon Hughes MP, speaking to the Conference in 2008
At the end of this month, on November 23-24, UK politicians, in a crushing betrayal of Britain's moderate Muslims, are planning join many of Britain's most outspoken Islamist groups and preachers at the sixth Global Peace and Unity conference, due to be held in London. Tens of thousands attend these conferences; journalists applaud the initiative, and cabinet ministers, political commentators and other policy-makers address its crowds.
Mohamed Ali Harrath, a leading figure in the British Muslim community, founded and organized the Global Peace and Unity conferences in 2005. He claims the events are designed to "promote dialogue, exchange ideas and information, and work towards dispelling misunderstandings surrounding the multiculturalism and co-existence of faiths."
Speakers at this annual event, however, have included Ebrahim Rasool, a vocal supporter of the Palestinian terrorist group Hamas, who has described its founder, Sheikh Ahmed Yassin, as an "inspiration;" as well as Zakir Naik, an Indian Islamist preacher recently banned from entering the UK, who has expressed support for suicide bombings and claims that Jews "as a whole" are the enemies of Muslims.
In 2010, the Daily Telegraph reported that, "items glorifying terrorism were on open sale [at the conference] … Also available were 'shahada headbands' as worn by many Palestinian suicide bombers... The headbands contain the personal testimony of the suicide bombers."
Harrath, incidentally, has a conviction in Tunisia for terrorism-related offenses, and the television station of which he is CEO, the Islam Channel, has been accused by a Muslim think tank, the Quilliam Foundation, of promoting extremist groups and encouraging hatred towards women, Jews and minority Muslim sects.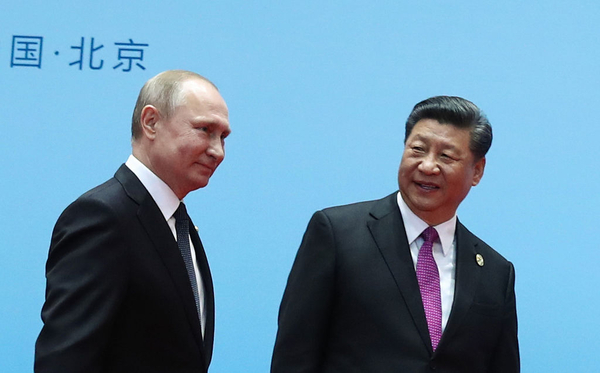 Mohamed Ali Harrath (centre) with Ismail Haniyeh (right), leader of Hamas in Gaza, in 2008. (Image source: Harry's Place)
This year, Veritas Consultancy -- a company that also provides services to groups such as Interpal, a US-designated terrorist organization -- is handling the logistics of the conference. Veritas Consultancy, however, has just one director: Mohamed Ali Harrath.
Harrath is a leading Muslim Brotherhood member; and the wealth of evidence that ties the conference, its affiliates and the proposed speakers to Islamist networks seems inescapable. Paul Goodman MP has described the conferences as the "Royal Ascot of the British Islamist calendar."
Despite these warnings, however, a number of public officials and politicians from across the British political spectrum seem happy to share a platform with leading Islamists and, in doing so, legitimize the organizers of the conference as genuine representatives of British Islam.
Not everyone, however, has supported this involvement. A number of senior politicians from across the spectrum have, in fact, disagreed very publicly over the suitable response and degree of "engagement" with Islamist-run Muslim community events.
In 2008, the then-Labour Government deemed another conference, IslamExpo, to be beyond the pale, and banned its MPs from attending. This policy did not, at the time, receive total support from senior politicians. One anonymous Labour Party minister, unhappy with the ban, decried the policy of boycott as "completely counterproductive," and added: "You have to engage with those with influence over those you want to influence."
In the same year, Policy Exchange, a think tank, circulated a briefing paper highlighting the extremist ideology behind the Global Peace and Unity conference. In response, Nick Clegg, leader of the Liberal Democrats and now the Deputy Prime Minister of Britain, condemned the Policy Exchange report as "offensive," demanded its retraction and, despite the wealth of evidence demonstrating the questionable company he would be keeping, chose to speak at the conference.
Clegg, after praising the "diversity and unity" of modern Britain, said:
I say this with sadness: There were some people who didn't want me to come and speak to you today. A think tank here in London, Policy Exchange, has been distributing secret briefings against some speakers who you have heard, or will hear, this weekend. They suggested people like me should not come to an event like this. Let me be clear: of course I do not agree with the views of every speaker at this event. I do believe in free speech, I do believe in a free society where views are aired and expressed, not ignored and suppressed.
Clegg seems to have been under the misapprehension that the extremist speakers were an aberration, when, in fact, their views were outspokenly emblematic of the organizers' ideological designs. The more extreme preachers were not accidental invitees -- they were presented as the conference's star speakers.
Dominic Grieve MP, despite attending the conference, markedly expressed his disappointment at the choice of fellow speakers, and named several whose views he regarded as abhorrent.
By the time of the fifth Global Peace and Unity conference, there had been enough warning from counter-extremism activists for a few politicians to take note. In 2010, Prime Minister David Cameron decided to ban his party's chairwoman, Baroness Warsi, from addressing the conference.
This month, the upcoming Sixth Peace and Unity Conference has announced speakers gathered from among the usual litany of Muslim Brotherhood supporters and apologists:
The conference's list of "Supporters" and "Associates" includes organizations such as Interpal, designated a terrorist organization in the United States; Human Appeal International, which the CIA claims to act as a conduit to terror organizations; Islamic Help, which funds organizations run by senior Hamas leaders; Muslim Aid, which funded a number of terrorist front groups; Muslim Hands, a charity accused by Israel of having links to Hamas; the London-based Palestinian Return Centre, an Islamist lobby group considered by intelligence agencies to be a front for Hamas; and Al-Hiwar TV, a Muslim Brotherhood-controlled television station that was recently fined $158,000 for broadcasting a speech that advocated murder as a punishment for blasphemy.
In light of this assortment of speakers and supporters, have British politicians sought to distance themselves from that array of views?
Not in the least: Politicians and public officials speaking at the upcoming event include Andrew Slaughter MP, the shadow Justice Minister; Sadiq Khan, the Shadow Secretary of State for Justice; Lord Falconer of Thoroton QC, a Labour Peer; Simon Hughes MP, deputy leader of the Liberal Democrats; Khurshid Drabu, a senior immigration Judge; and Shahid Malik, former Minister for International Development. Malik met with Hamas leaders in 2012.
Most remarkably, alongside the extremist organizations, two other "supporters" of the conference include the Metropolitan Police and the City of London Police.
Does the focus on the extremist speakers and the affiliated extremist groups unfairly impose guilt-by-association upon the conference organizers?
Apparently not: Of the 29 announced conference speakers, six are public officials or politicians. Of the remaining 23 announced speakers, 19 have expressed extremist views, as listed above.
In other words, the conference speakers can be categorized as follows: 65% are self-proclaimed anti-Semitic, misogynist, homophobic and pro-terror preachers, 20% are public servants offering legitimacy and moral credibility to them, while the remaining 15% could perhaps claim to be part of the conference's "project dedicated to creating a more harmonious world" -- or, as Simon Hughes MP told the conference in 2008, "Peace and unity...thanks be to Allah...a fantastic thing."
It is all the more astounding, then, that leading politicians have chosen to proclaim the men who espouse these views as cheerleaders for "peace and unity" and a "diverse...tolerant Britain."
The abundance of information already published about the Global Peace and Unity Conferences suggests that politicians are not oblivious to the sort of ideas to which they offer their political legitimacy; rather, they are perfectly cognizant, but have chosen collaboration over criticism. In doing so, are these public servants not actually promoting radical Islamism as the future of Western Islam, and betraying genuinely moderate Muslims everywhere?
Related Topics: United Kingdom | Samuel Westrop receive the latest by email: subscribe to the free gatestone institute mailing list
Reader comments on this item
Comment on this item
Tweets by @GatestoneInst
Subscribe To Mailing List
Latest Articles
by Gordon G. Chang
The second thing we get wrong about China is that it is safe to ignore periodic Chinese threats to incinerate our cities and wage war on us. They employ salami-slicing tactics, as with Scarborough Shoal... so that they do not invite retaliation.
If we cannot say these things clearly and publicly, the Chinese will think we are afraid of them. If they think we are afraid of them, they will act accordingly.
Chinese leaders do not distrust us because they have insufficient contact with us. They distrust us because they see themselves as protectors of an ideology threatened by free societies.
by Anna Mahjar-Barducci
If the government fails... to assert its power in the months to come it will become a de facto Somalia II.... Soon, these militias, if they have not already done so, will have their own government that will contest the decisions of the paper government of Tripoli… Indicators show that it is already fragmenting into three countries." — Professor Mohamed Chtatou, University of Mohammed V, Morocco.
by Shadi Paveh
The notes from Dr. Azam's medical journal include a crushed toe, broken fingers, missing fingernails, broken ribs, a skull fracture, severe abdominal bruising, marks of flogging on her back and feet [and] extensive damage to her genitals.
Dutch authorities expressed shock and sadness over her execution and cut off diplomatic relations with Iran for approximately 20 days.
by Peter Huessy
Looking at the most recent developments in Russia, China, Iran and Pakistan, as well as North Korea, it would seem urgent that the U.S. end as soon as possible its era of nuclear neglect.
by Mohshin Habib
Sawan Masih has been sentenced to death, but what about those found guilty of inciting and committing violence and arson?
It [is] a travesty of justice that more than 3,000 people who burned the Christian neighbourhood in Lahore were free, while one man who was tried for a disputed charge was sentenced to death.
He said Pakistan's administration, police, military and courts want to contribute to their religion by somehow punishing the non-Muslims.
Most Shared
Most Viewed