Why Isn't Kerry Listening to What the Radicals Are Saying?
Translations of this item:
Kerry needs to listen to what Hamas and other groups are saying in Arabic.

Hamas is not the only Palestinian party that would reject any U.S.-sponsored agreement. Most of the Palestinian groups...have already expressed their opposition to the Israeli-Palestinian peace talks.
As U.S. Secretary of State John Kerry pursues his efforts to reach a peace agreement between the Palestinian Authority [PA] leadership and Israel, Hamas reaffirmed that it would not honor any deal that does not meet its goals.
The Hamas announcement serves as a reminder that any US-brokered deal between Israel and the PA will not mean the end of the conflict.
In fact, PA President Mahmoud Abbas is not in a position to sign any document that calls for an end to the conflict with Israel.
Abbas has no control over the Gaza Strip, which has been under the rule of Hamas since the summer of 2007. Any agreement he signs with Israel would only apply to those areas under the control of the PA, in the West Bank or territories handed over to him by Israel.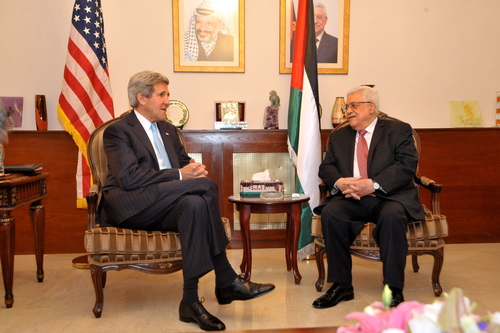 U.S. Secretary of State John Kerry sits with PA President Mahmoud Abbas in Amman, Jordan, on June 28, 2013. (Image source: U.S. State Department)
Hamas is not the only Palestinian party that would reject any U.S.-sponsored agreement. Most of the PLO groups, including the Popular Front for the Liberation of Palestine and the Democratic Front for the Liberation of Palestine, have already expressed their opposition to the Israeli-Palestinian peace talks.
This is in addition to other radical Palestinian groups that do not belong to the PLO, first and foremost Islamic Jihad.
"The Palestinians are not bound by any agreement that results from the current negotiations [between Israel and the PA] and which harm Palestinian rights," said Hamas's top leader in the Gaza Strip, Mahmoud Zahar. "The Palestinian negotiators have no legitimacy and are not authorized to speak on behalf of the Palestinians."
Zahar claimed that Abbas and his Fatah faction were negotiating with Israel only because of American pressure and to ensure continued Western funding for the Palestinian Authority.
Even senior Fatah officials seem to agree with Zahar's assessment. Over the past few months, some of these officials, such as Sufian Abu Zaida, Hussam Khader and Mohammed Dahlan, have not hesitated to come out in public against the peace talks and any future agreement with Israel.
Given Hamas' announcement that it would not honor or recognize any deal signed between the PA and Israel, Kerry needs to take into account that any peace agreement will not put an end to the conflict.
In the future, Hamas and the other rejectionist groups will say that Abbas did not have a mandate from his people to sign an agreement with Israel.
"The Palestinians have reached a level of awareness where they would not allow anyone to decide their fate," Zahar explained, referring to the ongoing negotiations between the PA and Israel. "The talks are continuing and if we don't do anything now, we could end up with an Oslo Two Accord."
Hamas and its Palestinian allies will in any case never accept Israel's right to exist. So even if Abbas today gets 100% of the West Bank, Gaza Strip and east Jerusalem to establish a Palestinian state, Hamas, which represents a substantial part of the Palestinian population, will continue to fight to "liberate the rest of Palestine."
As Zahar stated, "Our battle is not outside Palestine. Rather, it is inside Palestine. Our program is to liberate Palestine."
Kerry needs to listen to these voices and take them into account as he continues to talk about a peace agreement between Israel and the Palestinians. It is not enough to listen to what Abbas and chief PLO negotiator Saeb Erekat are telling him in English. Kerry needs to listen to what Hamas and other groups are saying in Arabic.
Related Topics: Palestinian Authority | Khaled Abu Toameh receive the latest by email: subscribe to the free gatestone institute mailing list
Reader comments on this item
Comment on this item
Subscribe To Mailing List
Tweets by @GatestoneInst
Subscribe To Mailing List
Latest Articles
by Khaled Abu Toameh
Since 1948, the Arab countries and government have been paying mostly lip service to the Palestinians.
"They have money and oil, but don't care about the Palestinians, even though we are Arabs and Muslims like them. What a Saudi or Qatari sheikh spends in one night in London, Paris or Las Vegas could solve the problem of tens of thousands of Palestinians." — Palestinian human rights activist.
"Some Arabs were hoping that Israel would rid them of Hamas." — Ashraf Salameh, Gaza City.
"Some of the Arab regimes are interested in getting rid of the resistance in order to remove the burden of the Palestinian cause, which threatens the stability of their regimes." — Mustafa al-Sawwaf, Palestinian political analyst.
"Most Arabs are busy these days with bloody battles waged by their leaders, who are struggling to survive. These battles are raging in Yemen, Syria, Iraq, Egypt, Libya and the Palestinian Authority." — Mohammed al-Musafer, columnist.
"The Arab leaders don't know what they want from the Gaza Strip. They don't even know what they want from Israel." — Yusef Rizka, Hamas official.
by Soeren Kern
European elites, who take pride in viewing the EU as a "postmodern" superpower, have long argued that military hard-power is illegitimate in the 21st century. Unfortunately for Europe, Russia (along with China and Iran) has not embraced the EU's fantastical soft-power worldview, in which "climate change" is now said to pose the greatest threat to European security.
For its part, the European Commission, the EU's administrative branch, which never misses an opportunity to boycott institutions in Israel, has issued only a standard statement on the shooting down of MH17 in Ukraine, which reads: "The European Union will continue to follow this issue very closely."
The EU has made only half-hearted attempts to develop alternatives to its dependency on Russian oil and gas.
by Shoshana Bryen
Proportionality in international law is not about equality of death or civilian suffering, or even about [equality of] firepower. Proportionality weighs the necessity of a military action against suffering that the action might cause to enemy civilians in the vicinity.
"Under international humanitarian law and the Rome Statute, the death of civilians during an armed conflict, no matter how grave and regrettable does not constitute a war crime.... even when it is known that some civilian deaths or injuries will occur. A crime occurs if there is an intentional attack directed against civilians (principle of distinction) or an attack is launched on a military objective in the knowledge that the incidental civilian injuries would be clearly excessive in relation to the anticipated military advantage (principle of proportionality)." — Luis Moreno-Ocampo, Chief Prosecutor, International Criminal Court.
"The greater the military advantage anticipated, the larger the amount of collateral damage -- often civilian casualties -- which will be "justified" and "necessary." — Dr. Françoise Hampton, University of Essex, UK.
by Irfan Al-Alawi
"Abu Bakr Al-Baghdadi" is Abu Du'a, a follower of the late Osama Bin Laden. By adding the name "Al-Qurayshi" in his current alias, he is also seeking to affirm descent from Muhammad.
The allegation of theological sovereignty over all Sunnis extends to Indonesia and Morocco. The idea that the borders between Syria and Iraq will be dissolved by the new "caliphate" defies all Islamic theology and history. As the Qur'an states, "Allah "made the nations and tribes different." (49:13) Syria and Iraq have been distinct for millennia.
The "Islamic State" seeks to obliterate these diverse identities by expelling or killing all Shias and Sunni Sufis. And it does not invoke the Ottoman caliphate in its propaganda, demonstrating decisively the fake nature of the "Islamic State."
A caliphate is obsolete and the "Islamic State" is totalitarian. All Sunnis need to repudiate them soundly, even by force of arms.
by Nina Rosenwald
"What if Hamas had military superiority?" — Colonel Lawrence A. Franklin (Ret.)
Most Shared
Most Viewed