Why Isn't Kerry Listening to What the Radicals Are Saying?
Translations of this item:
Kerry needs to listen to what Hamas and other groups are saying in Arabic.

Hamas is not the only Palestinian party that would reject any U.S.-sponsored agreement. Most of the Palestinian groups...have already expressed their opposition to the Israeli-Palestinian peace talks.
As U.S. Secretary of State John Kerry pursues his efforts to reach a peace agreement between the Palestinian Authority [PA] leadership and Israel, Hamas reaffirmed that it would not honor any deal that does not meet its goals.
The Hamas announcement serves as a reminder that any US-brokered deal between Israel and the PA will not mean the end of the conflict.
In fact, PA President Mahmoud Abbas is not in a position to sign any document that calls for an end to the conflict with Israel.
Abbas has no control over the Gaza Strip, which has been under the rule of Hamas since the summer of 2007. Any agreement he signs with Israel would only apply to those areas under the control of the PA, in the West Bank or territories handed over to him by Israel.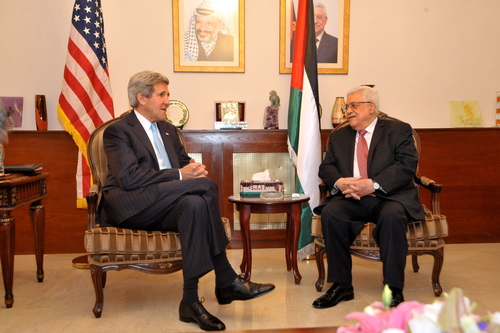 U.S. Secretary of State John Kerry sits with PA President Mahmoud Abbas in Amman, Jordan, on June 28, 2013. (Image source: U.S. State Department)
Hamas is not the only Palestinian party that would reject any U.S.-sponsored agreement. Most of the PLO groups, including the Popular Front for the Liberation of Palestine and the Democratic Front for the Liberation of Palestine, have already expressed their opposition to the Israeli-Palestinian peace talks.
This is in addition to other radical Palestinian groups that do not belong to the PLO, first and foremost Islamic Jihad.
"The Palestinians are not bound by any agreement that results from the current negotiations [between Israel and the PA] and which harm Palestinian rights," said Hamas's top leader in the Gaza Strip, Mahmoud Zahar. "The Palestinian negotiators have no legitimacy and are not authorized to speak on behalf of the Palestinians."
Zahar claimed that Abbas and his Fatah faction were negotiating with Israel only because of American pressure and to ensure continued Western funding for the Palestinian Authority.
Even senior Fatah officials seem to agree with Zahar's assessment. Over the past few months, some of these officials, such as Sufian Abu Zaida, Hussam Khader and Mohammed Dahlan, have not hesitated to come out in public against the peace talks and any future agreement with Israel.
Given Hamas' announcement that it would not honor or recognize any deal signed between the PA and Israel, Kerry needs to take into account that any peace agreement will not put an end to the conflict.
In the future, Hamas and the other rejectionist groups will say that Abbas did not have a mandate from his people to sign an agreement with Israel.
"The Palestinians have reached a level of awareness where they would not allow anyone to decide their fate," Zahar explained, referring to the ongoing negotiations between the PA and Israel. "The talks are continuing and if we don't do anything now, we could end up with an Oslo Two Accord."
Hamas and its Palestinian allies will in any case never accept Israel's right to exist. So even if Abbas today gets 100% of the West Bank, Gaza Strip and east Jerusalem to establish a Palestinian state, Hamas, which represents a substantial part of the Palestinian population, will continue to fight to "liberate the rest of Palestine."
As Zahar stated, "Our battle is not outside Palestine. Rather, it is inside Palestine. Our program is to liberate Palestine."
Kerry needs to listen to these voices and take them into account as he continues to talk about a peace agreement between Israel and the Palestinians. It is not enough to listen to what Abbas and chief PLO negotiator Saeb Erekat are telling him in English. Kerry needs to listen to what Hamas and other groups are saying in Arabic.
Related Topics: Palestinian Authority | Khaled Abu Toameh receive the latest by email: subscribe to the free gatestone institute mailing list
Reader comments on this item
Comment on this item
Subscribe To Mailing List
Tweets by @GatestoneInst
Latest Articles
by Soeren Kern
Austria has emerged as a major base for radical Islam and as a central hub for European jihadists to fight in Syria.
The proposed revisions would, among other changes, regulate the training and hiring of Muslim clerics, prohibit the foreign funding of mosques, and establish an official German-language version of the Koran to prevent its "misinterpretation" by Islamic extremists.
Muslims would be prohibited from citing Islamic sharia law as legal justification for ignoring or disobeying Austrian civil laws.
Leaders of Austria's Muslim community counter that the contemplated new law amounts to "institutionalized Islamophobia."
Official statistics show that nearly 60% of the inhabitants of Vienna are immigrants or foreigners. The massive demographic and religious shift underway in Austria, traditionally a Roman Catholic country, appears irreversible.
by Samuel Westrop
Over 800 Iranians were executed during President Rouhani's first year in office.
Leading politicians, British government officials and businessmen nevertheless seemed happy to attend and speak at the Europe-Iran Forum.
by Khaled Abu Toameh
The "Arab Spring" did not erupt as a result of the Israeli-Palestinian conflict. Rather, it was the outcome of decades of tyranny and corruption in the Arab world. The Tunisians, Egyptians, Libyans and Yemenis who removed their dictators from power did not do so because of the lack of a "two-state solution." This is the last thing they had in mind.
The thousands of Muslims who are volunteering to join the Islamic State [IS] are not doing so because they are frustrated with the lack of progress in the Israeli-Palestinian peace talks.
The only solution the Islamic State believes in is a Sunni Islamic Caliphate where the surviving non-Muslims who are not massacred would be subject to sharia law.
What Kerry perhaps does not know is that the Islamic State is not interested in the Israeli-Palestinian conflict at all. Unlike Kerry, Sunni scholars fully understand that the Islamic State has more to do with Islam and terrorism than with any other conflict.
by Steven J. Rosen
Palestinian officials have generally been silent about security cooperation with Israel. They are loath to acknowledge how important it is for the survival of the Palestinian Authority [PA], and fear that critics, especially Hamas, will consider it "collaboration with the enemy."
"You smuggle weapons, explosives and cash to the West Bank, not for the fight with Israel, but for a coup against the Palestinian Authority. The Israeli intelligence chief visited me two weeks ago and told me about the [Hamas] group they arrested that was planning for a coup... We have a national unity government and you are thinking about a coup against me." — Mahmoud Abbas, PA President, to Khaled Mashaal, Hamas leader.
According to Israeli Defense Minister Moshe Ya'alon, if the IDF leaves the West Bank, Hamas will take over, and other terrorists groups such as the Islamic Jihad, Al-Qaeda and Islamic State would operate there.
In recent months, Abbas has been making a series of threats against Israel. If Abbas becomes another Arafat, it could be the Israeli side that loses interest in security cooperation.
Most Shared
Most Viewed