London "Peace" Festival Organized by Terrorism Advocates
St. James Church supports the lie that the wall exists not to save Israeli lives but to subjugate Palestinian ones. Its replica of the security barrier has not managed to bring people together; it has only legitimized the extremism of the Holy Land Trust and the terror links of Interpal. In reality, it is Israel's security barrier that is an example of truly non-violent resistance.
Just off London's famous Piccadilly Circus stands St. James Church, a historic building designed by Christopher Wren and consecrated in 1684. Last week, upon this hallowed ground, St. James Church built an enormous 26-foot replica of Israel's security barrier, at a reputed cost of £30,000 ($50,000).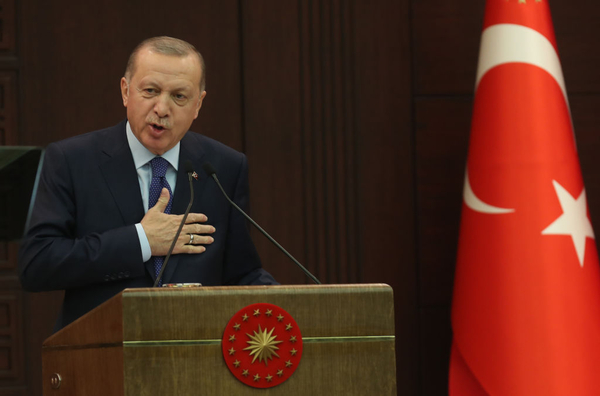 Visitors to the festival inscribe their messages on the replica wall.
The replica barrier is the main feature of a twelve-day festival organized by a coalition group called "Bethlehem Unwrapped." The festival is apparently "inspired by the cultural movement in Bethlehem known as 'Beautiful Resistance' in which Palestinians express their determination peacefully and creatively to resist injustice."
The organizers make no mention, however, of why the barrier was built: to save lives. As Hamas spokesperson Musa Abu Marzuq put it, when asked in 2007 by Egyptian politicians why suicide bombings had decreased since the Hamas government came to power: "carrying out such attacks is made difficult by the security fence and the gates surrounding the West Bank residents."
In a leaflet handed out to all visitors to the festival, Bethlehem Unwrapped "affirms its opposition to all forms of racism including anti-Semitism and supports the universal call for a just and sustainable solution for Palestinians and Israelis."
Further apologetics published on the Bethlehem Unwrapped website sermonize on the harmful symbolism of walls, along with platitudes about peace and love. A quote from one of the organizers of the festival tells us: "We have to not only understand those people who are oppressing us, but try to walk in their shoes, and ultimately to really engage with what it means to love our enemies."
The author of that entreaty is Sami Awad, director of the Holy Land Trust. It is in fact this charity to which "proceeds of the Bethlehem Unwrapped festival will be donated."
Awad claims to support "nonviolent resistance." He does not believe, however, that "nonviolent resistance" is an exclusive tool; support for such methods does not prelude the possibility of killing: "This is not a substitute for the armed struggle. This is not a method for normalization with the occupation. Our goal is to revive the popular resistance until every person is involved in dismantling the occupation."
In January 2011, Awad and his Holy Land Trust hosted Atallah Hanna, a Greek Orthodox Archbishop. Awad described Hanna as "inspiring." According to Christianity Today, Atallah Hanna has expressed support for suicide bombings:
"As you know, political parties in Palestine agree to the continuation of the intifada, which includes different approaches of struggle. Some freedom fighters adopt martyrdom or suicide bombing, while others opt for other measures. But all these struggles serve the continued intifada for freedom. Therefore, we support all these causes.

[...]

We are part of the intifada, so you don't expect us to keep distance and watch. We are in the struggle, whether it's martyrdom or any other means, we are part of it."
Furthermore, both Sami Awad and Atallah Hanna have voiced their support for Raed Saleh, an Islamist preacher who has claimed that 4,000 Jews skipped work at the World Trade Centre on 9/11, that those who killed the "Martyr, Sheikh Osama Bin Laden" had "sold their consciences to Satan," and that the honor killings of girls is acceptable.
Bethlehem Unwrapped is also supported by War on Want, a leading British charity which claims to fight poverty and injustice. War on Want however, helped to organize a series of speaking events in British Universities featuring Bongani Masuku -- whom the South African Human Rights Commission found to have wilfully incited violence between different student groups on campus.
War on Want's Director, John Hilary, has blamed Jews for criticizing War on Want by claiming that investigations into War on Want's activities were "part of an ongoing strategy by an organised pro-Israeli lobby and the Jewish press." In the past, Hilary has been happy to work with the Muslim Public Affairs Committee, an extremist Islamist group condemned by both the National Union of Students and a parliamentary committee for publishing anti-Semitic materials.
Bethlehem Unwrapped has been partly funded by Interpal, a British charity linked to the Palestinian terror group, Hamas. Bethlehem Unwrapped lists Interpal as a key supporter of the St. James Church festival.
Interpal was an inaugural member of the Union of Good, a coalition of charities that manages the financial support required by Hamas for its terrorist activities.
These links, which have been comprehensively detailed before, include recent Palestinian news footage showing Interpal's primary trustee, Essam Mustafa, attending a press conference hosted by Hamas to honor Interpal's work.
Interpal's other trustee, Ibrahim Hewitt, has referred to the "so-called Holocaust." In a pamphlet written by Hewitt, 'What Does Islam Say,' he advocates the killing of apostates and adulterers, and demanded that homosexuals suffer "severe punishments" for their "great sin."
Hewitt has boasted that the replica wall "cost quite a few thousand to put it together. Pleased to say that Interpal is one of the sponsors to raise awareness of the difficulties facing Palestinians under Israel's brutal military occupation."
Why has St. James Church chosen to consort with these supporters of terrorism? The Church claims the purpose of the replica wall, and of the Bethlehem Unwrapped festival, was to illustrate that, "bridges not walls are the only lasting foundation for peace" and that Bethlehem Unwrapped will "transform" the replica wall "into a symbol of peace and hope."
Instead, however, St. James Church supports the lie that the wall exists not to save Israeli lives but to subjugate Palestinian ones. Its replica of the wall has not managed to bring people together, it has only legitimized the extremism of the Holy Land Trust and the terror links of Interpal as voices of the Palestinian people.
The rector of St James, Lucy Winkett, has described the Bethlehem Unwrapped festival as part of "a peaceful Palestinian principle known as 'beautiful resistance'; expressed in theatres, music projects and festivals that exist to counter military dominance with a commitment to non-violent artistic expression."
In reality, it is Israel's security barrier that is an example of truly non-violent resistance. In 2007, it was credited with reducing terror attacks by 90% and the number of casualties from cross-border murders by 70%. Can the officials of St. James Church and all those other groups involved with Bethlehem Unwrapped even come close to a record like that?
Related Topics: United Kingdom | Samuel Westrop receive the latest by email: subscribe to the free gatestone institute mailing list
Reader comments on this item
| | | |
| --- | --- | --- |
| Title | By | Date |
| I don't understand [21 words] | Valerie Sealey | Jan 15, 2014 13:02 |
| Out of date infomation [75 words] | Tim Gilman | Jan 6, 2014 14:51 |
| Palestine can end the conflict by embracing peace instead of Hamas. [40 words] | John K. Roberts | Jan 6, 2014 08:24 |
| Walls [98 words] | Shirlee | Jan 5, 2014 23:37 |
| Wall [16 words] | Mike H. | Jan 5, 2014 23:03 |
| Out of touch with reality [84 words] | Ephesian | Jan 5, 2014 12:20 |
| The West's "political correctness" barrier. [129 words] | Steven Buckley | Jan 5, 2014 10:23 |
| London "Peace" Festival organized by terrorism advocates [297 words] | Angela | Jan 5, 2014 08:36 |
| ↔ Unwrapping hatred [155 words] | Sylvie Schapira | Jan 7, 2014 11:09 |
| Bethlehem unwrapped [148 words] | Tommo | Jan 5, 2014 07:53 |
| Excellent job. [239 words] | Terence Curry | Jan 5, 2014 06:01 |
| The St.James's wall [127 words] | Dr. David Zuck | Jan 5, 2014 05:49 |
| Just another example of the God bothering British attitude to Israel [70 words] | Bart Benschop | Jan 5, 2014 05:22 |
| ↔ British attitude [24 words] | Ephesian | Jan 11, 2014 02:32 |
Comment on this item
Subscribe To Mailing List
Tweets by @GatestoneInst
Latest Articles
by Burak Bekdil
The Turkish government "frankly worked" with the al-Nusrah Front, the al-Qaeda affiliate in Syria, along with other terrorist groups.
The Financial Task Force, an international body setting the standards for combating terrorist financing, ruled that Turkey should remain in its "gray list."
While NATO wishes to reinforce its outreach to democracies such as Australia and Japan, Turkey is trying to forge wider partnerships with the Arab world, Russia, China, Central Asia, China, Africa and -- and with a bunch of terrorist organizations, including Hamas, Muslim Brotherhood, Ahrar al-Sham and the al-Nusrah Front.
Being NATO's only Muslim member was fine. Being NATO's only Islamist member ideologically attached to the Muslim Brotherhood is quite another thing.
by Samuel Westrop
British politicians seem to be trapped in an endless debate over how to curb both violent and non-violent extremism within the Muslim community.
A truly useful measure might be to end the provision of state funding and legitimacy to terror-linked extremist charities.
by Soeren Kern
"My son and I love life with the beheaders." — British jihadist Sally Jones.
Mujahidah Bint Usama published pictures of herself on Twitter holding a severed head while wearing a white doctor's jacket; alongside it, the message: "Dream job, a terrorist doc."
British female jihadists are now in charge of guarding as many as 3,000 non-Muslim Iraqi women and girls held captive as sex slaves.
"The British women are some of the most zealous in imposing the IS laws in the region. I believe that's why at least four of them have been chosen to join the women police force." — British terrorism analyst Melanie Smith.
by Khaled Abu Toameh
"Armed robbery in broad daylight." — Palestinians, after Hamas "seized" $750,000 from Gaza bank.
Fatah accused Hamas of "squandering" $700 million of financial aid earmarked for the Palestinian victims of war. Fatah wants to ensure that the millions of dollars intended for the Gaza Strip will pass through its hands and not end up in Hamas's bank accounts. Relying on Fatah in this regard is like asking a cat to guard the milk.
The head of the Palestinian Authority's Anti-Corruption Commission revealed that his group has retrieved $70 million of public funds fund embezzled by Palestinian officials. Arab and Western donors need to make sure that their money does not end up (once again) in the wrong hands. Without a proper mechanism of accountability and transparency, hundreds of millions of dollars are likely to find their way into the bank accounts of both Hamas and Fatah leaders.
by Mudar Zahran
"If Hamas does not like you for any reason all they have to do now is say you are a Mossad agent and kill you." — A., a Fatah member in Gaza.
"Hamas wanted us butchered so it could win the media war against Israel showing our dead children on TV and then get money from Qatar." — T., former Hamas Ministry officer.
"They would fire rockets and then run away quickly, leaving us to face Israeli bombs for what they did." — D., Gazan journalist.
"Hamas imposed a curfew: anyone walking out in the street was shot. That way people had to stay in their homes, even if they were about to get bombed. Hamas held the whole Gazan population as a human shield." — K., graduate student
"The Israeli army allows supplies to come in and Hamas steals them. It seems even the Israelis care for us more than Hamas." — E., first-aid volunteer.
"We are under Hamas occupation, and if you ask most of us, we would rather be under Israeli occupation… We miss the days when we were able to work inside Israel and make good money. We miss the security and calm Israel provided when it was here." — S., graduate of an American university, former Hamas sympathizer.
Most Shared
Most Viewed