What the EU Does with Your Money
EU money is also used to to fund various Palestinian media outfits, such as television stations that glorify terrorists and describe Jews as "rats" and "crows."

Paying people to hate you and carry out acts of terrorism is a strange use to which any individual might choose to put his money. But for a government to use taxpayers' money in such a way is criminal.

"The Europeans want their money that comes to us to remain clean – not to go to families of those they claim to be terrorists. ... These [prisoners] are heroes." — Official Palestinian TV, November 4, 2013.
Occasionally it is possible to see a little way ahead and already it looks clear that 2014 is going to be an "annus horribilis" for the European Union [EU]. With voters going to the polls in May 2014 and the recent opinion polls showing not so much Eurosceptic as simply anti-EU parties in the lead in most major European countries, there will likely be a lot of things on the minds of the Eurocrats in the coming months: disaster emergency planning, location of escape-exits, pension and retirement plans to name but a few. But as the European tables look set to start turning, there is one thing that voters ought to keep right at the forefront of their minds.
There are many ways in which the EU displays a casual disregard for its distribution of taxpayers' money. But one of the most outrageous ways by far – with some very stiff competition – is the way in which the EU wastes taxpayers' money by giving huge lumps of it in aid to the Palestinian Authority [PA]. The laxity with which this is done and the uses to which much of that money is put highlights a problem which ought to make even the EU blush – and any decent taxpayer rebel.
Ignorance can be no excuse. In recent years a number of organizations and individuals have persistently highlighted the manner in which EU funding has been used to facilitate hate-materials and hate-teaching in Palestinian schools. Foremost among the organizations that have highlighted this has been Palestinian Media Watch [PMW], which has systematically and carefully collected and translated for wider English-speaking consumption the sort of language that is used routinely in the education sectors in Palestinian society. And as in the schools, so in the media. For EU money is also used to fund various Palestinian media outfits. And the diet of hatred they spew out is the stuff of legend. For instance, there is the aid money that goes to television stations such as that which PMW recently showed to be broadcasting material describing Jews as "rats" and "crows."
But it is not just in schools and the media that EU money has been put to such wildly inappropriate use. As highlighted before, perhaps the most appalling misuse of public funds has been the EU payment of salaries to the families of convicted terrorists. This issue of the EU payments of terrorist's salaries while the terrorists are in prison has been a not yet hot-enough potato for some time now. After the last round of exposure in 2012, some EU officials criticized the PA for using public monies in this way. But as PMW has just shown again, the response of PA officials to this is not only disrespectful towards the EU. It is openly contemptuous, derogatory, scornful and dismissive of the hand that is presuming to feed them.
As Palestinian Media Watch recently highlighted, in November alone the EU donated approximately 11 million euros to pay the salaries of PA government employees. And yet, in that same month, one PA minister has been shown openly to have mocked the uses to which the PA puts the EU money: In one appearance, the minister said about the EU's weak recent requests, "The Europeans want their money that comes to us to remain clean – not to go to families of those they claim to be terrorists. ... These [prisoners] are heroes."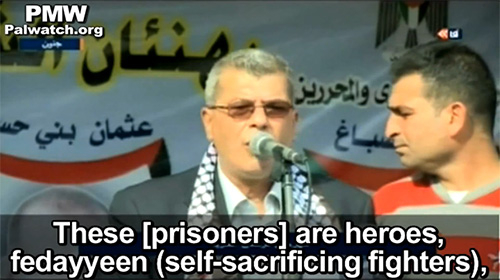 PA Minister of Prisoners' Affairs Issa Karake, speaking at a rally, defends the use of EU aid money to pay the "salaries" of imprisoned terrorists. (Image source: Palestinian Media Watch)
Or, as the head of the Prisoners' Club showed, the salaries to both government workers and prisoners are paid alongside one another:
"What is disbursed to the prisoners is exactly what is disbursed to me and you [a PA civil servant]. These are salaries. Therefore, when the salaries are paid to those working in [government] ministries and institutions, they will also be paid to the prisoners."
As this author has humbly pointed out many times, paying people to hate you and your values, and paying people to carry out acts of terrorism against your friends, is a strange use to which any private individual might choose to put his money. But for a government – and a supra-government at that – to use taxpayers' money in such a way is criminal.
If the EU does not mind being ignored and laughed at, it should at least consider the damage it has done to the very cause it presumes to support.
After all, as any trip around the West Bank will show you, the buildings that are brightest and best are the ones with nice EU (and USAID) logos on their side. The ministries and proto-ministries are all there. The public buildings needed to get the failed pre-state of Palestine off the ground are all around. And yet somehow something is missing. The cause of which partly lies in the fact that the PA allowed the EU and US to build all the infrastructure of a state for them. And while that proto-state was being built for them, the members of the PA focused its energies on building hatred.
It may well be the case that if any concern over all this exists in the minds of EU officials, it is far down on their list of priorities. And in one sense, who can blame them when the Eurozone is busy lurching from disaster to disaster? Well the answer is that later in the year we – the European public – gets to blame them. And later this year, we will get the chance to vote.
Related Topics: Douglas Murray receive the latest by email: subscribe to the free gatestone institute mailing list
Reader comments on this item
Comment on this item
Subscribe To Mailing List
Tweets by @GatestoneInst
Latest Articles
by Timon Dias
"Arab leaders are a reflection of their people. Arab leaders don't come from Mars or the sun, they emerged from among the people and share the same beliefs... I challenge any Arab citizen who may become a ruler to do anything beyond what current Arab leaders are doing." — Anwar Malek, Algerian author.
If anyone was trying to commit "genocide" during the Gaza War, it was clearly Hamas.
What the protestors in the Netherlands also revealed is that a killed Palestinian is only worth demonstrating for when the blame can be pinned on Israel.
The normalization and common approval of slogans that actually call for the destruction of the entire Jewish State, Israel, contribute to an atmosphere of hatred, violence and anti-Semitism that now seems as acceptable as it is overt.
by Anne Bayefsky
Why couldn't the UN... sponsor a conference on combating global antisemitism?
In theory the UN Charter demands equality of... nations large and small. In reality the UN mass-produces inequality for Jews and the Jewish nation.
The UN has launched a "legal" pogrom against the Jewish state. A "legal" pogrom is a license to kill.
Modern antisemitism targets Israel's exercise of the right of self-defense because self-defense is the essence of sovereignty.
by Vijeta Uniyal
In Europe, displays of ferocity were clearly not a "spontaneous reaction" to the developing situation in Gaza. They were an opportune moment for many to act on their anti-Semitism by dressing it up as a supposedly "genuine concern" for human suffering.
In India, youth groups rallied to show their support for Israel, a fellow democracy under terrorist siege -- a pain known only too well by Indians, who have lost more than 30,000 of their countrymen to terrorism since 1994.
A majority if Indians, whose culture is not tainted by anti-Semitism, can see that Israel not only has the right to defend itself, but an obligation to protect its citizens from terrorism.
The media elites of Europe seem unable to see the threat posed to the West by radical Islamist ideology, which drives countless terrorist outfits, including IS, Hamas and al-Qaida. They also seem unable to distinguish their friends from their foes.
by Khaled Abu Toameh
Many Arabs and Muslims identify with the terrorists' anti-Western objectives ideology; they are afraid of being dubbed traitors and U.S. agents for joining non-Muslims in a war that would result in the death of many Muslims, and they are afraid their people would rise up against them.
Many Arab and Muslim leaders view the Islamic State as a by-product of failed U.S. policies, especially the current U.S. Administration's weak-kneed support for Iraq's Nuri al-Maliki. Some of these leaders, such as Egypt's Abdel Fattah al-Sisi, consider the U.S. to be a major ally of the Muslim Brotherhood. Sisi and his regime will never forgive Obama for his support for the Muslim Brotherhood.
Also, they do not seem to have much confidence in the Obama Administration, which is perceived as weak and incompetent when it comes to combating Islamists.
by Peter Martino
Scottish independence would be a disaster for NATO, putting the UK nuclear deterrent in jeopardy. It would also put into question national borders all over Europe, including Catalonia, Belgium, France's Brittany and Corsica, Italy's South Tyrol -- and Ukraine.
Russian Foreign Minister Sergei Lavrov warned in 2008 that Kosovo's independence "would be the beginning of the end for Europe."
Crimea's recent secession from Ukraine was justified with a reference to "the Kosovo precedent," which Putin pointed out, "our Western partners created with their own hands."
Most Shared
Most Viewed