Palestinians' New Enemy: Tzipi Livni
The Palestinians were first unhappy with Kerry, whom they accused of being biased in favor of Israel. Now they are angry with Livni for daring to criticize Abbas. In the end, Israel and the U.S. will be blamed for the failure of the peace process. This is exactly what happened after the botched Camp David summit in 2000. A few weeks later, the Second Intifada erupted.
The Palestinians have now turned against Israeli Justice Minister Tzipi Livni, who also heads the Israeli team to the peace talks with the Palestinian Authority [PA].
Livni is probably the most dovish member of the Israeli cabinet. Yet her moderate views and support for the two-state solution have not made her immune to a new campaign against her by the Palestinians.
The Palestinian Authority leadership is now saying that Livni is no longer fit to negotiate with the Palestinians and must be replaced. In other words, any Israeli negotiator who does not accept all Palestinian demands should be excluded from the US-sponsored peace talks.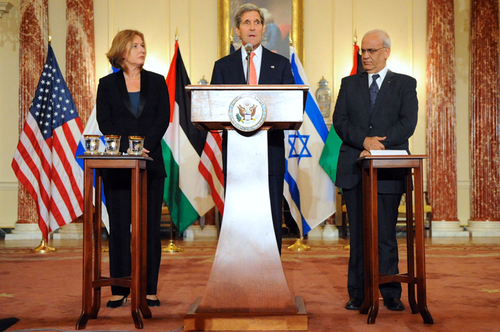 U.S. Secretary of State John Kerry, Israeli Justice Minister Tzipi Livni, and Palestinian Chief Negotiator Saeb Erekat address reporters in Washington, D.C., on July 30, 2013. (Image source: U.S. State Department)
The reason why the Palestinians are furious with Livni is a statement she made during an interview last Saturday, where she announced that PA President Mahmoud Abbas's positions are "not only unacceptable to us, but to the whole world, and if he continues to stick to them, then the Palestinians will be the ones to pay the price."
Livni's statement has been misinterpreted by Palestinians as a personal "threat" against Abbas. Of course, Livni never made such a threat in her statement and was merely warning against the repercussions of Abbas's positions on the peace process and his people.
But the PA leadership often interprets Israeli criticism of Abbas as a threat to eliminate him. This is a way of telling the Palestinians that Abbas, like his predecessor Yasser Arafat, is facing threats from Israel for refusing to make concessions on Palestinian rights.
The Palestinian Authority is preparing Palestinians for the possibility that the talks with Israel could end in failure, and that Abbas may be face the same fate as Arafat -- isolated and boycotted by Israel and the international community. The goal is to make Abbas appear in the eyes of his people as a "martyr" who paid a heavy price for standing up to Israel and the US.
Less than 24 hours after Livni made her statement, several PA officials and organizations responded by accusing her of "incitement."
Mahmoud al-Aloul, member of the Fatah Central Committee, said in response to Livni's remark: "If the Israelis think that threats and pressure on President Mahmoud Abbas would drive him to make concessions on Palestinian rights they are deluding themselves. The threats made by the officials of the occupation government are directed against Abbas's life, but they won't affect his positions."
PA Foreign Minister Riad Malki condemned Livni's "threat" against Abbas and said he would bring them to the attention of the international community. "We are studying the threats and their implication," Malki told reporters. "We will distribute Livni's statements to all foreign ministers and the international community. We can't remain silent towards these threats. This is a clear threat to Abbas in person and it must be taken seriously."
Abbas Zaki, another senior Fatah official, claimed that Livni's "threats" are designed to distract attention from Israel's refusal to reach a peace agreement with the Palestinians. "The threats show that the Israelis are not mature for peace," he added.
The radical Democratic Front for the Liberation of Palestine, one of the PLO groups, accused Livni of "political audacity." The group said that Livni's demand that Abbas recognize Israel as a Jewish state was completely unacceptable and reflected "despicable arrogance."
Abbas's spokesman, Nabil Abu Rudaineh, announced that "Livni's statements make her unacceptable for negotiations.... She has joined those voices in the Israeli government that are trying to destroy prospects for peace. This is a very dangerous statement."
The attacks on Livni correspond with a campaign that is already being waged by Palestinians against U.S. Secretary of State John Kerry. Over the past few weeks, many Palestinians representing various Palestinian groups have been waging protests against Kerry's ongoing efforts to reach a deal between the Palestinian Authority and Israel. Kerry is being accused of endorsing the Israeli point of view, especially on security, settlements, Jerusalem and the "right of return" for Palestinian refugees to their former homes inside Israel.
This Palestinian escalation of rhetoric does not bode well for the future of the peace talks. The Palestinians were first unhappy with Kerry, whom they accused of being biased in favor of Israel. Now they are angry with Livni for daring to criticize Abbas. In the end, Israel and the U.S. will be blamed for the failure of the peace process. This is exactly what happened after the botched Camp David summit in 2000, when Arafat held Israel and the U.S. fully responsible for the failure of the peace process. A few weeks later, the Second Intifada erupted. The same scenario is likely to repeat itself unless the Palestinian Authority leadership stops putting all the blame on others.
Related Topics: Palestinian Authority | Khaled Abu Toameh receive the latest by email: subscribe to the free gatestone institute mailing list
Reader comments on this item
Comment on this item
Subscribe To Mailing List
Tweets by @GatestoneInst
Latest Articles
by Soeren Kern
"My son and I love life with the beheaders." — British jihadist Sally Jones.
Mujahidah Bint Usama published pictures of herself on Twitter holding a severed head while wearing a white doctor's jacket; alongside it, the message: "Dream job, a terrorist doc."
British female jihadists are now in charge of guarding as many as 3,000 non-Muslim Iraqi women and girls held captive as sex slaves.
"The British women are some of the most zealous in imposing the IS laws in the region. I believe that's why at least four of them have been chosen to join the women police force." — British terrorism analyst Melanie Smith.
by Khaled Abu Toameh
"Armed robbery in broad daylight." — Palestinians, after Hamas "seized" $750,000 from Gaza bank.
Fatah accused Hamas of "squandering" $700 million of financial aid earmarked for the Palestinian victims of war. Fatah wants to ensure that the millions of dollars intended for the Gaza Strip will pass through its hands and not end up in Hamas's bank accounts. Relying on Fatah in this regard is like asking a cat to guard the milk.
The head of the Palestinian Authority's Anti-Corruption Commission revealed that his group has retrieved $70 million of public funds fund embezzled by Palestinian officials. Arab and Western donors need to make sure that their money does not end up (once again) in the wrong hands. Without a proper mechanism of accountability and transparency, hundreds of millions of dollars are likely to find their way into the bank accounts of both Hamas and Fatah leaders.
by Mudar Zahran
"If Hamas does not like you for any reason all they have to do now is say you are a Mossad agent and kill you." — A., a Fatah member in Gaza.
"Hamas wanted us butchered so it could win the media war against Israel showing our dead children on TV and then get money from Qatar." — T., former Hamas Ministry officer.
"They would fire rockets and then run away quickly, leaving us to face Israeli bombs for what they did." — D., Gazan journalist.
"Hamas imposed a curfew: anyone walking out in the street was shot. That way people had to stay in their homes, even if they were about to get bombed. Hamas held the whole Gazan population as a human shield." — K., graduate student
"The Israeli army allows supplies to come in and Hamas steals them. It seems even the Israelis care for us more than Hamas." — E., first-aid volunteer.
"We are under Hamas occupation, and if you ask most of us, we would rather be under Israeli occupation… We miss the days when we were able to work inside Israel and make good money. We miss the security and calm Israel provided when it was here." — S., graduate of an American university, former Hamas sympathizer.
by Ben Cohen
Now, with the Islamic State's self-proclaimed caliphate having captured key oil wells in the Middle East this year, foreign oil has become an even more lethal financial weapon-of-choice for those seeking to destroy democracy and further escalate the War on Terror.
That President Barack Obama failed even to mention oil as a critical factor in the war against IS during his speech to the nation on September 10, is an omission both revealing and dangerous in terms of how his administration wants to depict the stakes involved in this latest confrontation with the jihadis.
by Lawrence A. Franklin
One Pakistani recruiter of child suicide bombers describes these children as "tools provided by God."
Another Muslim cleric in a madrassa [Islamic boys' school] describes child suicide bombers as "a gift from Allah that we have an unlimited number willing to be sacrificed to teach Americans a lesson."
Using children as suicide bombers will stop when... they stop "condoning the killing of innocents."
Most Shared
Most Viewed