Palestinians' New Enemy: Tzipi Livni
The Palestinians were first unhappy with Kerry, whom they accused of being biased in favor of Israel. Now they are angry with Livni for daring to criticize Abbas. In the end, Israel and the U.S. will be blamed for the failure of the peace process. This is exactly what happened after the botched Camp David summit in 2000. A few weeks later, the Second Intifada erupted.
The Palestinians have now turned against Israeli Justice Minister Tzipi Livni, who also heads the Israeli team to the peace talks with the Palestinian Authority [PA].
Livni is probably the most dovish member of the Israeli cabinet. Yet her moderate views and support for the two-state solution have not made her immune to a new campaign against her by the Palestinians.
The Palestinian Authority leadership is now saying that Livni is no longer fit to negotiate with the Palestinians and must be replaced. In other words, any Israeli negotiator who does not accept all Palestinian demands should be excluded from the US-sponsored peace talks.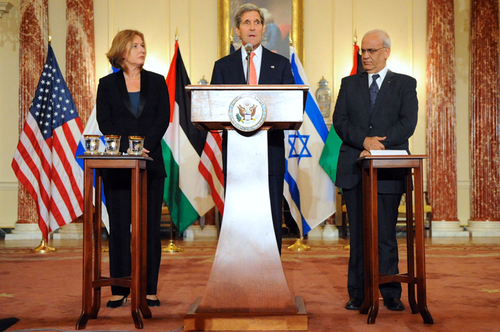 U.S. Secretary of State John Kerry, Israeli Justice Minister Tzipi Livni, and Palestinian Chief Negotiator Saeb Erekat address reporters in Washington, D.C., on July 30, 2013. (Image source: U.S. State Department)
The reason why the Palestinians are furious with Livni is a statement she made during an interview last Saturday, where she announced that PA President Mahmoud Abbas's positions are "not only unacceptable to us, but to the whole world, and if he continues to stick to them, then the Palestinians will be the ones to pay the price."
Livni's statement has been misinterpreted by Palestinians as a personal "threat" against Abbas. Of course, Livni never made such a threat in her statement and was merely warning against the repercussions of Abbas's positions on the peace process and his people.
But the PA leadership often interprets Israeli criticism of Abbas as a threat to eliminate him. This is a way of telling the Palestinians that Abbas, like his predecessor Yasser Arafat, is facing threats from Israel for refusing to make concessions on Palestinian rights.
The Palestinian Authority is preparing Palestinians for the possibility that the talks with Israel could end in failure, and that Abbas may be face the same fate as Arafat -- isolated and boycotted by Israel and the international community. The goal is to make Abbas appear in the eyes of his people as a "martyr" who paid a heavy price for standing up to Israel and the US.
Less than 24 hours after Livni made her statement, several PA officials and organizations responded by accusing her of "incitement."
Mahmoud al-Aloul, member of the Fatah Central Committee, said in response to Livni's remark: "If the Israelis think that threats and pressure on President Mahmoud Abbas would drive him to make concessions on Palestinian rights they are deluding themselves. The threats made by the officials of the occupation government are directed against Abbas's life, but they won't affect his positions."
PA Foreign Minister Riad Malki condemned Livni's "threat" against Abbas and said he would bring them to the attention of the international community. "We are studying the threats and their implication," Malki told reporters. "We will distribute Livni's statements to all foreign ministers and the international community. We can't remain silent towards these threats. This is a clear threat to Abbas in person and it must be taken seriously."
Abbas Zaki, another senior Fatah official, claimed that Livni's "threats" are designed to distract attention from Israel's refusal to reach a peace agreement with the Palestinians. "The threats show that the Israelis are not mature for peace," he added.
The radical Democratic Front for the Liberation of Palestine, one of the PLO groups, accused Livni of "political audacity." The group said that Livni's demand that Abbas recognize Israel as a Jewish state was completely unacceptable and reflected "despicable arrogance."
Abbas's spokesman, Nabil Abu Rudaineh, announced that "Livni's statements make her unacceptable for negotiations.... She has joined those voices in the Israeli government that are trying to destroy prospects for peace. This is a very dangerous statement."
The attacks on Livni correspond with a campaign that is already being waged by Palestinians against U.S. Secretary of State John Kerry. Over the past few weeks, many Palestinians representing various Palestinian groups have been waging protests against Kerry's ongoing efforts to reach a deal between the Palestinian Authority and Israel. Kerry is being accused of endorsing the Israeli point of view, especially on security, settlements, Jerusalem and the "right of return" for Palestinian refugees to their former homes inside Israel.
This Palestinian escalation of rhetoric does not bode well for the future of the peace talks. The Palestinians were first unhappy with Kerry, whom they accused of being biased in favor of Israel. Now they are angry with Livni for daring to criticize Abbas. In the end, Israel and the U.S. will be blamed for the failure of the peace process. This is exactly what happened after the botched Camp David summit in 2000, when Arafat held Israel and the U.S. fully responsible for the failure of the peace process. A few weeks later, the Second Intifada erupted. The same scenario is likely to repeat itself unless the Palestinian Authority leadership stops putting all the blame on others.
Related Topics: Palestinian Authority | Khaled Abu Toameh receive the latest by email: subscribe to the free gatestone institute mailing list
Reader comments on this item
Comment on this item
Subscribe To Mailing List
Tweets by @GatestoneInst
Subscribe To Mailing List
Latest Articles
by Soeren Kern
Hamas would likely resort to violence to thwart any attempts to disarm the group. It is therefore highly unlikely the Europeans would confront Hamas in any meaningful way.
Spanish intelligence agents met secretly with Hezbollah operatives, who agreed to provide "escorts" to protect Spanish UNIFIL patrols. The quid pro quo was that Spanish troops would look the other way while Hezbollah was allowed to rearm for its next war with Israel. Hezbollah's message to Spain was: mind your own business.
If the European experience with Hezbollah in Lebanon is any indication, not only will Hamas not be disarmed, it will be rearmed as European monitors look on and do nothing.
What is clear is that European leaders have never been committed to honoring either the letter or the spirit of UN Resolutions 1559, 1680 and 1701, all of which were aimed at preventing Hezbollah from rearming.
by Debalina Ghoshal
According to former Bush administration official Stephen Rademaker, for the United States to respond to Russian violations of the treaty by pulling out of it would be "welcome in Moscow," which is "wrestling with the question of how they terminate [the treaty]" and thus, the United States should not make it easier for the Russians to leave.
by Guy Millière
Belgian security services have estimated that the number of European jihadists in Syria may be over 4000.
European leaders have directed their nastiest comments against the Jewish state, none of them has asked why Palestinian organizations in Gaza put their stockpiles of weapons in hospitals, homes, schools and mosques, or their command and control centers at the bottom of large apartment buildings or underneath hospitals. None of them has even said that Hamas is a terrorist organization despite its genocidal charter.
The majority of them are wedded to the idea of redistribution. Their policies are anti-growth, do not afford people any economic opportunity, and are what caused these economic crises in Europe in the first place. The United States seems to be following these thoroughly failed policies as well.
"Europe could not stay the same with a different population in it." — Christopher Caldwell, Reflections on the Revolution in Europe.
by Raymond Ibrahim
"I abducted your girls. I will sell them on the market, by Allah... There is a market for selling humans. Allah says I should sell." — Abubakar Shekau, leader of Boko Haram.
Hillary Clinton repeatedly refused to designate Boko Haram a terrorist organization.
In Malaysia -- regularly portrayed in the West as a moderate Muslim nation -- any attempt to promote religions other than Islam is illegal.
"The reason they want to kill me is very clear -- it is because of being a convert to Christianity." — Hassan Muwanguzi, Uganda.
by Dexter Van Zile
Rev. Hanna Massad does not mention that perhaps Hamas actually wants the blockade to end so it can bring in more weapons and cement to build attack-tunnels so it can "finish the job."
Hamas does not just admit to using human shields, it brags about using human shields. Why does Massad have to inject an air of uncertainty about Hamas's use of human shields when no such uncertainty exists?
The problem is that any self-respecting journalist would confront Massad with a follow-up question about Hamas's ideology and violence, but not the folks at Christianity Today.
Most Shared
Most Viewed