Ten reasons why the BDS movement is immoral and hinders peace
Translations of this item:
As a strong supporter of the two state solution and a critic of Israel's settlement policies, I am particularly appalled at efforts to impose divestment, boycotts and sanctions against Israel, and Israel alone, because BDS makes it more difficult to achieve a peaceful resolution of the Mid-East conflict that requires compromise on all sides.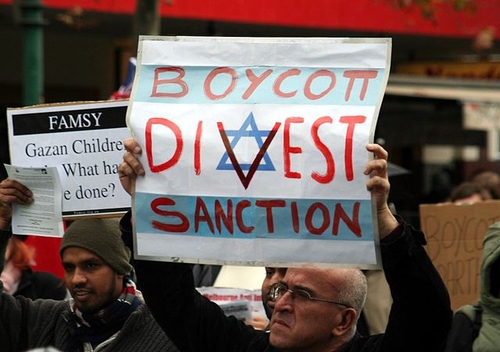 Anti-Israel protestors in Melbourne, Australia in June 2010. (Image source: Wikimedia/Takver)
The BDS movement is highly immoral, threatens the peace process and discourages the Palestinians from agreeing to any reasonable peace offer. Here are ten compelling reasons why the BDS movement is immoral and incompatible with current efforts to arrive at a compromise peace.
1. The BDS movement immorally imposes the entire blame for the continuing Israeli occupation and settlement policy on the Israelis. It refuses to acknowledge the historical reality that on at least three occasions, Israel offered to end the occupation and on all three occasions, the Palestinian leadership, supported by its people, refused to accept these offers. In 1967, I played a small role in drafting UN Security Council Resolution 242 that set out the formula for ending the occupation in exchange for recognition of Israel's right to exist in peace. Israel accepted that Resolution, while the Palestinians, along with all the Arab nations, gathered in Khartoum and issued their three famous "nos:" No peace, no negotiation, no recognition. There were no efforts to boycott, sanction or divest from these Arab naysayers. In 2000-2001, Israel's liberal Prime Minister Ehud Barak, along with American President Bill Clinton, offered the Palestinians statehood, and the end of the occupation. Yasser Arafat rejected this offer—a rejection that many Arab leaders considered a crime against the Palestinian people. In 2007, Israel's Prime Minister Ehud Olmert offered the Palestinians an even better deal, an offer to which they failed to respond. There were no BDS threats against those who rejected Israel's peace offers. Now there are ongoing peace negotiations in which both parties are making offers and imposing conditions. Under these circumstances, it is immoral to impose blame only on Israel and to direct a BDS movement only against the nation state of the Jewish people, that has thrice offered to end the occupation in exchange for peace.

2. The current BDS movement, especially in Europe and on some American university campuses, emboldens the Palestinians to reject compromise solutions to the conflict. Some within the Palestinian leadership have told me that the longer they hold out against making peace, the more powerful will be the BDS movement against Israel. Why not wait until the BDS strengthens their bargaining position so that they won't have to compromise by giving up the right of return, by agreeing to a demilitarized state and by making other concessions that are necessary to peace but difficult for some Palestinians to accept? The BDS movement is making a peaceful resolution harder.

3. The BDS movement is immoral because its leaders will never be satisfied with the kind of two state solution that is acceptable to Israel. Many of its leaders do not believe in the concept of Israel as the nation state of the Jewish people. (The major leader of the BDS movement, Marwan Barghouti, has repeatedly expressed his opposition to Israel's right to exist as the nation state of the Jewish people even within the 1967 borders.) At bottom, therefore, the leadership of the BDS movement is opposed not only to Israel's occupation and settlement policy but to its very existence.

4. The BDS movement is immoral because it violates the core principle of human rights: namely, "the worst first." Israel is among the freest and most democratic nations in the world. It is certainly the freest and most democratic nation in the Middle East. Its Arab citizens enjoy more rights than Arabs anywhere else in the world. They serve in the Knesset, in the Judiciary, in the Foreign Service, in the academy and in business. They are free to criticize Israel and to support its enemies. Israeli universities are hot beds of anti-Israel rhetoric, advocacy and even teaching. Israel has a superb record on women's rights, gay rights, environmental rights and other rights that barely exist in most parts of the world. Moreover, Israel's record of avoiding civilian casualties, while fighting enemies who hide their soldiers among civilians, is unparalleled in the world today. The situation on the West Bank is obviously different because of the occupation, but even the Arabs of Ramallah, Bethlehem and Tulkarim have more human and political rights than the vast majority of Arabs in the world today. Moreover, anyone—Jew, Muslim or Christian—dissatisfied with Israeli actions can express that dissatisfaction in the courts, and in the media, both at home and abroad. That freedom does not exist in any Arab country, nor in many non-Arab countries. Yet Israel is the only country in the world today being threatened with BDS. When a sanction is directed against only a state with one of the best records of human rights, and that nation happens to be the state of the Jewish people, the suspicion of bigotry must be considered.

5. The BDS movement is immoral because it would hurt the wrong people: it would hurt Palestinian workers who will lose their jobs if economic sanctions are directed against firms that employ them. It would hurt artists and academics, many of whom are the strongest voices for peace and an end to the occupation. It would hurt those suffering from illnesses all around the world who would be helped by Israeli medicine and the collaboration between Israeli scientists and other scientists. It would hurt the high tech industry around the world because Israel contributes disproportionally to the development of such life enhancing technology.

6. The BDS movement is immoral because it would encourage Iran—the world's leading facilitator of international terrorism—to unleash its surrogates, such as Hezbollah and Hamas, against Israel, in the expectation that if Israel were to respond to rocket attacks, the pressure for BDS against Israel would increase, as it did when Israel responded to thousands of rockets from Gaza in 2008-2009.

7. The BDS movement is immoral because it focuses the world's attention away from far greater injustices, including genocide. By focusing disproportionately on Israel, the human rights community pays disproportionately less attention to the other occupations, such as those by China, Russia and Turkey, and to other humanitarian disasters such as that occurring in Syria.

8. The BDS movement is immoral because it promotes false views regarding the nation state of the Jewish people, exaggerates its flaws and thereby promotes a new variation on the world's oldest prejudice, namely anti-Semitism. It is not surprising therefore that the BDS movement is featured on neo-Nazi, Holocaust denial and other overtly anti-Semitic websites and is promoted by some of the world's most notorious haters such as David Duke.

9. The BDS movement is immoral because it reflects and encourages a double standard of judgment and response regarding human rights violations. By demanding more of Israel, the nation state of the Jewish people, it expects less of other states, people, cultures and religions, thereby reifying a form of colonial racism and reverse bigotry that hurts the victims of human rights violations inflicted by others.

10. The BDS movement will never achieve its goals. Neither the Israeli government nor the Israeli people will ever capitulate to the extortionate means implicit in BDS. They will not and should not make important decisions regarding national security and the safety of their citizens on the basis of immoral threats. Moreover, were Israel to compromise its security in the face of such threats, the result would be more wars, more death and more suffering.
All decent people who seek peace in the Middle East should join together in opposing the immoral BDS movement. Use your moral voices to demand that both the Israeli government and the Palestinian Authority accept a compromise peace that assures the security of Israel and the viability of a peaceful and democratic Palestinian state. The way forward is not by immoral extortionate threats that do more harm than good, but rather by negotiations, compromise and good will.
A version of this article appeared in Haaretz.
Related Topics: Israel | Alan M. Dershowitz receive the latest by email: subscribe to the free gatestone institute mailing list
Reader comments on this item
| | | |
| --- | --- | --- |
| Title | By | Date |
| BDS: Be Careful What You Wish For [406 words] | Errol Daniels | Sep 7, 2014 15:05 |
| The immorality of the Jewish supporters of the BDS-Movement [73 words] | Alexander Scheiner, Israel | Mar 3, 2014 08:36 |
| Sloppiness and bad faith [636 words] | Ibrahim Ibn Yusuf | Feb 26, 2014 00:02 |
| You can't negotiate with terrorists [133 words] | Dan Knezacek | Feb 17, 2014 11:43 |
| Who is financing BDS propganda [41 words] | Joe Honick | Feb 17, 2014 09:52 |
| Why? Why? Why? [110 words] | JFM | Feb 17, 2014 07:09 |
| Good luck [276 words] | D.A.Baeker | Feb 13, 2014 20:22 |
| Impossible peace [280 words] | Mikhail Chernyak | Feb 13, 2014 19:53 |
| Wrong Barghouti - just for the record - and a few reflections about fellow travellers [162 words] | Dian Kjærgaard | Feb 13, 2014 18:14 |
| The BDS and Israel [226 words] | Nora Herold | Feb 13, 2014 13:31 |
| Ten reasons why the BDS movement is immoral and hinders peace [259 words] | hfdotorg | Feb 13, 2014 13:28 |
| Sorry, Alan, but you're pissing in the wind. [58 words] | Cowboy Joe | Feb 13, 2014 11:50 |
| BDS is indeed immoral and hypocritical [57 words] | SA Smith | Feb 13, 2014 03:40 |
| Anti-semitism is the problem [356 words] | Bart Benschop | Feb 13, 2014 01:53 |
| BDS movement and morality [123 words] | Scorpio | Feb 13, 2014 00:45 |
| BDS [113 words] | FatherJon | Feb 12, 2014 19:22 |
| Alan Dershowitz omitted the best reason of all. Under International Law, the Jews have a lawful right of settlement. [244 words] | Wallace Edward Brand | Feb 12, 2014 18:27 |
| Yes, but nonetheless you support Obama - the most Israel-hating President in US history [162 words] | Dean | Feb 12, 2014 17:15 |
| ↔ BDS is BS. Expose Barghouti [192 words] | Barry Rosen | Feb 15, 2014 09:09 |
| ↔ Israel hating Obama? [74 words] | Joe Honick | Feb 22, 2014 01:52 |
| A Challange for Mr. Dershowitz [366 words] | Phillip Slepian | Feb 12, 2014 13:25 |
Comment on this item
Subscribe To Mailing List
Tweets by @GatestoneInst
Latest Articles
by Burak Bekdil
The Turkish government "frankly worked" with the al-Nusrah Front, the al-Qaeda affiliate in Syria, along with other terrorist groups.
The Financial Task Force, an international body setting the standards for combating terrorist financing, ruled that Turkey should remain in its "gray list."
While NATO wishes to reinforce its outreach to democracies such as Australia and Japan, Turkey is trying to forge wider partnerships with the Arab world, Russia, China, Central Asia, China, Africa and -- and with a bunch of terrorist organizations, including Hamas, Muslim Brotherhood, Ahrar al-Sham and the al-Nusrah Front.
Being NATO's only Muslim member was fine. Being NATO's only Islamist member ideologically attached to the Muslim Brotherhood is quite another thing.
by Samuel Westrop
British politicians seem to be trapped in an endless debate over how to curb both violent and non-violent extremism within the Muslim community.
A truly useful measure might be to end the provision of state funding and legitimacy to terror-linked extremist charities.
by Soeren Kern
"My son and I love life with the beheaders." — British jihadist Sally Jones.
Mujahidah Bint Usama published pictures of herself on Twitter holding a severed head while wearing a white doctor's jacket; alongside it, the message: "Dream job, a terrorist doc."
British female jihadists are now in charge of guarding as many as 3,000 non-Muslim Iraqi women and girls held captive as sex slaves.
"The British women are some of the most zealous in imposing the IS laws in the region. I believe that's why at least four of them have been chosen to join the women police force." — British terrorism analyst Melanie Smith.
by Khaled Abu Toameh
"Armed robbery in broad daylight." — Palestinians, after Hamas "seized" $750,000 from Gaza bank.
Fatah accused Hamas of "squandering" $700 million of financial aid earmarked for the Palestinian victims of war. Fatah wants to ensure that the millions of dollars intended for the Gaza Strip will pass through its hands and not end up in Hamas's bank accounts. Relying on Fatah in this regard is like asking a cat to guard the milk.
The head of the Palestinian Authority's Anti-Corruption Commission revealed that his group has retrieved $70 million of public funds fund embezzled by Palestinian officials. Arab and Western donors need to make sure that their money does not end up (once again) in the wrong hands. Without a proper mechanism of accountability and transparency, hundreds of millions of dollars are likely to find their way into the bank accounts of both Hamas and Fatah leaders.
by Mudar Zahran
"If Hamas does not like you for any reason all they have to do now is say you are a Mossad agent and kill you." — A., a Fatah member in Gaza.
"Hamas wanted us butchered so it could win the media war against Israel showing our dead children on TV and then get money from Qatar." — T., former Hamas Ministry officer.
"They would fire rockets and then run away quickly, leaving us to face Israeli bombs for what they did." — D., Gazan journalist.
"Hamas imposed a curfew: anyone walking out in the street was shot. That way people had to stay in their homes, even if they were about to get bombed. Hamas held the whole Gazan population as a human shield." — K., graduate student
"The Israeli army allows supplies to come in and Hamas steals them. It seems even the Israelis care for us more than Hamas." — E., first-aid volunteer.
"We are under Hamas occupation, and if you ask most of us, we would rather be under Israeli occupation… We miss the days when we were able to work inside Israel and make good money. We miss the security and calm Israel provided when it was here." — S., graduate of an American university, former Hamas sympathizer.
Most Shared
Most Viewed