Blow People Up? What a Surprise!
If we cannot see what is happening, it seems likely that we simply do not want it to be happening. But apparently not enough to try to stop it from happening.
How could a nice young British boy do a thing like this? That is what people said when a British man cut the head off Daniel Pearl in 2002. It was what they said when our British men boarded the London tube trains and blew up their fellow passengers in 2005. It was what they said when a young British student tried to detonate a bomb over Detroit in 2009. And it is what they asked again earlier this month when Abdul Waheed Majeed, a 41-year-old man from Crawley, West Sussex, turned out to have become a suicide bomber in Syria. The strange thing is that a lot of people seem no closer to any kind of answer.
Abdul Waheed Majeed had gone through a story so similar to every previous story that you wonder how wilfully deaf some people must be, or whether there has been a significant section of the press and political class who have simply not been paying attention in recent years.
Because it turns out that Majeed was once a member of the now-proscribed British extremist group, al-Muhajiroun. This is a group that has been linked to more terrorist charges in the UK than any other group, including al-Qaeda. Al Muhajiroun's current de facto leader (since being banned, they operate under a shifting array of names) – Anjem Choudary – has said that Majeed worked as a driver for the former leader of the group, Omar Bakri Mohammad, by helping ferry him to and from his talks. Alas in those days he seems never to have had the urge to blow up the vehicle.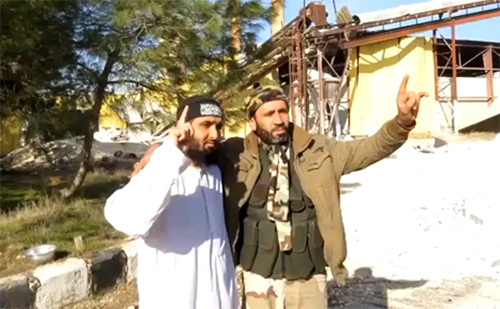 Abdul Waheed Majeed (left), of Crawley, England, poses for photographs moments before driving a truck-bomb into a prison in Aleppo, Syria. (Image source: Jabhat al-Nusra video)
Like many of the members of al-Muhajiroun, Majeed had been a subject of interest to the British authorities over a lengthy period. It has transpired that he attended a talk by the extreme Islamist preacher Abu Hamza (now residing in an American prison after an apparently all-too-brief period in a British one). He had also been involved in weapons caches in Pakistan and been associated with a plot to blow up the Bluewater shopping center in Kent in 2004, as well as having been associated with the 2005 London bombers. And at some point he connected with people who were, in fact, working for law-enforcement in the US.
Then he went to Syria. In the first days of February, 2014, he got into a truck loaded with explosives and drove it into a prison in Aleppo. His last moments can be seen on video. The explosion rocked the nearby area and resulted in the escape of almost 300 prisoners. The attack was large enough to have made headlines even in the morass of tired international coverage of Syria's bloody and hard-to-end civil war.
Of course Anjem Choudary has already praised Majeed: "He was a good father, a family man who was dedicated to make sure all his actions were based on the [religious] texts," he has said. Since the revelation of his links with other British extremists, British police have searched the homes of a number of people, including the brother of one of the Bluewater shopping centre plotters and the home of a man thought to have been involved in trips to Syria.
Of course you can add to this whole picture another portion that is utterly predictable: Majeed had attended extremist meetings. And it turns out that the mosque in Crawley that he attended has itself been investigated by the Charity Commission for apparent financial irregularities. Although the Crawley Islamic Centre and Mosque is a registered charity, for three years in a row it has failed to file any accounts, and was then subjected to a Charity Commission investigation.
All of which is so par for the course that it would hardly be worth mentioning, if it were not for what this attack in Aleppo tells us about Britain. The fact evidently is that many people from around the world have travelled to Syria to fight on one side or other of this vicious, sectarian war. What is noteworthy is that there is precisely nothing in the profile of Majeed that would suggest that he would not at some point take part in an operation of violence. We might be happy that he did not carry out his attack in Britain, or we might feel shame that a British man should go out and carry out an attack in another country, but what we should not be is at all surprised. It seems as if we have been lying to ourselves.
All the time, we have been pretending that a process of "extremism" could happen to anyone. We talk about "alienation" and "counter-narratives." We hear people amazed at each turn at the "Britishness" of the culprits. We were amazed that the 2005 bombers played in cricket teams and ate fish and chips. We wonder that someone could come from the sleepy town of Crawley and go by self-detonating in Aleppo. Yet, amid all the pretend bafflement and shock, there is a more serious truth that sits unaddressed -- and it is not about the sport they like or the food they enjoy. It is also not about the sleepiness or otherwise of the town which they inhabit. And it certainly has nothing whatsoever to do with the country in which they happen to have spent most, or all, of their lives.
It is purely and solely about the extremist religious ideology which they have inhaled -- so predictable, so by rote, one could have written the career trajectory of Abdul Waheed Majeed on a napkin ten years ago. Yet we continue to express surprise. And in that is a problem not just for the world at large, and any particular battle-ground of jihad, but a problem for us. When you continue to be surprised by the obvious, it is clear that the obvious must be a problem for you. If we cannot see what is happening, it seems likely that we simply do not want it to be happening. But apparently not enough to try to stop it from happening. "Oh my, have you heard, another suicide bomber from West Sussex." Now why would that be?
Related Topics: Douglas Murray receive the latest by email: subscribe to the free gatestone institute mailing list
Reader comments on this item
| | | |
| --- | --- | --- |
| Title | By | Date |
| Applied logic [284 words] | Arthur Lincoln | Feb 23, 2014 12:06 |
| And when they return? [42 words] | John | Feb 23, 2014 08:38 |
| Reaping what you sow? [53 words] | Paul B. | Feb 20, 2014 16:27 |
| Re Douglas Murray's article of Feb. 19 - "Blow People Up?" [480 words] | Pamela J. Leonard | Feb 20, 2014 10:57 |
| ↔ British courage? [172 words] | Ephesian | Feb 25, 2014 06:47 |
| ↔ British courage [400 words] | Pamela J. Leonard | Mar 3, 2014 11:40 |
| ↔ Bravo! [214 words] | Ephesian | Mar 6, 2014 12:02 |
| Heads in the sand [92 words] | Ian | Feb 20, 2014 10:18 |
| Paradise and Britishness [165 words] | Terence Curry | Feb 20, 2014 08:38 |
| Remember them [56 words] | Philip | Feb 20, 2014 01:24 |
| It has been happening lawfully for some thirteen centuries [93 words] | Bart Benschop | Feb 19, 2014 22:19 |
| Religion [71 words] | Pongidae Rex | Feb 19, 2014 16:06 |
| Thank you brave Briton [57 words] | Harry Verdecci | Feb 19, 2014 11:58 |
| The unfortunate truth [151 words] | Kaz | Feb 19, 2014 10:01 |
| Douglas Murray bursts the PC balloon [106 words] | Steven Buckley | Feb 19, 2014 09:18 |
| Surprised yet again [107 words] | Mrs. Rene O'Riordan | Feb 19, 2014 09:13 |
| Short memories [19 words] | D. Zuck | Feb 19, 2014 07:27 |
| Not so suprised! [149 words] | Ephesian | Feb 19, 2014 07:06 |
| In fairness... [10 words] | Philip | Feb 19, 2014 06:24 |
| Crawley [130 words] | Tommo | Feb 19, 2014 06:14 |
| ↔ The ostrich mentality of Europe [163 words] | Daniel Less | Feb 22, 2014 16:12 |
Comment on this item
Subscribe To Mailing List
Tweets by @GatestoneInst
Latest Articles
by Soeren Kern
Austria has emerged as a major base for radical Islam and as a central hub for European jihadists to fight in Syria.
The proposed revisions would, among other changes, regulate the training and hiring of Muslim clerics, prohibit the foreign funding of mosques, and establish an official German-language version of the Koran to prevent its "misinterpretation" by Islamic extremists.
Muslims would be prohibited from citing Islamic sharia law as legal justification for ignoring or disobeying Austrian civil laws.
Leaders of Austria's Muslim community counter that the contemplated new law amounts to "institutionalized Islamophobia."
Official statistics show that nearly 60% of the inhabitants of Vienna are immigrants or foreigners. The massive demographic and religious shift underway in Austria, traditionally a Roman Catholic country, appears irreversible.
by Samuel Westrop
Over 800 Iranians were executed during President Rouhani's first year in office.
Leading politicians, British government officials and businessmen nevertheless seemed happy to attend and speak at the Europe-Iran Forum.
by Khaled Abu Toameh
The "Arab Spring" did not erupt as a result of the Israeli-Palestinian conflict. Rather, it was the outcome of decades of tyranny and corruption in the Arab world. The Tunisians, Egyptians, Libyans and Yemenis who removed their dictators from power did not do so because of the lack of a "two-state solution." This is the last thing they had in mind.
The thousands of Muslims who are volunteering to join the Islamic State [IS] are not doing so because they are frustrated with the lack of progress in the Israeli-Palestinian peace talks.
The only solution the Islamic State believes in is a Sunni Islamic Caliphate where the surviving non-Muslims who are not massacred would be subject to sharia law.
What Kerry perhaps does not know is that the Islamic State is not interested in the Israeli-Palestinian conflict at all. Unlike Kerry, Sunni scholars fully understand that the Islamic State has more to do with Islam and terrorism than with any other conflict.
by Steven J. Rosen
Palestinian officials have generally been silent about security cooperation with Israel. They are loath to acknowledge how important it is for the survival of the Palestinian Authority [PA], and fear that critics, especially Hamas, will consider it "collaboration with the enemy."
"You smuggle weapons, explosives and cash to the West Bank, not for the fight with Israel, but for a coup against the Palestinian Authority. The Israeli intelligence chief visited me two weeks ago and told me about the [Hamas] group they arrested that was planning for a coup... We have a national unity government and you are thinking about a coup against me." — Mahmoud Abbas, PA President, to Khaled Mashaal, Hamas leader.
According to Israeli Defense Minister Moshe Ya'alon, if the IDF leaves the West Bank, Hamas will take over, and other terrorists groups such as the Islamic Jihad, Al-Qaeda and Islamic State would operate there.
In recent months, Abbas has been making a series of threats against Israel. If Abbas becomes another Arafat, it could be the Israeli side that loses interest in security cooperation.
by Burak Bekdil
It was the Islamists who, since they came to power in the 2000s, have reaped the biggest political gains from the "Palestine-fetish."
But the Turkish rhetoric on "solidarity" with our Palestinian brothers often seems askew to how solidarity should be.
Most Shared
Most Viewed