Fatah Infighting Jeopardizes Kerry's Peace Process
In recent weeks, Abbas has taken a number of measures that reflect his increased fear of Mohamed Dahlan's moves to discredit him and remove him from power. These measures include confiscating large sums of money transferred from the United Arab Emirates to Dahlan loyalists in Gaza.

Once the claim was that Abbas does not represent the Palestinians in the Gaza Strip, who are under the control of Hamas. Today it is not incorrect to argue that Abbas does not even represent his own party.
As Palestinian Authority President Mahmoud Abbas continues to talk with Israel and the U.S. about ways of achieving peace in the Middle East, senior members of his ruling Fatah faction have stepped up their efforts to remove him from power.
These efforts seem to be worrying Abbas these days more than anything else, including U.S. Secretary of State John Kerry's proposed "framework agreement" for peace between the Palestinians and Israel – which has thus far been rejected by Abbas and the Palestinian Authority [PA] leadership.
The internal squabbling in Fatah casts doubts on Abbas' ability or willingness to sign any peace agreement with Israel.
There are not mere tensions or disagreements among politicians. Rather, they mark the beginning of an inevitable split that could result in the creation of a rival, anti-Abbas Fatah group, headed by some of his arch-enemies.
Sooner or later, Kerry and other Western leaders will have to ask Abbas which Fatah exactly does he represent – the one dominated by veteran leaders closely associated with Abbas and his predecessor, Yasser Arafat, or the new controlled by younger grassroots leaders.
Sources close to Abbas have accused former Fatah Central Committee member and former PA security chief Mohammed Dahlan of secretly planning a coup against the PA leader. According to the sources, Dahlan, who has been living in exile in the United Arab Emirates for the past four years, has his eyes set on the Palestinian Authority presidency and regards himself as a successor to Abbas.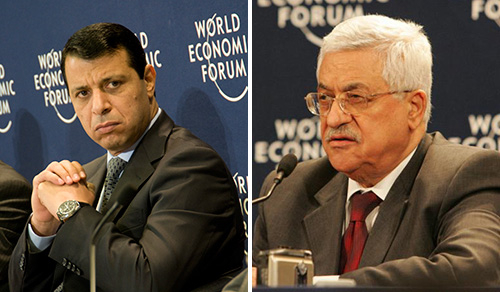 Mohamed Dahlan (left) and PA President Mahmoud Abbas (right). [Image source: World Economic Forum]
Recently, Abbas dispatched a high-level Fatah delegation to the Gaza Strip, prompting many Palestinians to speculate that the purpose of the trip was to achieve reconciliation with Hamas. But it quickly transpired that the Fatah delegation, headed by Abbas loyalist Nabil Sha'ath, was sent to the Gaza Strip as part of Abbas's attempt to crush a Dahlan-engineered rebellion against his leadership.
Many Palestinians were initially convinced that Abbas had resumed his efforts to end the dispute between Fatah and Hamas. Reports in Palestinian and Western media outlets even suggested that the two rival parties had made progress towards achieving unity.
Fatah leaders, however, have now admitted that the visit was primarily aimed at "restoring order" within their faction in the Gaza Strip. Abbas, they revealed, was now seeking the help of Hamas help in preventing Dahlan and other Fatah "rebels" from continuing to challenge his leadership.
Some reports have suggested that Sha'ath and members of his delegation had to flee the Gaza Strip three days after their arrival following threats to their lives from Dahlan and his supporters. According to the reports, Sha'ath even appealed to Hamas Prime Minister Ismail Haniyeh to beef up security at the hotel where he was staying in Gaza City, out of fear that disgruntled Fatah activists might assassinate him or members of his delegation.
Upon returning to Ramallah, Sha'ath rushed to accuse Dahlan and his supporters of plotting to overthrow Abbas. Sha'ath said that Abbas was worried about attempts to create a schism within Fatah. "All previous splits in Fatah ended in failure," Sha'ath said. "All those who did break away from Fatah were eventually forced to become agents for other countries."
In recent weeks, Abbas has taken a number of measures that reflect his increased fear of Dahlan's moves to discredit him and remove him from power. These measures include confiscating large sums of money transferred from the United Arab Emirates to Dahlan loyalists in the Gaza Strip.
More recently, Abbas spent one million dollars on a "mass wedding" of 300 Palestinians after learning that the event had been originally sponsored and financed by Dahlan.
Last week Abbas went further by threatening to expel all Dahlan loyalists from Fatah. Dahlan himself was expelled (by Abbas) from Fatah in 2011.
Palestinians in Ramallah said that the increased tensions in Fatah mean that Abbas is beginning to lose his grip over the faction -- a fact that Kerry and his team would not be able to ignore if and when they force Abbas to sign any agreement with Israel.
Today it is more obvious than ever that the challenges facing Abbas are not coming only from Hamas, but from his own Fatah faction. The serious problems that have surfaced in Abbas's back yard are, of course, very bad news for any peace process with Israel.
Once, the claim was that Abbas does not represent the Palestinians in the Gaza Strip, who are under the control of Hamas. Today, however, it is not incorrect to argue that Israel's peace partner, Abbas, does not even represent his own party.
Related Topics: Palestinian Authority | Khaled Abu Toameh receive the latest by email: subscribe to the free gatestone institute mailing list
Reader comments on this item
Comment on this item
Subscribe To Mailing List
Tweets by @GatestoneInst
Latest Articles
by Louis René Beres
The Palestinian Liberation Organization [PLO], forerunner of today's Palestinian Authority, was founded in 1964, three years before Israel came into the unintended control of the West Bank and Gaza. What therefore was the PLO planning to "liberate"?
Why does no one expect the Palestinians to cease all deliberate and random violence against Israeli civilians before being considered for admission to statehood?
On June 30, 1922, a joint resolution of both Houses of Congress of the United States endorsed a "Mandate for Palestine," confirming the right of Jews to settle anywhere they chose between the Jordan River and the Mediterranean Sea. This is the core American legacy of support for a Jewish State that President Obama now somehow fails to recall.
A sovereign state of Palestine, as identified by the Arabs -- a Muslim land occupied by "Palestinian" Arabs -- has never existed; not before 1948, and not before 1967. From the start, it was, and continues to be, the Arab states -- not Israel -- that became the core impediment to Palestinian sovereignty.
by Timon Dias
It looks as if this new law is meant to serve as a severe roadblock to parties that would like to dismantle the EU in a democratic and peaceful way from within.
A rather dull semantic trick pro-EU figures usually apply, is calling their opponents "anti-Europe."
by Soeren Kern
Austria has emerged as a major base for radical Islam and as a central hub for European jihadists to fight in Syria.
The proposed revisions would, among other changes, regulate the training and hiring of Muslim clerics, prohibit the foreign funding of mosques, and establish an official German-language version of the Koran to prevent its "misinterpretation" by Islamic extremists.
Muslims would be prohibited from citing Islamic sharia law as legal justification for ignoring or disobeying Austrian civil laws.
Leaders of Austria's Muslim community counter that the contemplated new law amounts to "institutionalized Islamophobia."
Official statistics show that nearly 60% of the inhabitants of Vienna are immigrants or foreigners. The massive demographic and religious shift underway in Austria, traditionally a Roman Catholic country, appears irreversible.
by Samuel Westrop
Over 800 Iranians were executed during President Rouhani's first year in office.
Leading politicians, British government officials and businessmen nevertheless seemed happy to attend and speak at the Europe-Iran Forum.
Most Shared
Most Viewed