Fatah Infighting Jeopardizes Kerry's Peace Process
In recent weeks, Abbas has taken a number of measures that reflect his increased fear of Mohamed Dahlan's moves to discredit him and remove him from power. These measures include confiscating large sums of money transferred from the United Arab Emirates to Dahlan loyalists in Gaza.

Once the claim was that Abbas does not represent the Palestinians in the Gaza Strip, who are under the control of Hamas. Today it is not incorrect to argue that Abbas does not even represent his own party.
As Palestinian Authority President Mahmoud Abbas continues to talk with Israel and the U.S. about ways of achieving peace in the Middle East, senior members of his ruling Fatah faction have stepped up their efforts to remove him from power.
These efforts seem to be worrying Abbas these days more than anything else, including U.S. Secretary of State John Kerry's proposed "framework agreement" for peace between the Palestinians and Israel – which has thus far been rejected by Abbas and the Palestinian Authority [PA] leadership.
The internal squabbling in Fatah casts doubts on Abbas' ability or willingness to sign any peace agreement with Israel.
There are not mere tensions or disagreements among politicians. Rather, they mark the beginning of an inevitable split that could result in the creation of a rival, anti-Abbas Fatah group, headed by some of his arch-enemies.
Sooner or later, Kerry and other Western leaders will have to ask Abbas which Fatah exactly does he represent – the one dominated by veteran leaders closely associated with Abbas and his predecessor, Yasser Arafat, or the new controlled by younger grassroots leaders.
Sources close to Abbas have accused former Fatah Central Committee member and former PA security chief Mohammed Dahlan of secretly planning a coup against the PA leader. According to the sources, Dahlan, who has been living in exile in the United Arab Emirates for the past four years, has his eyes set on the Palestinian Authority presidency and regards himself as a successor to Abbas.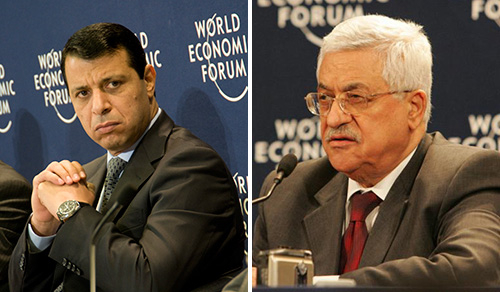 Mohamed Dahlan (left) and PA President Mahmoud Abbas (right). [Image source: World Economic Forum]
Recently, Abbas dispatched a high-level Fatah delegation to the Gaza Strip, prompting many Palestinians to speculate that the purpose of the trip was to achieve reconciliation with Hamas. But it quickly transpired that the Fatah delegation, headed by Abbas loyalist Nabil Sha'ath, was sent to the Gaza Strip as part of Abbas's attempt to crush a Dahlan-engineered rebellion against his leadership.
Many Palestinians were initially convinced that Abbas had resumed his efforts to end the dispute between Fatah and Hamas. Reports in Palestinian and Western media outlets even suggested that the two rival parties had made progress towards achieving unity.
Fatah leaders, however, have now admitted that the visit was primarily aimed at "restoring order" within their faction in the Gaza Strip. Abbas, they revealed, was now seeking the help of Hamas help in preventing Dahlan and other Fatah "rebels" from continuing to challenge his leadership.
Some reports have suggested that Sha'ath and members of his delegation had to flee the Gaza Strip three days after their arrival following threats to their lives from Dahlan and his supporters. According to the reports, Sha'ath even appealed to Hamas Prime Minister Ismail Haniyeh to beef up security at the hotel where he was staying in Gaza City, out of fear that disgruntled Fatah activists might assassinate him or members of his delegation.
Upon returning to Ramallah, Sha'ath rushed to accuse Dahlan and his supporters of plotting to overthrow Abbas. Sha'ath said that Abbas was worried about attempts to create a schism within Fatah. "All previous splits in Fatah ended in failure," Sha'ath said. "All those who did break away from Fatah were eventually forced to become agents for other countries."
In recent weeks, Abbas has taken a number of measures that reflect his increased fear of Dahlan's moves to discredit him and remove him from power. These measures include confiscating large sums of money transferred from the United Arab Emirates to Dahlan loyalists in the Gaza Strip.
More recently, Abbas spent one million dollars on a "mass wedding" of 300 Palestinians after learning that the event had been originally sponsored and financed by Dahlan.
Last week Abbas went further by threatening to expel all Dahlan loyalists from Fatah. Dahlan himself was expelled (by Abbas) from Fatah in 2011.
Palestinians in Ramallah said that the increased tensions in Fatah mean that Abbas is beginning to lose his grip over the faction -- a fact that Kerry and his team would not be able to ignore if and when they force Abbas to sign any agreement with Israel.
Today it is more obvious than ever that the challenges facing Abbas are not coming only from Hamas, but from his own Fatah faction. The serious problems that have surfaced in Abbas's back yard are, of course, very bad news for any peace process with Israel.
Once, the claim was that Abbas does not represent the Palestinians in the Gaza Strip, who are under the control of Hamas. Today, however, it is not incorrect to argue that Israel's peace partner, Abbas, does not even represent his own party.
Related Topics: Palestinian Authority | Khaled Abu Toameh receive the latest by email: subscribe to the free gatestone institute mailing list
Reader comments on this item
Comment on this item
Subscribe To Mailing List
Tweets by @GatestoneInst
Latest Articles
by Soeren Kern
"In the Quran it is not allowed for you to feel sorry for non-Muslims. I don't feel sorry for him." — Anjem Choudary.
"Eventually the whole world will be governed by Shari'ah & Muslims will have authority over China Russia USA etc This is the promise of Allah." — Anjem Choudary.
"Under the Koran the sale of alcohol is prohibited and if one were to also drink alcohol, that would be 40 lashes." — Anjem Choudary.
"We [Muslims] take the Jizya, which is ours anyway. The normal situation is to take money from the kuffar [non-Muslim]. They give us the money. You work, give us the money, Allahu Akhbar. We take the money." — Anjem Choudary.
by Steven J. Rosen
The U.S. State Department has chosen to act as UNRWA's patron and the protector of its mission, perpetuating and expanding the refugee issue as a source of conflict against Israel.
Apparently more Israeli houses hurt peace, but multiplying the number of refugees is fine.
by Mina Ahadi, Nazanin AfshinJam, Shabnam Assadollahi and Shadi Paveh
Reyhaneh Jabbari has been transferred to Rajai-Shahr Prison to be hanged — while the world parties at the UN and gets ready to permit Iran nuclear capability.
by Salim Mansur
Broadly speaking, the struggle within Islam is between Muslims who embrace the values of the modern world in terms of freedom, individual rights, gender equality and democracy on the one side, and Muslims opposing these values and insisting on a Sharia-based legal system on the other. Any Muslim who even questions this version of Islam they refer to as a heretic or, worse, an apostate to be killed.
For Muslims who embrace modernity, Islam is a matter of personal belief, not a political system.
A reformed Islam -- greatly desired and sought after by swelling numbers of Muslims -- cannot succeed without the support of non-Muslims.
by Guy Millière
Many Europeans who would laugh at the idea of negotiating with ISIS or al-Qaeda say that Israel should negotiate with Hamas.
Almost nobody sees that the invention of the "Palestinian people" has transformed millions of Arabs into a genocidal weapon to be used against the Israelis, and even, as in Europe recently, the Jews. Transforming people into a genocidal weapon is a barbaric act.
Israel was urged to find ways to coexist peacefully with people who did not want to co-exist with it. Terrorism against Israel fast became acceptable: a "good" terrorism.
Hamas's stated aim is the destruction of Israel. Its stated way to achieve this aim is terror attacks, called "armed struggle" by Hamas leaders. To this day the Palestinian Authority has not ceased praising and promoting terrorism.
If hatred of Israel is increasing in the U.S., it is largely confined to academics and other extreme radical circles, many of which are funding or receiving funding from Soviet-style agitprop organizations. Journalists are recruited to disseminate descriptions of "facts" as if they were real facts. Pseudo-historians rewrote the history of the Middle East. The falsified version of history replaced history.
Most Shared
Most Viewed