Fatah Infighting Jeopardizes Kerry's Peace Process
In recent weeks, Abbas has taken a number of measures that reflect his increased fear of Mohamed Dahlan's moves to discredit him and remove him from power. These measures include confiscating large sums of money transferred from the United Arab Emirates to Dahlan loyalists in Gaza.

Once the claim was that Abbas does not represent the Palestinians in the Gaza Strip, who are under the control of Hamas. Today it is not incorrect to argue that Abbas does not even represent his own party.
As Palestinian Authority President Mahmoud Abbas continues to talk with Israel and the U.S. about ways of achieving peace in the Middle East, senior members of his ruling Fatah faction have stepped up their efforts to remove him from power.
These efforts seem to be worrying Abbas these days more than anything else, including U.S. Secretary of State John Kerry's proposed "framework agreement" for peace between the Palestinians and Israel – which has thus far been rejected by Abbas and the Palestinian Authority [PA] leadership.
The internal squabbling in Fatah casts doubts on Abbas' ability or willingness to sign any peace agreement with Israel.
There are not mere tensions or disagreements among politicians. Rather, they mark the beginning of an inevitable split that could result in the creation of a rival, anti-Abbas Fatah group, headed by some of his arch-enemies.
Sooner or later, Kerry and other Western leaders will have to ask Abbas which Fatah exactly does he represent – the one dominated by veteran leaders closely associated with Abbas and his predecessor, Yasser Arafat, or the new controlled by younger grassroots leaders.
Sources close to Abbas have accused former Fatah Central Committee member and former PA security chief Mohammed Dahlan of secretly planning a coup against the PA leader. According to the sources, Dahlan, who has been living in exile in the United Arab Emirates for the past four years, has his eyes set on the Palestinian Authority presidency and regards himself as a successor to Abbas.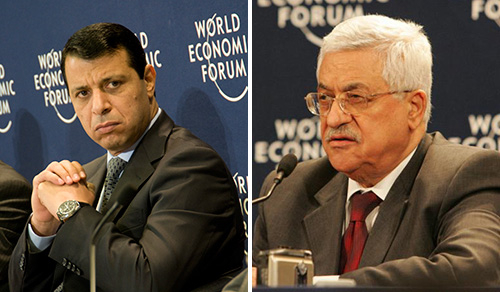 Mohamed Dahlan (left) and PA President Mahmoud Abbas (right). [Image source: World Economic Forum]
Recently, Abbas dispatched a high-level Fatah delegation to the Gaza Strip, prompting many Palestinians to speculate that the purpose of the trip was to achieve reconciliation with Hamas. But it quickly transpired that the Fatah delegation, headed by Abbas loyalist Nabil Sha'ath, was sent to the Gaza Strip as part of Abbas's attempt to crush a Dahlan-engineered rebellion against his leadership.
Many Palestinians were initially convinced that Abbas had resumed his efforts to end the dispute between Fatah and Hamas. Reports in Palestinian and Western media outlets even suggested that the two rival parties had made progress towards achieving unity.
Fatah leaders, however, have now admitted that the visit was primarily aimed at "restoring order" within their faction in the Gaza Strip. Abbas, they revealed, was now seeking the help of Hamas help in preventing Dahlan and other Fatah "rebels" from continuing to challenge his leadership.
Some reports have suggested that Sha'ath and members of his delegation had to flee the Gaza Strip three days after their arrival following threats to their lives from Dahlan and his supporters. According to the reports, Sha'ath even appealed to Hamas Prime Minister Ismail Haniyeh to beef up security at the hotel where he was staying in Gaza City, out of fear that disgruntled Fatah activists might assassinate him or members of his delegation.
Upon returning to Ramallah, Sha'ath rushed to accuse Dahlan and his supporters of plotting to overthrow Abbas. Sha'ath said that Abbas was worried about attempts to create a schism within Fatah. "All previous splits in Fatah ended in failure," Sha'ath said. "All those who did break away from Fatah were eventually forced to become agents for other countries."
In recent weeks, Abbas has taken a number of measures that reflect his increased fear of Dahlan's moves to discredit him and remove him from power. These measures include confiscating large sums of money transferred from the United Arab Emirates to Dahlan loyalists in the Gaza Strip.
More recently, Abbas spent one million dollars on a "mass wedding" of 300 Palestinians after learning that the event had been originally sponsored and financed by Dahlan.
Last week Abbas went further by threatening to expel all Dahlan loyalists from Fatah. Dahlan himself was expelled (by Abbas) from Fatah in 2011.
Palestinians in Ramallah said that the increased tensions in Fatah mean that Abbas is beginning to lose his grip over the faction -- a fact that Kerry and his team would not be able to ignore if and when they force Abbas to sign any agreement with Israel.
Today it is more obvious than ever that the challenges facing Abbas are not coming only from Hamas, but from his own Fatah faction. The serious problems that have surfaced in Abbas's back yard are, of course, very bad news for any peace process with Israel.
Once, the claim was that Abbas does not represent the Palestinians in the Gaza Strip, who are under the control of Hamas. Today, however, it is not incorrect to argue that Israel's peace partner, Abbas, does not even represent his own party.
Related Topics: Palestinian Authority | Khaled Abu Toameh receive the latest by email: subscribe to the free gatestone institute mailing list
Reader comments on this item
Comment on this item
Subscribe To Mailing List
Tweets by @GatestoneInst
Subscribe To Mailing List
Latest Articles
by Pierre Rehov
For terrorists, the death of innocent children is irrelevant. In a society that promotes martyrdom as the ultimate sign of success, the death of innocent children can sometimes even be seen as a public relations blessing.
In every action, intent is paramount. There should never be a moral equivalence painted between the deliberate killing of civilians, and a retaliation that tragically leads to casualties among civilians.
There is, however, one small difference: in the Middle East, reporters are threatened, except in Israel. Their choice becomes a simple one: promote the Palestinian point of view or stop working in the West Bank. Keep the eye of the camera dirty or lose your job. This show should not go on.
by Khaled Abu Toameh
Since 1948, the Arab countries and government have been paying mostly lip service to the Palestinians.
"They have money and oil, but don't care about the Palestinians, even though we are Arabs and Muslims like them. What a Saudi or Qatari sheikh spends in one night in London, Paris or Las Vegas could solve the problem of tens of thousands of Palestinians." — Palestinian human rights activist.
"Some Arabs were hoping that Israel would rid them of Hamas." — Ashraf Salameh, Gaza City.
"Some of the Arab regimes are interested in getting rid of the resistance in order to remove the burden of the Palestinian cause, which threatens the stability of their regimes." — Mustafa al-Sawwaf, Palestinian political analyst.
"Most Arabs are busy these days with bloody battles waged by their leaders, who are struggling to survive. These battles are raging in Yemen, Syria, Iraq, Egypt, Libya and the Palestinian Authority." — Mohammed al-Musafer, columnist.
"The Arab leaders don't know what they want from the Gaza Strip. They don't even know what they want from Israel." — Yusef Rizka, Hamas official.
by Soeren Kern
European elites, who take pride in viewing the EU as a "postmodern" superpower, have long argued that military hard-power is illegitimate in the 21st century. Unfortunately for Europe, Russia (along with China and Iran) has not embraced the EU's fantastical soft-power worldview, in which "climate change" is now said to pose the greatest threat to European security.
For its part, the European Commission, the EU's administrative branch, which never misses an opportunity to boycott institutions in Israel, has issued only a standard statement on the shooting down of MH17 in Ukraine, which reads: "The European Union will continue to follow this issue very closely."
The EU has made only half-hearted attempts to develop alternatives to its dependency on Russian oil and gas.
by Shoshana Bryen
Proportionality in international law is not about equality of death or civilian suffering, or even about [equality of] firepower. Proportionality weighs the necessity of a military action against suffering that the action might cause to enemy civilians in the vicinity.
"Under international humanitarian law and the Rome Statute, the death of civilians during an armed conflict, no matter how grave and regrettable does not constitute a war crime.... even when it is known that some civilian deaths or injuries will occur. A crime occurs if there is an intentional attack directed against civilians (principle of distinction) or an attack is launched on a military objective in the knowledge that the incidental civilian injuries would be clearly excessive in relation to the anticipated military advantage (principle of proportionality)." — Luis Moreno-Ocampo, Chief Prosecutor, International Criminal Court.
"The greater the military advantage anticipated, the larger the amount of collateral damage -- often civilian casualties -- which will be "justified" and "necessary." — Dr. Françoise Hampton, University of Essex, UK.
by Irfan Al-Alawi
"Abu Bakr Al-Baghdadi" is Abu Du'a, a follower of the late Osama Bin Laden. By adding the name "Al-Qurayshi" in his current alias, he is also seeking to affirm descent from Muhammad.
The allegation of theological sovereignty over all Sunnis extends to Indonesia and Morocco. The idea that the borders between Syria and Iraq will be dissolved by the new "caliphate" defies all Islamic theology and history. As the Qur'an states, "Allah "made the nations and tribes different." (49:13) Syria and Iraq have been distinct for millennia.
The "Islamic State" seeks to obliterate these diverse identities by expelling or killing all Shias and Sunni Sufis. And it does not invoke the Ottoman caliphate in its propaganda, demonstrating decisively the fake nature of the "Islamic State."
A caliphate is obsolete and the "Islamic State" is totalitarian. All Sunnis need to repudiate them soundly, even by force of arms.
Most Shared
Most Viewed