Libya: Jihadi Terror Leaders' Safest Haven
Translations of this item:
Libya is the new jihadist front on the Mediterranean -- and just a few hours away from the centers of Europe.

Several security sources have confirmed that Belmokhtar is still alive and has moved, along with his troops, from Mali to a new base in the Libyan desert.
The leading jihadist commander Mokhtar Belmokhtar -- also known as Khalid Abu Al-Abbas, and by his nickname "Al-A'war" ("the one-eyed") -- is hiding in Libya. From there, according to security sources quoted in media reports, he is planning to mastermind terrorist attacks against Westerners and their interests across Africa's Sahel region.
Belmokhtar, born in Algeria in 1972, and an Algerian citizen, was a key member of Al-Qaeda in the Islamic Maghreb [AQIM]. After an internal power struggle, he decided in December 2012 to form a new group, known as the Signatories in Blood.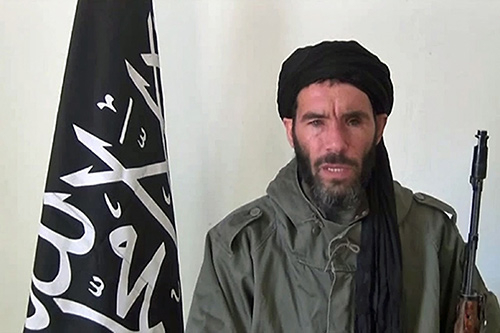 Jihadi commander Mokhtar Belmokhtar.
On January 16, 2013, armed with AK-47s and rocket-propelled grenade launchers, he led an attack against a Western-owned gas processing facility of In Amenas, Algeria. In the four-day siege of the complex, 39 hostages -- including U.S. citizens Frederick Buttacio, Victor Lynn Lovelady, and Gordon Lee Rowan -- were killed. After the assault, the U.S. State Department put a $5 million bounty on Belmokhtar.
As a former Algerian soldier with experience from training camps in Afghanistan, and as a member of the Armed Islamic Group [GIA] in Algeria, he rose quickly to the high rank of "emir" (commander). Later, he was one of the co-founders of the Salafist Group for Preaching and Combat (GSPC), which evolved into AQIM.
As a commander in AQIM, Belmokhtar conducted kidnapping operations against Westerners. Later, while in the north of Mali, fighting against Western and African military intervention in the area, he established his own group.
Although his career as a terrorist seemed to have come to an end when, in March 2013, the Chadian government announced that he had been killed in combat in Mali, U.S. intelligence and military officials were wary of confirming Belmokhtar's death.
Several security sources have confirmed that Belmokhtar is still alive and has moved, along with his troops, from Mali to a new base in the Libyan desert. Malian security sources further say that Belmokhtar intends "to control the entire Sahel from the Libyan territory."
In an interview to the Libyan press agency LANA, Malian President Boubaker Keita said that Belmokhtar represents a menace for the region. "If this news [that he is still alive] is true," he said, "we are under a serious threat. Belmokhtar is a very dangerous figure. I am sorry that he was not killed in my country as previously announced and that he managed to move to Libya. There is not going to be peace in the whole region of the Sahara as long as he is alive."
The news that he managed to escape a huge manhunt staged by the international military forces in the Sahel is doubtless helping to build him into a legend and attracting more young people to jihadism.
In addition, Libya is undergoing a period of uncertainty and weakness. The country is in a political vacuum and unable to pursue a war against terrorism. After gunmen recently attempted to attack family members of Libya's interim Prime Minister, Abdullah Al-Thani, he handed in his resignation.
The Egyptian media outlet Al-Ahram Weekly wrote that leaked reports linked the attack to pressure exerted on Al-Thani's choice of members of his cabinet. According to the article, the pressure on the former PM was to appoint certain people as Ministers of Defense, Interior and Finance, in addition to the Head of Intelligence.
One thing is certain: Belmokhtar will try to take the maximum advantage of the present Libyan instability. He knows the ground well and can rely on a local network of support.
Belmokhtar also reportedly spent several months in Libya in 2011 and received logistical aid from Islamists in Libya for the attack against the gas plant in Algeria.
Belmokhtar's presence in Libya is not only alarming -- more than anything it is a testimony that the country is becoming a safe haven for Islamist terrorists. Libya is, in fact, the new jihadist front on the Mediterranean -- and just few hours away from the centers of Europe.
Related Topics: Anna Mahjar-Barducci receive the latest by email: subscribe to the free gatestone institute mailing list
Reader comments on this item
Comment on this item
Subscribe To Mailing List
Tweets by @GatestoneInst
Latest Articles
by Steven J. Rosen
Palestinian officials have generally been silent about security cooperation with Israel. They are loath to acknowledge how important it is for the survival of the Palestinian Authority [PA], and fear that critics, especially Hamas, will consider it "collaboration with the enemy."
"You smuggle weapons, explosives and cash to the West Bank, not for the fight with Israel, but for a coup against the Palestinian Authority. The Israeli intelligence chief visited me two weeks ago and told me about the [Hamas] group they arrested that was planning for a coup... We have a national unity government and you are thinking about a coup against me." — Mahmoud Abbas, PA President, to Khaled Mashaal, Hamas leader.
According to Israeli Defense Minister Moshe Ya'alon, if the IDF leaves the West Bank, Hamas will take over, and other terrorists groups such as the Islamic Jihad, Al-Qaeda and Islamic State would operate there.
In recent months, Abbas has been making a series of threats against Israel. It could be the Israeli side that loses interest in security cooperation with the PA.
by Burak Bekdil
It was the Islamists who, since they came to power in the 2000s, have reaped the biggest political gains from the "Palestine-fetish."
But the Turkish rhetoric on "solidarity" with our Palestinian brothers often seems askew to how solidarity should be.
by Raheel Raza
One blogger writes that Malala hates Pakistan's military. I believe it is the other way around.
I would so like to see the day when Malala is welcomed back in Pakistan, with the whole country cheering.
by Francesco Sisci
Democratic evolution in China was being seriously considered. The failures of U.S. support for democracy in Afghanistan, Iraq, Egypt and Libya gave new food for thought to those opposed to democracy. Lastly, the United States did not strongly oppose the anti-democratic coup d'état that overthrew a democratically elected government in Thailand.
On the other hand, Russia -- dominated by Vladimir Putin, a new autocrat determined to stifle democracy in Russia -- provided a new model.
The whole of Eastern Europe and most of Latin America, formerly in the clutches of dictatorships, are now efficient democracies. This seems to indicate that while democracy cannot be parachuted into a country, there is a broader, longer-term global trend toward democracy and that its growth depends on local conditions.
As economic development needed careful planning, political reforms need even greater planning. The question remains: is China preparing for these political reforms?
by Peter Martino
The United Kingdom Independence Party [UKIP] not only managed to halve the Conservative vote, but also the Labour Vote and the Liberal Democrat vote.
UKIP stands for small government, low taxes, and preservation of Britain's identity and sovereignty, values that appeal to Conservative voters; and it wants to pull the United Kingdom out of the European Union. UKIP also stands for strong policies on law and order and immigration, which appeal to the traditional old Labour heartlands.
Strategically, to pick up Labour votes, UKIP would need to move to the left, but examples in France, Switzerland, Denmark and Geert Wilders's PVV in the Netherlands, show that it is possible to attract voters from both the left and the right.
Most Shared
Most Viewed