Egypt seems to be becoming increasingly worried about the growth of Islamist movements in its neighboring Libya. Recently, Egypt's military leader and presidential candidate, Abdel Fattah al-Sisi, said that U.S. military aid was needed to help rid Libya of jihadi training camps near Egypt's border. Sisi stated that unless the U.S. helps Cairo to contain civil chaos in Libya, it is likely to become "fertile ground for religious extremism." He added that such an eventuality would have a "disastrous" outcome for the U.S.
Sisi further said that by refusing to deploy Western forces to help stabilize Libya after Western militaries overthrew dictator Muammar Gaddafi in late 2011, the U.S. and other NATO members had created a political vacuum that had left Libya at the mercy of "extremists, assassins, and murderers". "History will judge you severely," Sisi said.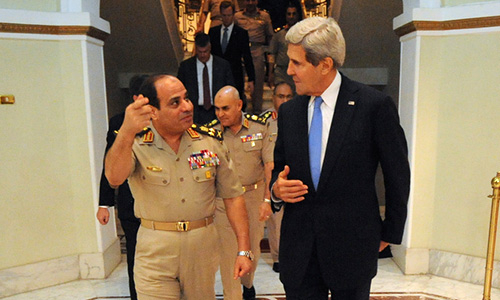 Then-Defense Minister of Egypt, General Abdel Fattah el-Sisi, speaks to U.S. Secretary of State John Kerry in November 2013. (Image source: U.S. State Department)
On April 29, Egypt's Foreign Minister, Nabil Fahmy, visited the U.S. to discuss U.S.-Egypt relations and regional developments. According to the leading Saudi newspaper, Asharq Al-Awsat, Fahmy spoke during the visit with Obama administration officials about the current situation in Libya and emphasized that Egypt's keenness on cooperating with the UN to enable the Libyan government to control illegal weapons.
Fahmy stressed, according to the Saudi daily, that one of Egypt's security concerns about Libya was the recent formation of a new Islamist movement in the country, known as the Free Egyptian Army, the goal of which is the destabilization of Egypt.
A few days earlier, on April 24, the state-owned Egyptian Al-Ahram newspaper reported that the Libyan Deputy Minister of Defense, Khaled Al-Sherif, said that the so-called "Free Egyptian Army" did not exist. "The story is untrue. We have seen no proof to the contrary," Al-Sherif said. On May 2, however, Asharq Al-Awsat reported that Egyptian security officials confirmed to the Saudi daily that the Free Egyptian Army does indeed exist.
The Free Egyptian Army is not yet organized as an army in the real sense, according to the Saudi paper, but it is a movement that can create security problems for Egypt.
Security officials said to Asharq Al-Awsat that the Free Egyptian Army is an anti-government Islamist movement, formed by Egyptian jihadists who went to fight in Syria during the time in power of former Egyptian Islamist President Mohammed Morsi, as well as by other Egyptian Muslim Brotherhood militants who fled from Egypt to Libya after Morsi was removed from power.
Sheikh Nabil Naeem, former leader of the Egyptian Islamic Jihad from 1988 until 1992 and founder of the Democratic Jihad Party, told the Saudi daily that the Free Egyptian Army consists of 600 Muslim Brotherhood militants and around 650 militants of the Khazem movement, whose Islamist leader is in jail in Egypt. There are also loyalists to Al-Qaeda's leader, Ayman Al-Zawahiri, and jihadists who were based in Sinai and ran to Libya when, after Morsi's ouster, the new Egyptian interim government began hunting down terrorists.
According to Sheikh Naeem, the total number of militants affiliated with the Free Egyptian Army is around 3000, divided into three camps in the following Libyan cities: Zintan, one of the biggest cities in north western Libya, Abu Salim, a district of Libya's capital, Tripoli, and Derna, a port city in eastern Libya, known to be an Islamist stronghold.
Egyptian security officials reported to Asharq Al-Awsat that in Derna, the Islamists who constitute the Free Egyptian Army are around 40 years old, and some are wanted in Egypt. Among its members there is also an Islamist suspected to be among the attackers of the U.S. embassy in Cairo in 2012, who was previously detained in Guantanamo.
Former Egyptian Foreign Minister Mohammed Orabi said to Asharq Al-Awsat that the Free Egyptian Army for now is just a "scarecrow." However, U.S. and NATO members need to stop the growth of terrorism in Libya now, before the Islamist groups get organized enough to ignite the region and target Western interests.