Palestinians: BDS Activists Are Troublemakers, Criminals
Translations of this item:
The Palestinian Authority's move against the BDS activists shows that it considers the movement a threat to Palestinian interests.

A Palestinian Authority official in Ramallah explained that BDS and its followers make the Palestinians appear as if they are all radicals who are only interested in boycotting and delegitimizing Israel.

"No, we do not support the boycott of Israel." — Mahmoud Abbas, President, Palestinian Authority.
At university campuses in the US, Canada, Australia and Europe, they are hailed as heroes campaigning for Palestinian rights. But in Ramallah, ironically, activists belonging to the anti-Israel Boycott, Divestment and Sanctions [BDS] movement are seen by the Palestinian Authority [PA] as trouble-makers and law-breakers.
For some PA officials, BDS is a movement that acts against the true interests of the Palestinians. They say that the actions of those promoting BDS make the Palestinians appear as if they are not interested in peace and coexistence with Israel. BDS activists in Ramallah have succeeded in preventing several planned meetings between Israelis and Palestinians in Ramallah and east Jerusalem.
The Palestinian Authority is also worried that BDS is harming the Palestinians' relations with other countries. The most recent example of BDS efforts to damage Palestinians' relations with friendly countries occurred a few weeks ago, when the "anti-normalization" activists tried to disrupt a performance by an Indian dance troupe in Ramallah.
A PA official in Ramallah explained that BDS and its followers make the Palestinians appear as if they are all radicals who are only interested in boycotting and delegitimizing Israel. "This goes against the PLO's official policy, which is to seek a peace agreement with Israel based on the two-state solution," he said.
In the first case of its kind, four prominent BDS activists this week went on trial before a Palestinian Authority court for "provoking riots and breach of public tranquility."
The four men, Zeid Shuaibi, Abdel Jawad Hamayel, Fadi Quran and Fajr Harb, were detained by PA security forces after protesting against the performance of an Indian dance troupe.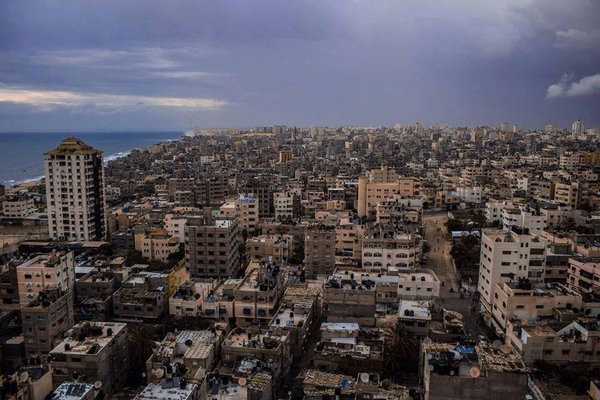 The four Palestinian BDS activists stand during their court appearance in Ramallah. (Image source: Wattan TV video screenshot)
During the show, which was attended by senior PA officials, the BDS activists protested against the presence of the dance troupe in Ramallah because its members had also performed in Tel Aviv.
The protesters accused the Indian dancers of violating their campaign for boycotting Israel, claiming that their appearance in Tel Aviv was a form of "normalization" with Israel.
The incident seriously embarrassed the Palestinian Authority leadership and resulted in a decision to prosecute the four BDS activists.
The four appeared in court on May 28 to face the charges against them. However, the trial was postponed until July 14 because state witnesses failed to appear in court.
The decision to prosecute the BDS activists has drawn strong condemnations from the anti-Israel movement and other Palestinians.
Omar Barghouti, one of the leaders of the BDS movement, said that the PA should be put on trial for bringing the four men to court. "If the four men are brought before a court, then we should prosecute the Palestinian Authority for serving the Israeli occupation's project," he said. "The decision to prosecute the four men was taken in collusion with the fierce Israeli campaign against the BDS."
Amnesty International also criticized the Palestinian Authority and called for dropping the charges against the four activists. "We urge the PA to drop the criminal charges against them and to ensure an independent and impartial investigation into their allegations of ill-treatment," Amnesty said in a statement:
Amnesty International emphasizes that peaceful expression and protest must never be punished as criminal offences and that imprisonment is always a disproportionate restriction on freedom of expression. Furthermore, the reported treatment of the four men once in custody has undermined their right to a fair trial and raises concerns that they are being punished for their political protest.
The Palestinian Authority's move against the BDS activists shows that it considers the movement a threat to Palestinian interests.
Abbas himself has come out in public against the BDS movement. During the funeral of former South African President Nelson Mandela last year, when asked about BDS, Abbas told reporters: "No, we do not support the boycott of Israel."
Abbas and the Palestinian Authority have good reason to oppose the BDS movement. BDS leaders and supporters are opposed to the PA leadership's contacts with Israelis and have often denounced Abbas for conducting peace talks and security coordination with Israel.
The Palestinian Authority has come to the conclusion that the BDS activists are in fact anti-peace extremists whose goal is to prevent any peaceful settlement between Israel and the Palestinians. The decision to prosecute the four Ramallah activists is also aimed at sending a message to BDS supporters worldwide that the movement is acting against the true interests of the Palestinians and promoting hatred and bigotry.
It now remains to be seen whether BDS supporters around the world will absorb the message and realize that apart from being anti-Israel, BDS is also an anti-Palestinian and anti-peace movement.
Related Topics: Palestinian Authority | Khaled Abu Toameh receive the latest by email: subscribe to the free gatestone institute mailing list
Reader comments on this item
| | | |
| --- | --- | --- |
| Title | By | Date |
| Excellent news [57 words] | Andy Gill | Jun 1, 2014 12:16 |
| Yeah, sure. BDS is supported and coordinated by the Palestinian Leadership, they acknowledge. [136 words] | Louis Lipsky | May 31, 2014 10:42 |
| BDS activists are trouble makers [92 words] | julea bacall@yahoo.com | May 30, 2014 19:26 |
| Fascinating [190 words] | Frumious Falafel | May 30, 2014 19:16 |
| As usual, Khaled tells it like it is [18 words] | Richard Behar | May 30, 2014 18:45 |
| BDS -- anti-Palestinian? [150 words] | Abdul Ameer | May 30, 2014 13:40 |
| Memo to Omar Barghouti, Roger Waters, Emma Thompson, Bishop Desmond Tutu (Ret.) [64 words] | Lynne T | May 30, 2014 12:31 |
| Contact Roger Waters [83 words] | Steven Buckley | May 30, 2014 11:33 |
| Their sole objective is to destroy the Jewish State [77 words] | Gordon Ross | May 30, 2014 07:34 |
| BDS [11 words] | Tony Riley | May 30, 2014 06:39 |
Comment on this item
Subscribe To Mailing List
Tweets by @GatestoneInst
Subscribe To Mailing List
Latest Articles
by Guy Millière
Belgian security services have estimated that the number of European jihadists in Syria may be over 4000.
European leaders have directed their nastiest comments against the Jewish state, none of them has asked why Palestinian organizations in Gaza put their stockpiles of weapons in hospitals, homes, schools and mosques, or their command and control centers at the bottom of large apartment buildings or underneath hospitals. None of them has even said that Hamas is a terrorist organization despite its genocidal charter.
The majority of them are wedded to the idea of redistribution. Their policies are anti-growth, do not afford people any economic opportunity, and are what caused these economic crises in Europe in the first place. The United States seems to be following these thoroughly failed policies as well.
"Europe could not stay the same with a different population in it." — Christopher Caldwell, Reflections on the Revolution in Europe.
by Raymond Ibrahim
"I abducted your girls. I will sell them on the market, by Allah... There is a market for selling humans. Allah says I should sell." — Abubakar Shekau, leader of Boko Haram.
Hillary Clinton repeatedly refused to designate Boko Haram a terrorist organization.
In Malaysia -- regularly portrayed in the West as a moderate Muslim nation -- any attempt to promote religions other than Islam is illegal.
"The reason they want to kill me is very clear -- it is because of being a convert to Christianity." — Hassan Muwanguzi, Uganda.
by Dexter Van Zile
Rev. Hanna Massad does not mention that perhaps Hamas actually wants the blockade to end so it can bring in more weapons and cement to build attack-tunnels so it can "finish the job."
Hamas does not just admit to using human shields, it brags about using human shields. Why does Massad have to inject an air of uncertainty about Hamas's use of human shields when no such uncertainty exists?
The problem is that any self-respecting journalist would confront Massad with a follow-up question about Hamas's ideology and violence, but not the folks at Christianity Today.
by Burak Bekdil
In Turkey however, the protests were not peaceful. They included smashing a sculpture than was neither Jewish nor Israeli.
It was the usual "We-Muslims-can-kill each other-but-Jews-cannot" hysteria.
If Turkish crowds were protesting against Israel in a political dispute, why Koranic slogans? Why were they protesting in Arabic rather than their native language? Do Turks chant German slogans to protest nuclear energy?
by Burak Bekdil
So in the EU-candidate Turkey, a pianist should be punished for his re-tweets, but a pop-singer should be congratulated for her first-class racist hate-speech. This is contagious.
No reporter present at Mr. Ihsanoglu's campaign launch speech thought about asking him if his commitment to the "Palestinian cause" included any affirmation of the Hamas Charter, in particular a section that says, "…The stones and trees will say, 'O Muslims, there is a Jew behind me, come and kill him.'"
Turkey is also the country where a few years earlier, a group of school teachers (yes, school teachers!) gathered in a demonstration to commemorate Hitler.
Most Shared
Most Viewed