Krugerplein, Again
There are people who see Islamic immigration as a positive thing; that it creates "cultural enrichment" and "thriving immigrant neighborhoods." This is the vision of the liberal elites. There is also the reality.
Krugerplein, or Kruger Square, in Amsterdam, the Netherlands, is now the theatre of a series of incidents, starting with a woman who hung an Israeli flag outside her window. Muslims answered by displaying "Palestinian" flags.
The woman who hung the Israeli flag, Leah Rabinovitch, is originally from Mexico, and therefore probably may not have been aware of Islamic intolerance towards all things Jewish. Her neighborhood, however, is majority "non-western immigrants," meaning mostly Muslims.
She received death threats, had stones thrown through her windows, and had a Molotov-cocktail thrown at her home. The corporate owner of her apartment ordered her to remove the flag. Israel's flag after all, is considered a "provocation."
A view of the apartment building in Amsterdam where Leah Rabinovitch lives. After hanging an Israeli flag, she was subjected to stone-throwing, a death threat and a firebombing. (Image source: AT5 News video screenshot)
Checking at Krugerplein, last week, I counted seven "Palestinian" flags – flags which are never considered a provocation, of course.
The good news is that Israel's flag is back, again enjoying the Dutch sunlight.
What is revealing, however, is not what happened, but where it happened.
Krugerplein is at the very heart of the Transvaal neighborhood [Transvaalbuurt], built a hundred years ago. The streets are all named after the heroic Boer fighters, who waged a bitter guerrilla war against the colonial superpower of those days, the British empire. The names celebrate the traditional friendship between the Afrikaners/Boers and the Dutch. President Kruger, general Botha, Orange Freestate; they are all there.
In the 1920s and 30s, Jews from the overcrowded center of Amsterdam moved to Transvaalbuurt. In pre-World War II days, it counted 17,000 inhabitants, 70% of them Jewish. There was very little interest in religion. Many of them joined "left-wing" causes. Trade unions, and socialist and communist parties flourished -- a Dutch version of the Lower East Side.
Then the Hitler socialists came. The Germans sealed off the neighborhood with barbed wire. They named it Judenviertel II, Jewish Quarter Number Two. It became a ghetto, or better: a death trap. Jews from other parts of the Netherlands were forced to move to Amsterdam, and found refuge in the Transvaalbuurt. Deportations started, July 1942. The Jews were moved to the camps, and gassed.
Older people in the neighborhood can still tell stories. How, as young children, they were told by the Germans to stay away from the windows and not to peek outside when the Jews were marched off to the nearby Muiderpoort train station. Most seniors will still weep after two sentences as they will recall their lost schoolmates, or the kids they played with.
One sunny Sunday, it was all over. On June 20, 1943 the Nazis executed their last razzia in Transvaalbuurt. The remaining 5,000 Jews were ordered to go stand outside their houses, in the burning heat, and wait for German orders. Transportation was done by freight wagons, some of them also used for transporting cattle. It took them nine hours to arrive at Westerbork, a camp near the German border. After that: Auschwitz, Sobibor, Treblinka, death.
The Germans declared the Transvaalbuurt Judenrein ["free of Jews"]. It became a small ghost town.
In 1945, people said: Never again. Seventy years later, flying Israel's flag on Krugerplein will get you stones through your window, death threats, and a Molotov-cocktail.
There are people who see Islamic immigration as a positive thing; that it creates "cultural enrichment," and "thriving immigrant neighborhoods." But this is the vision of the liberal elites.
There is also the reality.
Leah Rabinovitch will probably not remain in Transvaalbuurt forever. It is too hostile there. Going to the supermarket and having to look over your shoulder constantly, fearing Muslim aggression, is not fun. If she moves, the neighborhood is again in the process of becoming Judenrein -- another step on our way to the multicultural paradise that awaits us all.
There is not even any outrage.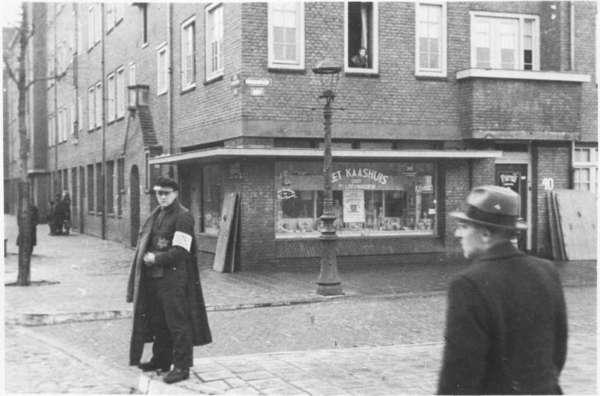 Razzia at Krugerplein, 1943. The people in the background are probably a Jewish family in front of their house, waiting for orders to march to the train station. The person on the left is a Jew from the Westerbork camp, who served the Germans as a member of the camp police. He wears a yellow star.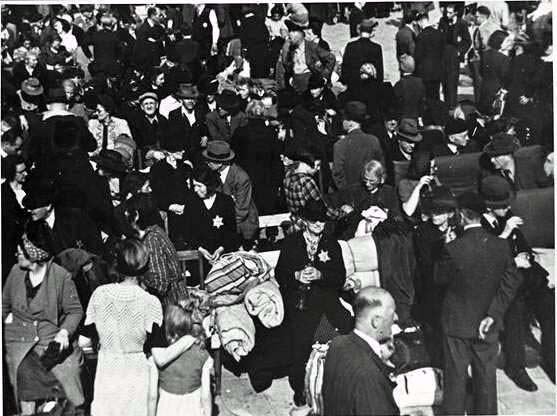 Jews from Transvaalbuurt rounded-up near Muiderpoort train station, waiting for trains to take them to the camps. Note the yellow stars!
Martin Bosma is a Member of Parliament, The Netherlands.
receive the latest by email: subscribe to the free gatestone institute mailing list
Reader comments on this item
| | | |
| --- | --- | --- |
| Title | By | Date |
| What is Europe doing? [44 words] | Elias Maurice | Aug 21, 2014 12:50 |
| Shameful [98 words] | Annette | Aug 18, 2014 16:59 |
| History Repeats [110 words] | Blanche | Aug 18, 2014 01:11 |
| Netherlands a Democratic country? [65 words] | Jerry Meents | Aug 17, 2014 17:18 |
| Tranvaalbuurt -- "open ghetto" without barbed wire [135 words] | Jerry Meents | Aug 17, 2014 16:37 |
| If We Are Doomed to Repeat History... [41 words] | Richard T. MacDonald | Aug 17, 2014 10:06 |
| May Europe wake up [12 words] | Ilana Goldstein | Aug 17, 2014 08:37 |
| krugerplein -- where is geert wilders? [117 words] | Richard Sherwin | Aug 17, 2014 01:16 |
| Molotov Cocktails? [81 words] | Interested Reader | Aug 17, 2014 00:12 |
| The Ironic Partnership between the Left and the Islamists [183 words] | David Nussbaum | Aug 16, 2014 20:46 |
| ↔ The Left [43 words] | Jon Sarvis | Aug 18, 2014 02:27 |
| History and lessons not learnt [140 words] | Fiorella massey | Aug 16, 2014 15:42 |
| Dutch MP Martin Bosma 's article is heartrending and accurate. [105 words] | Adriana Stuijt | Aug 16, 2014 14:33 |
| European Jews should pack their bags [61 words] | Christine Golden | Aug 16, 2014 12:51 |
| Jews and the EU elite. [18 words] | steven L | Aug 16, 2014 12:26 |
| the liberal elite and their true enemy: the non-liberal elite. [51 words] | steven L | Aug 16, 2014 12:20 |
| EURABIA and Bat Ye'Or's continuing relevance [32 words] | Clare Spark | Aug 16, 2014 11:25 |
| That is remarkable [14 words] | Elisheva14 | Aug 16, 2014 10:26 |
| The joys of cultural enrichment [106 words] | David Walker | Aug 16, 2014 10:18 |
| Outrage? [25 words] | Laura | Aug 16, 2014 10:11 |
| ↔ Religious Violence [59 words] | Jon Sarvis | Aug 18, 2014 02:19 |
| evil [87 words] | John Stefan Obeda | Aug 16, 2014 10:09 |
| Never Again is here again [85 words] | Leona Rund Zions | Aug 16, 2014 09:57 |
| Islamists are a Serious Danger to Western Civilization [185 words] | Scorpio | Aug 16, 2014 09:53 |
| ↔ Qualifying for citizenship? [92 words] | Gary Epstein | Aug 18, 2014 22:43 |
| Here We Go Again [131 words] | Hanna | Aug 16, 2014 09:45 |
| Wir haben es nicht gewußt [27 words] | Herman | Aug 16, 2014 08:42 |
| Netherlands [113 words] | Ben Dover | Aug 16, 2014 08:42 |
| Evil and Only Evil [36 words] | John Collignon | Aug 16, 2014 08:35 |
| Powerful background [56 words] | Philip Witriol | Aug 16, 2014 08:21 |
| Human Life / Survival [75 words] | Sylvia Wackenier | Aug 16, 2014 08:18 |
| Hitler was not alone [119 words] | Aron Simis | Aug 16, 2014 07:51 |
| Same thing in Canada [41 words] | Paul Cerar | Aug 16, 2014 07:43 |
| The Jews of Holland [110 words] | sylvie schapira | Aug 16, 2014 06:08 |
| It's a shame! [10 words] | Roald Øye | Aug 16, 2014 06:05 |
| Anne Frank wouldn't have a chance ... [65 words] | Rita | Aug 16, 2014 06:05 |
Comment on this item
Subscribe To Mailing List
Tweets by @GatestoneInst
Latest Articles
by Khaled Abu Toameh
To understand what drives a young Palestinian to carry out such a deadly attack, one needs to look at the statements of Palestinian Authority leaders during the past few weeks.
The anti-Israel campaign of incitement reached its peak with Abbas's speech at the UN a few weeks ago, when he accused Israel of waging a "war of genocide" in the Gaza Strip. Abbas made no reference to Hamas's crimes against both Israelis and Palestinians.
Whatever his motives, it is clear that the man who carried out the most recent attack, was influenced by the messages that Abbas and the Palestinian Authority leadership have been sending their people.
by Richard Kemp
Would General Allen -- or any other general today -- recommend contracting out his country's defenses if it were his country at stake? Of course not.
The Iranian regime remains dedicated to undermining and ultimately destroying the State of Israel. The Islamic State also has Israel in its sights and would certainly use the West Bank as a point from which to attack, if it were open to them.
There can be no two-state solution and no sovereign Palestinian Arab state west of the Jordan, however desirable those things might be. The stark military reality is that Israel cannot withdraw its forces from the West Bank.
Fatah leaders ally themselves with the terrorists of Hamas, and, like Hamas, they continue to reject the every existence of the State of Israel.
If Western leaders actually want to help, they should use all diplomatic and economic means to make it clear to the Palestinians that they will never achieve an independent and sovereign state while they remain set on the destruction of the State of Israel.
by Louis René Beres
The Palestine Liberation Organization [PLO], forerunner of today's Palestinian Authority, was founded in 1964, three years before Israel came into the unintended control of the West Bank and Gaza. What therefore was the PLO planning to "liberate"?
Why does no one expect the Palestinians to cease all deliberate and random violence against Israeli civilians before being considered for admission to statehood?
On June 30, 1922, a joint resolution of both Houses of Congress of the United States endorsed a "Mandate for Palestine," confirming the right of Jews to settle anywhere they chose between the Jordan River and the Mediterranean Sea. This is the core American legacy of support for a Jewish State that President Obama now somehow fails to recall.
A sovereign state of Palestine, as identified by the Arabs -- a Muslim land occupied by "Palestinian" Arabs -- has never existed; not before 1948, and not before 1967. From the start, it was, and continues to be, the Arab states -- not Israel -- that became the core impediment to Palestinian sovereignty.
by Timon Dias
It looks as if this new law is meant to serve as a severe roadblock to parties that would like to dismantle the EU in a democratic and peaceful way from within.
A rather dull semantic trick pro-EU figures usually apply, is calling their opponents "anti-Europe."
Most Shared
Most Viewed