Readers may remember a controversy reported in January. It was proposed that an international "academic" conference about the legitimacy of Israel would take place in University College Cork in the Republic of Ireland. There have been several developments in this sorry enterprise since then.
What the conference, which goes under the revealing title, "International Law and the State of Israel: Legitimacy, Responsibility and Exceptionalism", was about may be summed up in a few sentences. It has from the beginning been designed to denounce Israel as an illegal state, all under the cover of supposed neutral academic inquiry. The organizers had previously tried to hold the event at Britain's Southampton University and, reportedly, other European universities, each time without success.
The new plan was to hold the conference with virtually all the same speakers and papers at Cork's University College from March 31 to April 2 this year. When that plan became known, several people in Ireland and elsewhere, including this author, contacted the college in an attempt to persuade its administration to cancel the event. We did so on two principal grounds. One, that it proposes to be an anti-Semitic event according to the International Holocaust Remembrance Alliance definition. That definition, like two earlier international versions, includes several clauses in which overt demonization of Israel and attempts to deny the Jewish people their right to self-determination are treated as equally anti-Semitic as previous figures of speech in classical anti-Semitism. Here are the relevant clauses from that Definition:
Denying the Jewish people their right to self-determination, e.g., by claiming that the existence of a State of Israel is a racist endeavor.
Applying double standards by requiring of it a behavior not expected or demanded of any other democratic nation.
Using the symbols and images associated with classic antisemitism (e.g., claims of Jews killing Jesus or blood libel) to characterize Israel or Israelis.
Drawing comparisons of contemporary Israeli policy to that of the Nazis.
Holding Jews collectively responsible for actions of the state of Israel.
The IHRA definition has been recognized by 32 countries, including the UK and the Irish Republic.
Secondly, we argued that the unrelieved presence of speakers with documented bias against Israel -- participation in the Boycott, Divestment and Sanctions movement (including the boycotting of Israeli academics), or even more heavy-handed political involvement supporting Palestinian terrorism -- undermined the notion that this was in any sense a balanced academic event. Since the formerly-planned event was first mooted, that high level of politicization has become even more marked.
Throughout the period when protests were made, representatives of the small Irish Jewish community advanced concerns about the anti-Semitic nature of the advance, and for some time they believed they were making progress on the diplomatic front. Others engaged with the administration on this and the political level. Our efforts were confused when the existing president of the college was replaced by a new man, Professor Patrick O'Shea. This meant we had to start our representations more or less from scratch. In the meantime, the conference organizers were aware of the growing opposition to their event.
A letter advancing our two main arguments, and signed by several academics belonging to Scholars for Peace in the Middle East (SPME), was sent to President O'Shea towards the end of February. So far, no reply has been received. However, some of our joint representations seem to have made an impact. One of the things we had all emphasized was that we had no wish to prevent the organizers and panelists from exercising their right to free speech. Our problem was, and still is, that, as a thoroughly political event, the conference should not take place on the UCC campus. This seems to have made some impact. On March 8, it was announced that the event would take place, but that only one day would be held on College premises. This seemed (and as it turned out, was) a step forward. Not surprisingly, we read in the same place, that "UCC Professor of Computer Science James Bowen, who is one of the conference organisers, said he believed the university had become alarmed after pressure was brought to bear by international zionist lobby groups."
The problem, however, was not really solved by this shift. A second problem emerged, and that was the identity of the new premises. The conference is now to take place chiefly in Cork City Hall. Now that may seem an improvement, but in some ways it is even worse. Cork City Council, who have permitted the organizers to hold the event in their City Hall, has thirty-three members. These individuals represent most of Ireland's several political parties. Fifteen belong to either Fianna Fáil or Fine Gael, Ireland's two leading parties, eight are Sinn Féin, a republican party with considerable support in both the Republic and the North, three representing the Anti-Austerity Alliance (Chomhghuaillíocht in Aghaidh na Déine-Daoine Roimh Brabús (renamed Solidarity in March), a socialist party, one from the Workers' Party (Páirtí na nOibrithe), a Marxist-Leninist republican group linked to the Official Irish Republican Army (IRA), and another three with the right/far right National Party (An Páirtí Náisiúnta).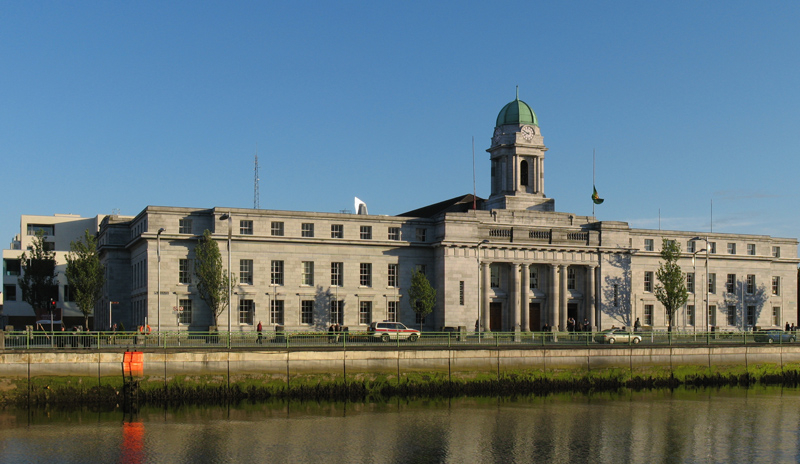 The City Hall of Cork, Ireland. (Image source: Klaus Foehl/Wikimedia Commons)
At first glance, this might seem reasonably balanced. Fianna Fáil and Fine Gael, for example, are center-right parties who dominate the Oireachtas, the two houses of the Irish Republic. In terms of Irish politics that is a reasonable state of affairs. But when it comes to Israel, a very different picture emerges.
In 2016, the ruling party, Fine Gael, joined with Fianna Fáil to agree on a "Programme for Government", committing Ireland to honor "our commitment to recognise the state of Palestine as part of a lasting settlement of the conflict". This was repeated last February, forcing the Israeli embassy to attempt a diplomatic intervention. Ireland's Foreign Minister, Charles Flanagan, declared that the country "constantly considers recognizing a Palestinian State". In the same month, Fianna Fáil voted to fast-track the motion to recognize Palestinian statehood:
Fianna Fáil foreign affairs spokesman Darragh O'Brien said the party intended to bring its motion forward by a number of weeks, and table it before party leader Enda Kenny travels to the US for St Patrick's Day in order to make the Dáil's position clear.
O'Brien, a TD [Teachta Dála, member of parliament] for Dublin Fingal, said every Opposition TD in the Dáil supported the motion, which means it will almost certainly pass, given the extreme minority nature of the government.
The motion was supported by, among many others, Fine Gael's Olivia Mitchell TD in response to the embassy's call for reconsideration. Her arguments for doing so are entirely well intended, with expressions of sympathy for Israel and condemnation of Palestinian violence, yet a poor understanding of the justifications for that violence and the total absence of legal grounds for such a unilateral recognition.
So far, the motion has not passed, and things may change should the new American administration apply pressure to prevent the move. It is not, however, in the least surprising that an Irish government would pass a motion like that so wholeheartedly. After all, links with the PLO and other terrorist groups were connived at or even encouraged by the Irish government itself:
From its inception in 1964, the PLO enjoyed generous support from the Irish government, which turned a blind eye to the IRA's growing relationship with Palestinian terrorist groups. Ireland also played a major role in the UNIFIL peace-keeping force on the Lebanon-Israel border, creating tensions between Dublin and Jerusalem.
Those ties continue. Speaking of Michael Higgins, the current Irish president (the Uachtarán na hÉireann), Shimon Samuels, the director for international relations at the Simon Wiesenthal Center, wrote:
Higgins' record is unambiguous: mourned for Arafat; denied Hamas is a terrorist organization; in 2007 shared a platform with Ibrahim Mussawi of Hezbollah's Al Manar TV; in 2008 spoke at a march surrounded by Hezbollah banners; and in 2010 proclaimed in Parliament his support for the Gaza flotilla.
Back in 2010, Vincent Dowd wrote a piece for BBC News, citing Irish senator Eoghan Harris, a rare pro-Israel voice in the Irish parliament. Harris's comments are striking:
For three years journalist Eoghan Harris has been an independent member of the Irish Senate.

How does it feel being avowedly pro-Israel in today's Republic of Ireland?

The Senator sighs. "I would probably be the only voice currently in the upper house of the Irish parliament to support Israel.

"The fact is there's a whole consensus now in Ireland against Israel."
This enduring link between Ireland and the Palestinians has been well analyzed in an article in Crethi Plethi.
Since we have mentioned the legal situation, let us go back to Cork. We have referred to Sinn Féin's membership on the Council, and it is worth a further look at the negative role this particular party and its allies have played in the debate about Israel and the Palestinians. Sinn Féin is, in reality, the political wing of the IRA, a terrorist organization that has committed many crimes in Ireland and the UK mainland. It is a revolutionary party that has linked itself to some of the most appalling regimes and organizations on the planet for many decades. Extremist Irish republicans and the IRA allied themselves with Nazi Germany and the Soviet Union, have had links to North Korea and Cuba, and have been directly involved with innumerable terrorist entities from Colombia's FARC and Baader Meinhof, to the Basque ETA and the Kurdish socialist PKK.
In the present context, however, we should note the close link between Sinn Féin/the IRA and three of Israel's greatest enemies: Hamas, the PLO, and Hezbollah. For example:
"In 2005, Sinn Fein leader Gerry Adams met members of Hamas - the largest militant group in the region - in the Palestinian parliament and laid a wreath at the tomb of the former president Yasser Arafat."
And again, from last year:
"The latest delegation to Istanbul at the weekend was headed by Sinn Fein's national chairperson Declan Kearney who met one of the main Hamas leaders, Musa Abu Marzouk, among others."
At the time, a Democratic Unionist member of the European Parliament, Diane Dodds commented: "The reality is that those they met in Istanbul have as their number one goal the destruction of the State of Israel."
It should not come as a surprise that the organizers of this anti-Israel conference chose to head to Ireland as its new venue, selecting not the leading university there, Trinity College Dublin, but a college situated in the heartland of nationalist sentiment. Nor is it strange that, having been outfoxed by the college itself (see below), the organizers put themselves in the welcoming hands of the city council, a body thoroughly in agreement with the aims of the event. Their joint purpose was to find spurious legal arguments for the delegitimization and eventual destruction of Israel. There is no other country in Europe where a conference like this could have been held under the auspices of a political body.
Ireland is a small country, Cork is a small city, and UCC ranks only at 283 in the QS Top Universities list. Given the high level of anti-Israel sentiment and activism on university and college campuses around the world, especially in the United States, we can predict that many eyes will focus on the papers delivered in Cork. Those papers have not yet been published, but a list of their titles has just been made available online. The majority are couched in the vague jargon beloved of so many modern academics, and do not give away very much about their likely contents. But several are less concealing and are worth a look:
Dr. Ghada Karmi, University of Exeter
How Legitimate is Israeli Statehood? Factors and Implications of the UN Creation of Israel
(This in itself shows a basic misunderstanding of international law. Israel was not created by the 1947 UN Partition Plan. It is founded on the San Remo decisions of April 1920, the League of Nations Mandate of July 1922 and the Covenant of the League of Nations, Article 22.)
Dr. Blake Alcott, Unaffiliated Researcher, London
Denial of Self-determination as a Sufficient Condition for Illegitimacy
(But on what grounds can one deny the legal concept of self-determination, which is one of the foundation-stones of all modern sovereign states? Chapter 1, Article 1, part 2 states that purpose of the UN Charter is: "To develop friendly relations among nations based on respect for the principle of equal rights and self-determination of peoples, and to take other appropriate measures to strengthen universal peace.")
Dr. Markus Gunneflo, Lund University
"But we have a state": The International Law of Settler Colonialism in Palestine
(Although frequently bandied about in anti-Israel circles, the concept of "settler colonialism" is meaningless in the Israel-Palestinian context. Israel is not an imperial power. The presence of Israeli settlers in Judaea and Samaria is legal under several international rulings. Settlements are not intended to create a colony, have never been declared as such by the Israeli government, and are the subject of negotiations under the Oslo Accords and UN resolutions 242 [1967] and 338 [1973].)
This use of the term is repeated in Panel 4, entitled "Zionism/Israel & Settler Colonialism: Exceptional or Typical. Here are the titles of three papers from that Panel:
Dr. Ronnen Ben-Arie, Tel Aviv University
Settler Colonialism in Palestine and the Logic of 'Double Elimination'

Prof. Nadera Shalhoub-Kevorkian, Hebrew University
Israel's Settler Colonialism, Stolen Childhood, and the Creation of Death Zones

Adv. Leah Tsemel, Israeli lawyer and human rights activist
The Israeli Legal System: The Practice and Ideology of Eternalizing the Occupation
"Death Zones"? "Eternalizing the Occupation"? Are these really papers in an "academic" conference?
There are several more of these inflammatory and ill-advised papers, with titles citing Israel "apartheid" and anti-Zionism (e.g. "Britain's Responsibility for the Apartheid in Israel-Palestine Today: From Balfour to the Nakba", "We Fight, Therefore we are! A Muslim DeColonial Critique of Zionist Epistemology", "An Essentialist Critique of Zionism", and more).
Two final points should be mentioned. The first and keynote paper is to be delivered by none other than the notorious international extremist, Professor Richard Falk, whose name may be well-known to all readers. His reputation as an apologist for dictators, Islamists, terrorists and the Palestinian hatred for Jews and Israelis goes before him. His racism has been cited as reason for the UK government to expel him from the country. He has advanced conspiracy theories about the United States and Israel. He has carried on his work against human rights and democracy through several appointments to senior positions within the United Nations, notably his function as a Special Rapporteur on Palestinian human rights.
A report by him on behalf of the UN Economic and Social Commission was published in March this year to wide acclaim. In the report, Falk condemned Israel as an "apartheid state", but his extremism was quickly identified and the entire document was withdrawn and deleted by UN Secretary-General Antonió Guterres. In consequence, Under Secretary-General and ESCWA Executive Secretary Rima Khalaf was obliged to resign her post.
There is no room here to delve further into Falk and his prejudices. But while writing these words, news has just come in that one of the two pro-Israel speakers slated to speak in Cork, Professor Alan Johnson, has withdrawn in protest at the presence of Falk as the keynote speaker. That is recognition of the fact that the tenor and purpose of the Cork conference can be summed up by Falks's role as a figurehead for anti-Israel extremism. That is a reputation it will not live down.
And just to make matters worse, University College Cork has completely distanced itself from the event by stating that the university authorities confirmed last month that "it is not a university-sponsored or promoted event". The organizers have rented a room on college premises, but they are not entitled to brand the conference as a UCC event. That must be a serious blow to their reputation as academics and to their claim that the conference is a valid commentary on the realities of Israel and the Palestinians.
Dr. Denis MacEoin shares Irish and British citizenship. A graduate of Trinity College Dublin, Edinburgh and Cambridge universities, he is currently a Senior Distinguished Fellow at the Gatestone Institute.