The passage of UN Security Council Resolution 2334 on December 23 2016 has upset more than one apple cart.[1] By declaring that Israeli settlements have no legal validity and are a "Flagrant Violation of International Law", the resolution has handed the Palestinians a weapon as powerful as any they have used against the Jewish state in their many physical attacks upon it for more than a century. Lawfare has for many years now replaced warfare (although not terror) as the Palestinian method of choice for the long-term elimination of Israel; this new resolution, even if only advisory, is a major step along the way to declare, not just the settlements but the entirety of Israel itself as illegal.
Almost all countries in the world, along with the UN, the Organization of Islamic Cooperation (OIC), the Arab League and the Socialist "Left" now consider the Zionist project to create a living space for Jews to be a colonialist conspiracy against the "aboriginal" inhabitants of a legendary state of "Palestine". They are conveniently "forgetting" – with a significant dose of anti-Semitism – that for more than 3,000 years, the "original 'aboriginal' inhabitants" were the Jews – along with Ethiopians, Nubians, Carthaginians, Phoenicians, and eventually the Romans, Christians and eventually several Arab Muslim imperialists, culminating in the Ottoman Turks. The Jews were the people who inhabited Canaan; the Jews are why Judaea is named Judaea.
An Arab "Palestine", bluntly, never existed. If the Jews do not belong in Israel, then the Europeans do not belong in New Zealand, Australia or North and South America.
It seems that US President Barack Obama, along with the UN, the OIC and much of Europe – especially France – would like to destroy Israel, and in its place create yet another mangled Syria out of whatever is left, fought over by a mixture of sects, terrorist organizations and political factions.
The truth is that the resolution is itself a violation of international law as it has existed since 1920, when a resolution of the League of Nations conferred on the Jewish people the right to establish a permanent homeland in the southern portion of the former Ottoman province of Syria, temporarily re-named "Palestine". Since then, numerous agreements and UN resolutions have confirmed that Israel has rights to territory in the West Bank and that far from all of its settlements are illegitimate at all – as this new resolution pretends.
There can be no doubt, however, that this malicious and legally questionable resolution takes lawfare to a new level and that it will form the basis of all future attempts to cancel out the very right of Israel to exist or for the Jewish people to hold on to their ancestral homeland – a direct and inflammatory contradiction of the right to self-determination for the world's peoples since the late eighteenth century and enshrined in international law within the Charter of the United Nations.
Israel's legality as a sovereign state is now threatened by a deep misapprehension and distortion of the law as much as it was challenged by the wars and intifadas waged against it since 1947/1948. This means that the peace process, through direct negotiations between the chief parties, will be consigned to the dustbin of history. Resolution 2334 has handed the Palestinians all they want without their having to lift a finger. Instead of balanced negotiations, they will now entrust their case to the international lawyers and academics at a biased United Nations.
A major impetus for this spawning debate within international legal circles, a debate that will be deeply informed by Resolution 2334, will be given early in 2017 over three days at a conference at University College Cork in the Republic of Ireland – a country already well known for the strength of its anti-Zionist and anti-Semitic sentiment.[2]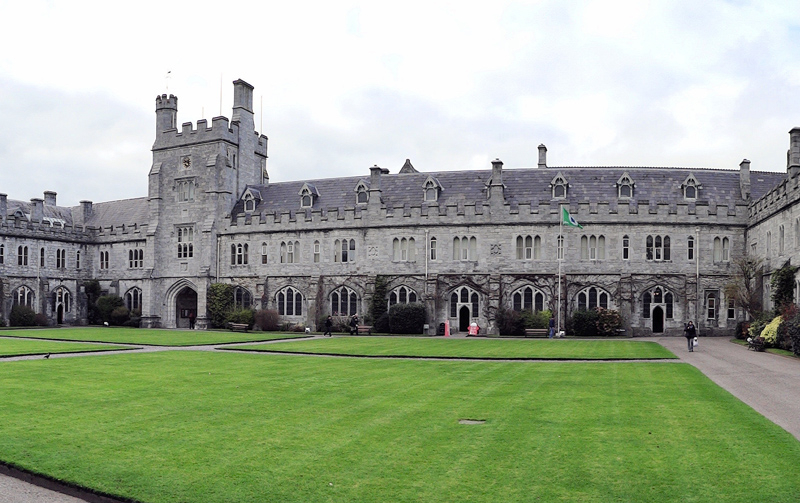 University College Cork, in Ireland. (Image source: Bjørn Christian Tørrissen/Wikimedia Commons)
This upcoming conference is not a tiny affair in a minor college in a little-known university.[3] Titled, "International Law and the State of Israel: Legitimacy, Responsibility and Exceptionalism", it is a thoroughly international gathering of, for the greatest part, academics who are also anti-Israel activists. Speakers will come from around the world: 18 from the United Kingdom, 8 from the United States, 8 from Israel and the West Bank, one each from Qatar, Lebanon, Austria, the Netherlands, Australia, Singapore, and Canada, and just two from Ireland itself.
This will not be an academic conference in any real sense of the word. It is, from the outset, a hate-fest of international anti-Zionist, anti-Israel and anti-Semitic rhetoric and distortion. It is totally without balance. Out of a list of 47 participants, only two (Professors Alan Johnson and Geoffrey Alderman from the UK) have a record of support for Israel and the Jewish people. That makes 45 to two. Some of those 45 will be more vehement than others in their criticism of Israel, but none, so far as is known, is wholly without some degree of association with bias. How do we know this? First, because a significant majority of the participants have made no secret of their support for the boycott of Israeli academics. A boycott that in itself strips from the conference any semblance of academic neutrality.
The three-day conference (March 31 to April 2) is, in fact, an attempt to bring back to life an earlier conference bearing the same name that was planned to take in Southampton University in the UK in April 2015. Despite protests from many academics and Jewish organizations, the Southampton conference would have gone ahead; but it was argued that Zionists might descend in large numbers and create havoc (even though no such physical protest had been planned). This led to concerns about security, leaving the conference organizers to foot a high bill for private security measures. The conference was then cancelled by the university on security grounds, and not on concerns about anti-Semitic prejudice or academic balance.
Here is the purpose of the conference as set out in 2015. Its one-sidedness is visible in every word:
This conference will be the first of its kind and constitutes a ground-breaking historical event on the road towards justice and enduring peace in historic Palestine. It is unique because it concerns the legitimacy in International Law of the Jewish state of Israel. Rather than focusing on Israeli actions in the 1967 Occupied Territories, the conference will focus on exploring themes of Legitimacy, Responsibility and Exceptionalism; all of which are posed by Israel's very nature.

Speakers and panels:

The conference aims to explore the relatedness of the suffering and injustice in Palestine to the foundation and protection of a state of such nature and asks what role International Law should play in the situation.
It is clear that speakers intended to question the very right of Israel to exist, meaning that they would question the very right to self-determination of the Jewish people. As David Collier, author of the "Beyond the Great Divide" blog and one of Britain's outstanding researchers and commentators, put it: "the conference is likely to be a disgusting, pre-written, anti-Semitic diatribe". Collier himself put in an inordinate amount of work investigating the conference itself and its proposed speakers, work that revealed the true nature of the enterprise and the anti-Israel careers of most of those listed for the panels. Everyone involved in the response to the conference remains deeply grateful to his endeavours.
Prominent at Southampton, and again planning to address the conference, were some of the leading academic activists working both in the universities and outside for the destruction of Israel, regardless of whether that means the expulsion or genocide of the country's Jewish population. Most readers will recognize at least a few of the names, each one being notorious internationally for their role in harrying Israel and Israelis.
The first name on the program for the Cork conference is none other than Richard Falk of Princeton and the University of California. Here is David Collier's assessment: "[Falk] has compared Israel's policies to the Nazis' and wrote an article called 'Slouching toward a Palestinian Holocaust'. Actively supports the boycott, calling it a 'civic duty'."
In "Slouching toward a Palestinian Holocaust" (2007), Falk compared some Israeli policies with regard to the Palestinians to the Nazi record of collective punishment, warning (unbelievably) that Israel may be planning a Holocaust in the same way Nazi Germany did.
Collier provides a link to a very detailed and well-sourced article about Falk on Wikipedia. Here we may find information on Falk's repeated influence on the UN Human Rights Council (for whom he acted as a Special Rapporteur), accusing Israel of apartheid, war crimes, and ethnic cleansing. It is arguable that he has done more than any other figure to inspire loathing for Israel worldwide.
After Falk on the Cork program comes Ilan Pappé, notorious for his writings on Palestinian refugees and the wrongdoings of Israel. Based in Britain's University of Exeter, he has taken serial advantage of the academic freedom he enjoys there to promulgate his one-sided accounts. According to Collier, Pappé "Hardly needs an introduction, also described as an activist. He is the author of The Ethnic Cleansing of Palestine (2006). Firmly believes Israel is racist, apartheid, an ethnically cleansing state and so on. Actively supports the boycott."
Another participant with extreme views is Dr. Anthony Löwstedt of Webster University, Vienna. Collier describes him thus:
Lowestedt claims that 98% of all gross human rights violations so far committed in the Palestinian-Israeli conflict are sole responsibilities of the Israeli Jews, and talks of Israeli apartheid. In that piece Lowestedt claims that "the Israel lobby does not take it well that students are still to some extent being told and taught the truth about Israel and Palestine". He references "The Israeli state death squads" and claims that "In many cases, it is enough for a Palestinian to get killed if s/he even looks at a military installation or a soldier the wrong way". He claims "the supreme goal is to ethnically cleanse the Palestinians from Palestine" although while in Israel he "did not get to discuss this matter in detail with Israelis". Riddled with inaccuracies such as "you must be a Jew to serve in the Israeli army and if you are not a Jew you cannot serve in the army", distortions and statistical headstands, these pieces show that Lowstedt's opinion is driven fiercely by his internal clock rather than through some academic process of research.
Professor George Bisharat of the Law University of California is on much the same level. Collier describes him as follows:
Bisharat is a Palestinian-American professor of law who clearly supports a one state solution. He believes Israel is committing war crimes and calls for a boycott of Israeli apartheid. Bisharat continually uses Nazi references, talks of massacres and master plans and frequently addresses complex historic events with simple sound bites, one sided propaganda, and outright distortions.
One of the key organizers of the event, Professor Oren Ben-Dror of Southampton University, is described by sources cited in Wikipedia as follows:
Ben-Dor is a former Israeli, born in Nahariya in northern Israel. He has supported academic boycotts of Israel universities, writing that those on the Israeli "left" who oppose it are "sophisticated accomplices to the smothering of debate." He has written about alleged apartheid in Israel, bias in Israel's education system, the ethical and legal challenges facing Palestine, and the use of violence by the Israeli state.

As a contributor to the newsletter CounterPunch, he has written against Israel's role in the 2006 Lebanon War and in the Gaza War of December 2008 to January 2009. Criticizing Israel's tactics against Hamas, Ben-Dor wrote that "assassinating individual members of Hamas, even toppling the organisation, destroying its infrastructure and buildings, will not destroy the legitimate opposition to the arrogant and self-righteous Zionist entity." In 2007 he joined a number of intellectuals and activists in signing a "One State Declaration" which calls for one democratic state in the whole of Israel and Palestine. He has supported that alternative in public debate. Ben-Dor has engaged in academic debate with Oren Yiftachel in the journal Holy Land Studies regarding the one-state solution.
A full list of participants from Southampton, most of whom will reappear in Cork, is provided by Collier here, along with comments on their political views and actions.
The conference that is planned for University College Cork can by no description be called an academic conference. Its gross imbalance, the presence of an overwhelming number of outright political activists, its association with organizations like the Palestine Solidarity Campaign, the participation of so many academics who support the boycott of Israeli academics (itself a direct rejection of genuine academic values including academic freedom), and its creation of a highly-charged atmosphere into which many bona fide academics, the present writer included, would fear to enter – all these are clear indications of the event's total lack of credentials for academic standing. This conference is an outright attack on everything academic work is about. Many are already protesting in the hope that UCC can be persuaded to recognize the threat to scholarship that such a conference poses for academic teachers and researchers everywhere. Like its predecessor, the Southampton Conference of 2015, it deserves to be cancelled.
Dr. Denis MacEoin is an Irish academic specializing in Middle East and Islamic studies and pro-Israel advocacy, and is a Distinguished Senior Fellow in the Gatestone Institute. He lives in the North of England.
---
[1] For a thorough, learned, and precise refutation of the resolution, see UN Watch's long letter to US Ambassador to the UN, Samantha Power.
[2] By "anti-Semitic" I mean the setting of double and unfair standards for the State of Israel as defined in the U.S. State Department's Definition of Anti-Semitism and the similar Definition by the International Holocaust Remembrance Alliance, recently adopted by the United Kingdom.
[3] The National University of Ireland (Ollscoil na hÉireann) has four constituent universities and three constituent colleges. UCC is the five-star constituent university.