The clear victory on May 19 of incumbent Iranian President Hassan Rouhani over his key rival, Ebrahim Raisi -- the candidate supported by Supreme Leader Ayatollah Ali Khamenei and the Islamic Revolutionary Guard Corps (IRGC) – indicated that voters were concerned above all with the economy. Raisi, an extremist and isolationist like Khamenei, was the candidate who represented hardline power politics and Middle East hegemony.
It was during Rouhani's first term in office that the nuclear deal, the Joint Comprehensive Plan of Action (JCPOA), was signed between Iran and six world powers. This not only led to the lifting of crippling international sanctions from the regime in Tehran, but seemed to signal an effort to renew diplomatic and commercial ties the West.
Iran initially benefited greatly from the JCPOA. From the document's signing in July 2015 and up until early 2017, dozens of delegations from Western countries visited Iran, and hundreds of economic memoranda of understanding were reached.
Excitement could be felt within and beyond Iran's borders. Despite his decades as a prominent member of the mullah-led regime's security apparatus, President Rouhani was and largely still is viewed in the West as a moderate. In addition, the appetite of Iran's 80 million-strong consumer market for Western goods was high, as was the need for Western investment and technology to rebuild Iran's outdated infrastructure. Meanwhile, Western companies were eager to enter the potentially lucrative market, imagining post-JCPOA Iran to be like the mythical Spanish city of gold, El Dorado.
The fantasy, however, never materialized. The wave of signed agreements fizzled out, and although oil exports did reach pre-sanctions levels, Iran's poor legal structure, strangling regulations, corruption and mismanagement hampered economic growth.
Furthermore, although Rouhani's most important achievement was drastically to lower inflation, this had the terrible side-effect of skyrocketing the unemployment rate.
In addition, a tsunami of bankruptcies swept away hundreds of businesses. In the past two years, at least 14 out of 31 private and government banks have gone under, as have 16 out of 20 pension funds.
Undoubtedly, a contributing factor to Iran's economic failure is the refusal of major European banks to finance trade deals, coupled with an extension of American sanctions and the suspicious attitude of U.S. President Donald J. Trump.
The true culprit, however, is Iran itself, whose internal barriers make a flourishing economy a pipe-dream. These include: the absence of free-market competition, due mainly to the monopoly of conglomerates affiliated with Khamenei and the IRGC over a huge sector of the country's economy, which affects at least half of its GDP; the precariousness of the rule of law; the deterioration of human rights; and the exorbitant cost of military intervention in Syria, Yemen and Iraq, as well as the bankrolling of the Lebanon-based Shiite terrorist organization Hezbollah and other regional proxies.
It is safe to assume, therefore, that despite Rouhani's re-election, prospects for economic recovery are bleak and will remain so until Iran's strategic political trajectory undergoes a complete transformation.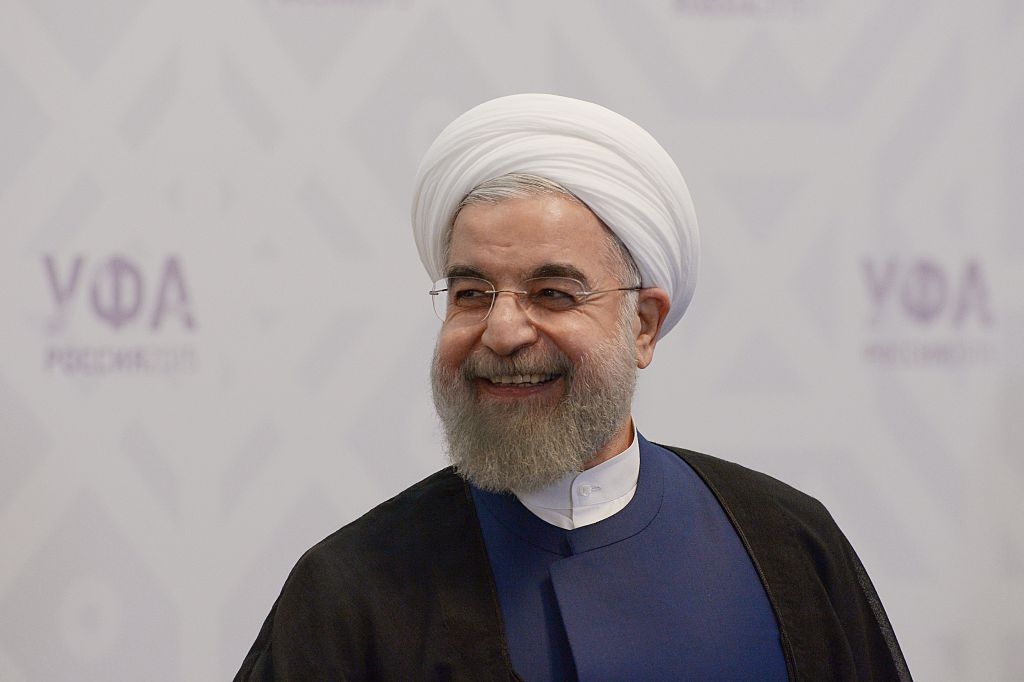 Iran's President Hassan Rouhani. (Photo by Sergey Guneev/Host Photo Agency/Ria Novosti via Getty Images)
Mohammad Amin, born in Tehran, is a prolific author and expert in Iranian international affairs, and a fellow researcher at the Foundation of Studies for the Middle East (FEMO) in Paris.