At an Israeli Independence Day event in Washington, D.C. on May 2, on the eve of Palestinian Authority President Mahmoud Abbas's meeting at the White House, National Security Adviser H.R. McMaster referred to U.S. President Donald Trump as "not a super patient man," who "does not have time to debate over doctrine."
McMaster then said that those who call Trump "disruptive" are right, "and this is good... because we can no longer afford to invest in policies that do not advance the interests and values of the United States and our allies."
This was echoed by former U.S. Secretary of Defense Robert Gates days before Trump embarked on his first foreign trip to Riyadh, Jerusalem, Bethlehem and the Vatican -- albeit in relation to Pyongyang. In an interview with CBS News' "Face the Nation" on May 14, Gates said:
"There is a need for disruption. We've had three administrations follow a pretty consistent policy toward North Korea, and it really hasn't gotten us anywhere... [T]he tough talk on North Korea, the military deployments, sending the missile defense system to South Korea ... [Trump has] gotten China's attention to a degree that his predecessors have not."
However, Gates cautioned, "[T]here's the risk of being too spontaneous and too disruptive where you end up doing more harm than damage. And figuring out that balance is where having strong people around you matters."
In the first place, although Washington and Riyadh have clear common interests -- one realizes that although preventing Iran's imperialist expansion and nuclear program is of paramount importance -- it is crucial to remember that they share few values. Saudi Arabia is an absolute monarchy. It is the cradle of Wahhabism, a particularly closed form of fundamentalist Islam. It has an abysmal human-rights record, denying its subjects and citizens civil and religious liberties. Such issues may be internal, but they have serious implications for America and the rest of the world.
Secondly, uncritical and unconditional U.S. support for the Saudis cause many Arab and Muslim states to accuse Washington of double standards -- accepting from Riyadh what it claims to reject from other Middle East regimes. It also leads them to view Saudi Arabia as a hypocritical American proxy in the Islamic world. The kingdom is unable to make the ideological argument against terrorist organizations such as al-Qaeda and ISIS, as according to its own religious ideology, the Quran prohibits Muslims from allying with non-Muslims.
Further, although Saudi Arabia is considered, even by Israeli officials, as a leading moderate Arab country, its version of Islam and its political regime are fiercely radical, suppressive, and xenophobic. It was ironic that Trump's address to the Arab Islamic American Summit at the King Abdulaziz Conference Center in Riyadh on May 21 was devoted to combating practices in which the House of Saud itself engages.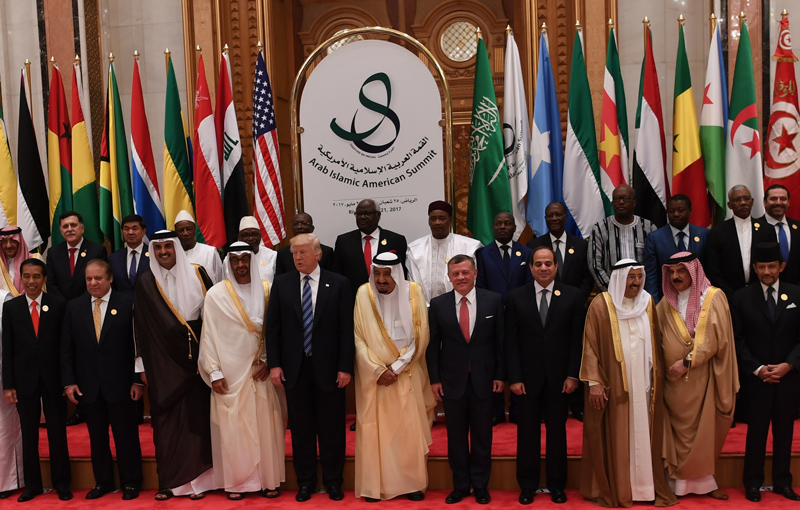 U.S. President Donald Trump and other Arab leaders attend the Arab Islamic American Summit in Riyadh, Saudi Arabia on May 21, 2017. (Image source: Thaer Ghanaim/PPO via Getty Images)
This is where the "disruptive" approach comes in, but it is neither needed nor recommended in relation to consensus issues, such as stopping Iran's nuclear program and restarting Israeli-Palestinian peace talks. Instead, "disruption" should be used by the U.S. to encourage Saudi normalization with Israel; to minimize Saudi interference in the domestic affairs of its neighbors, and to curb its hawkish ambition to become a regional superpower.
It is precisely this type of "disruption" that is required to overcome the policy of previous American administrations, which -- in the words of McMaster -- "do not advance the interests and values of the United States and our allies."
A.Z. Mohamed is a Muslim born and raised in the Middle East.