The most iconic moment of President Donald Trump's visit to the Middle East was not his "speech on Islam"; it was his visit to the Western Wall in Jerusalem.
The Western Wall is a contested space, and that controversy has bled outside Israel's borders. U.S. Secretary of State Rex Tillerson recently reignited the debate, mentioning the Wall as being in "Jerusalem", instead of in Israel. It is a play on language often used to deny Israeli sovereignty over a space that clearly belongs to the Jewish people, as the U.S. Ambassador to the United Nations, Nikki Haley, quickly rectified in response.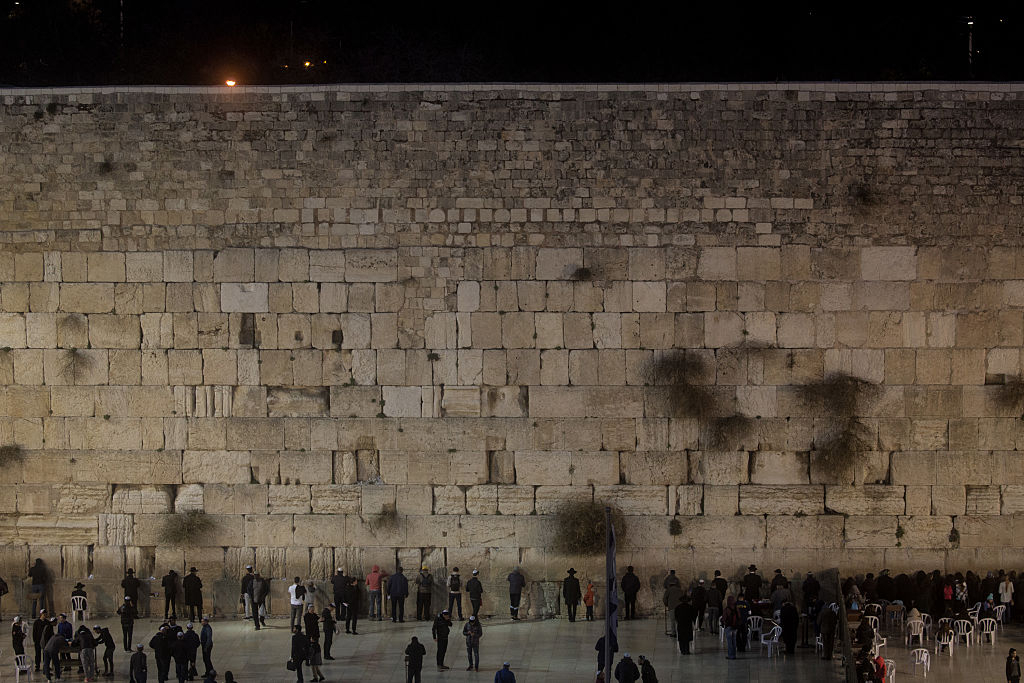 U.S. President Donald Trump's visit to the Western Wall in Israel was the most iconic moment of his recent visit to the Middle East. (Illustrative photo by Chris McGrath/Getty Images)
How we talk about religion matters. If we want to be effective in moving forward, it is important to be truthful. The truth is that Israel won the Six Day War, thereby liberating eastern Jerusalem from Jordan, which had seized it illegally when it attacked Israel in 1948-49 and expelled all Jews from eastern Jerusalem.
Israel has earned the right to reclaim Jerusalem fully. This also means that the Palestinians and other powers such as the Organisation of Islamic Cooperation (OIC), the UN and domestic interest groups do not get a veto over reality. If the new foreign policy standard is to work together to combat destructive forces, then it is also important to recognize that it is destructive to start a discussion from positions of falsehoods.
If we are going to "reset" the Middle East, we need to reset our thinking as well, starting with accepting that Israel has a right to exist. That includes confronting calls for the annihilation of the Jewish people, and contesting the dishonest re-imagining of borders that quite literally erase Israel from the map. Israel exists, and Israel has a legitimate claim to Jerusalem. Further, the Jewish people have proven themselves as more capable custodians of Jerusalem than their Muslim neighbors, who are already burdened by challenges in their own territory.
The world also needs to stop aiding the Palestinians in believing they have not lost the war. For the Palestinian people to build a vibrant society of their own, the world needs to abandon the collection of fantasies it has allowed the Palestinians to keep. There is no "right of return" and the dismantling of all settlements is not possible, especially if the entire state of Israel is regarded by many as one big settlement.
Then there is the issue of Temple Mount in Jerusalem. Muslim devotion to the Temple Mount stems from a story in which the Islamic Prophet Muhammad is said to have dreamt traveling from Mecca to Jerusalem to the Heavens beyond space and time (and back) all in one night. The tale of the night ascent is a spiritual journey with only brief mention in the Quran, while second-hand sources in hadiths colored in the rest of the story years after the prophet's death. The Temple Mount rests on historically Jewish territory. It is a generosity to allow it to remain under Muslim control, especially when the claim to the territory is based on a dream the Quran touches on only briefly. Typically, a dream does not secure land rights (even in centuries prior). A person cannot reasonably expect to get a key and deed to another person's home simply because they dreamed they visited it. It is an absurd claim.
Critical Muslim thinkers drive out fantasies from our faith. Alongside us, the world must drive out the fantasy that Jerusalem is not Israel's capital. Jerusalem is the heart and soul of Israel. To deny Jerusalem as a part of Jewish and Israeli identity is the same as denying Mecca as inherent to Muslim identity.
Finally, the world must drive out the belief that Palestinians do not have to make peace with Israel. It is abusive and counter to the interests of a future thriving Palestinian society to indulge in a warring fantasy that Israel can be destroyed. Instead of fetishizing the destruction of Israel, Palestinians would truly improve their lives if they started working to rebuild their own society rather than take on additional territory that could be governed or cared for with the respect and sanctity for history that Jerusalem deserves.
Palestinians would be better served addressing bedrock issues in their own society, including holding their people accountable for the hate indoctrinated into the hearts and minds of every Palestinian as soon as they learn to walk and talk. Stop financially supporting families of terrorists. Stop calling terrorists martyrs. Stop sacrificing your children and celebrating their deaths.
Shireen Qudosi is the Director of Muslim Matters, at America Matters. Follow her on Twitter @ShireenQudosi.