Hard on the heels of Palestinian Authority (PA) President Mahmoud Abbas's assurances to US President Donald Trump that he is raising Palestinians on a "culture of peace," he continues to glorify terrorists who have Jewish blood on their hands.
Abbas, who met with Trump in Bethlehem on May 23, told reporters that he was committed to working with the new US administration to achieve a "historic peace deal with Israel." Abbas also announced his readiness to become a "partner in the war on terrorism in our region and the world." He claimed that he and his Palestinian Authority have been promoting "tolerance and coexistence, and spreading a culture of peace and renouncing violence."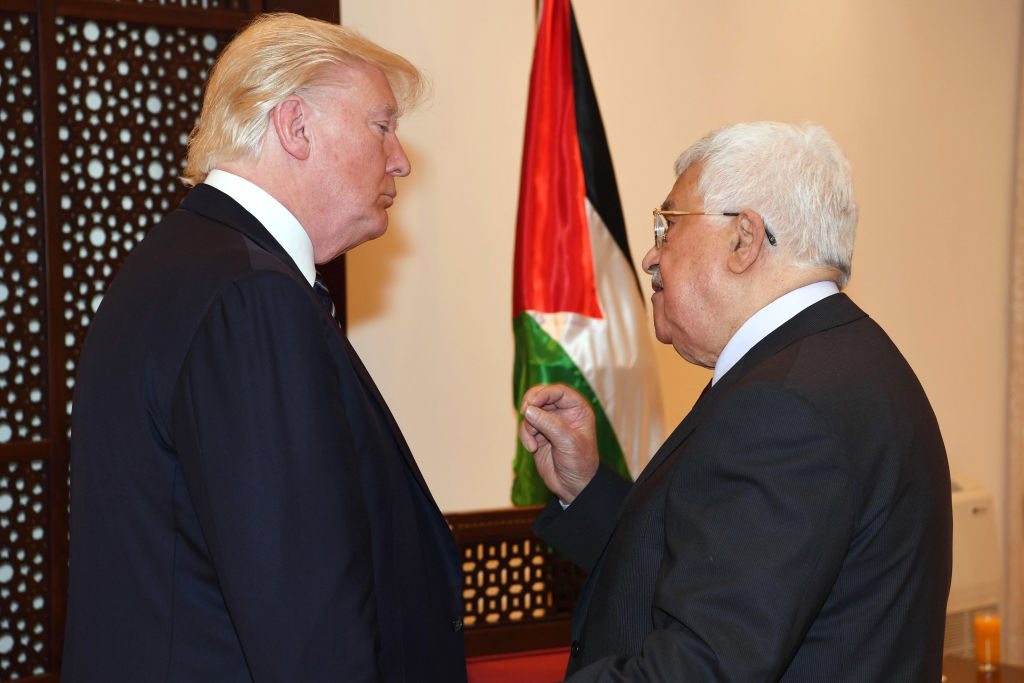 US President Donald Trump talks with Palestinian Authority President Mahmoud Abbas on May 23, 2017 in Bethlehem. (Photo by PPO via Getty Images)
Abbas's sweet talk, however, did not last long. Just hours after Trump left the region, Abbas and his PA returned to their anti-Israel incitement. This stands in blinding contrast to what Abbas told Trump and his Middle East envoy, Jason Greenblatt, with whom Abbas met 48 hours after his get-together with Trump in Bethlehem.
At a meeting of Fatah leaders in Ramallah on May 25, Abbas described Palestinian prisoners held by Israel as "heroes."
His remarks came in response to the hunger strike of more than 1,000 Palestinian prisoners, many of whom are serving lengthy terms for murdering or wounding hundreds of Israelis. The hunger strike, which began on April 17, is led by Marwan Barghouti, a senior official with Abbas's Fatah faction who is serving five life terms in prison for his role in a spate of terror attacks that killed five Israelis during the Second Intifada (2000-2005).
Referring to the convicted terrorists as "our heroes," Abbas lashed out at the Israeli government for its refusal to surrender to the demands of the hunger strikers.
"We will stand with them and support them," Abbas said, referring to the convicted terrorists. "We will emerge triumphant and we won't allow [Israel] to defeat or humiliate the prisoners."
Abbas's powerful message flies in the face of his promise to Trump and his representative, Jason Greenblatt, to cease all forms of incitement against Israel.
By describing the convicted terrorists as "heroes," Abbas is in fact sending a message to all Palestinians that murdering Jews is a noble and heroic act.
Such rhetoric prompts Palestinians to launch terror attacks against Israelis. It is a clear call by Abbas for Palestinians to follow in the footsteps of terrorists and murderers.
Is this Abbas's way of promoting a "culture of peace" among his people? Is this his version of encouraging Palestinians to renounce violence?
Less than 24 hours after the Abbas-Trump meeting in Bethlehem, in which he promised Trump and envoy Jason Greenblatt to cease all forms of incitement against Israel, the PA government in Ramallah resumed its vicious rhetorical attacks on Israel.
The attacks came in response to celebrations marking the 50th anniversary of the liberation and unification of Jerusalem. They also came in response to routine and peaceful visits by Jews to the Temple Mount in Jerusalem.
In a statement issued by the Palestinian Authority on May 24 that is reminiscent of a medieval blood libel against Jews, Israel was accused of perpetrating "black crimes" against Jerusalem and Palestinians and of defiling Islamic holy sites in the city.
It described the Jews visiting the Temple Mount as "extremist settlers" and falsely claimed that they were deliberately targeting the Al-Aqsa Mosque (on the Temple Mount). In fact, Jewish visitors never enter the mosque.
It is precisely this kind of rhetoric that drives Palestinians to launch knife and car-ramming attacks against Israelis. For the past year and a half, Abbas and his PA officials and institutions have been waging a poisonous campaign of incitement surrounding peaceful, permitted Jewish visits to the Temple Mount. The incitement has resulted in a wave of terror attacks against Israelis. How does this fit in with promoting peace?
Abbas's prime minister, Rami Hamdallah, both before and after the meeting with Trump, has also joined the chorus of glorifying convicted terrorists.
In a statement on May 25, Hamdallah, who is often referred to by Westerners as a moderate and pragmatist, stated: "We salute the legendary steadfastness displayed by the knights of freedom, our heroic prisoners."
Like his boss, Abbas, Hamdallah also strongly condemned the Israeli government for failing to comply with the hunger strikers' demands, which include increased family visitations, allowing inmates to have a photograph with their families every three months, installing more TV channels and air conditioning in their cells, and increased access to university studies.
Hamdallah and Abbas are sending precisely the same message to the Palestinians: if you murder a Jew, you earn the title of "knight of freedom." In other words, Hamdallah, too, is urging Palestinians to engage in acts of violence against Israelis.
One wonders exactly how Abbas and his officials will explain these statements to Trump and the U.S. Administration.
Experience has shown that the glorification of terrorism and jihad (holy war) only serves to encourage more Palestinians to take to the streets and stab or run over with their cars the first Jew they see.
The Palestinian denial of Jewish ties and history to the land also continues full blast, despite Abbas's pledge to Trump that Palestinians are not in conflict with Jews or Judaism.
Hours after Trump left the region, Abbas's spokesman, Nabil Abu Rudaineh, issued a statement that pointedly ignored any Jewish links to the land. "East Jerusalem, with its Islamic and Christian holy sites, will remain the eternal capital of the State of Palestine," Abu Rudaineh announced. Note his deliberate omission of any reference to Jewish holy sites in the city.
This is neither a slip of the tongue nor a poorly-worded statement on the part of Abbas's spokesman. Rather, it is an intentional denial of Jewish rights to Jerusalem, including the Western Wall, which Palestinians refer to as an integral part of the Al-Aqsa Mosque and claim has no significance to Jews. This has always been part of the Palestinian strategy -- to deny Jewish rights and to delegitimize Israel.
Like his boss, Abbas, however, Abu Rudaineh seems to have a good sense of humor. He has called on Israeli Prime Minister Binyamin Netanyahu to "stop his daily incitement against Palestinians and their leaders." And what is the content of Netanyahu's "incitement"? His statement that a united Jerusalem will remain the undivided capital of Israel.
In the view of Abbas's spokesperson, such a statement is clear "incitement" -- not the glorification of terrorists, not the incendiary anti-Israel rhetoric and not the continued denial of Jewish history and rights.
President Trump's visit to Israel proved to be yet another opportunity for Abbas and his Palestinian Authority to practice once again their skills of deceit and deception. In English, everything sounds great. In Arabic, however, the messages sent by Abbas to his people take on the unmistakable ring of hate.
Bassam Tawil is a scholar based in the Middle East.