Who says that Palestinian Authority President Mahmoud Abbas does not condemn terror attacks against civilians?
As it turns out, he and his Palestinian Authority (PA) do indeed condemn terrorism -- when it is directed against anyone but an Israeli. Israeli blood, it seems, is different.
Abbas led the international outcry after the June 3 London Bridge terror attack that left seven people dead and 48 injured.
A brief statement issued by Abbas's office read:
"The President of the State of Palestine, Mahmoud Abbas, on Sunday condemned the terror attack in the British capital of London. His Excellency (Abbas) offered his deep condolences to Britain - its queen, government and people, and to the families of the victims of the terror assault. He affirmed his permanent rejection of all forms of terrorism."
This statement is in line with others Abbas has made recently. Just two weeks ago, Abbas, during a joint press conference with visiting U.S. President Donald Trump in Bethlehem, condemned the May 23 terror attack in the British city of Manchester, the deadliest attack in the United Kingdom since July 7, 2005, in which 23 people were killed and 119 were injured, 23 critically.
Abbas described the terror attack as a "heinous crime" and said that the Palestinians were prepared to work with the U.S. as "partners in the war on terrorism in our region and the world."
Two days later, Abbas was among the first leaders to condemn a terror attack that killed 28 Coptic Christians in central Egypt. Once again, Abbas said that he and the Palestinians stood with Egypt and its president, Abdel Fattah al-Sisi, in the war against terrorism.
This verbal charade has been going on for some time.
Last April, Abbas was quick to condemn the terrorist attack that took place on the Saint Petersburg Metro, in Russia, in which 15 people were killed and 45 injured. Abbas, in a letter to Russian President Vladimir Putin, said that he and the Palestinians support Russia in its war against terrorism.
Abbas also ran to condemn the wave of terrorist attacks that has hit Belgium, France and Germany in the past two years. This apparent repudiation of terrorism is a startling development for Abbas. The only catch is that when it comes to Israel, Abbas takes quite the opposite line.
For the past two years, Palestinians have been waging a new type of "intifada" against Israel -- one that consists of knife and car-ramming attacks, similar to the ones carried out in Britain, France and Germany. This wave of attacks, which began in September 2015, has claimed the lives of 49 people and injured more than 700. Since then, Palestinians have carried out more than 177 stabbings, 144 shootings and 58 vehicular attacks.
This wave of terrorism is the direct result of incitement by various Palestinian groups and leaders, including Abbas himself.
Days before the violence erupted, Abbas stated:
"Every drop of blood that has been spilled in Jerusalem is holy blood as long as it is for Allah. Every martyr (Shahid) will reach paradise, and everyone wounded will be rewarded, Allah willing. The Al-Aqsa Mosque is ours, and they [Jews] have no right to defile it with their filthy feet. We will not allow them to [defile it], and we will do everything in our power to protect Jerusalem."
A few days later, Palestinians heeded Abbas's call by launching the newest wave of terrorist attacks against Israelis. These deadly attacks continue until this day. Abbas's remarks served as a catalyst for the new "intifada", one that is precisely parallel to the attacks we are witnessing on the streets of Paris, London and Berlin.
Yet Abbas, the world's newest renouncer of terror, has chosen to refrain from rescinding his explicit call for Palestinians to butcher Jews in order to prevent them from "defiling" the Aqsa Mosque. Needless to say, Jews have neither desecrated nor caused any harm to the mosque. All they have been doing, as is permitted, is visiting the outdoor Temple Mount compound as tourists. Never have any of these Jews set foot inside the Aqsa Mosque.
But Abbas and the Palestinians have been exploiting Jewish visits to the Temple Mount to incite against Israel, thus triggering the current wave of stabbings and vehicular attacks.
Not only has Abbas failed to withdraw his deadly appeal to Palestinians to engage in terrorism, he has also refused to condemn the attacks that have claimed the lives of scores of Israelis and wounded hundreds of others.
So, here is the take-home: Abbas is against terrorist attacks anywhere in the world. Except in Israel, perpetrated by his own people and prompted by him.
Adding to the hypocrisy, Abbas and his PA leadership often point an accusing finger at Israel for killing the terrorists who are carrying out attacks. Instead of condemning the perpetrators, Abbas and the Palestinians regularly accuse Israel of carrying out "extra-judicial killings" of the terrorists. In other words, Palestinian leaders save their condemnation for Israeli soldiers and policemen, for defending themselves and firing at those who come to stab them with knives and axes or try to run them over with their cars.
How would the British or French governments react if someone condemned them for killing the terrorists on the streets of Paris and London?
Has anyone in the West noticed Abbas's double standards in dealing with terrorism against civilians?
But Abbas not only stays silent when his own people mow down Israelis: he names streets and squares after such "heroes." Moreover, he rewards them and their families financially, with the help of American and European taxpayer money.
Perhaps it is time for Westerners to realize that there is no difference between a terrorist who sets out to kill Jews and a terrorist who kills British, French and German nationals. In fact, it has become clear that the terrorists in Europe have copied the tactics of the Palestinians in carrying out stabbings and vehicular and suicide-bombing attacks.
Abbas's crocodile tears are intended to disguise tears of joy that terrorism is alive and well -- certainly when it comes to the Israeli blood that his own people spill in the name of Allah.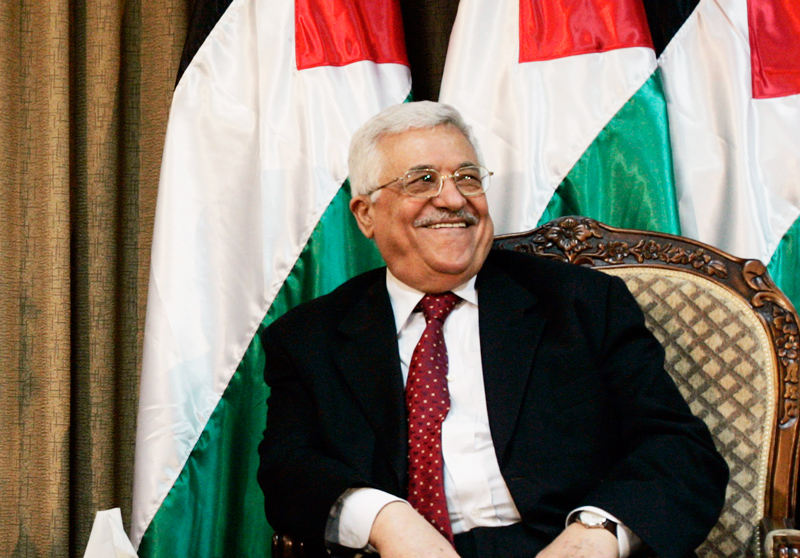 Who says that Palestinian Authority President Mahmoud Abbas does not condemn terror attacks against civilians? He is against terrorist attacks anywhere in the world -- except in Israel, perpetrated by his own people and prompted by him. Abbas's crocodile tears are intended to disguise tears of joy that terrorism is alive and well. (Image source: Muhammed Muheisen-Pool/Getty Images)
Bassam Tawil is a Muslim based in the Middle East.