In a historic speech to an enthusiastic Polish crowd before the meeting of the G20 Summit leaders, US President Donald Trump described the West's battle against "radical Islamic terrorism" as the way to protect "our civilization and our way of life". Trump asked if the West had the will to survive:
"Do we have the confidence in our values to defend them at any cost? Do we have enough respect for our citizens to protect our borders? Do we have the desire and the courage to preserve our civilization in the face of those who would subvert and destroy it?"
Trump's question might find an answer in Eastern Europe, where he chose to deliver his powerful speech.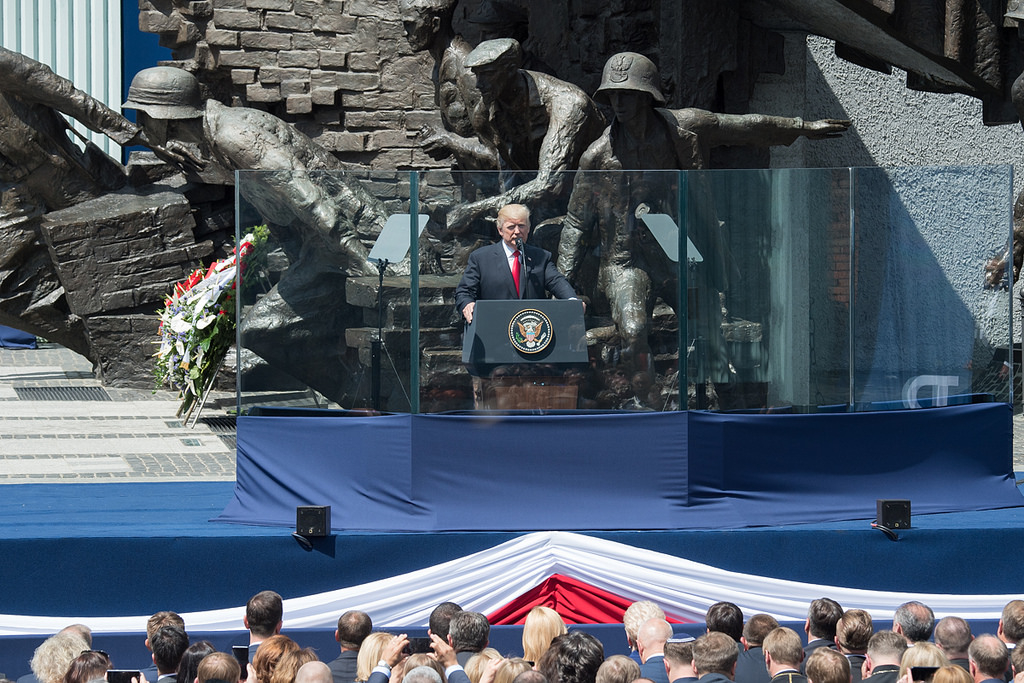 President Donald Trump gives a speech in Warsaw, Poland, in front of the monument commemorating the 1944 Warsaw Uprising against the Germans, on July 6, 2017. (Image source: The White House)
After an Islamist suicide-bomber murdered 22 concert-goers in Manchester, including two Poles, Poland's prime minister, Beata Szydło, said that Poland would not be "blackmailed" into accepting thousands of refugees under the European Union's quota system. She urged Polish lawmakers to safeguard the country and Europe from the scourges of Islamist terrorism and cultural suicide:
"Where are you headed, Europe? Rise from your knees and from your lethargy, or you will be crying over your children every day".
A few days later, the European Union announced that it would begin proceedings to punish Poland, Hungary and the Czech Republic for their refusal to accept migrants as the European Commission had decided under a 2015 scheme it created.
After Szydło's speech, Zoltan Balog, Hungary's Minister for Human Resources, declared:
"Islam is a major culture and religion, which we must respect, but Europe has a different identity, and it is clear that these two cultures are incapable of coexisting without conflict... The greatest difference is that in Europe, politics and religion have been separated from one another, but in the case of Islam it is religion that determines politics".
That is why Viktor Orban has been labelled as "Europe's enemy within" -- because he spelled out what the President of the European Commission, Jean-Claude Juncker, will never do: "Keeping Europe Christian".
These speeches from Visegrad officials -- the European group made up of the Czech Republic, Poland, Hungary and Slovakia -- are just two examples of deep ideological divisions between Western European countries and those in Central- and Eastern Europe.
There has been a growing tendency of Visegrad leaders to depict Islam as a civilizational threat to Christian Europe. If, in Western Europe, Christianity has been dramatically cast aside by public opinion and severely restricted by EU official rules, in Eastern Europe new polls reveal that Christianity is as robust and patriotic as ever. That is why Trump called Poland "the faithful nation". That is why US Catholic magazines are openly asking if there is a "Christian reawakening" in Eastern Europe. Slovakia approved a law to prevent Islam from becoming an official state religion.
These Central- and Eastern European countries know that Western Europe's multiculturalism has been a recipe for terror attacks, for a start. As Ed West of The Spectator noted:
"Not all of Europe, of course. Central Europe, chiefly Poland, Hungary and the Czech Republic, remain largely safe from the terror threat, despite the former in particular being a Nato player in the Middle East. It is precisely because the reasons for this are so obvious that they cannot be mentioned. Poland is 0.1 percent Muslim, most of whom are from a long-settled Tartar community, Britain is 5 percent, France 9 percent and Brussels 25 percent, and those numbers are growing".
What is presumably "obvious" here is that Poland and Hungary are not hit by Islamic terror attacks because they have very few Muslims, while Belgium and UK it is the reverse. Europe would probably have been safer if it had followed Eastern Europe's example.
Eastern Europe not only shows a greater understanding of Western culture than Western Europe does; these Eastern countries have also been far more generous to NATO, the bulwark of their independence and security. Culture and security go hand-in-hand: if you take your own culture and civilization seriously, you will be ready to defend them.
A brief look at the NATO's members' military spending as a percentage of GDP shows that Poland meets the 2% target, unlike all the Western European countries. Only five of NATO's 28 members -- the U.S., Greece, Poland, Estonia and the U.K. -- meet the 2% target. Where is France? And Belgium? And Germany? And The Netherlands?
"Unlike most of its NATO and European peers," Agnia Grigas, a senior fellow at the Atlantic Council, explained, "Poland has for the past two decades consistently viewed defense as a priority issue, and as a result, has been slowly but steadily emerging as the bedrock of European security". Poland -- unlike Belgium, Italy and other European countries -- is not a "free rider" but a trustworthy partner to its US ally. Poland showed loyal support to the United States both in Afghanistan and Iraq, where its troops fought the Taliban and helped to topple Saddam Hussein.
It is no coincidence that President Trump selected Poland, a country that fought both Nazism and Communism, to call on the West to show a little willingness in its existential fight against the new totalitarianism: radical Islam.
"The West will continue to have the military edge for a good time to come, but possessing weapons is one thing, and possessing the will to use them is another thing altogether", wrote William Kilpatrick, a professor at Boston College. "The West is strong militarily, but weak ideologically. It lacks civilizational confidence".
That is why it is critical that Eastern Europe continues to be a strong voice of dissent in the EU project. It might provide just the cultural confidence that European bureaucrats dramatically lack -- at the peril of Europe itself.
Giulio Meotti, Cultural Editor for Il Foglio, is an Italian journalist and author.