Turkey's Islamist strongman, President Recep Tayyip Erdogan, draws such a rosy picture of his war-torn country that his audiences might think the world's youth, in envy, should be flocking to Turkey to breathe an air of academic excellence and freedoms. On the other hand, however, he complains of a massive brain drain in the Muslim world, including Turkey, heading to the Western countries, which he explicitly despises. A gross contradiction? Just an Islamist's usual ideological impasse.
In a recent speech, Erdogan said that the Muslim world has been losing students to the West in a brain drain, and that this intellectual emigration must be prevented:
"On top of that, we are transferring very serious amounts of money to Western countries for this. After these students complete their academic studies, we naturally expect them to return to their countries and serve their own people. But most of the time, those finishing their schools do not return to their homelands, but stay where they received education".
Erdogan's diagnosis is correct. According to Cumhuriyet, an independent Turkish daily newspaper, the number of Turkish students seeking study abroad has doubled every year since 2009. At Robert College in Istanbul, a private high school, 151 of 196 seniors recently applied to study abroad. And according to the state-run news agency Anadolu, some 90,000 Turkish students go abroad annually, and spend about $1.5 billion for education. Turkey ranks 11th among countries with students getting an education abroad, according to the World Bank. Top preferred education destinations include Britain, the United States, Malta, Canada, Australia and Germany -- ironically, all of them non-Muslim countries. Turkey sends more students to the United States than any other European country.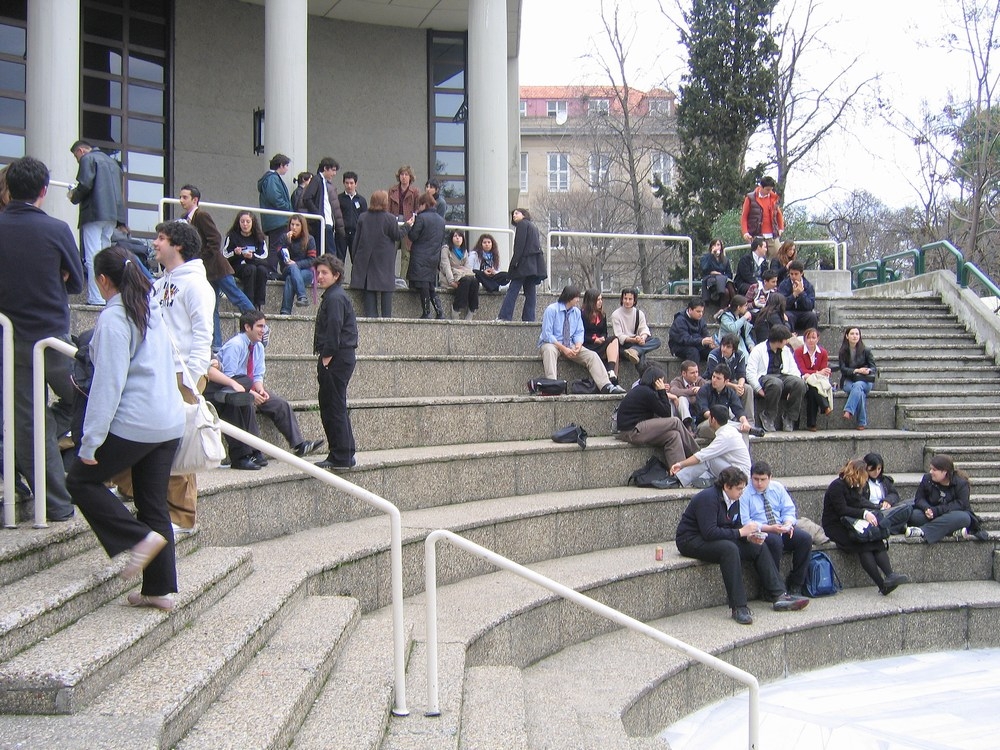 At Robert College in Istanbul, a private high school, 151 of 196 seniors recently applied to study abroad. (Image source: Wikipedia)
That is hardly surprising in a country where average schooling is a mere 6.5 years. Qualitatively, too, education standards are extremely poor in Turkey. The results of the Programme for International Student Assessment (PISA) education test have revealed some of the most pressing problems in Turkish education. According to the PISA findings in 2016, Turkey dropped from 44th place to 49th (out of 72 countries surveyed), compared to the last test in 2012.
The Organisation for Economic Co-operation and Development (OECD) found that the number of Turkish 15-year-olds who scored below average on the triennial PISA test is three times higher than the number of students who scored below average in more successful countries. Some 31.2% of Turkish students below 15 years of age underperformed in mathematics, sciences and reading. In contrast, only 10% of students in countries that neared the top of the list underperformed on math, sciences and reading. Between 2012 and 2016, Turkey's ranking dropped from 43rd in science to 52nd, and from 41st in reading to 50th.
For Erdogan, however, education has hardly anything to do with science. In a 2015 speech, he boasted that since his government came to power in 2002, the number of "imam school" students had risen sharply from a mere 60,000 to 1.2 million.
More recently, in July, Turkish Education Minister Ismet Yilmaz revealed that the final version of Turkey's national school curriculum left out evolution and added the concept of "jihad," as part of Islamic law, in the books. The new curriculum will be put into execution for first, fifth, and ninth graders beginning this year, and will extend to other classes in the 2018-2019 academic year. According to Yilmaz:
"Jihad is an element in our religion; it is in our religion... The duty of the Education Ministry is to teach every concept deservedly, in a correct way. It is also our job to correct things that are wrongly perceived, seen or taught".
Although the Turkish government claims that "jihad" means a "spiritual inner struggle for salvation," the official Turkish dictionary defines it as a "war fought in the name of religion".
With that move, Turkey became the first and only NATO member state that teaches "jihad" in its schools. But what may be the logic behind the idea? According to Ahmet Hamdi Camli, a lawmaker from Erdogan's Justice and Development Party, "there is no use in teaching mathematics to students who don't know jihad." He explained: "Jihad is Islam's most prior element".
Against such a surreal backdrop, Erdogan is struggling to prevent Turkey's brain drain to Western countries. That promises to be a futile effort.
StudyPortals, a global study-choice platform, recently reported:
"By the end of Monday the 18th of July, we received 2.6 times as many education seekers from Turkey compared to the average of June 2016! While Turkish visitors normally represent approximately 1.4% of our global traffic, they represented 2.0% on Saturday the 16th, 2.5% on Sunday the 17th and 3.3% on Monday the 18th. Clearly, more and more Turkish students are considering to study abroad".
Not just that. Although in the past it was overwhelmingly Turkish graduate students who sought education possibilities abroad, these days, it seems, it is also high-school students who do. According to IEFT, a Turkey-based education consultancy, parents have this year made "record-level" applications for high-school level study opportunities abroad.
Fuad Kavur, a London-based Turkish-British film producer, told this author:
"I had to laugh, reading that Mr. Erdogan complains about most Turkish students, after completing their university education in the West, do not return to Turkey. Why would a young man, indeed a young woman, would want to return to a country where there are 50,000 [political] people in prison, including 200 journalists, opposition media is gagged, women are second class citizens, and where Darwin's theory of evolution has been taken off academic curriculum because it contradicts teachings of Islam? To these bright young kids, returning to Turkey must appear like hopping on H. G. Wells's 'Time Machine' and travelling back a few centuries."
Burak Bekdil, one of Turkey's leading journalists, was recently fired from Turkey's leading newspaper after 29 years, for writing what was taking place in Turkey for Gatestone. He is a Fellow at the Middle East Forum.