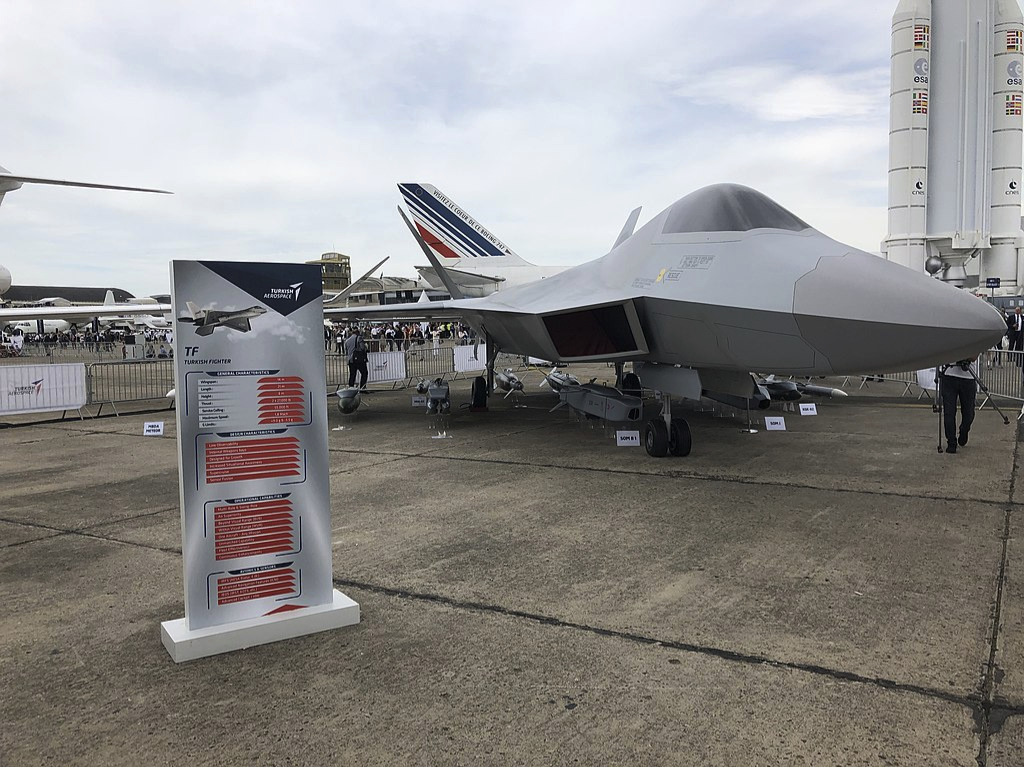 Turkey, once NATO's staunch southeastern flank sentinel against the Soviet Union, still operates the alliance's second-largest military. These days, NATO's second-largest military has a problem with its aerial firepower.
Turks are proud that their Air Force (TuAF) is the world's ninth-largest. But it is not necessarily the ninth-strongest. According to the World Directory of Modern Military Aircraft, TuAF is not among the world's top 15 militaries listed. Turkey has 110 attack helicopters and 205 fighter/interceptor aircraft, according to Global Firepower. But its fleet of 1,065 military aircraft includes no dedicated attack aircraft.
Traditionally, TuAF has been dependent almost solely on U.S. technology, primarily F-16 fighter jets. In the 1980s, Turkey set a production unit, Turkish Aircraft Industries (TAI), to assemble the F-16s under license from the U.S.-based Lockheed Martin.
TAI today has a totally different ambition: To build the first indigenous Turkish fighter jet, which could also be the world's first Muslim fighter aircraft, and it has invited friendly nations Azerbaijan and Pakistan join the effort. Meanwhile Turkey is trying hard to support its assertive regional policy with military might.
There is a problem: With a fleet consisting mostly of ageing F-16s and a per capita income of barely $9,000 Turkey cannot play the role of a major power.
"We know very well from our bitter experiences that there cannot be a strong [Turkey] without a strong army." Turkey's Islamist strongman President Recep Tayyip Erdoğan said at a ceremony at the Army War College. "Increasing the deterrence of the Turkish Armed Forces constitutes a necessity for our country rather than a choice."
Echoing the neo-Ottoman ambition, Colonel Ümit Yalım (ret.) recently claimed that the sovereignty of Greece's islands in the North Aegean Sea belongs to Turkey.
TuAF's nightmares began when Erdoğan moved to augment Turkey's strategic relations with Vladimir Putin's Russia. Erdoğan approved the reckless acquisition of Russia's S-400 surface-to-air missile system, which resulted in Turkey being expelled from the U.S.-led, multinational F-35 fighter jet program. Turkey planned to buy more than 100 F-35s and completely renew its fleet with the world's most advanced fighter aircraft. Expulsion from the F-35 program was Washington's answer to Erdoğan's S-400 move.
Incidentally, the Russian S-400 missiles were delivered to Turkey but remain "unpacked" in some military hangar, as Erdoğan fears further U.S. sanctions.
What are Turkey's options before its military aircraft fleet comes to an operational halt?
Russia? Not again. Erdoğan cannot risk confronting the West with another Russian adventure, especially when he is loudly pleading for Western money to stop, or slow down, Turkey's economic downfall. China? Beijing will not share critical technology with NATO member Turkey. Possible, but Erdoğan wants modern F-16s, while the U.S. Congress has a different opinion: Why give Turkey modern fighter jets if we want peace over the Aegean Sea? That leaves Turkey with one option: Make your own fighter aircraft.
Erdoğan boasts that the first Turkish fighter jet, the Kaan, will fly before the end of the year. However, the reality is different. True, the first Kaan is progressing at a TAI hangar. But it is far from flying with full mission capabilities. TAI has a stock of only eight U.S.-made jet engines, to power four Kaans. What about the rest? Hundreds of future aircraft to be built? The answer is that Turkey will also have to develop an indigenous jet engine. How and when are the questions no one volunteers to answer.
A prototype Kaan can fly for political propaganda ahead of critical municipal elections next March. Like a paper airplane without the systems necessary for full mission flights. Then there are the financial problems.
Turkey's ailing economy is experiencing high inflation (at 59% year-on-year), and the country's external debt reached nearly $476 billion in March. The international credit insurance company Allianz Trade reported that the stock of Turkey's total external debt due within the next 12 months has risen to about $250 billion.
To share the big financial burden of development and production and give the planned aircraft a "Muslim identity," Turkey has invited Azerbaijan and Pakistan to join the Kaan partnership. Hydrocarbon-rich Azerbaijan has money to invest, but Pakistan, which already has a deal with China for the JF-17 built under license by Pakistan Aeronautical Complex and Chengdu Aircraft Corp., does not have the funds.
Rahul Monahar Yelwe, a senior research fellow at the Center for Strategic Studies, recently told EurAsian Times that Azerbaijan and Pakistan could not contribute substantially to the Kaan project, primarily due to the demanding nature of a fifth-generation fighter jet. Yelwe emphasized that even developing a fourth-generation aircraft requires a significant financial investment. Yelwe unequivocally dismissed the possibility of Pakistan providing technological support (which it had learned from the JF-17 project) to the Turkish program.
Erdoğan made one wrong strategic choice -- trying to align with Russia and America -- and left Turkey's top military planners pondering how to minimize the military and operational damage. The Turkish president should be able to understand that he cannot fully benefit from two clashing civilizations at his convenience.
Burak Bekdil, one of Turkey's leading journalists, was recently fired from the country's most noted newspaper after 29 years, for writing in Gatestone what is taking place in Turkey. He is a Fellow at the Middle East Forum.