Sweden's brand new first Islamic party, Jasin, is aiming to run for the 2018 parliamentary elections. According to the website of the party, Jasin is a "multicultural, democratic, peaceful party" that is "secular" and aims to "unite everyone from the East... regardless of ethnicity, language, race, skin color or religion". Jasin apparently knows what the Swedes like to hear.
In an interview, the founder and spokesperson of the party, Mehdi Hosseini, who came from Iran to Sweden 30 years ago, revealed that the leader of the new political party, Sheikh Zoheir Eslami Gheraati, does not actually live in Sweden. He is an Iranian imam, who lives in Teheran, but Jasin wants to bring him to Sweden: "I thought he was such a peaceful person who would be able to manifest the peaceful side of Islam. I think that is needed in Sweden," said Hosseini.
The purpose of the Jasin party, however, does not appear to be either secular or multicultural. In its application to the Swedish Election Authority, the party writes -- with refreshing honesty -- that it will "firstly follow exactly what the Koran says, secondly what Shiite imams say". The Jasin party also states that it is a "non-jihadi and missionary organization, which will spread Islam's real side, which has been forgotten and has been transformed from a beautiful to a warlike religion..."
In mid-September, the Swedish Election Authority informed Jasin that it failed to deliver the needed signatures, but that it is welcome to try again. Anna Nyqvist, from the Swedish Election Authority, said that a political party with an anti-democratic or Islamic agenda is eligible to run for parliament if the party's application fulfills all formalities. Nyqvist considers it unproblematic that the leader of the party lives in Iran. "This is the essence of democracy, that all views should be allowed. And it is up to them to choose their party leader", Nyqvist said.
Sweden's Jasin Party is not unique. Islamist parties have begun to emerge in many European countries, such as the Netherlands, Austria, Belgium, and France.
In the Netherlands, two Dutch Turks, former members of the Socialist party, founded a new party, Denk, only six months before the Dutch parliamentary elections. Despite the short timeframe, they managed to get one-third of the Muslim vote and three seats in parliament. The party does not hide its affinity for Turkey: Criticism of Turkey is taboo just as is their refusal to name the Turkish mass-slaughter of the Armenians during the First World War a genocide. The party ran on a platform against the integration of immigrants into Dutch society (instead advocating "mutual acceptance", a euphemism for creating parallel Muslim societies); and for establishment of a "racism police" that would register "offenders" and exclude them from holding public office.
In Austria, Turkish Muslims also formed a new party, the New Movement for the Future (NBZ), established in January 2017. According to its founder, Adnan Dincer, the NBZ is not an Islamic party or a Turkish party, despite being composed mainly of Turkish Muslims. Several of the party's Facebook posts are written only in Turkish. Dincer has made no secret of the fact that his party strongly backs Turkish President Recep Tayyip Erdogan, whom it publicly supported at the time of the coup attempt in August 2016, and the subsequent clampdown by the Erdogan government.
In Belgium, several Islamic parties are preparing to run in the next elections. Dyab Abu Jahjah, apparently behind one of them, while not having presented a formal platform yet, has said he wants to "be part of an egalitarian radical renaissance that will conquer Brussels, Belgium, Europe and the whole world, with new politics of radical equality... defeat the forces of supremacy... of sustained privileges ... of the status-quo... in every possible arena".
Jahjah is a Lebanese immigrant, who emerged on the European scene, when he founded the now defunct Brussels-based Arab-European League in 2001. It was a pan-European political group aiming to create a Europe-wide "sharocracy" -- a supposedly sharia-based "democracy". In 2001, after the September 11 terror attacks, Jahjah said that he and many Muslims had felt a "sweet revenge feeling". In 2004, Jahjah said that he supported the killing of foreign troops in Iraq. "I consider every death of an American, British or Dutch soldier as a victory". He has also been opposed to the assimilation of Muslims, which he has described as "cultural rape".
Jahjah used to be considered a Hezbollah-supporting extremist, and, although he describes himself as a "political friend" of Jeremy Corbyn, he was banned from entering Britain. In Belgium, however, he is seen as a respectable activist, leader of a group called Movement X, and formerly with his own weekly column in the Belgian daily De Standaard. The Belgian political magazine Knack named Jahjah the country's fourth-most influential person, just behind Manchester City footballer Vincent Kompany. In January 2017, however, De Standaard fired Jahjah after he praised a terror attack in Jerusalem. "By any means necessary, #freepalestine," Jahjah had tweeted after an Muslim ISIS-affiliated terrorist plowed a truck through a crowd of young Israeli soldiers visiting Jerusalem, killing four and injuring countless others.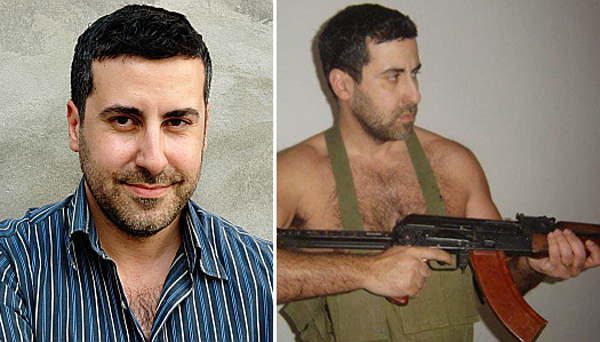 Dyab Abu Jahjah, named by the political magazine Knack as Belgium's fourth-most influential person, said after the September 11, 2001 terror attacks that he and many Muslims had felt a "sweet revenge feeling". In 2004, he said that he supported the killing of foreign troops in Iraq. (Left-pane image source: Han Soete/Wikimedia Commons)
Jahjah will likely experience fierce competition from the "I.S.L.A.M" party, founded in 2012, and working to implement Islamic law, sharia, in Belgium. The party already has branches in the Brussels districts of Anderlecht, Molenbeek and Liege. The party wants to "translate religion into practice". One member explained that, "It's no coincidence that we started in Brussels. Here there are a lot of Muslims... who are not allowed to come forward with their identity too much...They are therefore frustrated. That can lead to radicalization".
The party has put forth a mayoral candidate for the Brussels municipal elections in 2018: Michel Dardenne, who converted to Islam in 2002. In his program, Dardenne speaks mainly of how much the party respects Belgian democracy and its constitution, while simply wanting to help an undefined populace against "the elites". He may have found it easier to appeal to "progressive" non-Muslims that way. Brussels, 25% Muslim, has enormous potential for Islamic parties.
In France, several Islamic parties are also preparing to run in elections. One party is the PEJ, established in 2015 by French-Turkish Muslims and reportedly connected to Recep Tayyip Erdogan's AKP. As the journalist Yves Mamou recently reported, the PEJ has already approved 68 candidates and wants to abolish the separation of church and state, make veils mandatory for schoolgirls in public schools, introduce halal food in all schools and fight "Islamophobia".
How many Europeans are even paying attention to their agendas?
John Richardson is a researcher based in the United States.