On March 19, 2014, Nidal Mohamed Sakr, an American citizen from Providence, Rhode Island, was detained by Homeland Security upon his arrival in the United States from an extended stay in Egypt, the country of his mother's birth. Although Sakr is an active member of the Muslim Brotherhood and former al-Qaeda associate, he was released and has been operating freely in the U.S., traveling back and forth between Florida and California as the head of a Miami-based, self-described "human rights" organization called The March for Justice.
This was not the first time that Sakr, who describes himself as "US born from Palestinian origin," had been interrogated by American authorities. According to an account he posted on the March for Justice website, he was questioned by Palm Beach police in January 2002 about the whereabouts of Osama bin Laden. This occurred as he, Sakr, left an event held by a Jewish organization to express unity and solidarity in the wake of the 9/11 attacks, which had taken place less than four months earlier. At the time, he penned a letter to President George W. Bush complaining that he was being victimized by anti-Muslim Jews.
Prior to 2014, when he was temporarily detained at a US airport, Sakr had spent time in Egypt, where he actively participated in the eruption of the "Arab Spring" -- which led to the ouster and imprisonment of then-President Hosni Mubarak and the rise of Muslim Brotherhood chief Mohammed Morsi as Egypt's president. While in Egypt, Sakr gave a lecture in which he recounted how he was recruited by al-Qaeda co-founder and bin Laden mentor Abdullah Azzam to a Palestinian terrorist cell operating out of Jordan in the 1970s and '80s. He also spoke about having gotten to know bin Laden and his family.
In the aftermath of the July 2013 military coup against Morsi, which led to the current presidency of General Abdel Fattah el-Sisi, the Muslim Brotherhood was outlawed and anyone associated with it became a target. Thousands of people were arrested and hundreds sentenced to death, including Morsi -- whose sentence was later reversed, but recently reinstated for a term of 25 years in prison.
Sakr was allegedly among 529 Muslim Brotherhood members sentenced to death by an Egyptian court "for murder and other offenses."
Sakr managed to abscond from Egypt and return to the US before his court hearing. Since then, he has used his March for Justice organization as a platform not only for attacking President el-Sisi and defending the Muslim Brotherhood -- and its offshoot Hamas -- but to assail America in general and for its support of Israel and Jews in particular. Among its many hostile Facebook posts is one with a cartoon showing the White House as "Israel's other occupied territory."
Recently, he called US President Donald Trump a "white trash supremacist," and issued threats against the government, such as: "WE WILL OVERTHROW them ALL. US WILL PAY FOR ITS CRIMES;" and "TODAY: RESIST. TOMORROW: REVOLUTION. ONLY THEN AMERICA CAN BE UNITED." He also warned: "Civil war imminent... From North Dakota 2 Chicago, Texas & Southern Plains American blood will be spilled." In February this year, he retweeted an article in Salon about then-White House adviser Steve Bannon, commenting: "Only Jihad can put this trash in check. Learn what Jihad really is."
Sakr is a prime example of a radical Islamist taking advantage of the freedoms that the United States has to offer all its citizens, in order to undermine its existence -- in the name of "human rights."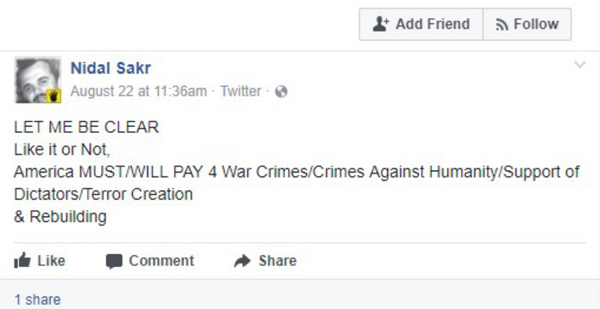 Nidal Mohamed Sakr is a prime example of a radical Islamist taking advantage of the freedoms that the United States has to offer all its citizens, in order to undermine its existence -- in the name of "human rights."
Although voicing his enmity is precisely one of those rights, membership in a terrorist group is not, particularly if he is using his March of Justice organization as a front. A serious investigation into Sakr and his operations needs be launched to determine whether and to what extent he is a threat to US national security.
Joe Kaufman was the 2016 Republican nominee for United States House of Representatives in Florida's 23rd Congressional District. He is an expert in the fields of counter-terrorism, foreign affairs and energy independence for America. Beila Rabinowitz, Director of Militant Islam Monitor, contributed to this report.