Germany's federal elections were supposed to lead to the triumph of Angela Merkel. Their results were rather different from what was anticipated. Merkel's "victory" looks like a disaster: the Christian Democratic Alliance (CDU-CSU) won 33% of the vote -- 9% less than four years ago, its worst result since 1949. The Social Democratic Party (SPD), which governed the country with Merkel during the last four years, lost more than 5%, and fell from 25.7 % to 20% of the vote -- the worst result in its history. Alternative for Germany (AfD), a conservative nationalist party born in 2013, obtained 12.6%, and will enter in the Bundestag for the first time. Die Linke, the Marxist left, received 9%. As neither the SPD nor Die Linke will participate in the next government, and as AfD is radically opposed to the policies pursued by Merkel, she has only two possible partners: the libertarian Free Democratic Party and The Greens: both of whose positions on most subjects seem incompatible.
Angela Merkel will remain Chancellor, but by default, and mostly because there was no other real choice: six months ago, two-thirds of the German population wanted her to be replaced. Only 8% wanted her to remain in her post. Martin Schultz, former President of the European Parliament, who was the SPD candidate, did not offer anything different and led a lackluster campaign.
If Merkel succeeds in forming a coalition, it will be a precarious and unstable assemblage that will keep Germany on the verge of paralysis and make the country the sick man of 21st century Europe.
Germany actually already is a sick country, and Angela Merkel is part of the sickness.
In 1945, Germany was in ruins. It rebuilt itself and gradually became Europe's leading economic power. While regaining strength, it did not assert itself politically and remained discreet, humble, repentant, silently shameful. Because of its role in the war, it was reluctant to recreate an army when NATO powers asked it to rebuild one; instead, it adopted a general position of appeasement that led to "Ostpolitik", a policy of rapprochement with the communist East and the Soviet Union.
Because nationalism had led to National Socialism, Germany rejected any form of nationalism. Because Germany had committed genocide, it was impregnated with self-hatred and a rejection of its own identity.
Germany turned to European construction and tried to define itself as European in order not to call itself German.
This process lasted until the fall of the Berlin Wall and the reunification of the country. Reunification was widely perceived in Germany as the fruit of humility and discretion.
Angela Merkel, who had seemed to embody a successfully reunified Germany, inherited this process when she became Chancellor in 2005.
Malfunctions had already begun to surface. The German economy remained prosperous, but poverty was increasing (in 2005, 17% of Germans were officially poor and earned half of the national average income) and the number of working poor was growing.
The birth rate was extremely low. It had started to decline in 1967, and rapidly fell to 1.5 children per woman. The population, in general, was aging.
Germany began to bring in Turkish migrants to compensate for the lack of manpower. By 2000, the number of migrants had reached 3.5 million.
Importing Muslim migrants also brought a slow Islamization of the country. In the main cities, mosques were built. Koranic schools were opened. Islam was integrated into public school curricula.
Merkel constantly sought consensus and worked with the Social Democrats for eight of the twelve years she spent as the head of the government.
Germans seemed to accept this arrangement until she decided to open the borders of Germany to a huge wave of refugees and migrants from the Middle East in August 2015. More than 1.5 million unvetted people entered the country; most were young men entitled to family reunification.
Claims that refugees would assimilate without major problems started colliding with reality. Rapes multiplied. Violence escalated.
In 2016, almost half the crimes in Berlin were committed by recent migrants to the country Jihadist networks took shape. Terrorist acts started to take place. Muslim anti-Semitism led to attacks on synagogues. The costs of welfare rose sharply.
Merkel expressed no regret. She did not even have second thoughts after the elections: she said that if she had to open the borders of the country again, she would do it. She tried to impose her decisions on immigration on the reluctant European countries of Hungary, the Czech Republic and Poland. She is still trying.
Shame is still present in the minds of million of Germans, but fading away. A few years ago, a survey showed almost 70% of Germans were angered at still being held responsible today for crimes against Jews. Roughly 25% of people surveyed agreed with the statement: "Many Jews try to use Germany's Third Reich past to their advantage". Recent polls shows that between one-third and one-half of Germans view Israel as the political equivalent of Nazi Germany. The German government now regularly pretends to give lessons on morality to Israel, but never criticizes terrorist leaders such as Mahmoud Abbas.
Germany remains in a position of appeasing, securing and strengthening economic ties with rogue regimes such as Iran. The German army is so ill-equipped that during exercises instead of weapons, it uses broomsticks. Polls show that the German population now think that the main danger to world peace does not come from Iran or North Korea, but from the United States. Germany is today the most anti-American country in the Western world . Stern, Germany's most popular news weekly magazine, recently put on its cover an image of Donald Trump performing a Nazi salute while draped in the American flag.
Economic efficiency is low. The German economy is essentially an industrial economy and not adapted to the digital age. Investment in GDP has declined; innovative activity is weak; productivity stagnates. Since 2008, annual productivity growth has been only 0.5%. The planned closure of German nuclear power plants in the name of "protecting the climate" raises wholesale electricity prices, while German households and businesses bear the financial burden of paying among the highest electricity costs in the developed world. Unskilled immigrants from the Muslim world cannot replace skilled Germans who retire or pass away. The number of poor people continues to increase. The capacity for receiving immigrants has reached its limits; living conditions in many shelters have become substandard: floors are not cleaned regularly and are soiled for days with blood, urine, feces, and invasion of cockroaches are frequent. The German Commissioner for Immigration recently said that only a quarter to a third of the refugees who settled in Germany could enter the labor market. The others will have to rely on government benefits for the rest of their lives.
Diseases that were nearly eradicated, such as tuberculosis, made a comeback. Vaccines did not exist as Europeans had stopped making them.
The median age in Germany is now 46.8. A gradual replacement of the non-Muslim population with a Muslim population is taking place. Forty percent of children under five, born in Germany, have foreign roots. Since 2005, the population of new arrivals has increased by 24%, while the native population has decreased by 5%.
Demographers say that unless the current trends are reversed, Germans will become a minority in their own country, possibly in fifteen to twenty years.
Nothing at the moment indicates that the trends will reverse.
Most of the German press is permeated with political correctness. Newspapers and magazines support multiculturalism, and do not talk about the most urgent problems facing the country: anemic economic growth, population ageing, and Islamization. Many journalists, professors and writers say that German culture does not exist. When books criticizing Islam may become best sellers, their authors are immediately demonized. Deutschland schafft sich ab ("Germany Abolishes Itself") was an enormous success in 2010, but its author, Thilo Sarrazin, was immediately treated as a "racist" and pushed towards the margin of all political debates. Rolf Peter Sieferle, a former counselor of Angela Merkel, wrote several articles describing the self-destruction of Germany. "A society that can no longer make the difference between itself and the forces that dissolve it lives morally beyond its means," he said in 2015. Insulted and rejected by those with whom he used to work, he committed suicide in September 2016. A collection of his notes was published after his death, Finis Germaniae ("The End of Germany").
The Alternative for Germany (AfD) political party promises to "shake off the Bundestag". The 12.6% of the vote it received will undoubtedly give it a voice. Its leaders are treated by the media and other political parties as the incarnation of the devil. Foreign Minister Sigmar Gabriel warned against the entry of "real Nazis" into the parliament . A leader of the far-left Die Linke party asked: "Have we not learnt the lessons from the war?". Jewish leaders are scared: Dr. Josef Schuster, president of the Central Council of Jews in Germany said that AfD uses strategies generally used by aspiring "fascist dictatorships."
The AfD party is not Nazi, however. Its members rather seem to fear that Germany and Germans will disappear under the weight of Islam. The Nazis were anti-Semitic, militarist, socialist, and desired to conquer. The AfD is not anti-Semitic, not militarist, not socialist, and does not want to conquer other countries. Jewish leaders in Germany are frightened because they think that if the AfD is hostile to one minority, the Muslims, it could grow hostile to other minorities. They are probably wrong. There is no comparison between Muslims and Jews. The AfD has strongly supported Israel's right to exist and Israel's right to has to fight the Islamic threat against it.
Some AfD members have made controversial statements about German soldiers, and about the Holocaust Memorial in Berlin.
At the same time, the AfD is currently Germany's most pro-Israeli party. It is also the only party that clearly foresees the very real risk of Germany sliding towards an Islamic sunset.
Is it possible for Germany to recover? We shall see. What is at stake here, however, is far more than Germany.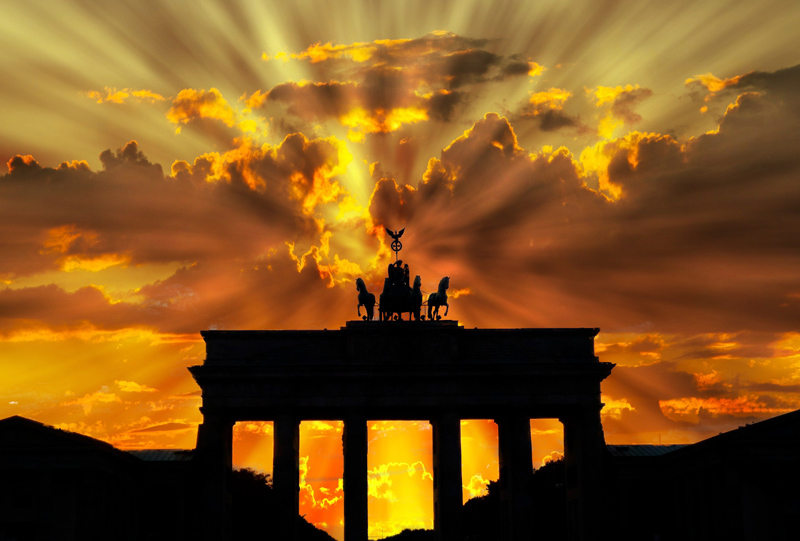 (Image source: Pixabay)
Dr. Guy Millière, a professor at the University of Paris, is the author of 27 books on France and Europe.