Another terrorist attacks France and slaughters two innocent women at the Marseille train station. The terrorist was reportedly chanting the Arabic verses.
Within 24 hours, another terror attack took place in Edmonton, Canada outside a football stadium, when a man with a knife left five people injured. An ISIS flag was reportedly found in suspect's car.
The strike in a country known for going extra miles to take in immigrants from the war-torn Middle East exposes the fact that these terrorists are enemies not only of human rights but often if the very people trying to help them.
No soft gesture, however, will deter extremist Muslims unless the whole world submits to their version of Islam.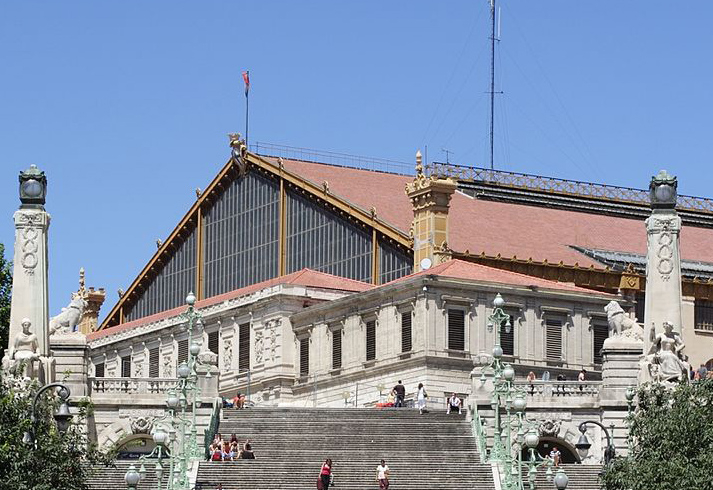 Pictured: Saint-Charles train station in Marseille, France, where an Islamist terrorist murdered two women on October 1, 2017. (Image source: ignis/Wikimedia Commons)
Western governments might nevertheless once again choose to ignore the existence of religious schools and mosques that serve as radicalization and recruitment centers for extremist Muslims across the West.
The authorities in Europe seem to have been doing very little to clamp down on the recruitment of mainly Muslim youths by terrorists. Many apologists seem to have been trying to confuse people by saying that the internet is root cause of the Islamic extremism and terrorism problem, and authorities have been blaming the websites of terror outfits. Websites do not vote.
France and Britain remain in the constant grip of Islamist terror, yet their governments, despite having laws prohibiting "hate speech", have so far failed to address the influence that preachers of violence and hatred have with local Muslims.
Last month, an Islamic preacher was caught red-handed in Britain preaching for ISIS and jihad, and inciting youths to commit violence against non-Muslims.
To everyone's professed astonishment, he was not delivering his lectures on websites or communicating with the gullible youths through online "chats". He was delivering sermons live in a public-charity mosque -- funded by taxpayers -- in Stoke-on-Trent.
Governments in Britain and other countries in the grip of terror posed by Islamists have probably also been using the "online" excuse to shake off any charges of reckless endangerment or criminal neglect that they have might have committed by allowing these extremists to flourish in West.
The authorities seem deliberately to be ignoring the compelling presence of hardline madrassahs, mosques and faith-schools that might well be involved in clear instances of preaching violence and hate.
Blaming terror recruitment only on the internet is just an invented story, like the one that every suicide bomber or those who committed acts of terror in the name of Islam, whether in Paris, London or Berlin, are lone wolves who merely took "inspiration" from terror outfits such as al-Qaeda or ISIS.
It is laughable to claim that a "lone wolf" has committed a terror attack, especially when the terror outfits such as ISIS immediately take responsibility for them.
The London Bridge attack left Prime Minister Theresa May stating "enough is enough" and sounding finally determined to tackle terrorism a bit.
But the slogan merely ended up on the back-burner as the terror spree continued -- as do the hardline seminaries and recruiters that then led to the Parsons Green Underground attack.
The terrorists involved in that and other attacks, as in Barcelona, were found to have ties with local mosques or seminaries, yet the administrations of these places have refused to take any responsibility, and state that they are not accountable for the acts of their members.
Westminster terror attacker Khalid Masood was serving as a public contact person for the website of the Luton Islamic Center Mosque just a week before he rammed a car into pedestrians on London's Westminster Bridge and went on to kill a police officer.
Manchester Arena bomber Salman Abedi, who murdered 22 people, including children, regularly attended Didsbury Mosque, which was also known to have home to many other al-Qaeda and ISIS recruits. The mosque was also known for having ties with al-Qaeda-linked jihadists such as the Libyan Islamic Fighting Group.
The perpetrators of the London Bridge and Borough Market terror attacks -- Khuram Shazad Butt, Rachid Redouance and Youssef Zaghba -- were believed to be associated with the outlawed Islamist group al-Muhajiroun, co-founded by the convicted hate preacher Anjem Choudary. Khuram Butt was even seen brandishing an Islamic State flag in Regent's Park in a Channel 4 documentary.
The Berlin Christmas Market terrorist, Anis Amri, was also reportedly radicalized by a local mosque. One of the preachers of the Mosque, Abu Walaa, is these days on trial with four others in Germany for serving as an ISIS recruiter.
There is a dire need to hold government officials -- and the preachers and administrators of these mosques -- accountable, and to demand that they take action against extremists who target these breeding grounds, or face criminal prosecution. The policy of avoiding the problem by keeping one's eyes shut only enlarges it and sacrifices freedom on the altar of terror.
Khadija Khan is a Pakistani journalist and commentator, currently based in Germany.