In the debate on migrants in Germany and Austria, no other term is used more often than "integration." But the institution that is most important for many Muslim migrants does not generally contribute much to this effort — and often actively fights it: the mosque. That is the finding of an official Austrian study as well as private research conducted by a German journalist.
In late September, the Austrian Integration Fund (ÖIF), a department of the foreign ministry published a study, "The role of the mosque in the integration process". For the purposes of the study, employees of the ÖIF visited 16 mosques in Vienna, attended several Friday sermons and spoke with the individual imams — that is, if the imams were willing to have a conversation, which was often not the case. The result of this, according to the ÖIF, is that only two of the mosque associations foster the integration of their members. The report applauds a Bosnian mosque association that also runs a soccer club. During the discussion, its imam said: "Every country, as with Austria, has its rules and laws and -- something I always stress -- it is our religious duty to comply with these standards and to integrate accordingly."
With regard to gender roles, in all of the mosques they visited, the authors were struck by the almost complete absence of women at Friday prayers:
"Only three of the mosques... provide women with their own space, which is reserved for them and actually used by them. If they exist at all, most of the mosques make the women's areas on Fridays available to men, too."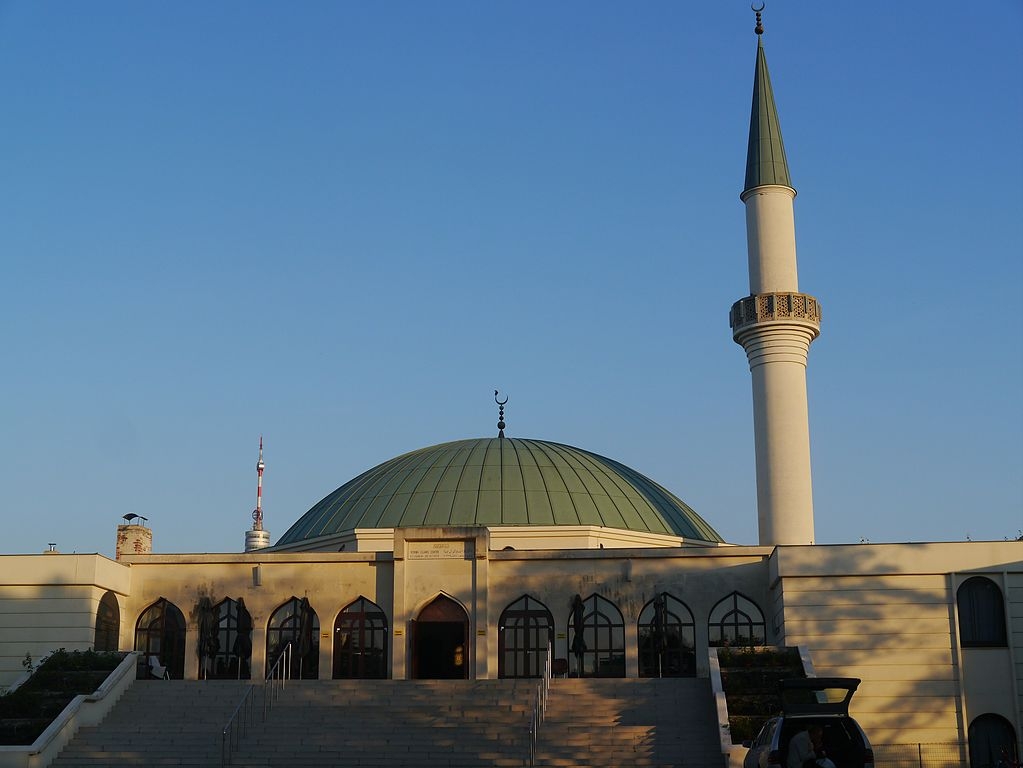 The Islamic Center of Vienna. (Image source: Zairon/Wikimedia Commons)
Separated by Ethnicities
With few exceptions, the Viennese mosques are organized along ethnic lines:
"There are Turkish, Albanian, Bosnian, Arabic, Pakistani and other mosques, in which sermons are generally held exclusively in the respective national language. Only in rare instances are parts of the sermon — or even more rarely, all of the sermon — translated into German."
Thus, the mosque associations are "closed spaces in terms of ethnicity and language." That difference fosters "social integration into an internal ethnic environment, and thus ethnic segmentation." In eight of the 16 mosques surveyed, this trend is further reinforced by "widespread and openly-propagated nationalism."
One mosque, run by the Turkish Milli Görüs movement, stood out as particularly radical. Milli Görüs is one of the largest Islamic organizations in Europe and is closely associated ideologically with Turkish President Recep Tayyip Erdogan. According to the report, the imam in the Milli Görüs mosque "openly advocates for the establishment of a politically united Ummah under a caliphate." He attributes unrest in Islam to fitna ("upheaval") brought into the Islamic community from the outside. According to the authors of the study, the imam "sees himself surrounded everywhere by enemies of Islam, who want to prevent the Islamic community from dominating the world as foretold in prophecies." In all three sermons that were heard, the definitive issue was the unity of Muslims: Muslims on one side, the "infidels" on the other. According to the study, some of the imam's statements indicated a "hardened worldview driven by conspiracy theory," such as: "Forces situated outside the Ummah have done everything in their power to undermine Ummah-awareness of the Ummah itself."
The conclusion of the study states:
"In summary, it may be said of the 16 mosque associations surveyed in this study, that with the exception of mosques D01 [one of the few German-speaking mosques] and B02 [the aforementioned Bosnian mosque], they do not actively promote the social integration of their members. At best, they do not prevent it from happening. For the most part, they have an inhibiting effect on the integration process."
According to the study, six of the 16 mosque associations examined (37.5%) pursue "a policy that actively impedes integration into society and to some extent exhibits fundamentalist tendencies." Half of the 16 mosques examined "preach a dichotomous worldview, the pivotal tenet of which is the division of the world into Muslims on one side, and everyone else on the other." Six of the mosques were found to practice "explicit denigration of Western society."
Admonitions against Life in Germany
Similar observations were made by German journalist Constantin Schreiber who, in 2016, spent more than 8 months attending Friday sermons in German mosques. Schreiber, fluent in Arabic, is well-known as a moderator of Arabic television programs, in which he explains life in Germany to immigrants. He published what he experienced in these mosques in a book that has been a bestseller in Germany for months: Inside Islam: What Is Being Preached in Germany's Mosques.
Schreiber introduced himself to the mosque associations as a journalist, disclosing that he intended to write a non-fiction book about mosques in Germany. Only a few imams were willing to agree to an interview. In one instance, he was told that speaking to him was "prohibited". In general, the imams with whom he was allowed to speak, spoke practically no German. "Apparently it is possible to live in Germany for many years with your wife and children, and still not even be capable of buying bread in German," Schreiber writes.
A frequent subject of the sermons Schreiber heard in the mosques consisted of admonitions against life in Germany.
"Time and again, such as in the Al-Furqan mosque [a Sunni Arab mosque in Berlin] Muslims seemed committed to the idea that they are some sort of a community with a shared destiny: 'You are a diaspora! We are a diaspora! ... They [Germans] resembles a torrent that annihilates you, which obliterates you, and takes away your values and replaces them with its own values'."
In the Sunni-Turkish Mehmed Zahid Kotku Tekkesi mosque in Berlin, in his Friday sermon the day before Christmas Eve, the imam warned against the "greatest of all dangers" – the "Christmas peril": "Anyone who emulates another tribe becomes one of them. Is New Year's Eve ours? Are Christmas trees part of us? No, they are not!"
The imam in the Al-Rahman mosque in Magdeburg compared life in Germany to a path through a beguiling forest, Schreiber continues. Its charms had the power to entice Muslims to stray from the righteous path, to lose their way in the "thicket of the forest" until they are "devoured by the wild beasts residing in the forest."
The State Has No Clear Overview
What caught Schreiber's attention even while planning his visits, was the lack of transparency surrounding mosques in Germany. To begin with, there is no official directory of mosques; no one can say with any certainty just how many mosques there are in Germany. The private website Moscheesuche.de is the only such registry. "So German authorities," says Schreiber, "rely on lists compiled by a private individual, who is very obviously characterized by a certain fundamental ideological attitude." In addition, as the registry depends on voluntary reporting for its entries, it is doubtful that mosques that wish to remain undetected would be registered there. Schreiber considers it unlikely that the list is even close to complete or up-to-date:
"I came across mosques that are entered in the list but have not existed for some time. Or newly opened mosques that are not recorded anywhere, and neither the intelligence services nor regional authorities are aware of their existence."
Moreover, Schreiber's request to the city of Hanover revealed that German authorities apparently feel inhibited about providing information concerning mosques in their own city. An employee of the local authority wrote in an email: "Please, give me more precise information as to your intended use of this list. We do not want to have these institutions subjected to general suspicion."
Fear and Silence
One surprise was the defensive reaction Schreiber encountered from people whose professions actually demand candor and cooperation. As Schreiber wanted to make sure that in translating the sermons he would not mistranslate any of the statements, he contacted what he says is one of the most prestigious translation agencies in Germany:
"I was asked to send in one of the transcribed sermons for review, to estimate the effort and costs. My request was subsequently refused. The text was deemed to be outside the 'normal field of work' of the translators, with no one confident enough correctly to translate this 'type of text'."
The search for a translator for the Turkish sermons also proved difficult: "The mere fact that I was interested in this subject resulted in the immediate accusation that all I really wanted to do was instigate 'Islam bashing'."
Schreiber was also confronted with a wall of resistance when he looked around for German scholars of Islam so that he could discuss the contents of the sermons with them. University professors -- whose salaries are paid by German taxpayers -- refused to provide information about something that relates to their own specialty.
"For many months, I directed requests to Islamic studies faculties with whom we had frequently conducted interviews in our role as editors. One university held me off for months with the excuse that they were still searching for the right counterpart. On December 16, three months after my first inquiry, the professor of Islamic studies wrote me that there was now too little time to schedule a conversation. When I responded that if need be, I could still offer an alternative date in early January, I did not receive another answer. Several other university professors told me to send them the sermons, which I proceeded to do. Thereafter, I did not receive any more responses, even to follow-up requests."
According to Schreiber, this effort constituted an "interesting experience", as otherwise, scholars of Islamic studies and Islam experts "are very obliging in offering to be interviewed on current political issues." That openness does not exist, however, when it concerns sermons in German mosques: "Many experts avoid me after receiving my inquiries, while calls and emails consistently remain unanswered." One Islamic scholar indirectly advised him to drop the project, as it could supposedly "widen the gulf." Why? Because, according to this scholar of Islamic studies, "even liberal and tolerant readers could easily find these texts to be extremely incomprehensible and strange, as well as 'crude'."
Unsuspecting Politicians
Schreiber's conclusion about the sermons he heard, is:
"After 8 months of research, I have to say that Mosques are political spaces. The majority of the sermons I attended were aimed at resisting the integration of Muslims into German society. If the issue of life in Germany was raised, then it was primarily in a negative context. Frequently, the imams described everyday life in Germany as a threat and urged their communities to resist. The common feature of almost all the sermons is their appeal to the faithful to shut themselves off and to keep to themselves."
In "virtually every mosque", Schreiber noticed "scores of refugees who had not been living in Germany very long." They too had been warned against adjusting: "While outside the mosque there is constant talk of integration, the opposite is preached inside."
The danger of this approach is demonstrated by the murder of Farima S., an Afghan woman who was murdered in the Bavarian town of Prien. Eight years ago, she renounced Islam, adopted Christianity and, two years after that, fled to Germany. On April 29, she was murdered by an Afghan Muslim in broad daylight. While a number of Muslims living in the town attended the funeral, the mosque associations pretended that the murder did not concern them. Karl-Friedrich Wackerbarth, the pastor of the Evangelical parish of Prien, where Farima S. was a member, asked the associations to condemn the crime. In October, half a year after the murder, he responded to an inquiry from Gatestone Institute: "Unfortunately, to this day," he said, "there has been no reaction."
Wackerbarth suspects that the Islamic associations do not want to make a pronouncement against fatwas by Cairo's Al-Azhar University, and others, according to which "apostates" [those who renounce Islam] are to be killed.
This situation raises the question as to why the German government hopes that mosque associations will help them solve problems. Recently, the well-known human rights activist and critic of Islam, Necla Kelek wrote:
"Politicians who repeatedly emphasize their intention of cooperating with the mosques, who invite them to conferences on Islam, have no idea who is preaching what there."
Stefan Frank is a journalist and author based in Germany.