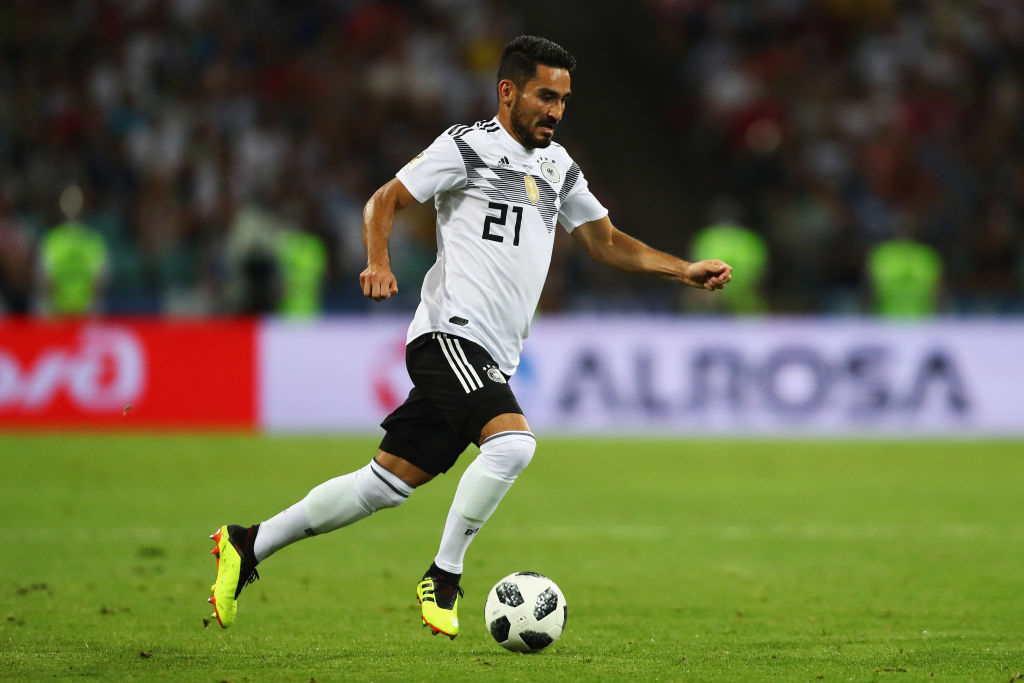 Ilkay Gündoğan, who played for the German national soccer team in this year's World Cup, posed for a photo-op with Turkish President Recep Tayyip Erdogan shortly before the tournament. Gündoğan -- who holds only German citizenship -- gave Erdogan a signed shirt bearing the message (in Turkish): "With respect to my president. Yours faithfully". (Photo by Dean Mouhtaropoulos/Getty Images)
This summer, the German public began to realize that there are hundreds of thousands of Germans of Turkish origin who revere as their leader not German Chancellor Angela Merkel, but Turkish President Recep Tayyip Erdogan.
In a country where Erdogan is arguably the most-despised foreign leader, this revelation was probably bound to create a dust-up. For years, Erdogan's human rights violations, his slander against Germany (where he sees "Nazi practices" at work) and the imprisonment in Turkey of German citizens on trumped-up terrorism charges have been regular news in the German media. The fate of German-Turkish journalist Deniz Yücel, arrested by the Turkish police in February 2016, then held in solitary confinement in a Turkish prison for almost a year, has caused as much public outrage in Germany as the imprisonment and subsequent house arrest of Pastor Andrew Brunson has in the United States. Cem Özdemir, a former chairman of Germany's Green Party -- who in 1994 became the first member of the German parliament who had Turkish roots -- has called Erdogan a "hostage taker".
So it was not surprising, shortly before the soccer World Cup, when two German national soccer team players of Turkish origin had a photo-op with Erdogan, that there was a national outcry.
In a meeting at London's Four Seasons Hotel on May 15, Mesud Özil (Arsenal London) and Ilkay Gündoğan (Manchester City), two midfielders who had been called up by Germany's coach, Joachim Löw, for the World Cup in Russia, gave signed club shirts as gifts to the Turkish president. The shirt given by Gündoğan -- who holds only German citizenship -- bore the message (in Turkish): "With respect to my president. Yours faithfully". Erdogan's Justice and Development Party (AKP) immediately distributed the pictures through its media channels and used it in its election campaign.
In Germany, the reaction to the "Erdogate" scandal was seismic. Cem Özdemir said:
"The name of the President of a German national team player is Frank-Walter Steinmeier, the Chancellor is Angela Merkel, and the parliament is called Deutscher Bundestag. It is located in Berlin, not in Ankara."
Reinhard Grindel, president of the German Soccer Association (DFB) said:
"The DFB, of course, respects the special situation of our players with migrant backgrounds, but soccer and the DFB stand for values that Mr. Erdogan does not sufficiently respect. That is why it is not good that our international players let themselves be manipulated for his electoral campaign. In doing that, our players have certainly not helped the DFB's work on integration."
Fueling the anger further was Özil's and Gündoğan's refusal to admit that the photo-op might have been a mistake, as well as the behavior of high-ranking DFB officials, who tried to explain it away. They cited as excuses the ethnicity of the players (who were both born in Germany) or their "young age" (Gündoğan is 27, Özil is 30).
In the last two test matches ahead of the tournament, German fans booed both Özil and Gündoğan. Some, in a foul against Gündoğan, even cheered.
In an attempt to heal the rift, German President Frank-Walter Steinmeier received Özil and Gündoğan in his official residence in Berlin. During a subsequent interview in Die Zeit, however, Steinmeier sadly admitted that the players had not acknowledged any wrongdoing.
DFB director Thomas Bierhoff nevertheless insisted that Özil and Gündoğan were "still good ambassadors for integration". In 2010, Özil had, in fact, been awarded a "prize for successful integration" by the Hubert Burda Media group, and in 2014, the German president awarded him Germany's highest sports award, the Silver Laurel Leaf. Özil had been elected Germany's player of the year five times.
The debate about the incident, which continued during the World Cup, took on even more steam after Germany's disastrous performance at the tournament -- the worst showing of a German soccer team in 80 years. That debacle put pressure on the soccer association. Many called on Özil finally to issue an apology or face consequences.
DFB president Reinhard Grindel, said:
"It is true that Mesut has not said anything yet, which has disappointed a lot of fans... Mesut, when he returns from vacation, should publicly give his view. We also want to wait and see how Mesut gets involved. It is only fair that we give a deserving international who made a mistake a chance."
Two weeks later, Özil posted three open letters on social media (in English), concluding with his resignation from the German national squad. He also hit out at the "racism" to which he claimed to have been subjected:
"It is with a heavy heart and after much consideration that because of recent events I will no longer be playing for Germany at international level whilst I have this feeling of racism and disrespect."
To back up his claims, Özil quoted a xenophobic insult that had allegedly been yelled at him in a stadium, as well as derogatory comments made in the social media by two men -- one, a virtually unknown local politician of Germany's Social Democratic Party (SPD); the other, a vice-chairman of a theater in Munich.
While Germany's biggest tabloid Bild criticized Özil for his "whining resignation" and his "confused reckoning with Germany", most German newspapers did an about-face and jumped on the Özil bandwagon. The very newspapers that had harshly criticized Özil a few weeks earlier for his "chat with a despot" now attacked Grindel for his "silence" and "failure" to speak out in Özil's favor; and congratulated Özil for sparking a debate about integration of immigrants. "Finally, racism is called racism," ran the headline in Berlin's Tagesspiegel.
The chairman of the Central Council of Muslims in Germany (ZMD), Aiman Mazyek, urged DFB president Grindel and the DFB's general manager, Oliver Bierhoff, to resign. The "foul" both had committed, in Mazyek's view, was to ask Özil to provide an explanation:
"Putting the boot in is punished with a red card in sports... Bierhoff and Grindel must step down if they have not learned anything else in their long career than, 'You lose as Özil', instead of, 'You lose as a team.'"
In Turkey, Özil's resignation and his statement in which he complained about German "racism" turned him into a superhero. Erdogan personally called Özil to express his support. Devrek, the Turkish home town of Özil's grandparents, and that had already named a street after Özil, replaced a billboard showing Özil in a long-sleeved German training top with another in which he was seen with Erdogan.
All of a sudden, it was not Özil, but Germany that stood in the dock. German Foreign Minister Heiko Maas saw the need to protect Germany's reputation against allegations of "racism": "I do not think that the case of a multi-millionaire who lives and works in England tells much about Germany's integration capacity", he said.
While many commentators seem particularly interested in assigning guilt, there were two important takeaways from the debate.
One was that Erdogan is tremendously popular among German-Turks. That became clear in Turkey's recent presidential elections. Erdogan won 52% of the overall vote in the election -- but received 64.8% of the votes cast in the 13 voting stations that Turkey set up in in Germany. His best result was in Germany's industrial hub, Essen, where an astonishing 76.3% of Turkish voters cast their votes in his favor. "Germany stays an Erdogan bastion," wrote the Frankfurter Allgemeine daily. After the first exit poll, thousands of Turks in German cities took to the streets, honked car horns and waved Turkish and AKP flags, celebrating Erdogan's election victory until well after midnight. This triggered harsh condemnations from German politicians -- especially from those on the left, who are otherwise diehard supporters of multiculturalism.
Notably, there is a huge gap between the election results in Germany on one side, and in the UK and the US on the other. In Germany, Erdogan won about two-thirds of the votes; his main opponent, the Social-Democrat Muharrem Ince, won about 20%. In the UK and the US, the outcome was the reverse: 72% of Turks in the USA and 59% of Turks in the UK voted for Ince, only 16% and 22% percent respectively for Erdogan.
Why is Erdogan so much more popular among Germany's Turks? Gökay Sofuoglu, chairman of the Turkish Community in Germany, told the German news agency DPA that while the Turks in Germany were mostly laborers from rural parts of Anatolia, who brought with them their conservative values, the Turkish voters in the UK and the USA were mostly students and highly-educated people who lean towards the opposition.
The second reason, for many German-Turks, is that Turkey is their "fatherland." As most of the Turks who celebrated Erdogan's victory on German streets were young people who are third generation migrants -- whose parents were born in Germany -- the mindset of their ancestors has apparently been passed from one generation to the next. With this in mind, one might take another look at Özil's letter of resignation:
"Whilst I grew up in Germany, my family background has its roots firmly based in Turkey. ... During my childhood, my mother taught me always to be respectful and never to forget where I came from, and these are still values that I think about to this day. ... My mother has never let me lose sight of my ancestry, heritage and family traditions. For me, having a picture with President Erdogan was not about politics or elections, it was about me respecting the highest office of my family's country. Although the German media have portrayed something different, the truth is that not meeting with the President would have been disrespecting the roots of my ancestors."
So it suddenly makes sense that Turkish newspapers wrote that the Anatolian village Devrek was Özil's "hometown" -- even though he was born in Gelsenkirchen, Germany, and spent his whole life in Germany, before moving to Madrid and later to London.
In his new book, Immigration. Ein Protokoll des Scheiterns ("Immigration. A record of Failure"), German-Egyptian political scientist Hamed Abdel-Samad, one of Germany's best-known critics of Germany's passive approach to immigration and integration, wrote:
"Even parents who are not very conservative bow to the pressure exerted by the migrant community and raise their children in accordance with religion and traditions. The fatal consequence of this kind of upbringing is that the community's sympathies and acceptance count more than the child's wellbeing."
One of the reasons why the communities are so powerful, according to Abdel-Samad, is because through the years, almost homogenous neighborhoods have developed:
"There is no mingling with other foreigners and especially not with Germans. Compared to the early years, the infrastructure has tremendously expanded and so have the mechanisms of control. This is why, in my opinion, the children of the third and fourth generation have more difficulties [integrating]."
If, 57 years after the arrival of the first Turkish guest-workers, the integration of their grandchildren still cannot be viewed as successful, what does that bode for the prospects for integrating the children and grandchildren of the more than one million migrants from Africa, Asia and the Middle East who have arrived in Germany since 2015?
Clashes in the future could be far more serious than this summer's spat – unless Germany wakes up. In a debate that has dragged on for months, Hamed Abdel-Samad, right after Özil's and Gündogan's photo-op with Erdogan, published a statement on his Facebook page:
"Two super-integrated German-Turks for whom all the doors to a career in Germany were opened have never campaigned for the release of imprisoned journalists in Turkey, instead they made an election campaign for Erdogan. Now all the social-romanticists may ask themselves what we have done wrong that German-Turks find Erdogan attractive."
Erdogan's supporters in Germany, Abdel-Samad wrote, "are not the ones who are left behind and rejected" but "people who want to belong to the victors and view Erdogan as an alternative and antithesis to Europe".
"All the ones who have celebrated Özil as the personification of successful integration should not be surprised that his fans among the German-Turks will now vote for Erdogan after they have seen him smirking on this picture. When do you finally realize that the most important requirements for integration are not language and upward mobility, but emotional bonds and identifying with the country in which one lives?"
Stefan Frank is a journalist and author based in Germany.