In September, the Canadian parliament began its study on how to combat "Islamophobia" as decided upon in the M-103 motion. A parliamentary committee, the M-103 committee, was established for that very purpose. Although motion M-103 was not binding, Samer Majzoub, a Muslim Brotherhood affiliate of the Canadian Muslim Forum, tellingly advertised:
"Now that Islamophobia has been condemned, this is not the end, but rather the beginning... so that condemnation is followed by comprehensive policies."
Majzoub's statement presumably meant that the next steps would be to make M-103 binding.
Part of the problem, however, with any study of "Islamophobia", as with any motions about it, is that it is never clearly defined.
Now fresh statistics released at the end of November 2017, showed that in Canada, hate crimes against Muslims actually fell in 2016, but those against Jews increased:
Hate crimes against Muslims:
2015, there were 159
2016, there were 139
Hate crimes against Jews:
2015, there were 178
2016, there were 221
In Canada, with a population of 36 million people, approximately 330,000 are Jews and slightly more than 1,000,000 are Muslims.
Should not parliament, then -- if anything -- instead be studying how to combat Jew-hatred? Statistics, of course, do not mention who is behind the rise in hate crimes against Jews. Moreover, the Canadian media is not investigating what might be causing it, or whether the regular preaching of Jew-hatred in many mosques might have something to do with it. Canadian politicians? They are too busy studying "Islamophobia".
Canadian Prime Minister Justin Trudeau recently labelled a question about putting returning ISIS jihadists in jail from Opposition Leader Andrew Scheer, part of a pattern of "Islamophobia". (How can that be, if ISIS supposedly has "nothing to do with Islam"?)
Trudeau said that Canada needed to ensure that resources would be "in place to facilitate disengagement from violent ideologies, in particular [for] children who return from conflict zones [and] require tailored solutions... we're also there to help them to let go of that terrorist ideology."
"The Prime Minister," said Scheer during the debate, "is using a broad spectrum that includes poetry and podcasts, and all kinds of counselling and group hug sessions. When," he asked, "will the Prime Minister take the security of Canadians seriously and look for ways to put these ISIS fighters in jail?"
Trudeau's response was to accuse Scheer of Islamophobia:
"Mr. Speaker, the Conservative Party... ran an election on snitch lines against Muslims, they ran an election on Islamophobia and division, and still they play the same games, trying to scare Canadians... They play the politics of fear, and Canadians reject that."
Trudeau's own Public Safety Minister, Ralph Goodale, also appears to disagree with the policy that you can hug terrorists back into society. He recently said that the chances of turning around someone who has actively engaged in terrorist activities in a war zone were "pretty remote".
Scheer has repeatedly demanded to know how many ISIS fighters "are now being welcomed back to Canada by the prime minister with the promise of reintegration services to help them."
The government does not appear to have an answer to that, or, if it does, appears unwilling to share it. Apparently, 180 Canadians were involved in terrorist related activities overseas -- 100 of them in Turkey, Iraq or Syria -- and about 60 had returned, according to the testimony of Former Canadian Security Intelligence Service (CSIS) director Michel Coulombe before a senate committee in March 2016, citing figures from 2015. None of those figures, however, includes the supporters of terrorist groups at home or potential jihadists who tried to leave the country but were prevented from doing so. "Every extremist prevented or deterred from traveling abroad may become an individual at home that requires ongoing investigation," Coulombe said.
Another document, produced in 2016 by Public Safety Canada, stated that among the returnees, "law enforcement agencies are investigating approximately 63 cases involving 90 individuals."
Last month, Public Safety Minister Ralph Goodale repeated the 2015 figures, stating that "about 60" foreign fighters returned to Canada. According to news reports, the use of that number "raised eyebrows among national security experts and sparked calls for the government to clarify how it is dealing with individuals who return from having fought with the brutal terrorist group in Iraq and Syria".
What is clear, however -- even if the Canadian government is not inclined to reveal it -- is that returned jihadists are walking around freely in Canada. It is not known how many have been charged, as the Canadian Security Intelligence Service (CSIS) and the Royal Canadian Mounted Police (RCMP) do not comment on individual cases. One jihadist, Abu Huzaifa, who was repeatedly questioned after his return from Syria, where he had gone to joined ISIS in 2014, was never charged. Instead, he has been receiving counselling for the past year.
It seems the authorities do not seem to be trying particularly hard to charge returning jihadists: "In other cases, we've assessed that they're back, they're sorry, they're working to try to get their heads straight and we're relying on family members or other professionals," RCMP commissioner Bob Paulson said on the matter in March 2016.
The current government, in fact, seems not to believe that Islamic terrorism in Canada even exists. In the 2016 Public Report on the Terrorist Threat to Canada, the government acknowledged that groups such as Islamic State and Al Qaeda do in fact constitute the main terrorist threat to Canada. However, according to the Minister of Public Safety, Ralph Goodale, who wrote the foreword to the report:
"It is a serious and unfortunate reality that terrorist groups, most notably the so-called Islamic State of Iraq and the Levant (ISIL), use violent extremist propaganda to encourage individuals to support their cause. This group is neither Islamic nor a state..."
Unfortunately, however, its self-described "caliph," Abu Bakr al-Baghdadi, received his PhD in Koranic studies from Iraq's Saddam University in 2007.The group correctly claims that everything it does is based on Islamic literature.
Similarly, the RCMP -- Canada's national law enforcement service and as such responsible for the protection of Canadians from terrorism -- published the Terrorism and Violent Extremism Awareness Guide in 2016. The purpose of the guide was to raise awareness about terrorism and to help the public better understand the early warnings of radicalization and signs of terrorist-planning activities. The guide, however, is premised on the belief that radicalization occurs because of perceptions of "injustice" (not because of perceptions of jihad) and mainly argues that fringe groups on the far-right and the far-left constitute the terror threat against Canada. Islamic groups are not mentioned. The message is that terrorism is "diverse" and has nothing to do with Islam. However, Public Safety Canada's list of terrorist entities contains 54 terrorist groups, 46 of which are Islamic terrorist groups. Strangely enough, none of the right-wing or left-wing groups mentioned in the RCMP guide as the "leading extremist groups nationally and internationally" are on Public Safety Canada's list.
Canada has also made life easier for jihadists in some ways. The recently passed Bill C-6 has ensured that dual citizens will no longer lose their Canadian citizenship if convicted of terrorism, treason or espionage.
Meanwhile, the war on free speech in Canada grinds on: Ottawa Public Library cancelled the screening of "Killing Europe," a documentary about, ironically, among other things, the death of free speech in Europe. The film featured interviews with, among others, Lars Hedegaard, Lars Vilks, a former Muslim Somali activist and many others, but the Ottawa Public Library deemed this content not suitable for Canadians -- apparently snowflakes not allowed to know about the rise of migrant rape crime, anti-Semitism, far-leftist violence and other irritants in Europe. Catherine McKenney, a library board member, said she "wholeheartedly" supported the library's decision to cancel the screening and promised "better discussion in the future about what the library chooses to allow".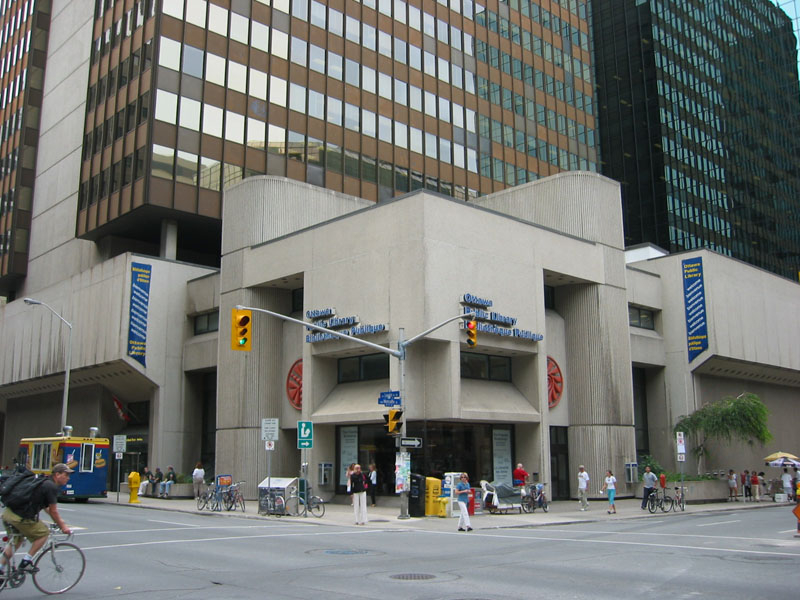 Ottawa Public Library cancelled the screening of "Killing Europe", a documentary about, ironically, among other things, the death of free speech in Europe. Ottawa Public Library deemed this content not suitable for Canadians -- apparently snowflakes, not allowed to know about the rise of migrant rape crime, anti-Semitism, far-leftist violence and other irritants in Europe. (Image source: Wikimedia Commons)
In September, a man who had written, "No More Muslims" on Durham Region Transit shelters was sentenced to five months in jail. Whether his message was genocidal, or merely an expression of not wanting more Muslims to enter Canada, is unclear. The judge said:
"Mr. Porco's message left black marks on a public bench but even after the words are scrubbed away with a guilty plea, it leaves stains that may be more permanent... Mr. Porco's message was both hateful and hurtful to the community and needs to be deterred."
While worried about graffiti, Canadian authorities appear far less concerned about deterring Canadian imams from preaching jihad, Jew-hatred and the murder of Jews to their Muslim congregations, despite Jews being approximately twelve times more likely to be targeted for hate crimes than Muslims are.
Two imams who, in 2014, in a Montreal mosque, called for the death of Jews, will not be prosecuted, due to the amount of time that has passed, Canadian authorities decided. For anti-Muslim graffiti, you go to jail for five months, but inciting an entire congregation to kill Jewish citizens does not, "for technical reasons," even merit prosecution.
John Richardson is a researcher based in the United States.