Whenever Britain suffers a terrorist attack -- and it has suffered four Islamist attacks this year alone -- the British public responds the same way.
Twelve years ago, when four suicide bombers detonated homemade bombs on the London underground and on a red-top bus in central London, there was much talk of "Blitz spirit". After 7/7, the media erupted with boasts of wartime echoes. Some people who lived in London noticed a rather different atmosphere. Of course people "got on with their lives" (what else could they do?) but in the days and weeks after the attacks it was not really "business as usual". Especially not after another four suicide bombers went onto the tube a fortnight later, on July 21, and attempted to repeat the exercise. Fortunately, on that occasion the bombs failed to detonate. But during the period that ensued, it was certainly easier than usual to get a seat on the London Underground.
Of course, political leaders relish the opportunity to accentuate and exaggerate these echoes. If the British public are the citizens of London in the Blitz, then the politicians are Winston Churchill. After attacks like the 2013 daytime slaughter of Drummer Lee Rigby on the streets of London, then-Prime Minister David Cameron stressed from the steps of Downing Street that "One of the best ways of defeating terrorism is to go about our normal lives. And that is what we shall all do." These themes are thought to play deep to the spirit of the British people.
But the more this conspicuous, self-conscious egging-on of such attitudes is stressed, the thinner it seems to get. In March, after Khalid Masood ploughed a car across Westminster Bridge, mowing down locals and tourists, and crashed the car and stabbed policeman Keith Palmer to death inside the gates of the Palace of Westminster, one prominent British journalist took to the pages of the New York Times to pour out the clichés.
"By Thursday morning, London was, if not quite back to normal, then certainly back in business. As I traveled through the south of the city, up to Chelsea and later over to King's Cross, Londoners really were going about their lives as on any other day.

"This behavior reflects something deeper than conscious defiance, I think. It would simply not occur to the 8.6 million citizens of this megalopolis to allow one man to send them into hiding. As they say in the East End, you're having a laugh, aren't you?"
One wonders when the author last went into an East End pub to have a pint, and whether he honestly believes such honest cockneys still reside there? Nevertheless, he went to boast of the "stoicism" and "ancestral pride" that still exists there and to insist that, "The only way to proceed is -- in the much-loved British slogan -- to keep calm and carry on." Quite why this spirit is meant to reside in the bones of a city in which most of its current residents (according to the last census) have arrived in the decades since the Second World War is never clear.
Similar clichés spilled out after the suicide bombing at the Manchester Arena in May. They came out yet again after the London Bridge attack in June. Yet one of the most striking images from that night was of drinkers in Borough Market, where the terrorists finished their assault, being marched out of the Market under police escort with their hands on their heads. The British public at that point, at any rate, looked not like stoical, pugnacious heroes, but like a defeated army being marched into captivity. Still the clichés continued. The day after the attack, in her address to the nation, Prime Minister Theresa May assured the public that "Our response must be as it has always been when we have been confronted by violence. We must come together, we must pull together."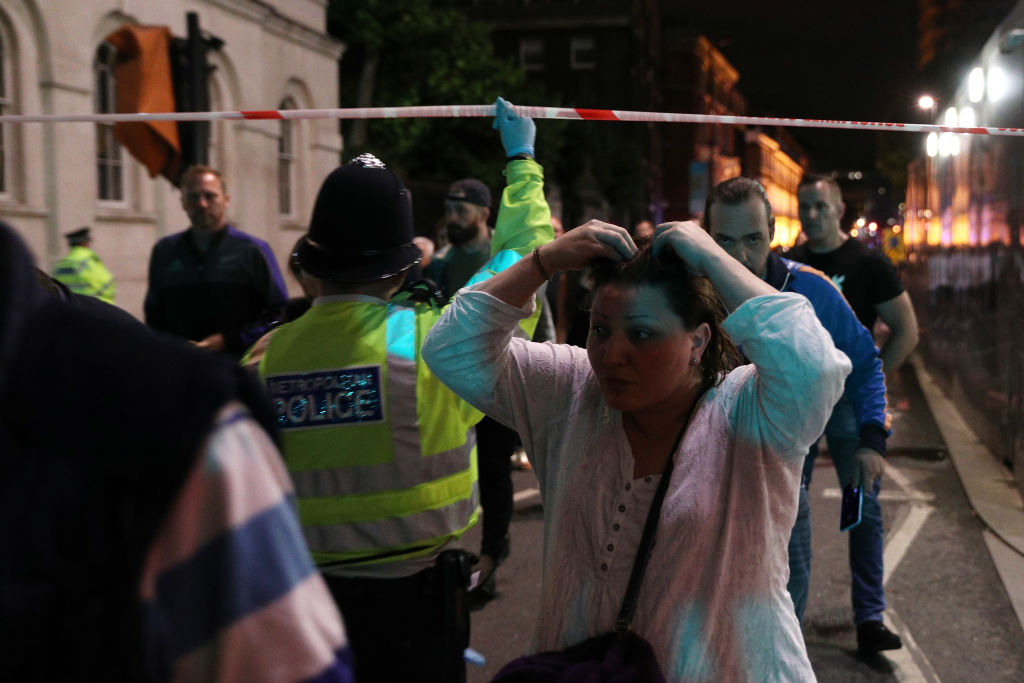 One of the most striking images from the June 3, 2017 Borough Market terror attack was of drinkers being marched out of the Market under police escort with their hands on their heads. The British public at that point looked not like stoical, pugnacious heroes, but like a defeated army being marched into captivity. (Photo by Dan Kitwood/Getty Images)
So it is interesting to consider, beneath all the talk of business as usual, and Blitz spirit, and keeping calm and carrying on, what, in fact, are the British public actually feeling? Last month provided a sobering demonstration.
Early in the evening on Friday, November 24 there were reports of shots having been fired at Oxford Circus station. A crowd stampede occurred, with people fleeing in terror down Oxford Street and other parts of one of London's busiest shopping areas. Terrified crowds barricaded themselves into local shops. A celebrity singer and television presenter called Olly Murs tweeted to his millions of followers that he was in Selfridges department store. "F**k everyone get out of Selfridges now gun shots!! I'm inside." That was his first unwise tweet, followed up shortly after with, "Really not sure what's happened! I'm in the back office... but people screaming and running towards exits!"
The police announced that they were responding to events as though they were a terrorist incident. Social media and some early national media reports said that not only gunshots had been heard but that a vehicle had ploughed into pedestrians on Oxford Street and that there were bodies and blood everywhere.
Within an hour, however, all this turned out to be nonsense. Not only had there been no vehicular attack -- there had been no gunmen. Reports that the incident may have been sparked by a gang fight rather than a terrorist attack were themselves later quashed. The next day two men who thought they might have been responsible for the panic voluntarily came into a police station and were released without charge. The only casualties from the incident were 16 people injured, one seriously, as a cause of the mass stampede out of Oxford Circus station and through the neighbouring area.
Incidents like this one in London last month easily flow by in the news cycle, and are easily forgotten. They will not be referred to in the speeches of any politician and they immediately fell away from even the "News in Brief" sections of the nation's media. But they are in fact extremely telling. They suggest that rather than being this persistently stoical, unbending and resilient people, the citizens of London have absorbed the lessons of the terror attacks of the last year and the terror attacks across Europe that have occurred in the years preceding them, in Paris and elsewhere. Contrary to all our public statements, we have become terrorised, just as the terrorists want. So much so that a minor altercation on an average evening can lead to a mass panic, a crowd stampede, and terrified public figures bleating to their followers about wholly imagined horrors. It is a glimpse into the soul of a city. And like all such ugly glimpses, we will turn away from looking at it, rather than consider it and wonder what it truly suggests.
Douglas Murray, British author, commentator and public affairs analyst, is based in London, England. His latest book, an international best-seller, is "The Strange Death of Europe: Immigration, Identity, Islam."