The European Union is intensifying its efforts to censor and marginalize voices that disagree with its policies, under the convenient euphemism of combating "fake news".
"The Commission needs to look into the challenges the online platforms create for our democracies as regards the spreading of fake information and initiate a reflection on what would be needed at EU level to protect our citizens," wrote Jean-Claude Juncker, President of the European Commission, in May 2017. How considerate that Juncker, in totalitarian fashion, wishes to protect EU citizens from news that does not fit the Commission's narratives and agendas.
In October 2017, the European Commission announced its "fake news" policies and how it intends to "design solutions to address the spread of fake news". According to the Commission, "Fake news consists of intentional disinformation spread via online social platforms, broadcast news media or traditional print". Furthermore, according to the Commission, the EU's fake news policy is guided by, among other things, "the freedom of expression, media pluralism, and the right of citizens to diverse and reliable information".
This assurance of freedom of expression and pluralism comes across as rather laughable: the EU already does what it can to eliminate "media pluralism and... diverse and reliable information". The EU, for example, has programs in place -- such as the Rights, Equality and Citizenship Programme (REC) - - that seek heavily to influence European mainstream news outlets and their journalists with its own agendas -- such as that of continued mass-migration into Europe from Africa and the Middle East. For this purpose, the European Commission recently funded the publication of a handbook with guidelines for journalists on how to write about migrants and migration. The handbook was launched on October 12 by the International Press Institute (IPI) -- an association of media professionals representing leading digital, print and broadcast news outlets in more than 120 countries. Specifically, with regard to Muslims, the guidelines recommend:
"... Take care not to further stigmatise terms such as 'Muslim' or 'Islam' by associating them with particular acts... Don't allow extremists' claims about acting 'in the name of Islam' to stand unchallenged. Highlight... the diversity of Muslim communities..."
The EU also financially supports a campaign, "Media Against Hate" run by the European Federation of Journalists (EJF), the largest organization of journalists in Europe, which represents over 320,000 journalists across 43 countries. That campaign aims to:
"... improve media coverage related to migration, refugees, religion and marginalised groups... counter hate speech, intolerance, racism and discrimination... improve implementation of legal frameworks regulating hate speech and freedom of speech..."
To further its nascent "fake news" policies, the European Commission recently appointed 39 "experts" to a so-called "High Level Group (HLEG) on Fake News and online disinformation":
"It comprises representatives of the civil society, social media platforms, news media organisations, journalists and academia....

"The High Level group will advise the Commission on scoping the phenomenon of fake news, defining the roles and responsibilities of relevant stakeholders, grasping the international dimension, taking stock of the positions at stake, and formulating recommendations".
The media representatives have been almost exclusively picked from the mainstream media -- giants such as ARD, RTL, Swedish state television, Sky News, AFP and News Media Europe, which renders any sort of balanced outcome that these "experts" might reach a rather illusory option. To the extent that they even view new or alternative media as a threat, it is seemingly in the interest of these media representatives to label competition from alternative or new media, "fake news". The high-level group held its inaugural meeting on January 15, 2018.
The European Commission will poll EU citizens and conduct a Eurobarometer public opinion survey to be launched early 2018 "to measure and analyse the perceptions and concerns of the European citizens around fake news". The Commission will also be organizing a "multi-stakeholder conference on Fake News" which, will "define the boundaries of the problem, assess the effectiveness of the solutions already put in place by social media platforms and... agree on key principles for further action".
The EU is not alone in threatening the shutting down of free speech under the cover of combating "fake news". In France, President Emmanuel Macron has announced that he wants to introduce new legislation aimed at regulating "fake news" during election seasons, including "emergency legal actions" that would allow the French government to remove "fake news" from a website or block sites entirely. Macron said:
"If we want to protect liberal democracies, we must be strong and have clear rules. When fake news is spread, it will be possible to go to a judge ... and if appropriate, have content taken down, user accounts deleted and ultimately websites blocked."
A law like this would mean that the French state -- or whoever is placed in a position to act as thought police on its behalf -- would become the arbiter of what constitutes "truth", much in the same way as the new German censorship law requires social media networks to act as the privatized thought police of the German state.
The proposed French law, however, would go even further than the German censorship, in that it would allow French authorities to block entire websites during election seasons, a draconian measure to combat political opponents, which would place France in the same category as countries such as China and Iran that block websites that do not suit the agendas of the regime.
Such a French law would also be in violation of the right to freedom of expression and information guaranteed in Article 10 of the European Convention on Human Rights, to which France is a party, and the case law of the European Court of Human Rights. Article 10 states that everyone not only has the right to freedom of expression but "to receive and impart information and ideas without interference by public authority and regardless of frontiers..." Governments are not supposed to interfere in that right -- with a few specific exceptions described in Article 10 -- because such interference constitutes government censorship.
Overall, Europe appears to be aspiring to make totalitarianism great again.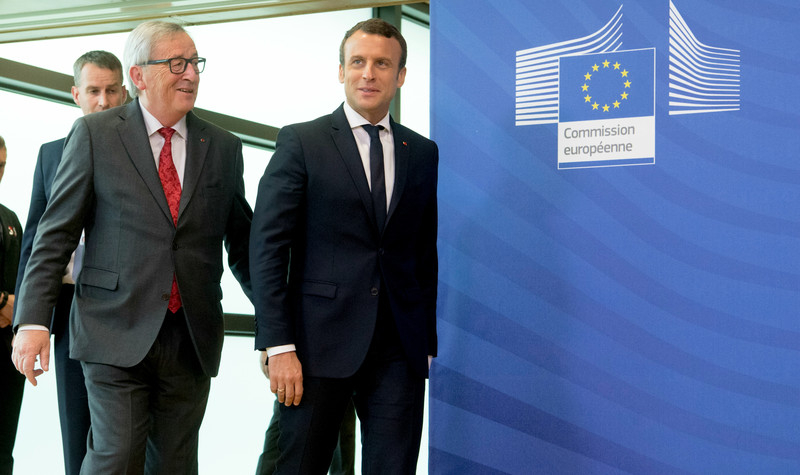 Both European Commission President Jean-Claude Juncker (left) and French President Emmanuel Macron (right) are proposing restrictions that would violate the right to freedom of expression and information that is guaranteed in the European Convention on Human Rights. (Image source: European Commission)
John Richardson is a researcher based in the United States.