In official language, Turkey is in a state of emergency ever since a failed putsch, allegedly masterminded by a self-exiled cleric, killed nearly 250 people on the evening of July 15, 2016. Since then, the government says, it has purged more than 107,000 government employees for alleged links to the coup attempt. Worse, according to a Supreme Court justice, the Turkish government is investigating a total of 6.9 million citizens, or about 8.6% of all Turks.
Even "not-warmongering" can be associated with being a terrorist. More than 300 activists were arrested for their opposition to Turkey's military incursion into northern Syria. That number did not include the 11 doctors who are members of the Turkish Medical Association who were arrested for calling for a halt to the offensive. (They were later released but will stand trial). In addition, Turkey has asked Twitter, Facebook and YouTube to remove posts on the military offensive.
Outside its borders, hardly a day passes without confrontation, clashes or tensions. Turkey says it had "neutralized" nearly 1,000 Kurdish militiamen since Operation Olive Branch in Syria took off on January 20. But not all of Turkey's wars involve artillery, bombings and casualties.
On Jan. 26, for instance, hundreds of Kurds living in Beirut gathered in front of the Turkish embassy in order to protest Operation Olive Branch. France's foreign minister, Jean-Yves Le Drian has told Ankara not to worsen the situation in Syria. He also, while condemning civilian casualties, called Turkey's military operation in Afrin (in northern Syria) a violation of international law. A week before that, thousands rallied in Paris to protest the Turkish operation.
Germany's foreign minister, Sigmar Gabriel, has said that the government would freeze the decision about whether to grant Turkey's request for more modernized tanks -- which Turkey intends to use at the Syrian war theater.
The German decision came amid allegations that the ancient Ain Dara Hittite temple complex in northern Syria, at least 3,000 years old, was bombed into rubble by Turkish fighter pilots in an operation that appears to have rivaled the destruction of Palmyra by the Islamic State terrorists.
On February 5, the Dutch Foreign Ministry formally withdrew its ambassador to Turkey; the ambassador had been physically barred from the country for almost a year, over a dispute that began during March 2017. The Netherlands will also not accept the appointment of a new Turkish ambassador to the Netherlands.
On February 8, members of Sweden's parliament also demanded that their government recall its ambassador to Turkey.
The seas surrounding some of Turkey's coasts do not look peaceful, either. On January 29, two Turkish warships tried to keep Greece's nationalist defense minister, Panos Kammenos, from reaching the rocky Aegean islet of Imia, which both countries claim, to throw a wreath marking a 1996 incident there that almost brought them to war. A few days later, one of Turkish President Recep Tayyip Erdogan's chief advisors, Yigit Bulut, warned that any Greek who steps foot on the islet will "feel the anger of Turkey, worse than that in Afrin." He added: "We will break the arms and legs of any officers, of the [Greek] Prime Minister or of any minister who dares to step onto Imia in the Aegean".
Turkey's southern littoral zone is in no better shape these days. Turkish Foreign Minister Mevlut Cavusoglu has warned international companies drilling for oil and gas off Cyprus that these hydrocarbons are within Turkey's continental shelf.
Cavusoglu said that Turkey "is prepared to take all necessary measures" to protect its rights, and those of the Turkish Cypriots, in the eastern Mediterranean. This is not a fresh dispute in eastern Mediterranean. Since Turkey invaded the northern third of the island in 1974, Cyprus has remained a divided territory, with a Greek Cypriot state recognized internationally and a Turkish statelet recognized only by Turkey. That division lies at the heart of the drilling issue and Turkey says it acts in order to protect the interests of Turkish Cypriots.
Not all of Turkey's good services, however, are wanted among the Turkish Cypriots. On January 26, several thousand Turkish Cypriots marched against what they say is Turkey's unwanted influence that has emboldened hard-right groups to try and silence opposing views. Protesters braved pounding rain to voice their opposition to Turkey's agitation of "fascist and extremist" segments of their society.
Erdogan's Turkey apparently has an ideological incompatibility with the word "peace." Its wars with various parts of the world, including big chunks of the Turkish and Turkish Cypriot societies, is not a bad omen only for those involved: This outright bullying can target any nation at any time. Optimists who think it might fade away will be proven wrong once again.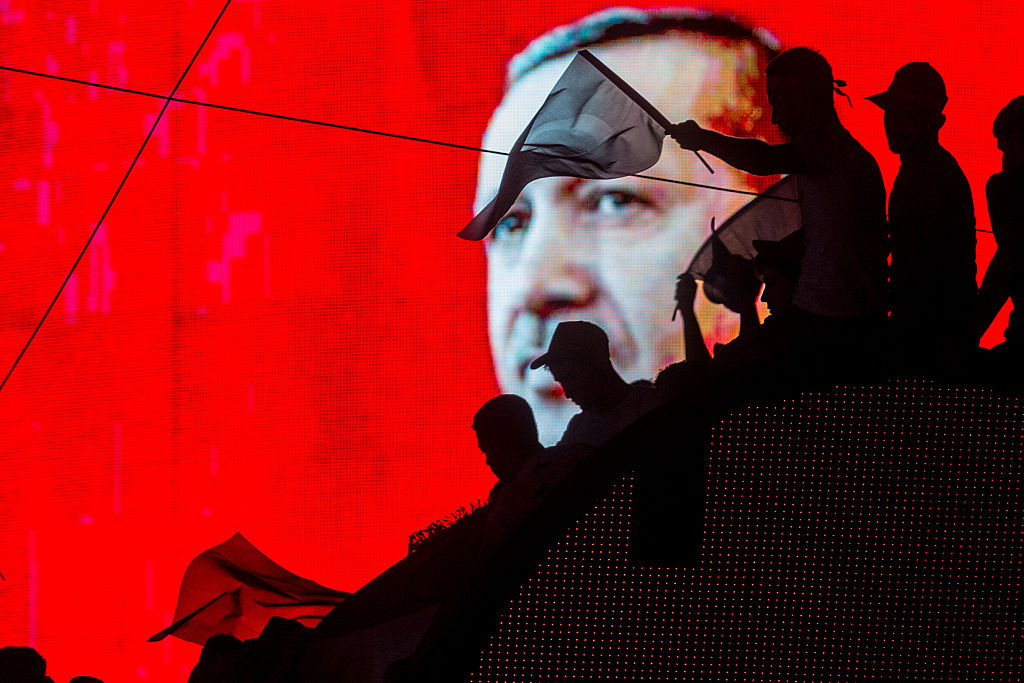 (Photo by Chris McGrath/Getty Images)
Burak Bekdil, one of Turkey's leading journalists, was recently fired from Turkey's leading newspaper after 29 years, for writing what was taking place in Turkey for Gatestone. He is a Fellow at the Middle East Forum.