During Emmanuel Macron's election campaign, and even after he became president, he carefully avoided France's two most dodgy topics: migrants and Islam. It did not take long, however, before Macron found himself caught up in both of them.
On February 11, 2018, however, Macron gave an interview to Journal du Dimanche: "We are working on the structuring of Islam in France and also on how to explain it, which is extremely important," Macron told the French weekly newspaper. Of course, nothing significant came out of the interview; it was only one part of a message, to prepare Muslims and non-Muslims for the big project: transforming Islam in France into the Islam of France. Although its contents are still unclear, the frame is usually the same: Muslims are supposedly victims, and a reform of France is necessary to make them peaceful and happy.
One wonders if the Islam of France will be really different from what it is today.
With Islam, an unbridled anti-Semitism in France has continued to soar. On January 29, 2018, an 8-year-old Jewish boy wearing a Jewish skullcap was attacked in the suburb of Sarcelles, near Paris. For a long time, Sarcelles was a suburb where Jews and Muslims once lived peacefully side by side. That has changed. In 2014, a pro-Palestinian demonstration escalated into an anti-Jewish pogrom, complete with shops burned and civilians attacked. On January 10, 2018, also in Sarcelles , an unidentified assailant armed with a knife slashed the face of a 15-year-old Jewish girl. On January 9, in the suburb of Creteil, a kosher grocery store that had been covered with swastikas days earlier was gutted in a fire. The police said they suspected arson.
Macron reacted strongly against the anti-Jewish violence. "It's the republic that is attacked," he said. Like all presidents before him, he took great care not to name the Islamist attacker.
In France, small groups of Muslims and Salafists have undertaken ethnically to purify territories that they see as their own. Every time an area is shared with Jews, the violence against them builds up. Between 30,000 and 60,000 Jews have already migrated from their homes -- generally in the eastern suburbs of Paris -- to other, safer parts of Paris.
As for asylum seekers, in 1981, there were 20,000 asylum seekers in France. In 2017, the number of economic migrants disguised as "asylum seekers" reached a historic mark of 100,000, announced the French Office for the Protection of Refugees and Stateless Persons (OFPRA) on January 8, 2018. That 100,000 represents an increase of 17% from the year before.
As the government seems unable to control the situation, violence is soaring. On February 1, 2018, extremely violent clashes between Afghan and African migrants broke out in several parts of the coastal city of Calais, where a growing number of migrants go to try to cross the Channel to Great Britain. Twenty-two people were injured, four of them by gunfire. Those four are still in hospital and still in critical condition. The Minister of the Interior Gérard Collomb deplored "a degree of violence never seen before" in modern France.
Macron now knows that he will have to confront the issue of Islam and migrants. Since his election, he has had access to sensitive, disorienting information. Collomb has informed him about the state of the terrorist threat and the radicalization of young Muslims, aged 15-25 (25% of the Muslim population), who say they want to establish sharia law in France. Macron, apparently, is hesitating.
In December 2017, he delayed a speech he was about to deliver on the coexistence between the secular Republic and "monotheistic religions". Instead, Macron brought representatives of the six main religions (Catholic, Protestant, Orthodox, Muslim, Jewish and Buddhist) for a "nearly two hour" meeting, assisted by Collomb and Education Minister Jean-Michel Blanquer, in the president's Elysée Palace. Part of what was discussed has filtered out. Macron evidently reaffirmed that the "Republic is secular" but that "society does not have to be secular". In other words, in society, all religions must feel free to express themselves. Macron also said that he will be "vigilant" against an eventual "radicalization of secularism".
None of the clerics around the president pointed out that secularism has never killed anyone, while since 2015, Islamist terrorism has seen the murder of hundreds of citizens.
In January 2018, when a protest by prison guards erupted, the government was taken by surprise. For two weeks, television and radio airwaves were filled with testimonies about the terror that Islamist detainees were sowing throughout the whole prison system. Prison guards tried to explain that every day their lives are in danger.
In late January, when the strike ended, Macron said privately that the danger was not radicalized Muslim prisoners but radicalized guards. One of the main unions for prison guards, according to him, had become "infiltrated" by undercover militants from the right-wing Front National party. French politicians, as usual, mistake the effect for the cause. If prison guards are joining Front National, it is probably because they feel abandoned by politicians who are not doing their essential work: keeping dangerous people away from society.
Another headache for Macron are the 1,500 French jihadists who reached ISIS in Syria: what France should do about them. On December 9, 2017, French Foreign Minister Jean-Yves Le Drian, disclosed that 500 French fighters who had joined the Islamic State were still in the Iraqi-Syrian area. In late December, 30 were arrested in northern Syria. Among them was Thomas Barnouin, a convert to Islam and close to Mohamed Merah, the killer of seven French citizens in 2012, and Emilie König, who recruited jihadists for ISIS. Many of these Frenchmen were requesting to be tried in France: in Iraq and Syria they would risk the death penalty.
Macron, apparently, is hesitating. In November 2017, he had declared on Channel 2 that the situation of jihadi women and children would be examined "on a case-by-case basis". He had sad that most of them would receive a humanitarian treatment; not be brought to court, and that jihadi women would receive "medical and psychiatric treatment." This "case by case" treatment -- no court, no prison, but medical care as well as money for gradual social rehabilitation -- is a solution that could in the end be worth it for all the French jihadists arrested in Iraq and Syria" the French daily Ouest-France explained.
In January 2018, the French Minister of Justice issued a public statement: "We will not let 'death penalty sentences' against French jihadists by Iraqis happen in Syrian courts". Maybe these killers will next be considered victims of intolerance by the discriminatory French.
On the diplomatic level, at first glance, Macron adopted a tough stance against "Islamic terrorism". In August 2017, in front of all of France's ambassadors, he said, "The fight against Islamist terrorism" must be "the first" priority, to "ensure the safety of our fellow citizens".
This martial announcement, however, targeted only ISIS, by now almost defeated. When a few Islamic states such as Turkey behaved like terrorist states, the official tone of the French president varied significantly. When Turkish President Recep Tayyip Erdogan launched a military offensive against the Kurds in Afrin (in Syrian Kurdistan), Macron immediately distanced himself from the Kurds. He considered publicly as "potential terrorists" these Kurdish Peshmergas whom the French military had been training in Iraq to fight ISIS.
The reason for this betrayal could well be the important Turkish population in France (between half a million and 800,000) as well as the growing influence inside the French Turkish population of a Muslim Turkish party, the Parti Egalité Justice ("Equality and Justice Party," PEJ). The PEJ is the French element of a network of political parties built by Turkey's President Recep Tayyip Erdogan and his Justice and Development Party (AKP), to influence each country in Europe, and to influence Europe as a whole through its Muslim population.
Recently, in Lyon, large numbers of Turkish Islamists demonstrated in front of the city hall to support Erdogan's war against the Kurds, while pro-Kurdish demonstrators were blocked by the police.
Macron seems to ignore that each Islamist victory in the Middle East has a euphoric effect on French jihadists (Turkish and non-Turkish) and brings them out of the woodwork.
Regarding Israel and the Palestinians, Macron seems to be positioning himself along the traditional arc of French diplomacy: "appeasement" resulting from the strong Muslim population living in France. When US President Donald Trump announced the transfer of the American Embassy from Tel Aviv in Jerusalem, Macron immediately tweeted:
"France does not approve the US decision. France supports the two-state solution, Israel and Palestine, living in peace and security, with Jerusalem as the capital of the two states. We need to focus on appeasement and dialogue."
The last sentence is a resumé of all Macron's Islam policy: appeasement and dialogue -- in other words, submission.
Like his predecessors, Macron is on his way to search for an imaginary amicable solution. Like his predecessors, he will fail -- and will have been president for nothing.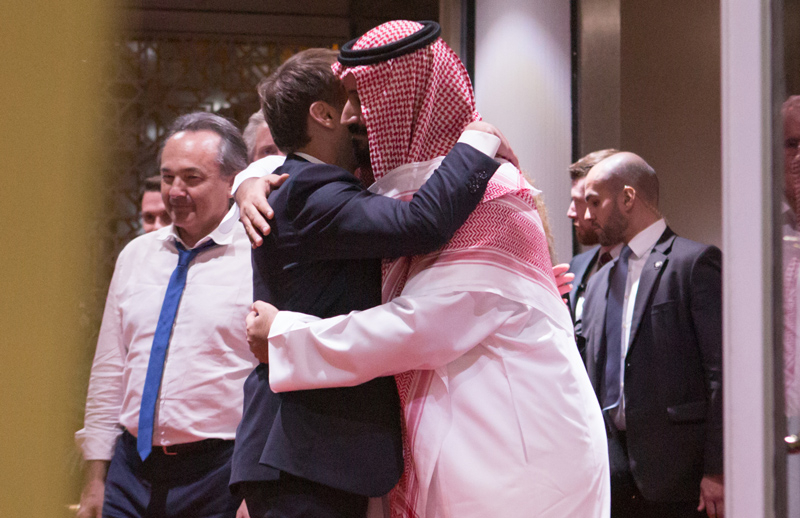 French President Emmanuel Macron hugs Crown Prince Mohammad bin Salman of Saudi Arabia, on November 9, 2017 in Riyadh. (Image source: Office of the French Presidency)
Yves Mamou, author and journalist, based in France, worked for two decades as a journalist for Le Monde. He is completing a book, "Collaborators and Useful Idiots of Islamism in France," to be published in 2018.