Iran's activities in Latin America are a direct challenge to U.S. primacy in the Western Hemisphere. Iran, it seems, wants to replace the U.S. as the power ally of Latin American countries.
While Iran's nuclear, ballistic missile, and expansionist policies in the Middle East are well known, most of the Islamic Republic's operations in Latin America appear to have been proceeding underway, below the radar, for several decades.
During a joint news conference on February 4 in Buenos Aires with Argentina's Minister of Foreign Affairs Jorge Faurie, U.S. Secretary of State Rex Tillerson pledged to combat Hezbollah's fundraising in Latin America, which is used to finance its terrorist operations. This indicates that U.S. intelligence and enforcement agencies could be closely following Iranian and Hezbollah incursions into Central and South America. The Department of Justice, for instance, recently announced that it had established a Hezbollah Financing and Narcoterrorism Team (HFNT) to monitor and prosecute the criminal activities of Hezbollah, Iran's allied terrorist network in the region.
One model to study how Hezbollah and Iran appear to be working in tandem in Latin America is the July 18, 1994 terrorist bombing in Buenos Aires, Argentina, allegedly carried out by Hezbollah under the guidance of Iran. This terrorist act was executed when a van packed with 600 lbs. of explosives detonated outside the Jewish center there, the Asociación Mutual Israelita Argentina (AMIA). When the building collapsed, 85 people were killed and at least 300 more wounded.
Declassified Argentine intelligence reports also clearly show that Hezbollah had carried out a previous bombing, in 1992, of the Israeli Embassy -- an attack in which 29 were killed and around 200 wounded.
Last month marked the third anniversary of the murder of Argentine prosecutor Alberto Nisman, who claimed to have evidence that would expose the role Argentina's former president, Cristina Fernández de Kirchner, in obscuring Iran's alleged responsibility for the attack. Nisman had been leading an investigation into both Iran's potential role in the AMIA bombing and its possible cover-up by Kirchner.
Initially, Nisman's death seemed to doom any chance that those who had committed this act of terror would ever be prosecuted. Argentinian protestors, however, questioned initial reports that he had committed suicide and demanded that his death be investigated.
Nisman, who had publicly accused Kirchner of treason, was murdered by unknown assailants one day before he was officially to present his allegations against her.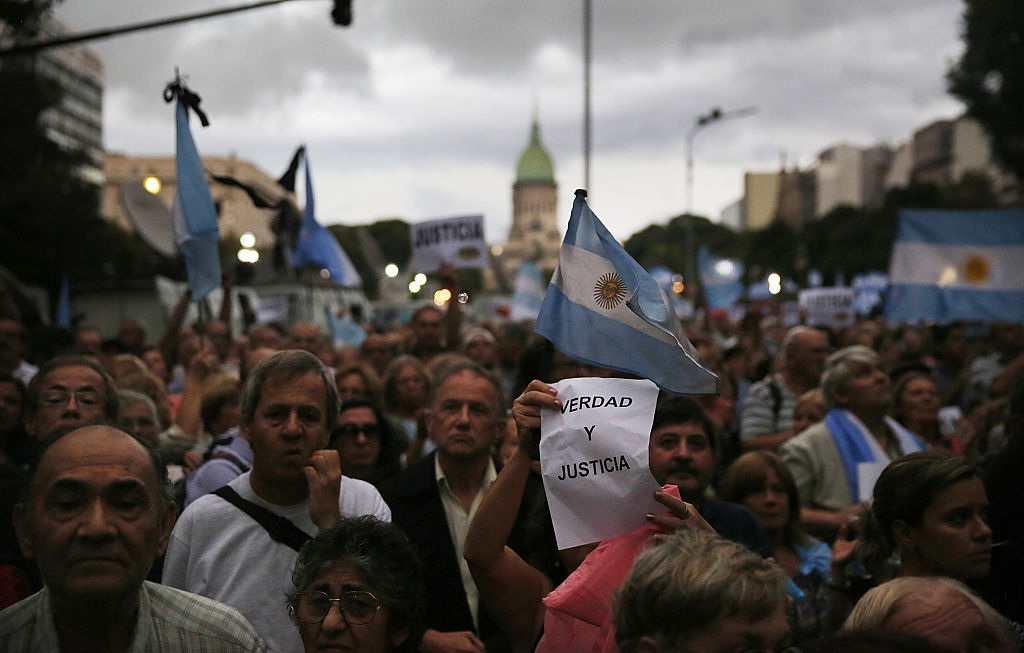 Thousands of Argentinians protest on February 18, 2015 in Buenos Aires, with signs demanding "Truth and Justice," on the one-month anniversary of the murder of special prosecutor Alberto Nisman. Nisman was murdered by unknown assailants one day before he was officially to present allegations of treason against then-President Cristina Fernandez de Kirchner. (Photo by Mario Tama/Getty Images)
In late 2015, after his election as President of Argentina, Mauricio Macri declared void his predecessor's agreement with Iran to establish a "truth commission" to determine responsibility for the bombing. The panel would have consisted of five commissioners, none of whom would even have been from Argentina or Iran.
To some, the Kirchner administration's decision to establish a truth commission with Iran, the possible perpetrator country of the terrorist bombing, may have appeared naïve or perhaps even treasonous. What could have motivated President Cristina Fernández de Kirchner to reach a deal with a rogue state such as Iran's Islamic Republic? Reportedly, the Islamic Republic of Iran agreed to a mutually beneficial bartering arrangement whereby in exchange for Argentine grain, Argentina would receive Iranian oil -- if Argentina decided to bury the investigation.
The U.S. National Counterterrorism Center wrote that it believes Hezbollah is responsible for the bombing, and therefore by extension, that Iran may be as well.
At least one of the Hezbollah terrorists possibly responsible for the actual bombing may have come from Argentina's tri-border region with Brazil and Paraguay -- an area that has apparently long hosted a principal Hezbollah headquarters in South America.
Iran, for its part, is believed to have facilitated the execution of the AMIA bombing in 1994 by giving intelligence and logistical support to the Hezbollah agents through its embassy and an Iranian front organization in Buenos Aires. Mohsen Rabbani, thought to be in charge of target selection and surveillance of the bombing target, was Iran's cultural attaché at the Islamic Republic's Embassy in Buenos Aires at the time, and believed to have served as a financier and logistician of terror operations. Another Iranian diplomat, Ahmad Asghari, was an Islamic Revolutionary Guard Corps (IRGC) official attached to the Iranian embassy and may have assisted in the terrorist attack against AMIA. Abolghasem Mesbahi, an Iranian intelligence defector, testified that he was at a meeting in Mashhad, Iran on August 14, 1993, where senior Iranian government officials discussed the bombing plans.
President Macri's efforts to pursue justice regarding these acts of terror and the subsequent cover-up have recently been given a nudge by Israeli Prime Minister Benjamin Netanyahu. While visiting Buenos Aires, Netanyahu commemorated the 25th anniversary of the 1992 bombing of Israel's Embassy as well as the 1994 AMIA bombing. Netanyahu said: "Iran stood behind these events," and "It is time to hold Iran fully responsible in a public and a final way. It is time to do justice to the victims."
Iran has employed the same pattern of networking with sub-state terrorist groups, in Yemen with the Houthis; in Lebanon, with Hezbollah; and in the Gaza Strip with Hamas.
So far, all of the major Iranian players in these expeditions remain free from justice, even though specific Iranian officials were named by the IRGC defector Mesbahi and lead prosecutor Alberto Nisman as the primary decision-makers at least in the Argentine bombing plot.
Nisman's findings, in fact, convinced Interpol to issue a red notice -- the names of persons wanted for extradition -- for several Iranian officials. These included Iran's former Minister of Intelligence and Security, Ali Fallahian; Foreign Policy Advisor to Khamenei, Ali Velayati; and deceased former Iranian President Ali Akbar Rafsanjani.
This "Argentina Model" is a case study on how Iran may be using its diplomatic missions, foreign and domestic intelligence agencies, front organizations and Hezbollah-infested Lebanese diaspora in Latin America to establish not only terrorist networks and conduct terrorist operations, but also formidable business, economic and commercial relationships.[1] Those activities could also be nurturing criminal financing networks and anti-American and anti-Israeli political coalitions.[2]
For decades, Iran has seemingly been employing both normative diplomatic ties and criminal links to export its Islamic revolution to the Western Hemisphere. By using similar methods of subversion, Iran appears already to have penetrated other Latin American nations, including Venezuela, Bolivia, Ecuador, Brazil and some island countries in the Caribbean.[3]
If efforts to expose Iran's and Hezbollah's roles in the Argentinean bombings are successful, the information will elucidate for regional leaders the dark side of Iran's ties to sub-state terrorist groups, which increase even further its influence in Latin America.
Dr. Lawrence A. Franklin was the Iran Desk Officer for Secretary of Defense Rumsfeld. He also served on active duty with the U.S. Army and as a Colonel in the Air Force Reserve.
---
[1] Iran's Strategic Penetration of Latin America by Joseph Humire and Ilan Berman, p.26. Lexington Books, London, 2014.
[2] Ibid., p.27.
[3] Ibid., preface pp. 3-5.