Two days after the Turkish military and allied jihadist forces took control of the Kurdish city of Afrin in northwestern Syria, Islamic State (ISIS) terrorists launched a major attack on Syrian regime forces in the eastern province of Deir Ezzor. The ISIS terrorists killed at least 25 soldiers and seized a large oil field. Around the same time, ISIS militants captured a strategic district in the suburb of Syria's capital, Damascus, where they killed more than 60 government troops.
These two recent advances signal a possible return by the extremist group that only months ago was thought to be largely defeated.
Since Turkey, a NATO ally, launched its Afrin offensive against the Kurdish People's Protection Units (YPG) -- a main U.S. ally in the fight against ISIS -- U.S. officials have been warning that the fighting between two U.S. allies is distracting from the main mission, which is defeating ISIS.
"We are very concerned about the effect fighting there has had on our defeat ISIS efforts and would like to see an end to the hostilities before ISIS has the opportunity to regroup in eastern Syria," said Pentagon spokesman U.S. Army Colonel Rob Manning, referring to the Turkish offensive against Kurds in Afrin.
The U.S. State Department is already convinced that the terror group has been rebuilding itself in some places in Syria.
"The fighting in western Syria over the last two months, including in Afrin, has distracted from the defeat ISIS campaign and provided opportunity for ISIS to begin reconstituting in some areas," State Department spokeswoman Heather Nauert said in a recent statement.
The Turkish-led attack on Afrin has forced more than 2,000 Kurdish and Arab fighters deployed against ISIS frontlines in eastern Syria to withdraw, in order to defend the area. U.S. officials have voiced concerns that such changes in battlefield priorities would take pressure off ISIS, and thus allowing the extremists to regroup and re-strategize their attacking capabilities along the Euphrates River Valley. More Kurdish fighters are expected to pull back from the battle against ISIS as Turkey's president, Recep Tayyip Erdogan, has threatened to invade more Syrian Kurdish-held areas after Afrin.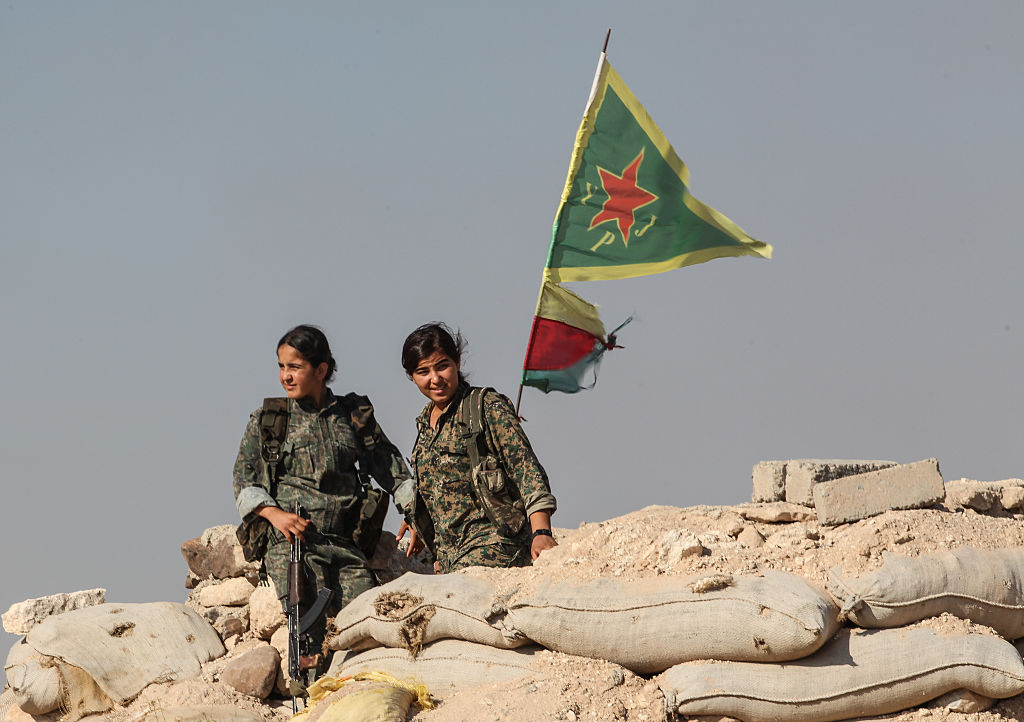 The Turkish-led attack on Afrin has forced more than 2,000 Kurdish and Arab fighters deployed against ISIS frontlines in eastern Syria to withdraw, in order to defend the area. Pictured: Kurdish YPG fighters near a check point at Kobane, Syria on June 20, 2015. (Photo by Ahmet Sik/Getty Images)
After more than three years of almost daily U.S.-led airstrikes and ground operations against ISIS targets in Syria, the terrorist group has lost most of the territory it once held since it declared its so-called caliphate in 2014 -- including its de facto capital in Raqqa.
However, ISIS still controls around 5% of Syria's territory, particularly in the east and pockets near Damascus. In the Palestinian refugee camp of Yarmouk in southern Damascus, ISIS enjoys a rising popularity among local residents. The group also maintains a significant presence near the Israeli border, where it has at least one dangerous affiliate, the Khalid bin al-Walid Army.
Around 1,500 ISIS militants are estimated to be present across Syria, some of them moving about mostly freely as the U.S.-led air campaign has significantly decreased, especially after the liberation of Raqqa.
Unlike in Iraq, where a U.S.-backed government -- regardless of its weaknesses -- has largely managed to keep a grip on areas retaken from the terrorists, ISIS continues to benefit from the seven-year civil war raging in Syria. In many parts of the country, ISIS has hundreds of sleeper cells and Sunni rebel groups that are poised to pledge allegiance to the terror group at any moment.
ISIS as we knew it may not exist anymore, but it can certainly morph into an insurgency and attempt to reestablish itself in other parts of the Middle East and North Africa, while still using war-ravaged Syria as its command center.
Even the once-optimistic U.N. Special Envoy to Syria, Staffan de Mistura, now believes that ISIS could make a comeback, exploiting the lack of a political settlement in Syria. The longer the stalemate drags on in Syria, the better it is for ISIS -- and other terrorist groups, for that matter -- to feed off the chaos and to continue posing a danger to regional and global security.
Sirwan Kajjo is a Syrian-Kurdish Washington-based journalist and author.