A Turkish assault against Kurdish forces in Syria, such as the ongoing one, was expected by everyone, including the U.S.
Now, three weeks into its controversial offensive against a Kurdish enclave in northern Syria, Turkey's military is facing fierce resistance from the U.S.-backed Kurdish fighters in the city of Afrin.
Observing the daily operations since they began on January 20, it is noticeable that the Turkish military and its allied Syrian rebels, backed by Turkish air support, have made little progress in taking control of Kurdish-held territory -- the main objective behind Ankara's decision to launch the offensive in Syria.
So far, Turkey's advances have not gone beyond seizing a number of villages along its border with Syria, according to local sources.
Since mid-2012, the Afrin region in northwestern Syria has been controlled by the Kurdish People's Protection Units (YPG). That occurred after the withdrawal of Syrian regime troops, which then began to focus on fighting rebel forces elsewhere in the country.
Turkey views the YPG as an extension of the Turkey-based Kurdistan Workers' Party (PKK), an insurgent group that has been fighting Turkish forces for autonomy in Turkey's Kurdish-majority southeast. Both Turkey and the U.S. regard the PKK as a terrorist organization.
The U.S., however, makes a clear distinction between the YPG and PKK. Since late 2014, the U.S. has backed the YPG in its fight against the terror group ISIS. Despite Turkey's objections, U.S. support for Syrian Kurdish forces expanded over the years, and the YPG played a pivotal role in ousting ISIS from the Syrian city of Raqqa, previously ISIS's de facto capital.
U.S. officials have repeatedly described the YPG as the most effective fighting force in the war on terror in Syria.
The evolving U.S.-Kurdish partnership has alarmed Turkey. Ankara fears that establishing a Kurdish-led entity on its southern borders would empower its restive Kurdish population, particularly PKK fighters. Hence, Turkey's offensive against Afrin was hurriedly -- and perhaps prematurely -- launched when Washington last month announced its plans to build a 30,000-strong border security force made up largely of YPG fighters.
The battle of Afrin will certainly not be easy for the Turkish army and its Syrian allies, and has already proven costly for the Turkish ground forces fighting in Syria. So far, more than 20 Turkish soldiers have been killed by Kurdish forces -- a relatively high figure for a Turkish military operation abroad. The YPG also downed a Turkish helicopter and destroyed several Turkish armored vehicles.
Syrian Kurdish fighters, benefiting from their advances on ISIS, have become battle-hardened in the past few years. Their fighting experience has allowed them to control more than a quarter of Syria's territory -- thereby making them the second-largest entity after the Syrian military in the war-torn country.
Unlike other Kurdish-held areas in northeast Syria, Afrin lies in mountainous terrain. This, Kurdish leaders say, is an advantage for the local fighters, who are familiar with their region.
Anticipating a Turkish incursion, the YPG has been preparing for this battle for a long time; they have built hideouts and underground bases. On the eve of the attack, Turkish President Recep Tayyip Erdogan seemed to be confident that his military campaign in Afrin would be "swift." He was wrong.
There is also a lack of sympathy for the Turks among Afrin residents; they have been known to detest the Turkey military for its anti-Kurdish actions at home. So even if Turkey succeeded in dislodging the YPG from Afrin, it would be challenging for Ankara to "bring stability" to the region.
Turkey, when it launched Operation Euphrates Shield in August 2016, made clear that its objective was to eliminate both ISIS and the YPG in areas west of the Euphrates River. That campaign, which lasted five months, achieved its objective by separating Afrin from the rest of Kurdish-held areas, thus preventing Syrian Kurds from controlling a contiguous entity along the border.
That measure, however, clearly was not enough for Ankara to make certain that Kurds would not have the ability to consolidate their military gains and push forward with their political project to govern northern Syria -- a plan that would involve, to varying degrees, backing from Russia and America.
Many consider Afrin to be in Russia's sphere of influence, whereas the other two Kurdish enclaves of Kobani and Jazira, east of the Euphrates, have effectively become American bases.
Turkey's fears of Kurdish gains in Syria, however, are unreasonable. Since the outbreak of Syria's bloody civil war in 2011, the Kurds have controlled much of the border on the Syrian side, and largely managed to keep the havoc from spilling over into Turkey. If anything, Syrian Kurds have done a favor to Turkey by protecting its border for a few years. A more constructive approach by Ankara should, therefore, be to work with the Kurds, rather than antagonize them.
Most important, the U.S. maintains a growing military presence in Kurdish-controlled Syria, which has been instrumental in the war on terror. Washington needs to ensure that its Kurdish partners on the ground are protected and not distracted from the main mission, which is defeating terror in Syria.
The bottom line is: Turkey's offensive against Syrian Kurds will serve only to aggravate the multi-layered conflict in Syria, making it even harder for international interlocutors to bring an end to the seven-year civil war and secure a much-needed political settlement for the country.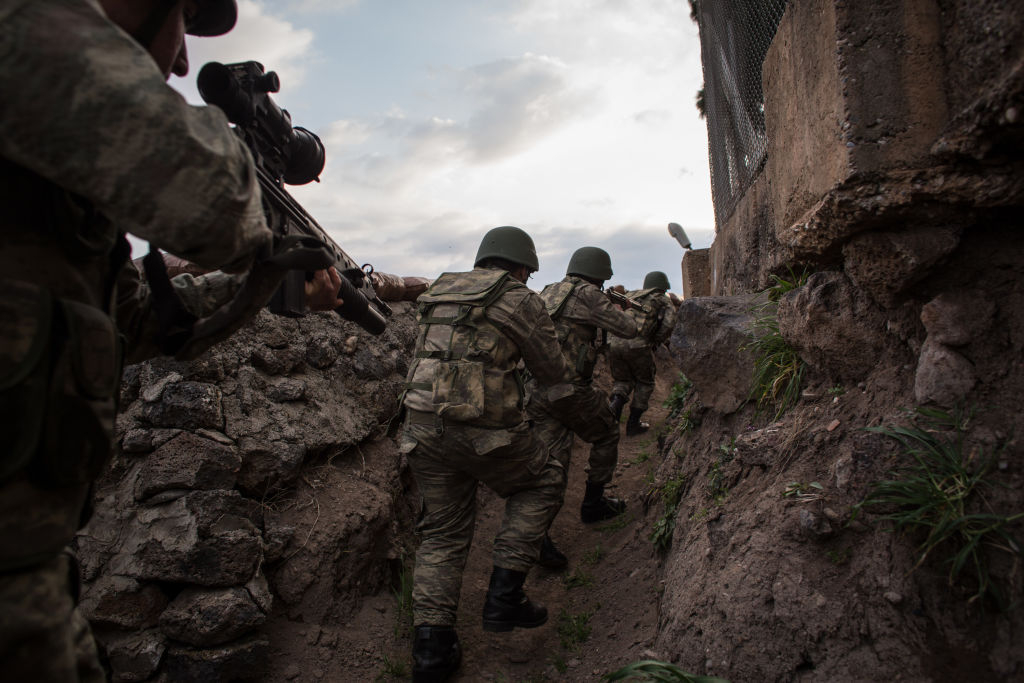 Pictured: Turkish soldiers run through drills at a military outpost on the Turkey/Syria border on March 2, 2017 in Kilis, Turkey. (Photo by Chris McGrath/Getty Images)
Sirwan Kajjo is a Syrian-Kurdish Washington-based journalist and author.