After weeks of shuttle diplomacy allegedly carried out by Russia and Israel, Iranian forces and allied militias -- including the so-called "military wing" of the Lebanon-based organization Hezbollah, all of which has been designated as a terrorist group by the US -- reportedly began to withdraw from parts of southern Syria, near Israel's border. According to other reports, however, many Hezbollah fighters, disguised as members of the Syrian army, have simply remained on their bases to escape being targeted by the Israel Air Force. Since the start of the Syrian civil war in 2011, Israel's air force has carried out sporadic strikes against Iranian and Hezbollah bases and convoys across its neighbor on the north. After more than seven years of fighting alongside the Assad regime in Syria, the Iran-backed terrorist group Hezbollah is highly unlikely to make an easy exit from the war-torn territory, no matter what supposed agreements are reached or promises made.
In a televised speech on "Quds Day" -- which Iran has marked every year since the Islamic Revolution in 1979 -- Hezbollah chief Hassan Nasrallah addressed his supporters as follows:
"We are in Syria because we should be there. The Syrian leadership has asked us to be present there based on developments in the ground.... Gulf states and Israel must know that we will be happy when we return our men to Lebanon... we will be happy and we will feel victorious to complete our mission. So what keeps us in Syria is our duty and the Syrian leadership, but at the same time I would like to tell you even if the entire world decided to remove us from Syria, we will not leave."
Nor does it seem that the Syrian regime is in a rush to tell Hezbollah to leave the country. In a recent interview with an Iranian state-run news channel, Syrian President Bashar Assad said, "Hezbollah is an essential element in this war -- the battle is long and the need for these military forces will continue for a long time."
Having helped defeat anti-regime rebel forces in the suburbs of Homs, Aleppo and Damascus, Hezbollah fighters are now in control of much of Syria's border with Lebanon. In fact, the Shi'ite terrorist group is in charge of controlling the Lebanese side of the border, despite the presence of the Lebanese military, which is weak. The areas in which Hezbollah operates are of great importance to the group, which uses the mountainous terrain as a route to transport military equipment between Syria and Lebanon. So entrenched is Hezbollah in that region that it has managed to build multiple military bases within a small radius.
With those fronts of Lebanon and southern Syria already secured, Hezbollah fighters increasingly have moved to the oil-rich province of Deir Ezzor in eastern Syria to aid the Syrian military in its battle against Islamic State (ISIS) terrorists. Meanwhile, Hezbollah and other Iranian-backed militias – such as the Popular Mobilization Forces (PMF) -- are largely in control of strategic areas along Syria's border with Iraq.
Not far from those frontiers, the U.S.-led coalition has been aiding Kurdish-led forces to push out ISIS from other parts of Deir Ezzor. The months-long campaign has liberated large strategic areas from ISIS. More than once, however, these two anti-ISIS campaigns have come head to head in Deir Ezzor, leaving the U.S. with no choice but to defend its local partners.
Once ISIS is completely defeated in these areas, Hezbollah and other Iranian-backed groups could be better positioned to wage attacks on U.S. interests there and elsewhere in Syria.
With no end in sight to Syria's seven-year war, Hezbollah will undoubtedly continue its military expansion, causing more instability in an already volatile region.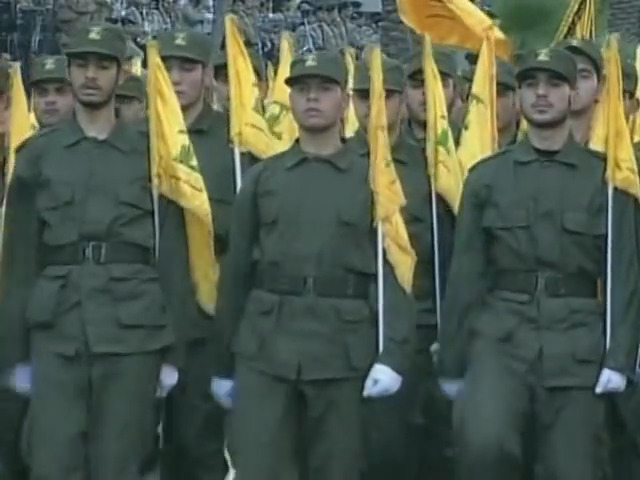 Hezbollah soldiers on parade. (Image source: VOA video screenshot/Wikimedia Commons)
Sirwan Kajjo is a Syrian-Kurdish Washington-based journalist and author.