A court in Berlin has issued a temporary restraining order against Facebook. Under the threat of a fine of 250,000 euros (roughly $300,000 USD) or a jail term, Facebook was obliged to restore a user's comment that it had deleted. Moreover, the ruling prohibited the company from banning the user because of this comment.
This is the first time a German court has dealt with the consequences of Germany's internet censorship law, which came into effect on October 1, 2017. The law stipulates that social media companies have to delete or block "apparent" criminal offenses, such as libel, slander, defamation or incitement, within 24 hours of receipt of a user complaint.
As many critics pointed out, this state censorship makes freedom of speech subject to the arbitrary decisions of corporate entities that are likely to censor more than absolutely necessary, rather than risk a crushing fine of up to 50 million euros ($65 million USD). According to a newspaper report, Facebook's censors have just ten seconds to decide whether to delete a comment or not.
The case with which the court in Berlin had to deal was that on January 8, 2018, the Swiss daily Basler Zeitung posted an article with the title "Viktor Orban speaks of Muslim 'invasion'" on its Facebook site. The blurb read:
"Viktor Orban wonders how in a country like Germany... chaos, anarchy and illegal crossing of borders can be celebrated as something good."
Facebook user Gabor B. posted a comment:
"Germans are becoming increasingly stupid. No wonder, since the left-wing media litters them every day with fake news about 'skilled workers,' declining unemployment figures or Trump."
This comment quickly received the most "likes", until Facebook deleted it, due to an alleged infringement of Facebook's "community standards." In addition, Gabor B. was banned from Facebook for 30 days.
"One may share the commenter's opinion or may deem it polemic or unobjective", Gabor B.'s attorney Joachim Nikolaus Steinhöfel told Gatestone. "The important thing is: The comment is covered by the right to freedom of speech." He added that before going to court, his law office had sent a written warning to Facebook.
"Facebook partly gave in and lifted the ban but did not restore the comment. Facebook's lawyers notified us that 'a thorough reexamination came to the result that the community standards had been applied correctly and that therefore the content could not be restored' -- an assessment we cannot share."
Steinhöfel, besides being a lawyer, is a renowned journalist, blogger and anti-censorship activist. He runs a website where he has documented countless cases in which Facebook deleted content or banned users; sometimes both. Facebook apparently often bans users because of comments that are critical of mass immigration or certain aspects of Islamic culture. For example, in March 2018, Frank Bormann was banned after he had quipped: "Muslim men are taking a second wife. To finance their lives, Germans are taking a second job."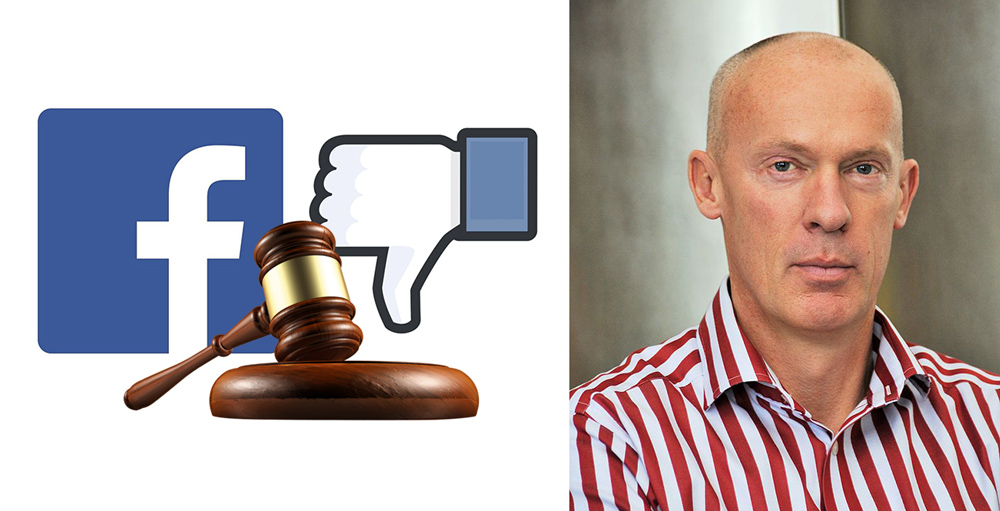 Joachim Steinhöfel (right) is a lawyer, journalist and anti-censorship activist. He runs a website where he documents cases in which Facebook deleted content or banned users. (Steinhöfel image source: Hilmaarr/Wikimedia Commons)
Sometimes, Facebook seems to object even to implicit criticism of terror organizations. In April 2018, Christian Horst was banned for three days after he had posted a picture of members of the Palestinian terror organization DFLP delivering the Hitler salute.
Sometimes, users are banned for no apparent reason at all. In March 2018, Marlene Weise was banned from Facebook for 30 days, for posting a set of two pictures: One showed the Iranian women's national volleyball team from the 1970s, wearing t-shirts and shorts; the other, the current Iranian team, wearing hijabs and clothes that cover arms and legs.
Steinhöfel explains that courts usually do not give reasons for a restraining order. The court could, however, grant a claim if the deleted content in question was deemed lawful and legitimate after all:
"This is a landmark decision and the first such court ruling in Germany... Eventually, users can act against the untransparent business practices of a corporation that assumes its responsibility as if it were dealing with second-hand bicycles."
Steinhöfel says that, given Facebook's dominant market position, the outcome of this legal battle will have far-reaching repercussions for communicating and exchanging opinions on social media: "Does a law and contract-abiding user have to acquiesce to companies like Facebook or Twitter deleting his content or banning him for it? The ruling is an important stage victory for the freedom of speech."
Stefan Frank is a journalist and author based in Germany.