This April marks the fourth year of the ongoing war in Ukraine between the Ukrainian military and Russian backed separatists in the self-proclaimed Donetsk and Lugansk People's Republics in eastern Ukraine, also known as the Donbas region. Prior to the beginning of the war in eastern Ukraine in April 2014, Russia annexed Crimea.
Russia's aggression into Ukraine came in direct violation of its obligations under the 1994 Budapest Memorandum. Under the memorandum, in exchange for Ukraine giving up its nuclear weapons, Russia reaffirmed its "obligation to refrain from the threat or use of force against the territorial integrity or political independence of Ukraine" and promised that none of its weapons would ever be used against Ukraine except in self-defense or otherwise in accordance with the Charter of the United Nations.
Now, the question of further Russian or Russian-backed military operations in Ukraine has surfaced. In March, Ukrainian President Petro Poroshenko asserted that Russia has been strengthening its military presence on the border of Ukraine. According to Poroshenko:
"For more than one year, we have been repelling Russia's military aggression on the front line... In his latest report General Zabrodsky reported in detail on the strengthening of the military presence of the Russian Federation along our border and continued stay of Russia's regular troops in the occupied territories".
Poroshenko explained that the Russians have, since 2014, deployed and reorganized their forces in a way that will be able to support a rapid invasion both from the north and from east of Ukraine. "Several mechanized divisions are fully prepared for intervention," he said.
In April, Ukrainian Defense Minister Stepan Poltorak also claimed that Russia "has massed 19 battalion tactical groups of the combat echelon and reserve forces with over 77,000 troops," adding that they have almost 1,000 tanks, 2,300 combat vehicles, over 1,100 artillery systems and about 400 multiple rocket launchers. According to Poltorak, 40,000 Russian troops, which he detailed as an integral part of the Southern Military District of the Russian Armed Forces, are stationed in the Donbas. Also according to Poltorak, in 2017 Russia's military forces shelled Ukrainian army positions in Donbas more than 15,000 times.
There appears to be some internal disagreement on the exact number of Russian forces amassing on Ukraine. At the Kyiv Security Forum, on April 13, the chairman of Ukraine's National Defense and Security Council Oleksandr Turchynov noted:
"After four years of war, Russia has at least 260,000 troops deployed along the Ukrainian border, in addition to another 35,000 troops in the Donbas and 30,000 in Crimea, who could be used to conduct a large-scale continental war... The Russian aggressor is preparing a powerful force in Crimea -- and not only to protect its presence there. And the two occupation army corps in the Donbas have been positioned to provide cover and buy time for the main force to deploy at the borderline."
Turchynov also warned that the 260,000 Russian troops near the Ukrainian border are ready to advance with 3,500 tanks, 11,000 soft-skin vehicles, 4,000 artillery units, and over 1,000 multiple launch rocket systems. Russia, according to Tuchynov, has also fielded four guided-missile brigades in the region. The brigades, he says, are armed with Iskander-K cruise missile systems, which have a range of up to 2,500 kilometers. Apart from investing in conventional arms, Russia is also enhancing its hybrid warfare capabilities, "including terror attacks and subversive actions," in Ukraine, Turchynov said.
First Deputy Head of the Ukrainian Security Service (SBU), Viktor Kononenko, also recently reported that Russia might be planning another attempt to destabilize Ukraine in the fall. He said that the SBU has information on Russia's plans, including "the existence of a group in Putin's entourage, which has as goal to create prerequisites for the introduction of Russian troops to Ukraine in autumn under the pretext of protecting the Russian-speaking population". He added that Moscow allegedly plans to use criminals and other criminal-related structures "for beating participants of pro-Russian events and religious processions."
The war in Ukraine has already exacted a steep price. On April 21, UN representative to Ukraine, Neal Walker, announced that, "After four years of conflict, 3.4 million people in Ukraine are struggling to cope with the impact of the humanitarian crisis and urgently require humanitarian assistance and protection". More than 2,500 civilian men, women and children have been killed, and more than 9,000 injured in the past four years, according to the UN. Landmines in eastern Ukraine are affecting1.9 million people. "Last week," Walker said, "landmines killed a family of four in eastern Ukraine. In 2017, over 235 civilians were killed or injured by landmines and other explosive remnants of war."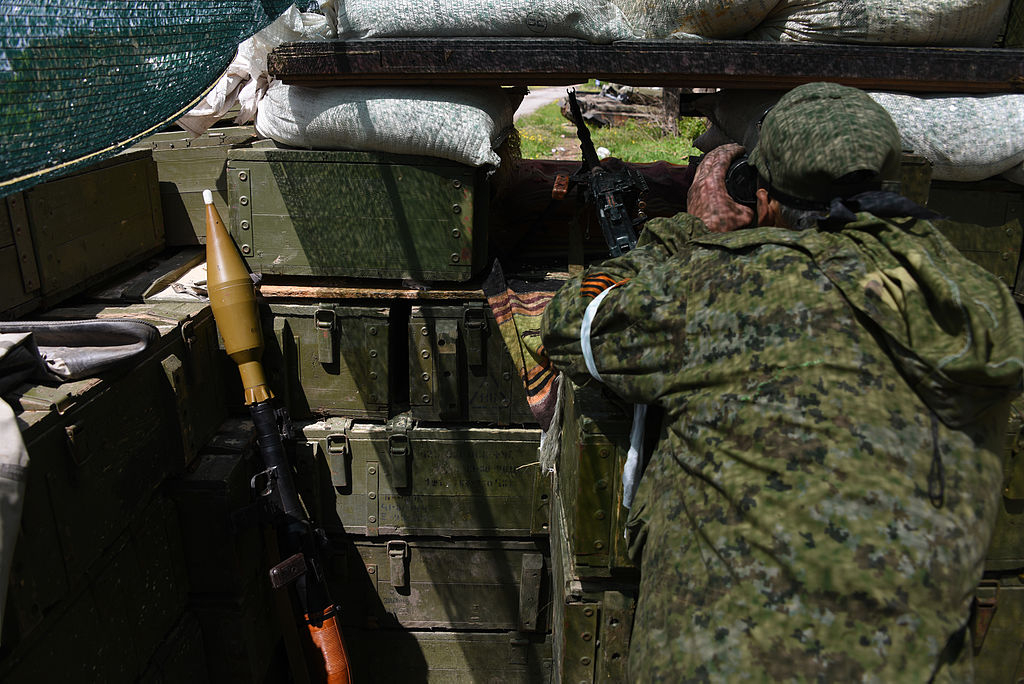 Pictured: A Russian-backed rebel observing Ukrainian army positions near Donetsk, Eastern Ukraine, May 17, 2015. (Image source: Mstyslav Chernov/Wikimedia Commons)
In December 2017, humanitarian agencies launched a US$187 million appeal to reach more than 2.3 million of the most vulnerable people in Ukraine with assistance. 97% of this funding appeal remains unfunded. The world at large has forgotten the war in Ukraine.
Despite the humanitarian toll on the region, the United States for the first four years of the war, refused to supply the Ukrainian government with lethal weapons. The Obama administration reportedly feared that sending lethal weapons to Ukraine might escalate the conflict with Russia.
Arguably, this lack of forceful response to Russian aggression against its "near abroad" only emboldened Russia further. So much so, apparently, that Russia felt confident launching airstrikes in 2015 on behalf of Syria's President Bashar Assad against the people opposing him in the Syrian civil war. Undeterred by the US in both Ukraine and Syria, Russia had returned as a substantial military and political actor, not only in what has become known as the "post-Soviet space" -- the area inhabited by the former republics of the Soviet Union, such as Ukraine -- but in the Middle East, as well.
The Trump administration, in a timely departure from the Obama administration's refusal to grant Ukraine lethal weapons with which to defend its territory, approved the sale of defensive weapons -- 210 Javelin anti-tank missiles and 37 launchers worth $47 million -- in December 2017. In March, the US administration made the sale official "This proposed sale will contribute to the foreign policy and national security of the United States by improving the security of Ukraine," the Pentagon's Defense Security Cooperation Agency said. "The Javelin system will help Ukraine build its long-term defense capacity to defend its sovereignty and territorial integrity in order to meet its national defense requirements".
Russia, however, has warned the weapons sale will "force" a conflict in the region. "Americans, in fact, directly push Ukrainian forces to war", Frantz Klintsevich, a member of the Russian parliament said. Grigory Karasin, Russia's deputy foreign minister said that the sale "raises the danger of derailing the process of peaceful settlement in Ukraine".
Administration officials have dismissed such arguments. "Defensive weapons are not provocative unless you're an aggressor, and clearly, Ukraine is not an aggressor, since it's their own territory where the fighting is happening," Defense Secretary James Mattis said last year during a trip to Kiev.
Russia, for its part, claims that it is not the aggressor. After the Ukrainian parliament, in January 2018, adopted a new law, which described the self-proclaimed republics of Donetsk and Luhansk as "temporarily occupied" by Russia, and classified Russia as an "aggressor country", Russia refused to accept any responsibility for the ongoing war in Donbas. "Russia is neither a side nor a party to this conflict. This is stated in [the] Minsk agreements [which established a ceasefire and a 13 point-plan for resolving the conflict], and Minsk agreements are signed by President of Ukraine Poroshenko" said Dmitry Peskov, Russian President Vladimir Putin's spokesman in January. The Russian foreign ministry also said that the January 2018 law constituted "preparation for a new war," and warned that the move "risked a dangerous escalation in Ukraine with unpredictable consequences for world peace and security."
John Richardson is a researcher based in the United States.