In early 2018, President Donald Trump froze a large portion of the funding that the United States provides annually for UNRWA (the United Nations Relief Works Agency for Palestine Refugees a in the Near East). Prior to imposing the $125 million freeze, Trump tweeted: "[W]e pay the Palestinians HUNDREDS OF MILLIONS OF DOLLARS a year and get no appreciation or respect."
The president's move came in response to the fact that Palestinian Authority President Mahmoud Abbas and his henchmen yet again were rejecting American and Israeli peace overtures. Yet it was both welcome and necessary for reasons well beyond Palestinian intransigence. UNRWA not only has an abominable record of ties to terrorism, which makes a mockery of its mandate to " provide relief, human development and protection services;" but its entire existence is based on a false premise -- a special UN definition of "refugee" for Palestinians that sets them apart from other people in the world categorized as such. It thus has been able for decades to keep cash flowing freely into its coffers, providing "humanitarian services" for millions of Palestinians who are not refugees by any measure. As the ZOA's Morton Klein and Daniel Mandel recently wrote:
"All this stands in stark contrast to the United Nations High Commissioner for Refugees (UNHCR), the international body that deals with all refugee problems other than the Palestinian Arabs. UNHRC observes a universal definition of refugee status, one that applies solely to those who actually fled their country during hostilities, civil war, natural disaster, or other disturbances. UNHCR works to resettle refugees quickly and dismantle the temporary refugee camps housing them. Nor does it count descendants as refugees.

"This has immense practical ramifications: in literally all other cases other than the Palestinian Arabs, the number of refugees shrinks over time — chiefly through successful resettlement. In contrast, in the Palestinian Arab case, their numbers continue to expand ceaselessly.

"Thus, instead of the living original refugees officially numbering 30,000, UNRWA now services some 5.3 million Palestinian Arabs."
The actual number of Palestinian refugees is likely even lower than that cited by the authors: a classified State Department report, delivered to Congress in 2015, reveals it to be closer to 20,000. The report showed that billions of taxpayer dollars have been funneled over the years into an organization that seems to have been perpetuating a fraud. It is no wonder, then, that the Obama administration kept the report's contents a secret from the American public. More surprising is the fact that, since the report was first submitted to Congress in 2015 -- and subsequently exposed by the Washington Free Beacon in January, 2018 -- it has yet to be made public. To rectify this situation, fifty-one members of the House of Representatives signed a letter on April 18 -- spurred by the Middle East Forum -- calling on Trump to declassify the report.
The letter reads, in part:
"We commend your leadership in guiding the U.S.-Israel relationship to its best years in recent history, and also for finally recognizing that Jerusalem is the capital of Israel...an important step in reaching a solution to the Palestinian-Israeli conflict. We have tremendous confidence that you will continue taking such steps to resolve the conflict, and encourage you to next address the so-called 'Palestinian refugee' population

"America has provided $1 billion to ...UNRWA over the last four fiscal years, and nearly $6 billion since UNRWA's inception in 1950. We are concerned that American taxpayer dollars are not being used properly. Your withholding of funds from UNRWA in January on the condition that they reform was a tremendous first step. American taxpayers deserve to know how they tax dollars are spent on Palestinian refugees and their descendants.

"In order to investigate the matter, the Senate Report 112-172 to the Department of State, Foreign Operations, And Related Programs Appropriations bill in 2012 directed the Department of State to issue a report to Congress detailing 'the approximate number of people who, in the past year, have received UNRWA services: (1) whose place of residence was Palestine between June 1946 and May 1948 and who were displaces as a result of the 1948 Arab-Israeli conflict; and (2) who are [their] descendants...

"...Finally, in 2015, the Obama State Department delivered the mandated report to Congress in classified form despite no apparent national security threat or known historical precedent...We believe this classification was inappropriate and a deliberate attempt to conceal information from American taxpayers...

"We respectfully request that you instruct the Bureau of Population, Refugees and Migration to declassify this report. The issue of the so-called Palestinian 'right of return' of 5.3 million refugees to Israel as part of any 'peace deal' is an unrealistic demand, and we do not believe it accurately reflects the number of actual Palestinian refugees..."
UNRWA is anything but a humanitarian organization interested in the welfare of the Palestinians whom it claims to have spent the past nearly 70 years assisting. It is, rather, a self-serving political body that has bolstered Arab/Palestinian rejectionism and perpetuated Palestinian suffering, thereby preventing peace and prosperity. Its dissolution is long overdue.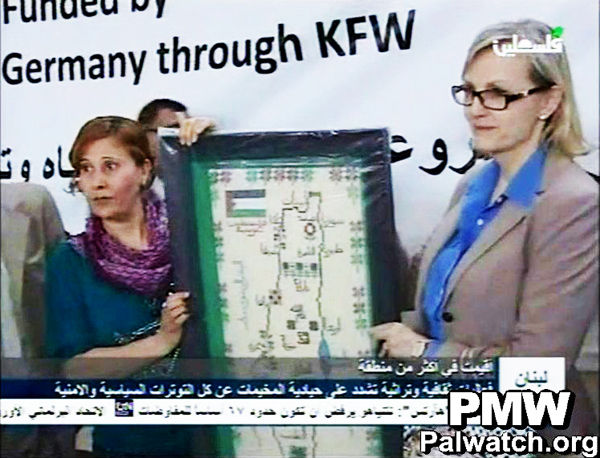 Pictured: Ann Dismorr (right), the Director of UNRWA in Lebanon, poses with a map that erases the State of Israel and presents all of it as "Palestine." (Image source: Palestinian Authority TV via Palestinian Media Watch)
Ruthie Blum is the author of "To Hell in a Handbasket: Carter, Obama, and the 'Arab Spring.'"