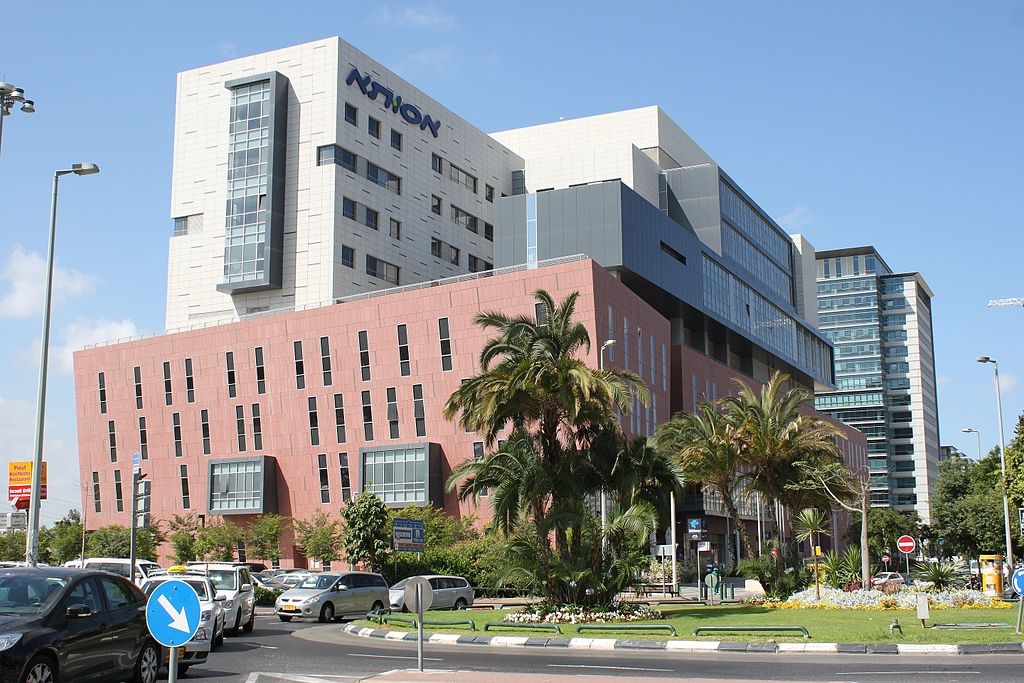 Even while leaders of the Palestinian Authority (PA) and Hamas glorify terrorism against innocent Israelis and call for sanctions against Israel, they frequently turn to Israel for medical care, often for cancer treatments. For example, PA President Mahmoud Abbas' brother and brother-in-law received life-saving treatments at Assuta Medical Center in Tel Aviv. Abbas' wife underwent surgery at that same hospital. Pictured: Assuta Medical Center. (Image source: Olegmay/Wikimedia Commons)
Ireland's Senate recently voted to support organizations, many headed by terrorists , in imposing a boycott on Israel, the only democracy in the Middle East. This, while hardly ever uttering a critical word about countries such as China, Iran, North Korea, Russia, Turkey, Mauritania, Syria, Venezuela, Cuba, Nigeria, Sudan or South Sudan. The singling-out of Israel probably tells more about Ireland's longstanding history of anti-Semitism than about the country it has been targeting, particularly since it ignores that state's major contributions to world, including in the field of medicine. Take, for example, cancer research.
The national executive director of the Israel Cancer Research Fund, Mark A. Israel, recently explained why a tiny country such as Israel -- in which the "rate of cancer deaths for Jews... is among the lowest in the world" -- has made so many important strides in the fight against the deadly global disease for which there is not yet a cure.
"Israel's scientists are bringing to the cancer fight the same breathtaking innovation, urgency, breakthrough thinking, tireless determination, and adroit use of resources that have been the hallmark of Israeli science and technology for the last 70 years," wrote Israel, professor emeritus from the Dartmouth Medical School.
"[This has] led to such transformative discoveries as the cellular pathways and molecules which are targeted for the treatment of multiple myeloma, chronic myelogenous leukemia and other life-threatening tumors. More recently, Israeli scientists have made major contributions to the development of novel approaches to immunotherapy for the treatment of leukemia and other cancers."
Two major breakthroughs since the beginning of 2019 alone illustrate his point. Researchers from Israel's Bar-Ilan University and Harvard Medical School discovered a mechanism that allows the immune system to attack cancer cells, particularly in the lungs and on the skin; and the Israeli company IceCure successfully implemented cryoablation therapy -- a procedure that freezes cancerous tumors -- eliminating the need for surgery.
Last year, too, was significant in this field. The tech and innovation website NoCamels reported on the following seven breakthroughs in Israeli cancer research and detection in 2018:
Israeli scientists at the Technion-Israel Institute of Technology successfully treated a cancerous tumor using a synthetic cell that produces anti-cancer proteins within the tissue.

Israeli scientists, also at the Technion, developed technology that enables drug delivery to target diseased tissue, using light and gold particles, making cancer treatments more effective.

Tel Aviv University researchers used nanomedicine to inhibit the progression of pancreatic cancer in mouse models.

The Israeli startup Nucleai raised $5 million in seed funding to continue developing an artificial intelligence-based system that assists pathologists in the diagnosis of cancer and other diseases in a speedier and more efficient manner.

The Israeli company Micromedic Technologies developed technology for a non-invasive diagnostic test for prostate cancer.

The Israeli company Todos Medical Ltd. conducted its first blind clinical trial for a blood test for breast-cancer screening at the Kaplan Medical Center in Rehovot.

The Israeli-founded social network for cancer patients and caregivers, Belong, announced partnered with Colorectal Cancer Canada (CCC), to "improve the quality of life for colorectal cancer patients and their families by increasing access to high-quality content, digital services and community support."

Belong developed a free, AI-powered app that provides people with cancer and their families an effective, up-to-date channel and "a unique and innovative personalized solution to help manage and fight cancer more effectively."
In 2017, according to the innovation website Israel21C, an Israeli researcher, Prof. Uri Nir of Bar-Ilan University, devised a synthetic compound to disable the enzymes that allow cancer cells to metastasize.
In 2016, according to the Times of Israel:
"A breakthrough cancer study [at the University of Pennsylvania], in which patients suffering from a form of leukemia saw their diseases go into remission after they were treated with genetically modified T-cells has deep roots in Israel.

"One of the first in the world to work on the innovative adaptive immunotherapy technique to treat cancer... was Weizmann University Professor Zelig Eshhar..."
It is perhaps no surprise, then, that breakthroughs in cancer detection and treatment, such as those above -- a mere fraction of Israeli innovation in the field of medicine as a whole -- are not mentioned by the leaders and followers of movements aimed at eliminating Israel. To highlight Israel's contribution to the global efforts to eradicate cancer -- which killed 9.6 million people in 2018, a year in which 17 million new cases were diagnosed -- such movements would have two choices: forego life-saving technology and treatments, or be deemed hypocritical for ignoring their own boycotts.
Some of Israel's adversaries claim that their efforts to demonize Israel are part of a legitimate campaign on behalf of the Palestinian people. Palestinian Authority (PA) President Mahmoud Abbas and the leaders of Hamas, the terrorist organization that rules the Gaza Strip, warmly welcome these campaigns, whose actual objective, according to the Meir Amit Intelligence and Terrorism Information Center,
"is to label Israel as an 'apartheid' country and promote an international boycott of its institutions, leaders, economy and culture, and of Israel's supporters. Its final goal is to cause Israel to collapse, as the apartheid regime in South Africa collapsed. The campaign's organizers oppose any recognition of the State of Israel or negotiations with it, reject the two-state solution, emphasize the so-called 'right of return' of the millions of Palestinian refugees to the territory of the State of Israel and seek to realize the vision of one state ruled by Palestinians."
What Abbas's Fatah faction and Hamas -- both of which glorify terrorism against innocent Israelis and call for international sanctions against the state of Israel -- keep neatly under wraps, however, is the frequency with which they themselves have turned to Israel for medical care, often for cancer treatments.
In 2016, for instance, Abbas' Qatar-based brother, Abu Lawi, was treated for cancer at the Assuta Medical Center in Tel Aviv, and not for the first time.
In 2015, Abbas' brother-in-law received life-saving heart surgery at that same hospital. Abbas' wife, Amina, underwent surgery there in 2014.
In 2014, as well, Hamas Prime Minister Ismail Haniyeh's mother-in-law was treated for cancer at Jerusalem's Augusta Victoria Hospital. That same year, Haniyeh's daughter was treated at Ichilov Hospital in Tel Aviv. She was among the more than 1,000 residents of Gaza and the Palestinian Authority treated at Ichilov every year.
Also in 2014, Hamas spokesman Moussa Abu Marzouk's sister was treated for cancer at an Israeli hospital.
In 2013, Haniyeh's baby granddaughter was treated at the Schneider Children's Medical Center in Petah Tikvah.
Most recently, in May 2018, Abbas himself was treated by an Israeli specialist, who joined a foreign team of doctors caring for him in the intensive care unit at a hospital in Ramallah, in the Palestinian Authority.
Israel proudly joined its counterparts around the globe on February 4 to mark World Cancer Day, initiated by the Union for International Cancer Control (UICC). It is time for the world to cease and desist in its efforts to demonize Israel, and to admit to its use of and reliance on the innovation and technology for healing that Israel -- turning no one away -- always graciously provides. It would be a welcome change if its adversaries were half as ethical.
Ruthie Blum is the author of "To Hell in a Handbasket: Carter, Obama, and the 'Arab Spring.'"