On June 13, Mark Green, administrator of the United States Agency for International Development (USAID), finally offered some good news for the persecuted Christians and Yazidis in Iraq. In an op-ed in the Wall Street Journal entitled: "Help Is on the Way for Middle Eastern Christians," he wrote:
"Every day of delay brings persecuted communities that much closer to extinction. In Iraq alone, nearly 90% of Christians have fled in the past 15 years, emptying entire villages that had stood for more than a thousand years. The Yazidi population has been similarly decimated. Without immediate additional support, these groups may be forced to continue their unprecedented exodus, perhaps never to return to their ancient homes.

"The time to act is now. Christians, Yazidis and other persecuted religious communities in the Middle East have suffered unspeakable harm for too long. Their plight has touched the hearts of the American people and stirred this nation to step up with compassion and conviction. President Trump promised to provide them with the help they need to rebuild their communities and restore their hope, and we will work tirelessly to break down any barrier that stands in the way."
The 2014 invasion of the region of Sinjar (or Shingal) in Iraq by the Islamic State (ISIS) brought a mostly forgotten community to the attention of the world: the Yazidis, one of the world's most persecuted ethno-religious groups. A peaceful, non-Muslim people who oppose bloodshed, Yazidis have for centuries been targeted for their faith. Their native lands contain parts of Iraq, Turkey and Syria. Yazidis say that they have been subjected to 74 genocidal campaigns and severe oppression throughout their history at the hands of Islamists.
When ISIS invaded Sinjar in August 2014, hundreds of defenseless Yazidi men and elderly women were murdered. Yazidi girls and women became the victims of widespread abduction and slavery. ISIS "deliberately tormented the relatives of Yazidis who were forced to witness or listen over the phone as their daughters and sisters were abused," according to a 2017 report by Yazda, a Yazidi advocacy organization. The report also reveals that Yazidi boys were kidnapped and recruited to undergo forced conversion and military training:
"In these camps, young Yazidi children are taught IS's extremist ideology and Quranic interpretations, and brainwashed to hate Yazidism, their own families and their community. They are trained to use weapons, including firearms and knives, and made to watch videos depicting decapitations of hostages and to practice this over dummies, or even human beings."
Since the genocide, according to the Yazda report,
"Women and girls have suffered ongoing sexual violence and trafficking. They have been dehumanized and sold in slave markers (souk sabaya) organized by IS's Committee for the Buying and Selling of Slaves or traded among militants through online auctions. In addition to sex trafficking, some Yazidi women and girls have been forcibly married to ISIS fighters, and subjected to forced pregnancy in some cases, and forced contraception or abortion in other cases. All of these tactics were accompanied by forced conversion, the forced abandonment of Yazidi customs, and name changes. Yazidi women and girls in captivity are subjected to constant verbal and psychological abuse, with severe punishments for speaking their own language or practicing Yazidi traditions. Insults are particularly directed at their faith – captives are accused of being 'devil worshippers' and referred to derogatorily as 'kuffar' [infidels] and told to forget their families and their God."
Speaking with Gatestone about the situation of Yazidis, Saad Babir, Yazda's media director, said that there are two types of aid urgently needed by Yazidis at Internally Displaced Persons (IDP) camps in northern Iraq: psychological support for the victims of genocide, and basic services such as healthcare, food, water, electricity, heat, new tents -- and even firetrucks and ambulances. Babir explained that many Yazidis have died in IDP camps due to a lack of the latter two. On May 25, for example, a 17-year-old Yazidi girl burned to death, while three of her siblings were severely injured, when the family's tent caught fire in one of the camps.
Dawood Saleh, a Yazidi author and activist who fled, was in Sinjar when ISIS launched the genocide there in 2014. "Yazidis have lived in the camps in Iraq for four years now," he told Gatestone. "Most of the tents they live in are temporary and could not last for more than one or two seasons. These tents could be fully burned in 30 seconds," he said.
He prioritized the need for psychological support and post-trauma care:
"War and genocide, which Yazidis have recently experienced once again, cause the destruction of the human soul. Yazidis in general suffer from an unprecedented psychological crisis. They have lost hope of living a decent life. I call for providing healthcare and psychological treatment facilities to help all Yazidis, especially women and children survivors, who have managed to escape from the ISIS slavery."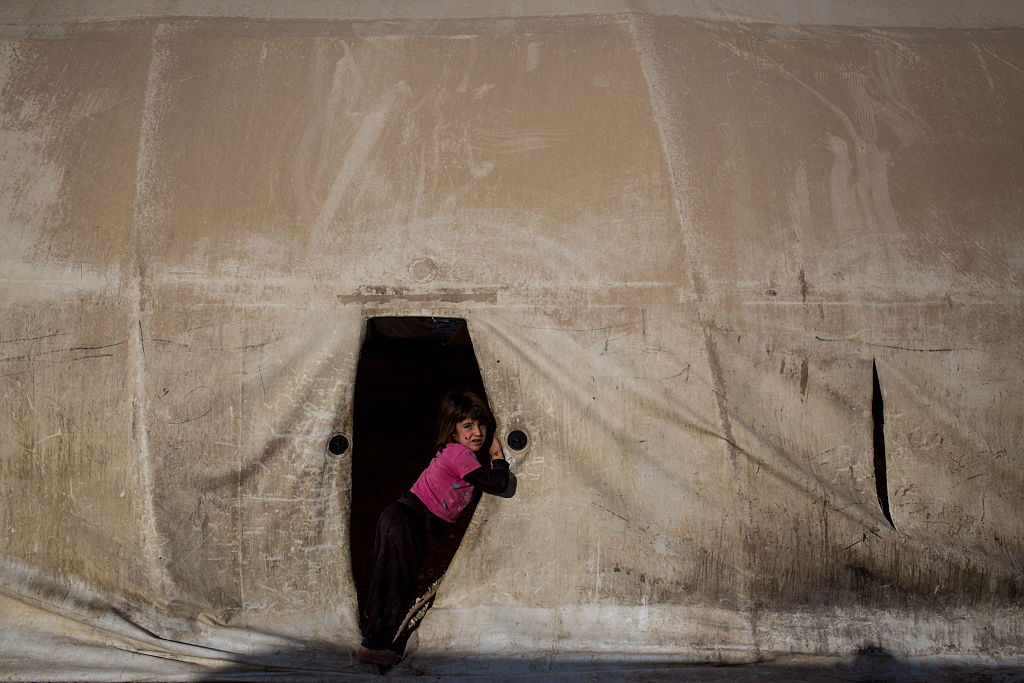 Pictured: A Yazidi girl plays in a tent at an Internally Displaced Persons (IDP) camp for Yazidis in Sharya, Iraq on on November 12, 2016. (Photo by Chris McGrath/Getty Images)
Both Babir and Saleh emphasized that Yazidi camps are not getting sufficient support. "To the best of our knowledge," said Babir, "although the UN Refugee Agency and some other international NGOs are providing some funding, the camps are not receiving any financial support from the Iraqi or Kurdistan regional governments, except in rare cases."
According to Saleh:
"When I was in the camps, I noticed that when UN officials came in to do an assessment, the Yazidi people were not able to tell them the truth about what was happening for fear of retaliation from the country's leaders. I personally know many friends who were taken to prison by Kurdish authorities for speaking the truth. Also, we wrote many reports to the UN, for it to consider Yazidis in the camps refugees, due to their dangerous situation, but our pleas were rejected. The UN has not reported on the situation accurately and sufficiently to enable Western countries to help Yazidis more."
Pari Ibrahim, founder and executive director of the Free Yezidi Foundation, also noted that not enough Yazidis have been recommended by the UN for resettlement in Western countries.

Babir suggested that the US help Yazidi victims through resettlement programs similar to those undertaken by Canada, Australia and Germany. He also stressed the service Yazidis have loyally provided for the American military:
"The US government should help Yazidis because many Yazidis have been kidnapped and murdered by ISIS because of their work for the US army as interpreters. We think that it is time for the US to help us now, when we need it the most."
"They are all in need of urgent psychological treatment," Saleh added. "The US should help Yazidi families to get out of Iraq. For them to have to live in Iraq is like suicide."
As one Yazidi displaced person from Iraq said in an interview with the Ezidi Press in 2015: "No matter what we do, this country is our grave."
A Yazda report states:
"Survivors of the genocide, including those who were able to flee before being captured, yearn to return to their homeland with assurances of security, peace and stability... However, there are still serious obstacles to return, including the lack of inhabitable homes and suitable infrastructure, with entire villages and towns having been flattened... According to the Mayor of Sinjar, Mahama Khalil, about 80-85% of Sinjar District has been destroyed by ISIS and rebuilding the district will require significant investment... a dedicated fund, which would be administered and supervised efficiently and transparently."
Ibrahim told Gatestone:
"It is not clear that the US will be capable of ensuring that Shingal will be a safe and secure place for Yazidis to live. If not, the US should not pressure Yazidis to return there, but rather it should support the Yazidi community through providing skills, training, and opportunities for them to improve their lives."
As for the Iraqi parliamentary elections that were held on May 12, Saleh said to Gatestone that Yazidis' "votes were burned or stolen. None of the Yazidi parties were able to enter the Iraqi parliament, although the Yazidi votes amounted to more than 100,000. The Yazidis in the camps are still being marginalized, even after the genocide."
Saleh's comments are supported by the Yazda report, which says:
"The discrimination against Yazidis in every aspect of life is exacerbated by the fact that Yazidis are underrepresented in all key institutions in both Iraq and the KRI [Kurdistan Region of Iraq], as they have little opportunity to make changes to government policy or programs."
For a long-term solution, Yazda's Babir proposes a protected enclave for Yazidis in Sinjar and the recognition of the Yazidi right to self-rule. "We suggest international protection for the Yazidi and other vulnerable minorities in Iraq, because both the Iraqi and Kurdish governments have failed to protect us," he concluded. "Also, Yazidis need self-administration in our territories and security to be provided by our own armed forces. To be able to survive and live in safety as honorable people, we need to have the right to self-rule."
Uzay Bulut, a journalist from Turkey, is a Distinguished Senior Fellow at Gatestone Institute. She is currently based in Washington D.C.